Hello friends,
I wish you all the best.
I live in a small country in South Asia. And this refers to the interaction of literature, music, dance, food, clothing, festivals, etc. of the people of Bangladesh. In many cases you think this culture is borrowed or influenced by Indian culture. But still we are trying to differentiate the culture of Bangladesh on the basis of some of our own characteristics. Even when the Bengali language did not develop properly, the people of Bengal acquired some beliefs, customs, religions, festivals and celebrations centered on religion. It is true that culture is never fixed in one place.
image source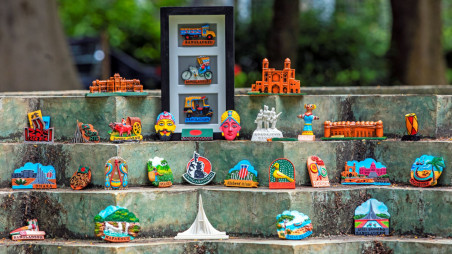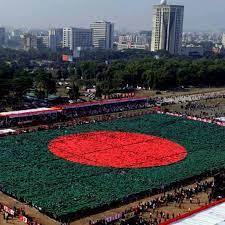 image source
And so today we have found the place of Bengali language culture in the world. In our country, along with other values, the decline of cultural values ​​has also started. The values ​​we have about culture are our cultural values. Among the cultural elements are language, food, chess, clothes, music, festivals, etc. Among these cultural elements, language is the most important cultural element. Because a person learns a language from birth with the help of other people. And this language is intertwined with human life. He gets vitality through this language in his sleep-dreams and consciously-unconsciously.

Bangladesh Parliament building
image source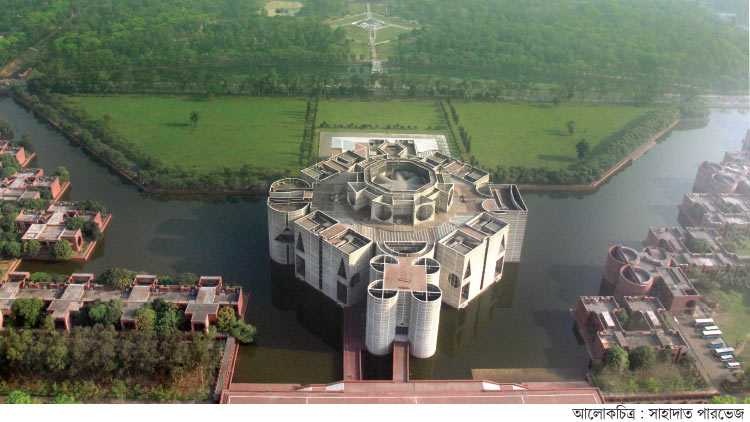 And so from my place of Bengali culture, I am happy to take part in the " CROSS CULTURE CONTEST: CULTURAL VALUES" competition by my community, because there are so many issues related to my culture in Bangladesh, which will highlight my opportunity to compete. Cross Culture Society Here I will share with you the cultural values ​​of Bengal.

Bangladesh Shaheed Minar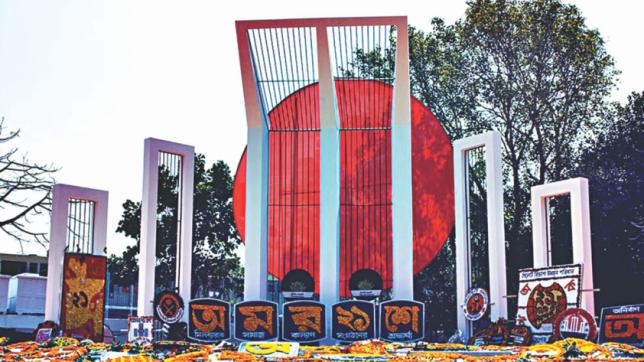 My Cross Culture Context: Cultural Value || 4000 HIV Delegation Prize Pool Context Link here
Culture is a diverse integrated form of life and practice of a nation. As we are Bengalis. Our way of life, traditions, behaviors, beliefs and disbeliefs, thoughts and feelings, principles and ethics - these are the main ingredients of culture. The culture of one nation does not exactly match the culture of another nation. There is no similarity between Bengali culture and Arabic culture. The similarity of Latin American culture with German culture cannot be found. There is no resemblance of Chinese culture with Mongolian culture. That means there are many forms of culture.


image source
Bengali's own culture:
As a separate nation, Bengalis also have their own culture. Bengalis eat rice-fish, wear lungi-Punjabi, sing jari-sari-vatiali- these are the elements of Bengali culture. There are thousands of such elements, which carry the identity of Bengaliness. It is because of the culture with its own characteristics that the Bengalis have survived and will continue to exist in the world. There are very few nations in the world who have sacrificed their lives for culture. Bengali has given. Language is one of the aspects of our culture. The hegemonic culture wanted to deprive us of this linguistic cultural right. We did not accept that. And Rafiq-Salam-Barkat-Jabbar gave up their lives because they did not believe.
The national anthem of my country Bangladesh, which has come in exchange for millions of lives. I am proud of my country. My golden Bengali, I am good to you.
National anthem of Bangladesh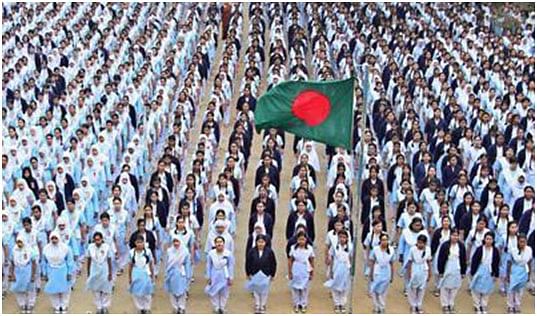 image source
The complete Amar Sonar Bangla song written by Rabindranath Tagore has been recorded here. The first ten lines of this song are recognized as the national anthem of Bangladesh. Wikipedia
My golden Bengali, I love you.
Forever your sky, your wind, the flute playing in my soul.
O mother, the smell of your mango forest in Phagun drives you crazy,
Alas, alas!
Oh mother, what a sweet smile I saw in your fragrant field.

What beauty, what shades, what affection, what magic.
What area did you spread at the base of the boat, on the bank of the river.
Mother, the words of your mouth are sweet to my ears,
Alas, alas!
Mother, when your body is dirty, mother, I am floating in tears.

When you spent your childhood in this playground, Ray,
Blessed bees live on your dusty limbs.
Do you light a lamp in the evening when the day is over,
Alas, alas!
Then leave all sports, O mother, come running in your lap.

Dhenu-chara in your field, on the ferry to the shore,
All day long in your village, covered with birds-called shadows,
Spend the days of your life in your paddy fields,
Alas, alas!
Oh mother, they are all my brothers, oh mother, your shepherd is your farmer.

Oh mother, I put this at your feet to get this head:
De go the dust of your feet, he will be the manik of my head.
O mother, I will give the poor what I have at my feet,
Alas, alas!
I won't buy it in the next room anymore, mother, your adornment is hanging
আমার সোনার বাংলা, আমি তোমায় ভালোবাসি।
চিরদিন তোমার আকাশ, তোমার বাতাস, আমার প্রাণে বাজায় বাঁশি॥
ও মা, ফাগুনে তোর আমের বনে ঘ্রাণে পাগল করে,
মরি হায়, হায় রে—
ও মা, অঘ্রানে তোর ভরা ক্ষেতে আমি কী দেখেছি মধুর হাসি॥
কী শোভা, কী ছায়া গো, কী স্নেহ, কী মায়া গো—
কী আঁচল বিছায়েছ বটের মূলে, নদীর কূলে কূলে।
মা, তোর মুখের বাণী আমার কানে লাগে সুধার মতো,
মরি হায়, হায় রে—
মা, তোর বদনখানি মলিন হলে, ও মা, আমি নয়নজলে ভাসি॥
Rabindra Sangeet in the music of Bengali culture: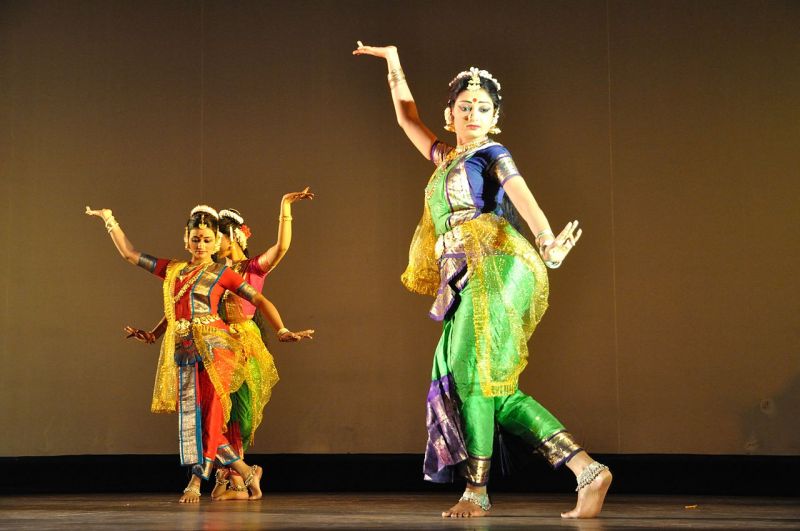 image source
Bengalis listen to Rabindra Sangeet, but the hegemonic culture forbade Rabindra Sangeet. The Bengalis could not accept it. The rebellion-revolution broke out. So it is seen that the role of culture is also a lot behind the independence movement. But is culture irreplaceable? Does the culture remain the same for ages? No, there must be change. Gunijans say that culture is like a river. As the river changes course, so does culture. There is no such thing as primitive and unadulterated culture. Culture also changes over time. The culture of all the peoples of the world has changed over time. Bengali culture is no exception. Many similarities can be found between the Bengali culture of a hundred years ago and today's Bengali culture. What was the ancient culture of the Bengalis and what is there now, what changes have taken place in it, Suluk can be traced.
Bengali food Culture in it: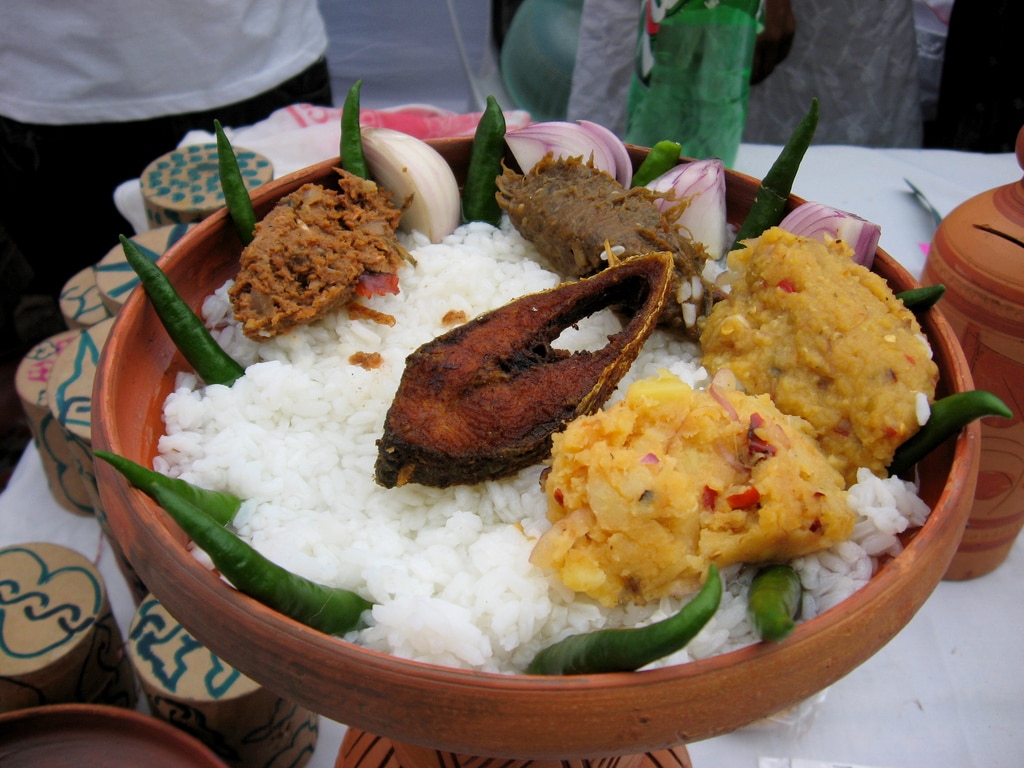 image source
First let's talk about Bengali food and drink culture. Eating habits are also part of the culture. Paddy cultivation and rice production is one of the aspects of Bengali culture. Rice and fish were the staple food of the rich and the poor. In ancient times, it was customary to eat smoked rice mixed with ghee. Every particle of hot smoked rice was uniform, separated from one another, neat and the food was delicious, white in color, thin and fragrant. Rice cooked in milk is also known. In the past, it was customary to eat rice with vegetables and other condiments. Especially among the poor people, it was customary to eat rice with vegetables. Among the vegetables, Bengalis used to eat eggplant, pumpkin, squid, squash, kachu etc. The list of food was expanded during weddings and banquets. The daily food list included rice, ghee, moorla fish broth, nalita vegetables etc.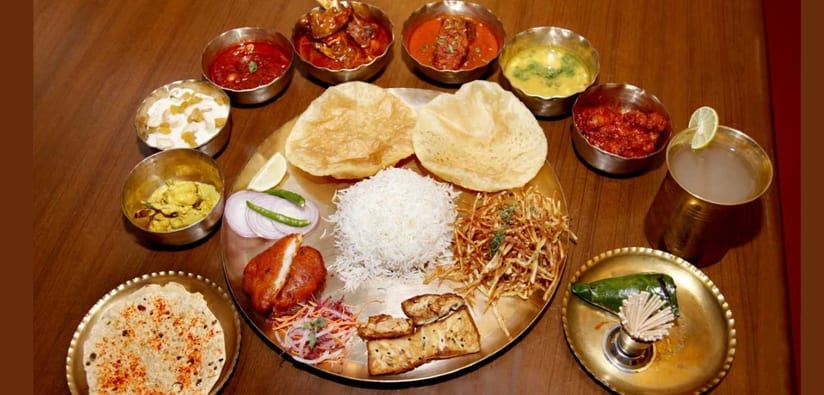 image source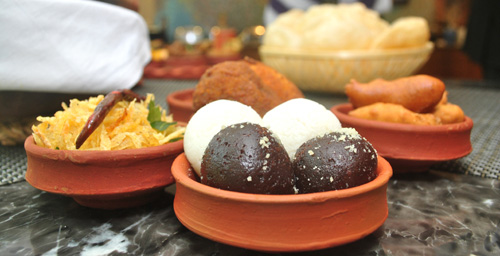 image source
The guests were served with rice, yogurt, pies, milk and sweets made from lamb. It is also known to serve fragrant water mixed with camphor. At the end of the meal, betel nut and various spicy drinks were served. Dried food has been a popular food of Bengalis since ancient times. No one ate the meat of snails, crabs, bucks, ducks, roosters, storks, camels, cows, pigs etc. The use of tokadai with different vegetables has been in vogue since then. Fruits like banana, palm, mango, jackfruit, bell, coconut, etc. are included in the ancient food list of Bengalis. Apples, grapes, pears, vedan etc. used to come from outside. But very little.
There is no mention of pulses production or food in the food list of the ancient Bengalis. Pulses were never cultivated in Bangladesh or East India. Muri, chira, khai, naru and various oil-free cakes were made from rice.
Bengali dress and decoration: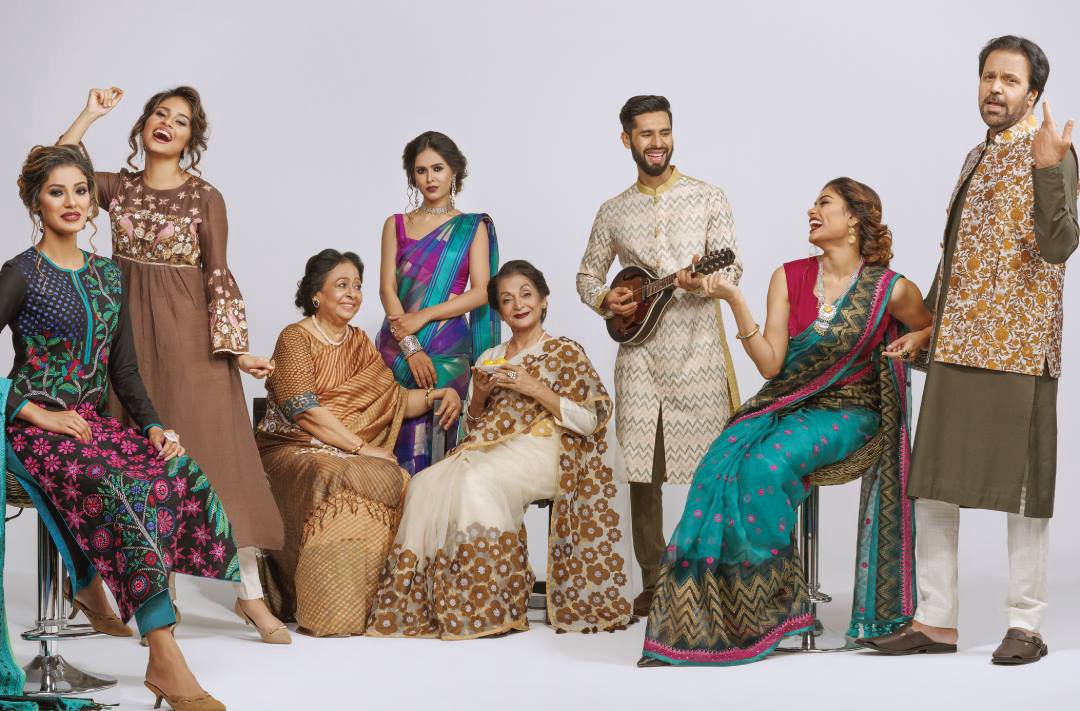 image source
Now let's come to the culture of Bengali dress and decoration. The original style of Bengali dress was a garment without stitches. Bengali men wore dhoti and girls wore sari. If the financial situation was good, a piece of cloth was used on the body. It was a scarf for men and a scarf for girls. This veil served as a veil when needed. In the middle and lower classes, one cloth was enough and they used to work the veil through its area if necessary. Later sewn clothes were imported from North-West India. In the 7th and 8th centuries, designs of flowers, herbs, etc. were introduced in cloth. The dancers wore tight pajamas from the waist to the ankles, and a large scarf around their necks. Saints and poor workers wear Nenti. Soldiers and wrestlers wear knee-length pajamas. Children wear knee-length dhoti or pajamas. The Bengalis never covered their heads. He had long curly hair. Curly hair hung in bunches on the shoulders.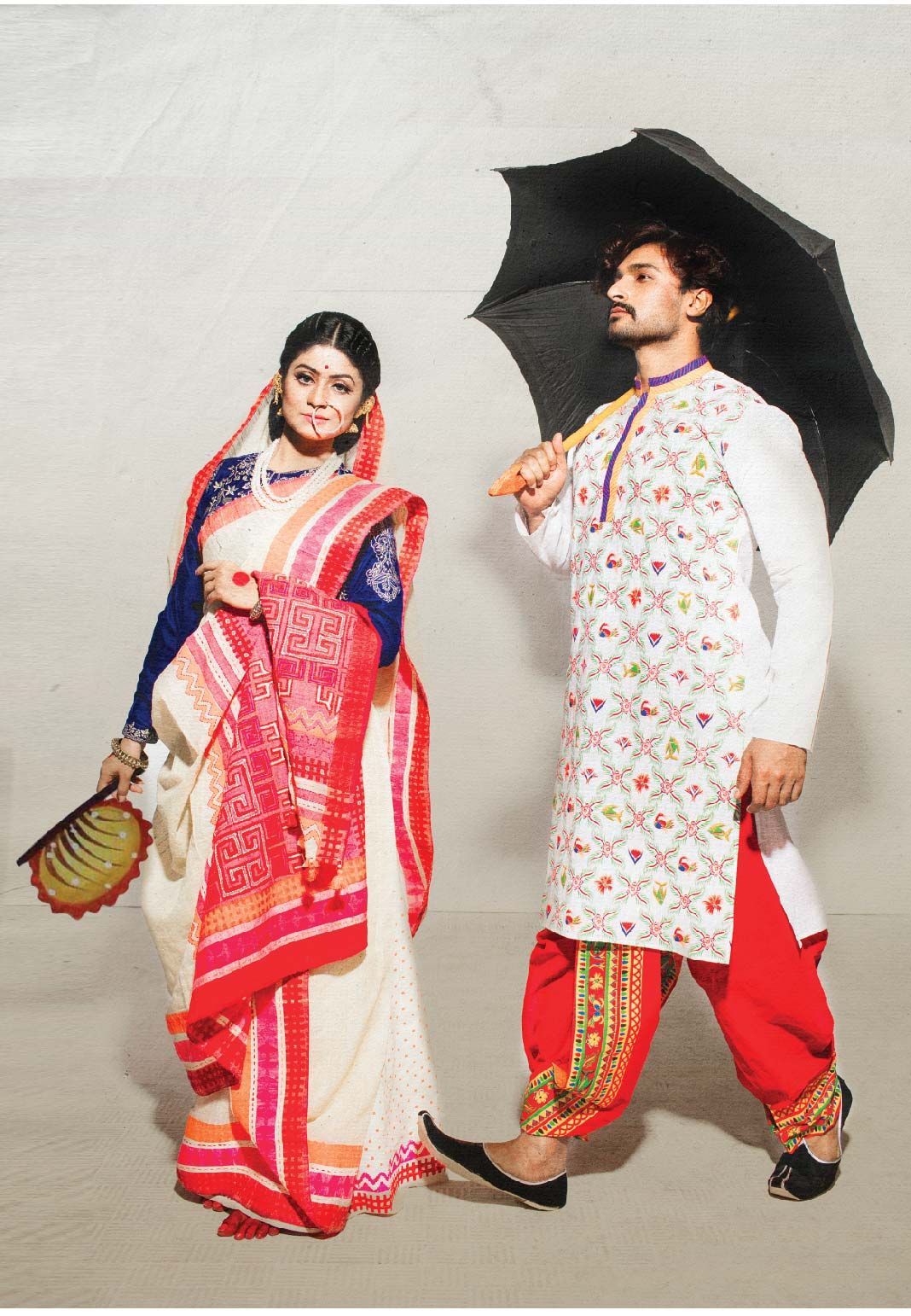 image source
Some even wore a spiral crest over their heads. The girls also had long hair. Bunched on the neck. Some leaned back. The long braids of the saints were wrapped around their heads in two steps. The children's hair was tied on the head in three bunches. Soldiers and guards wore leather shoes covered up to the ankles without laces. Ordinary people did not wear shoes. The rich used wooden shoes. Married women used the tip of kajal on the forehead, vermilion on the scalp and lips, lacquer on the feet, sandalwood powder and sandalwood powder on the body and face and saffron. Men kept their fingernails large and painted them. The Bilasinis used to put lacquers on their lips and flowers on their heads. Many wore garlands around their necks. Many a time when the clothes of the chest were removed, he would cover his chest with a garland of flowers to prevent shame.
Bengali game: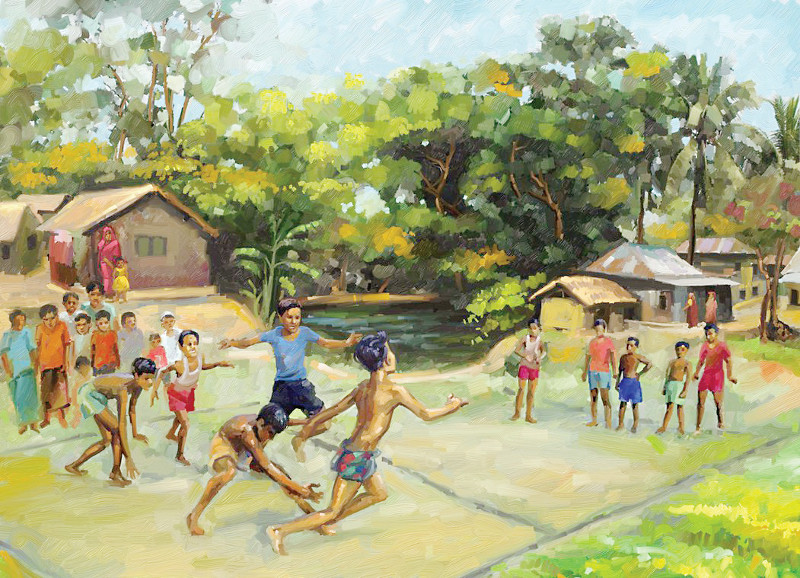 image source
Hadudu or Kabaddi was one of the ancient games of Bengalis. There were also dandyabandha, gollachut, boating, elliptical belting, kite flying, ball game, cowry, marble, sholaghunti, latim, dangles, etching beeching, openi biscope, kutkut, flower tapping, puppet play, nunta, pani jhupai, , Ludu etc.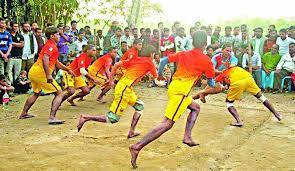 image sourceAlthough these games are still popular in some parts of the village, these games are no longer popular in metropolitan and urban civilizations. Instead, cricket, football, etc. began to be introduced gradually. Hockey, video games and computer or internet based games have now entered the city and even the villages. There has been a great change in the entertainment of Bengalis. At one time Jatrapala was in vogue. Now that place is occupied by theater, cinema, radio, television. There are many battery powered toy cars, plastic dolls, animals and birds. Now, like before, kavigan is no longer in circulation. Books are not seen.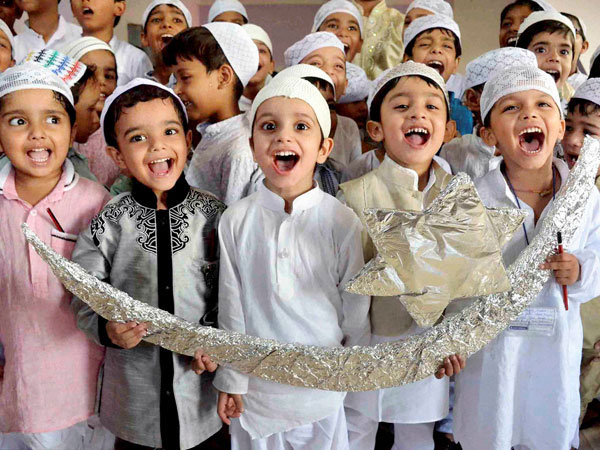 There has been a great change in the joy of the festival. Bangladesh was the country of thirteen festivals in twelve months.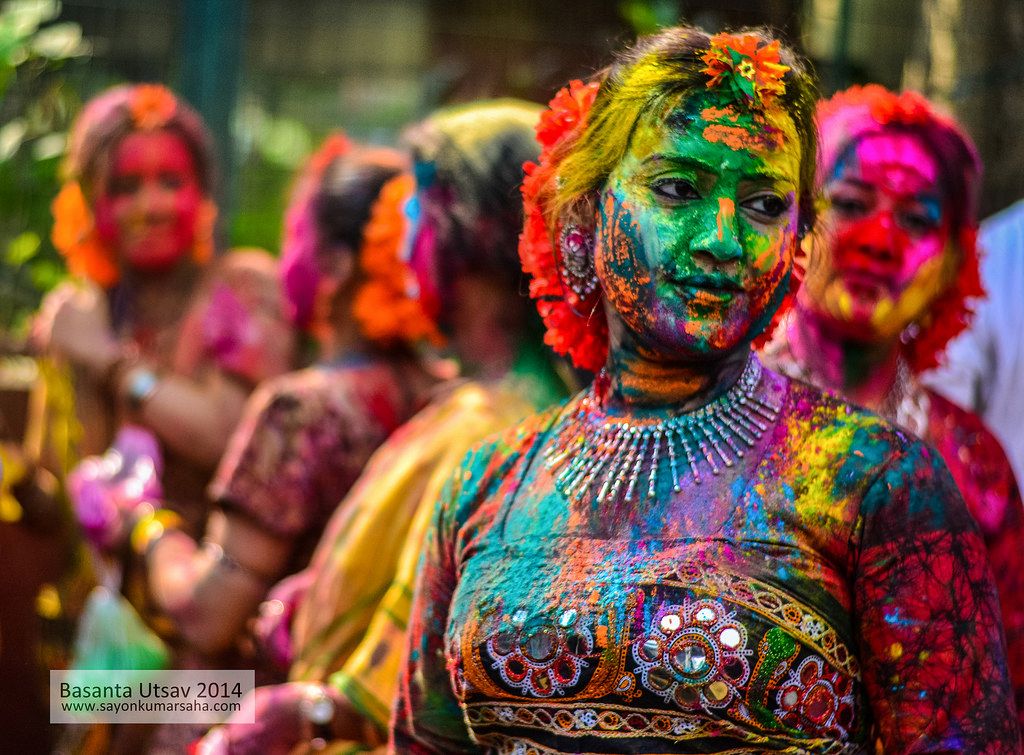 image sourceDurga Puja, Lakshi Puja, Manasa Puja, Swaraswati Puja and other puja festivals were among the Bengalis. Then came the Muslim influences like Eid-ul-Fitr, Eid-ul-Azha, Muharram, Ashura etc. As before, these festivals are still prevalent. However, the type of festival has changed.
image source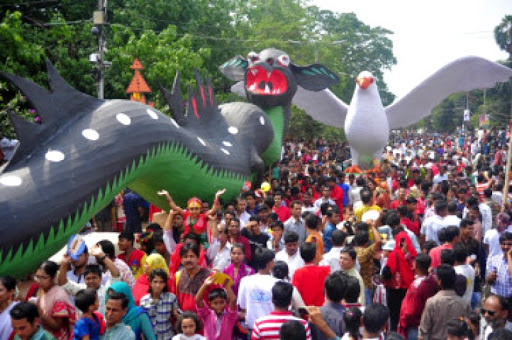 Eid-culture has changed over time, being. The Eid-culture of a hundred years ago is very different from the present-day Eid-culture. The Bengali Muslim community in Bangladesh has also undergone major changes in Eid culture in the last three decades. Although the Eid culture of that time was fundamentally correct with the present, many related changes could be noticed. Thirty first nights, Valentine's Day, birthdays, wedding anniversaries, etc. have now been added to the puja and Eid festivities.
Bengali music: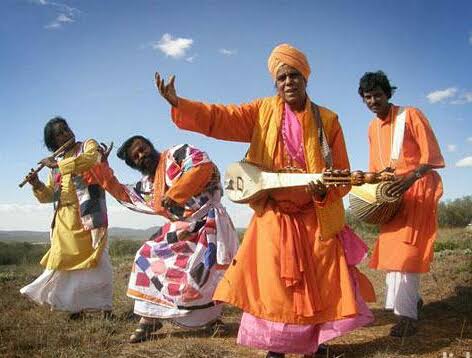 image source
In ancient times, Bengali music was influenced by Sanskrit hymns. Vaishnava-inspired religious songs of the time are still sung in East Indian temples. 'Gitagovindam' composed by the poet Joydev in the thirteenth century is a prominent example of this national anthem. There were jari-sari-vatiali songs. It was prevalent in Bengal in the eighteenth and nineteenth centuries Is Baul music. The song was heavily influenced by the Tantric Kartabhaja community and Islamic Sufi philosophy. Then came Rabindra Sangeet. One of the most famous genres of Bengali music. The lyrics of these songs are deeply influenced by the ancient Hindu scriptures Upanishads and medieval Vaishnava verses and Baul songs. Then came Nazrul Giti and other traditional music. The idea of ​​patriotic songs originated in the Hindu Mela or Swadeshi Mela organized in 18th century. The genre of Bengali modern music is also quite rich. From the 1990s onwards, Bengali band music centered on Western ideas and modern urban life emerged. Now this band is the triumph of music.
There are positive and negative aspects. Our culture is changing due to globalization. As there is joy in this change, there is no less pain. What is the joy of changing culture? As I said earlier, the culture of Bengalis was to wear clothes without sewing. Bengalis wore sari and dhoti. Then the introduction of lungi began. We now wear pants-shirts. But these are not the clothes of Bengalis. This country, this soil, this culture is not clothing. Yet we are wearing. Again Bengalis used to eat rice with their hands, still eat it. However, some Bengalis now use forks. Bengalis used to make paddy with dhemki, grind rice powder and thresh paddy with cows. But now the machine has arrived. The machine is doing everything.
join this contest link I invite to @hmetu
I don't know how much I have been able to explain or understand the culture of my country. I hope everyone will like it and everyone will understand
Thanks you everyone