Is it easier to convince 3 million people to donate € 1 or to find a sponsor who will donate € 3 million for CLEANPLANET?
There are many ways to participate in a crowdfunding campaign or earn a few tokens. On Hive or Telos, the transaction fees are free, so you can easily transfer 5 Hive or 10 TLOS to CLEANPLANET.
Participant engagement remains the key point! There are so many projects to fund. In the end, this is rather good news. Triggering the act of donation requires a considerable amount of communications, design, and control tools.
Apparently our campaign did not meet all of these criteria! CLEANPLANET remains a project of the future, the current funds allow to reward all the people who wish to collect waste and preserve the environment.
https://cleanplanet.io
Obviously we want to go faster and you can help us.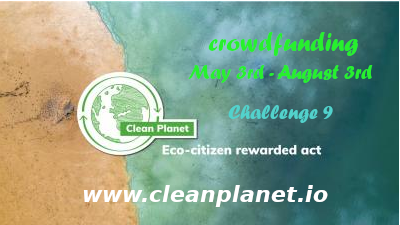 Challenge 9/9: what is your favorite crowdfunding tool?
Among the many existing tools, which one seems best suited to you?
You can earn some tokens by answering this question.
Previous challenges:
Take part in our campaign:
Payment in cryptos:
The Hive CLEANPLANET account is @cleanplanet.
The D.tube CLEANPLANET account is @cleanplanet.
The Seeds CLEANPLANET account is clean4planet.
BTC address: 1N9mvXdUVp6FKc7uZtsz6hpkc9BbauMVJr
Ethereum address: 0xC0b92055Aa0CE4c4727dE5104a78cA52c1Dc5030
Payment in $, euro or CHF:
Use the Paypal app on https://www.cleanplanet.io and the address [email protected]
Join us on Discord https://discord.gg/qdUR4KA
Thank you and see you soon for a new crowdfunding campaign!