I have now been back in Stockholm for a year and since I moved back here during the pandemic there wasn't really much to do. Luckily I have been pretty self-sufficient with my yoga practice for years now. I'm so used to having a self-practice and I have come to appreciate the comfort and convenience of practicing yoga at home. I usually light some incense and listen to binaural beats. And I flow with whatever kind of yoga practice my body wants to do that day, or if I feel a certain resistance, I might go with that instead.
I have been practicing many different yoga styles throughout the last 10 years but lately I have been focusing a lot on a rather slow practice, I usually hold the asanas for 5 minutes, sometimes longer. I have come to really appreciate the stillness. To just be. And to feel my body. It's a meditative experience and I feel very grateful for this beautiful practice.
This morning I had the pleasure to experience a beautiful sunrise. The picture (not edited at all) was taken from my bedroom window. It's actually still dark outside when my alarm goes off so the sunrise is rather late this time of the year.
As some of you might know I started with pole dance about 6 months ago and that's been an interesting contrast to yoga. I recently started Pole Level 3 so I have progressed and on level 3 we start with a lot of inversions on the pole. It's a bit scary because it's new and I don't trust myself fully yet, that I can hold on to the pole with just a knee or my armpit. But being upside down isn't scary in itself and I have my yoga practice to thank for that. I have actually also started taking Contemporary Pole, which is more of a dance class, mostly rolling around on the floor 🙂 I like the movement a lot and I feel so inspired by my favorite pole teacher (she was the reason I signed up for this class, she is such an amazing dancer).
I feel such a strong urge to really move and use my body more. It kind of kills me to have a desk job, I'm constantly reminded of how bad it is for my body. But well, it could be worse. I cannot imagine how I would feel without daily walks, yoga, and now the latest addition, pole dance.
My experience with a beginner's yoga class
---
But what I actually meant to write about is that since things have opened up again here in Sweden, I have been going to a yoga school once a week. I chose to return to a school I really appreciated like 7-8 years ago. I think this school was the first yoga school in Sweden so they have been around for quite some time now. It's very traditional and what I like most about the place is the energy there. I remember when I went there I felt so relaxed, like I could spend the night, just falling asleep after the class. I felt so supported and safe. The class is also long, 2 1/2 hours with asanas, pranayama, and meditation.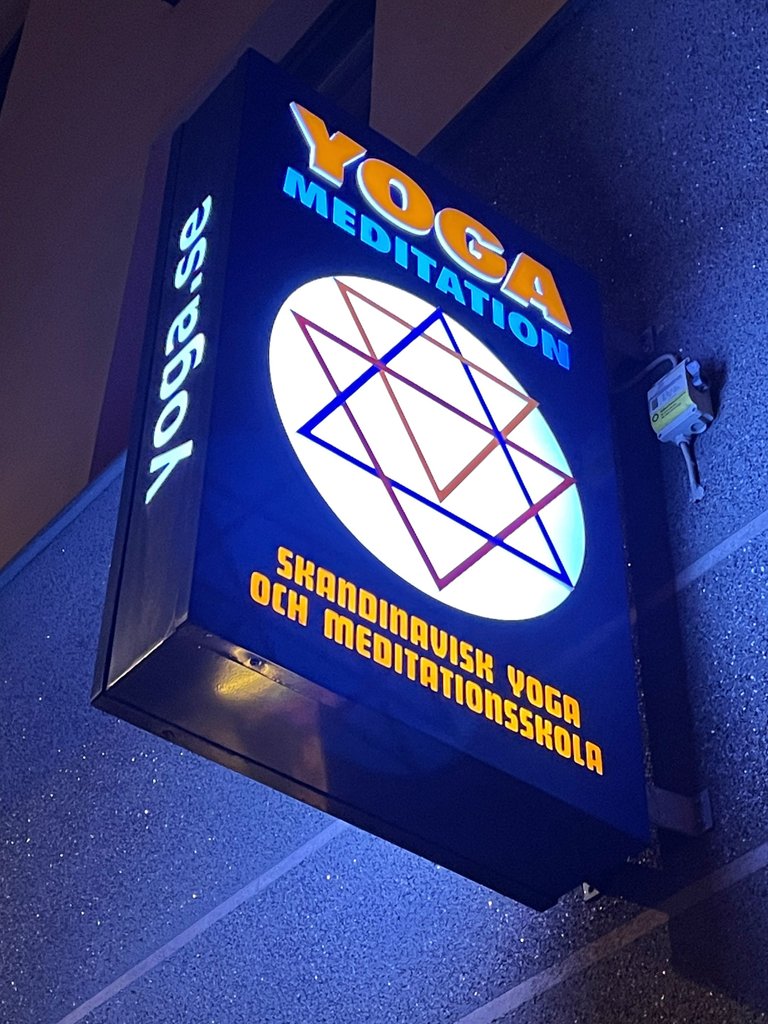 The sign outside of the yoga school. Their domain is yoga.se, pretty cool. 🙂
But of course, it's always risky to return to something after so many years. Maybe the experience will be completely different this time? I also followed their recommendations, to actually take their beginner's class, since I had been away for such a long time. In the beginning, it felt a bit frustrating, since some people in the class had never done yoga before and the information wasn't new to me at all. But then I decided to really adopt a beginner's mindset, a concept from Zen Buddhism.
In the beginner's mind there are many possibilities, in the expert's mind there are few.
— Shunryu Suzuki
And I just appreciated the teachings and the opportunity to practice with this group of people. I have the same strong experience as 7-8 years ago and it's still a very special feeling to meditate there. Even though I have been very tired most of the weeks, I haven't skipped the class because I know how good it is for me and it's a good reminder that there are so many opportunities in Stockholm if I just open my eyes. It'll be helpful to adopt a beginner's mindset about Stockholm as well.
It's the dark season here though and people tend to stay indoors a lot. I have decided to make an effort to make my place cozier. Since I have been thinking that I'll leave soonish since I got back here I haven't really been willing to buy a lot of things for my flat. But I actually don't see myself moving somewhere for another year at least so it's time to settle here a bit more. I think something good will come from this mindset 🙂
Thanks for reading 🌸
Love and blessings to you all 💚