Here in South France apples are plentiful and right now they are dropping from the trees in the orchards all around us. Usually they are slightly damaged in some way and therefore unfit for market, which means the farmers don't mind if we pick them up. And so, it is with great pleasure that we now begin apple season...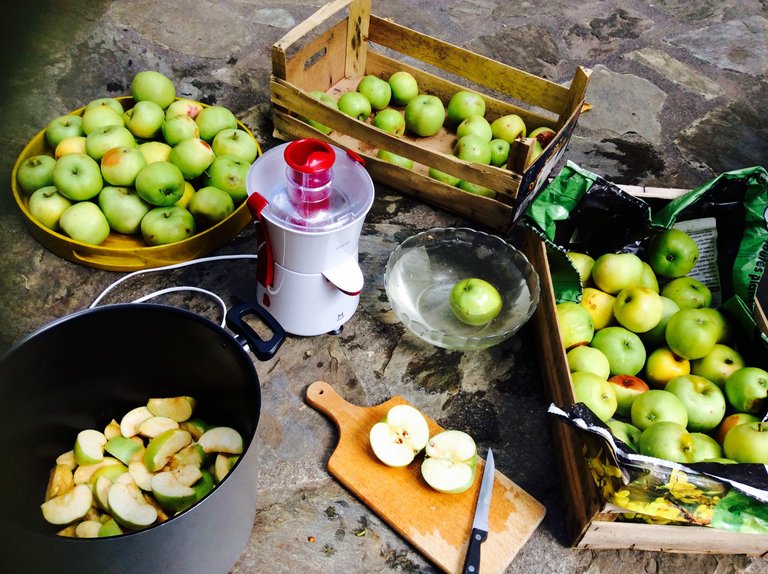 Apple Juice
Turns out we have a little juicer, seen in the shot above. Nothing fancy but it does the job.
The apple juice is totally different to store bought juice as it looks more like beer from the top!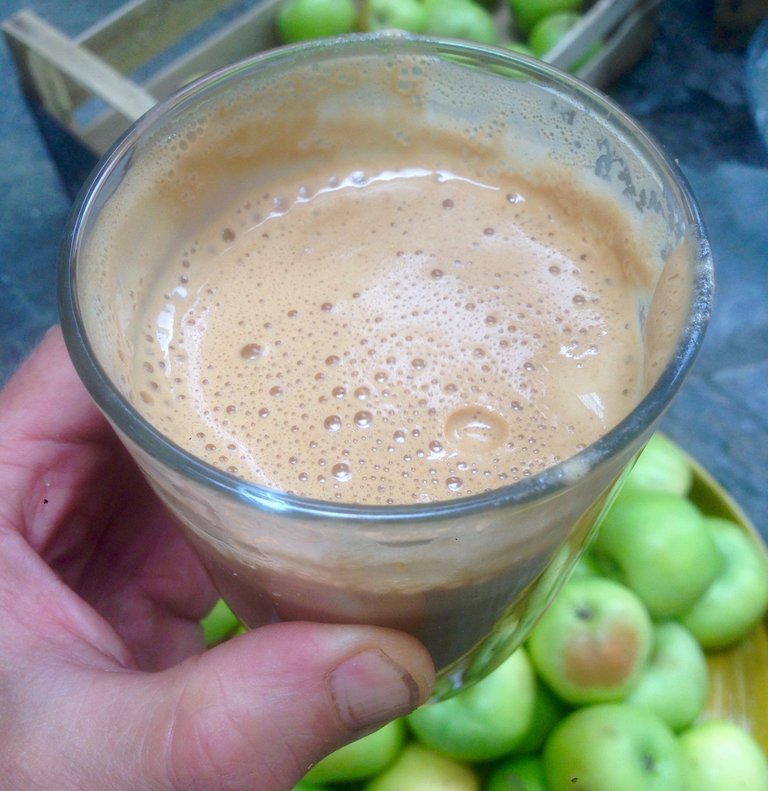 Cloudy & thick.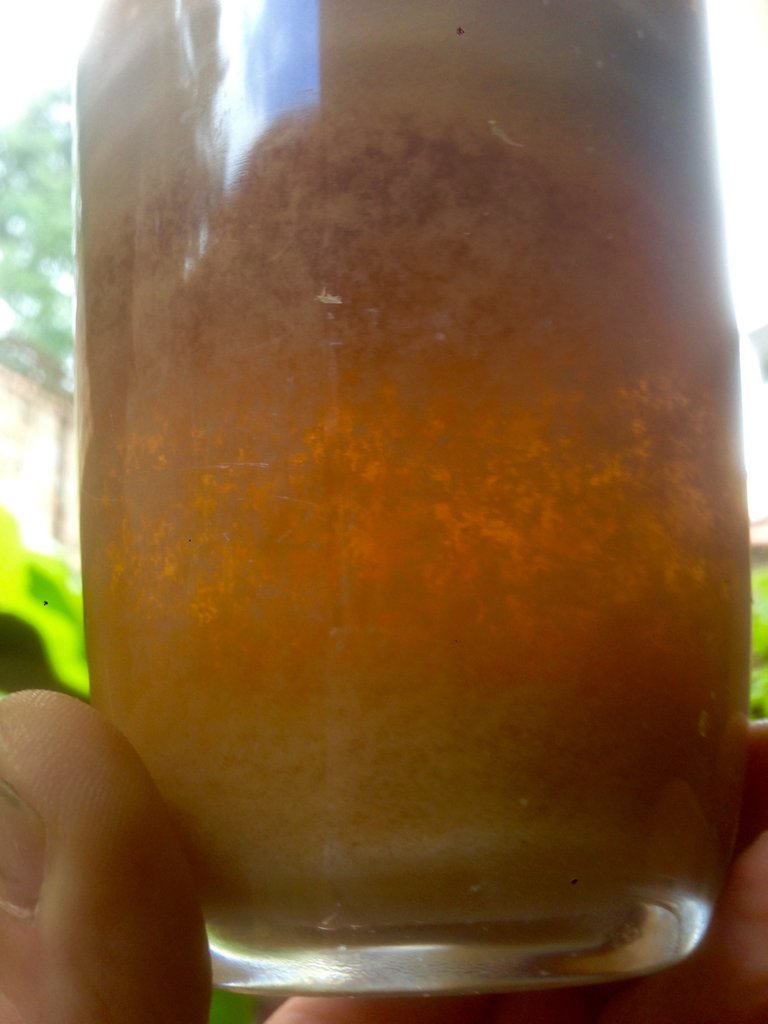 After time the cloudy bit settles at the top and can be separated, making it more like what one expects from store bought apple juice. Though it is still pretty strong at this stage and can certainly be mixed with water. I understand this juice can be stored for the winter if boiled and heat sealed. I am sure this doesn't do anything good for the nutrients however.
Apple Sauce
Sabrina calls it compote though I am not familiar with this word. Am pretty sure my mother had it around the house when I was young. I have a vague memory of eating it hot with oats.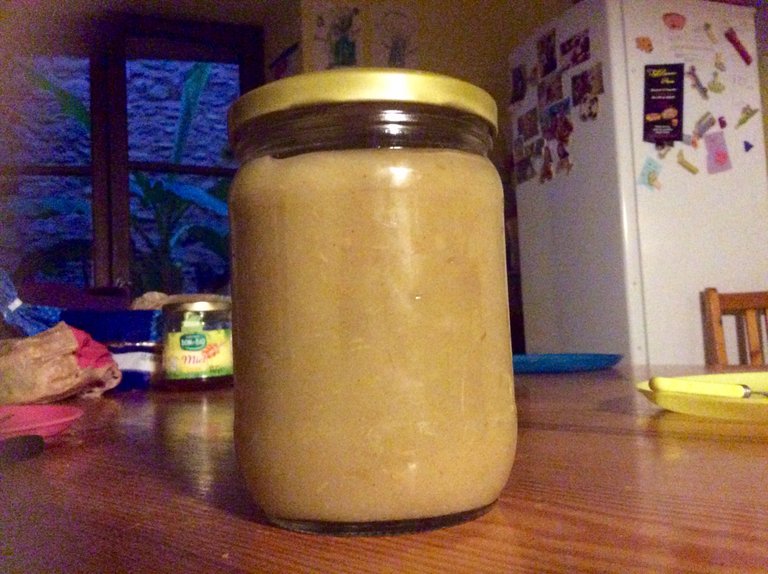 Super simple to make, one just cuts the apples into small pieces and cooks them with a little water, mixing lots till it is a bit mushy. Then it goes in the blender. Add spices if you feel like it.
Apple chips
The easiest thing of all to do is simply cut into slices and put in the dehydrator. They didn't take too long in there (8h), so I am thinking this could also be achieved outside in the sun.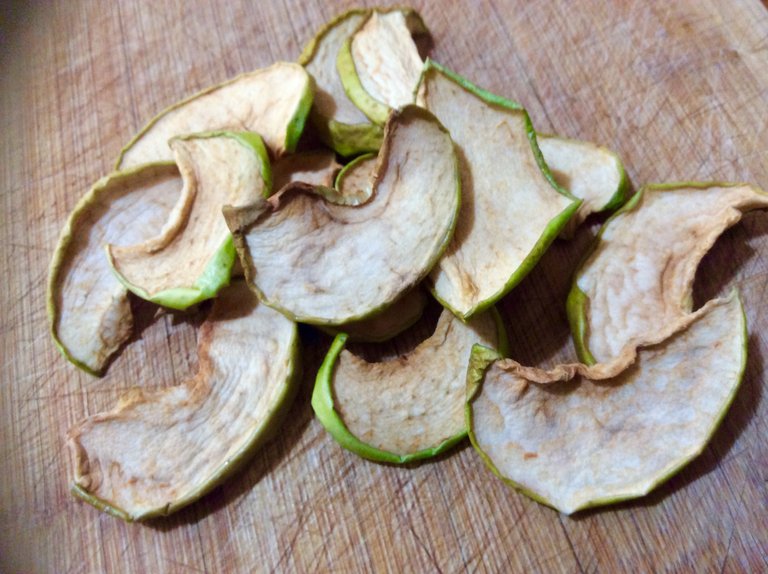 They are crunchy yet also chewy and the flavour is strong. We will likely cut them up into smaller pieces and add to the home made granola, along with pieces of dried fig. As far as I know these will store all winter in glass jars.
Apple leather
I can see why it is called leather but I don't really like this name. Perhaps someone can think of a better one?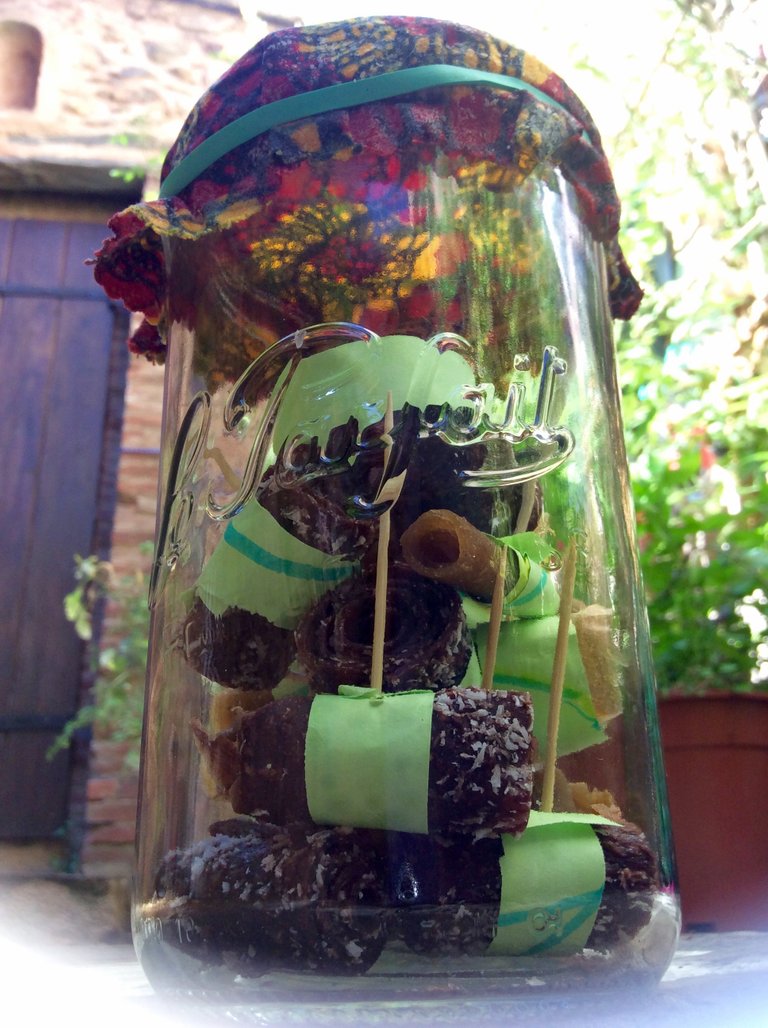 It is basically just dried apple sauce, with added sugar & spices. We put an even layer of the sauce on a couple of trays in the dehydrator and it was dry before morning.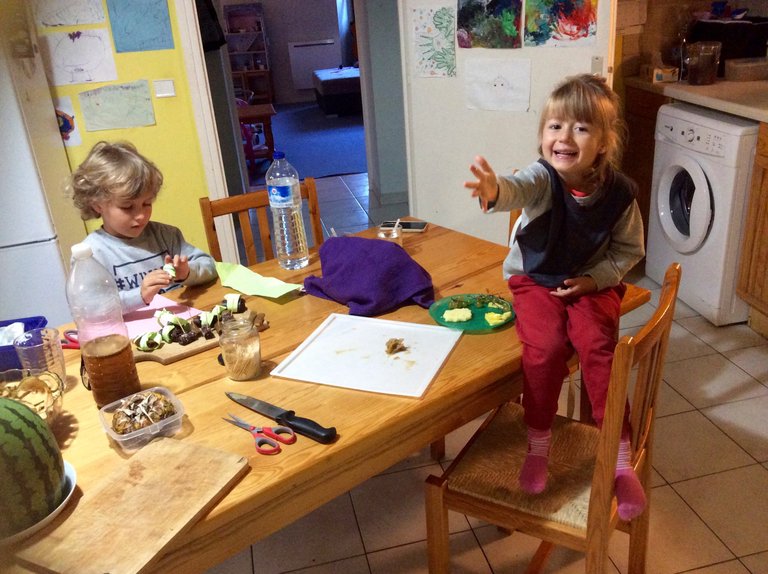 Once it is peeled off the tray (with some difficulty!) it can be cut into slices and rolled up. And decorated ;)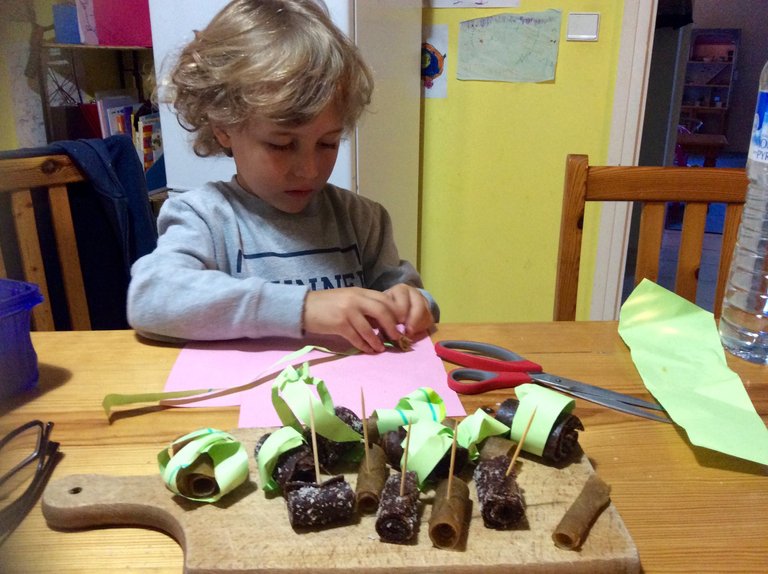 The brown one has cacao powder and coconut sprinkles. The green one is with cinnamon & vanilla.
Apple Pigs!
Yes, last night we made apple pigs.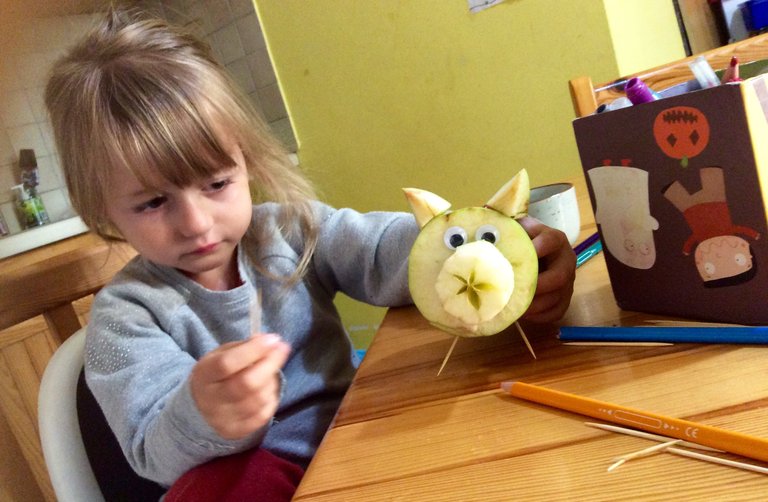 Just for fun ;)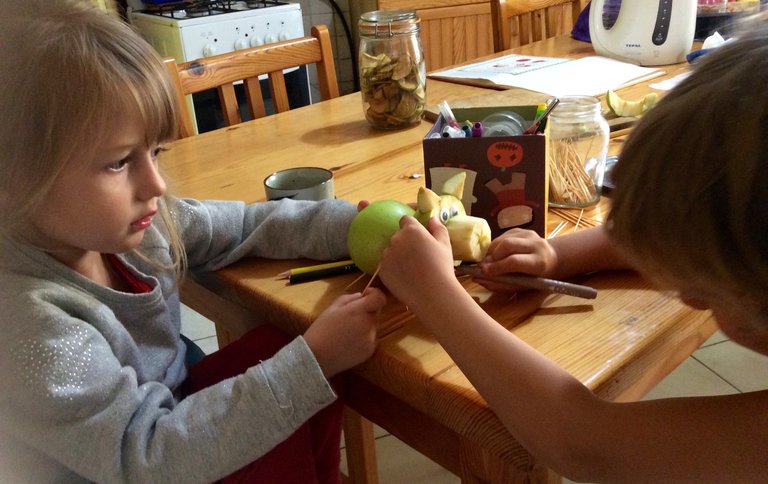 Inspired by one of our bedtime stories in which the instructions for how to make apple pigs are given in the back of the book.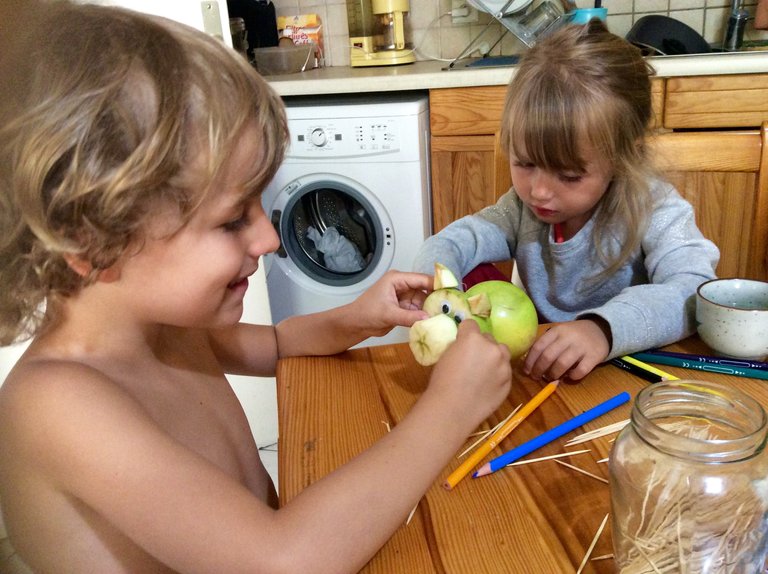 The fun lasted right the way till bedtime.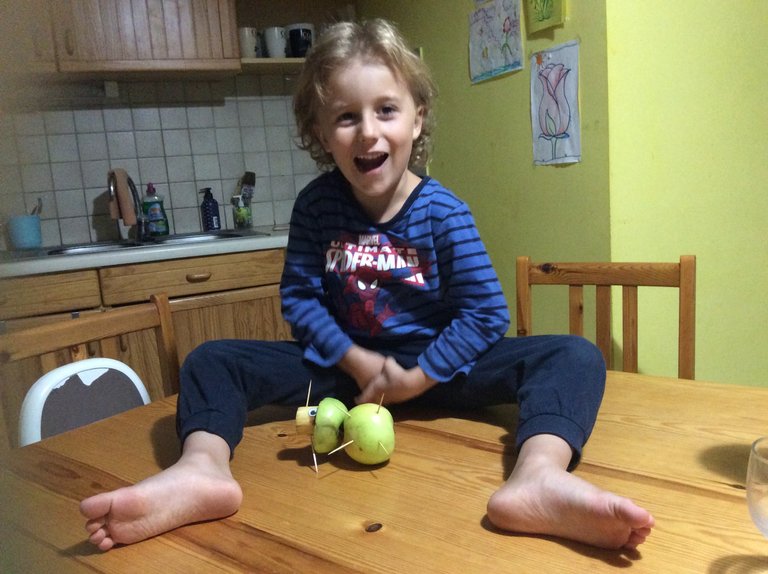 I know, it's a Spider Man T-Shirt. A little hat tip to the man who gave the best speech at my father's funeral, Stan Lee. Am quite sure they are enjoying each other's company again now, likely playing poker and conversing about the old days in Chicago before the war.
Love & Light everyone 🌱
Keep on storing that food for the winter 🍏