Greetings Dear Community of @mcgi.cares! Once again I've come your way to share with you the word of God. We are still reviewing *"How to escape our anxieties in life."* So far, all the trending messages we've studied review that we can only get rid of our anxieties and troubles if we allow God to take absolute control of our lives.
---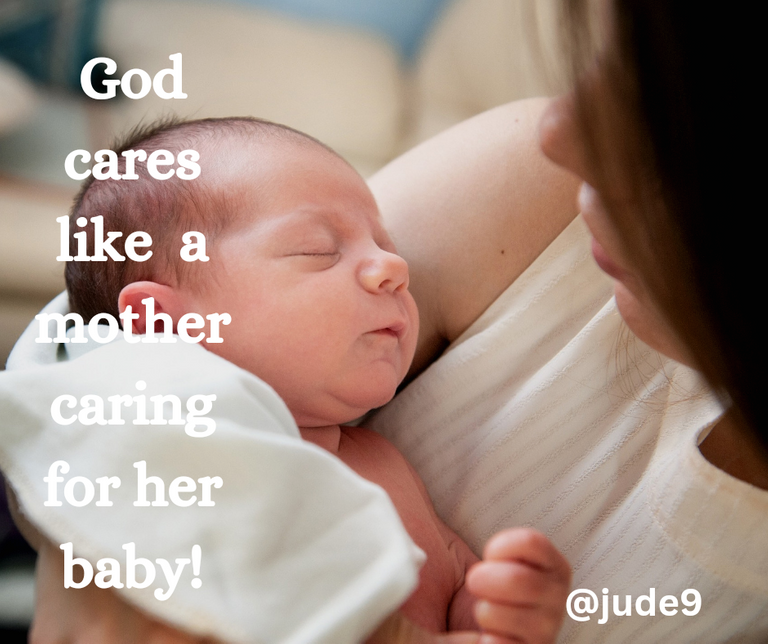 image by Luliia Bondarenko from Pixabay
---
In today lesson, "We are looking at how God cares for our anxieties."
Thanks to Bro. Eli Soriano for his good teachings on YouTube through which we've also gotten something to say here.
According to Bro. Eli, if a mother who is in human status care cares for her baby in times of say sickness and troubles how more God Almighty don't care for our anxieties. If we leave all problems we have to God, He has the Authority to answer them accordingly and in appropriate time. Bro. Eli took us through the Bible to buttressed this point by taking us through:
1st Peter 5:7
"Cast all your care upon him; for he careth for you!"
God cares for our anxieties on financial problems, He cares for our marriage problems, He cares for our family disparities, He cares for our barrenness, He cares for our famine, He cares for our spiritual attacks and every troubles that we can think of. But, in all there is nothing that is difficult for God Almighty to solve for us if only we trust and obey him that He can do it.
---
Bro. Eli further revealed that Our protection come from God so by following his Commandments, He will fulfill all our wishes and what is good for us to get. So we need to have faith in Him and follow His will. Anxieties are nothing before God, so we shouldn't worry too much. We should think too much on material things and worry our souls since God will provide for us. As the Bible reveals in the Book of Matthew here;
Matthew 6:25-27(NIV)
""Therefore I tell you, do not worry about your life, what you will eat or drink; or about your body, what you will wear. Is not life more than food, and the body more than clothes? Look at the birds of the air; they do not sow or reap or store away in barns, and yet your heavenly Father feeds them. Are you not much more valuable than they? Can any one of you by worrying add a single hour to your life?"
---
Yes, it's true that the birds of which flies and perch on tress daily do not farm and reap anything but our Lord God fend for them. So, humans are of Great important in that God Almighty created us in His own image. We can plan, create and worship him so God has given us knowledge to do all these things. We are therefore special among all the creatures God created since God reveals that He created us in His own image using dust. Some of the creatures were just called to come and yet it happened.
---
God is ready to curb our anxieties if we pave way in our lives. We know some of the problems are sometimes not even revealed due to our privacy and confidentiality but God listen to one-on-one communication too. Lets accord Him diligently and He will respond to our prayers. Amen!