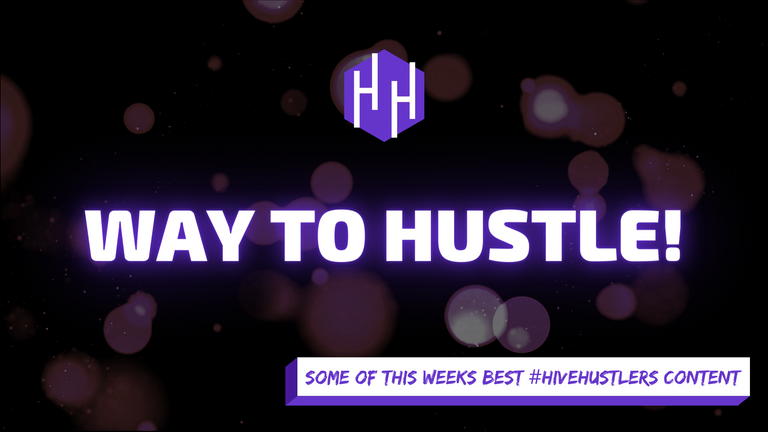 Welcome to another installment of our weekly curation showcase for entrepreneurs, by entrepreneurs!
Just like last week, I've brought a good mix of advice and hustle. Our community is starting to grow quickly, and there's a lot of general posting still being done on the tag, which @thatsweeneyguy is working diligently to help keep clean so all you hustlers can get recognized. We want to see more though! Keep posting about your journey of being an entrepreneur, or how you plan to move forward with your business. Keep posting those updates and new products/services. We want to see how you hustle!

Are you investing in your brand?
@jangle recently took the leap and bought a professional logo for her brand! A logo is the face of everything your business does, and will be what makes you stand out from the crowd.
She talks about how it doesn't matter what your hustle is, you're going to need to put in the work, and often, you've got to spend money to earn money, wrapping it up with a simple message:
"You are worth it. Your business is worth it. Your customers are worth it."

We've got another card hustler in our midst!
Last week I talked about @tukes-mtn-ent selling sportscards on eBay, and this week, @dadapizza comes through with his own post about selling cards as well!
Again I'll say, selling any sort of collectibles is a classic hustle and one that has only gotten better and easier with the prevalence of the internet.
Not only does @dadapizza talk about how fun it is to make money like this, but he's also already got his mind on reinvesting into his hustle by purchasing another load of cards to resell.
I for one can't wait to see more of this!

Speaking of classic hustles...
ART!
Humans were creating works of art well before they were writing words, and as soon as the first artist realized he could trade his work for something they needed, a hustler was born!
@sumatranate has jumped on the opportunity to tokenize his art on the @nftshowroom marketplace, and is earning HIVE for doing something he loves!

Are you keeping inventory of your customers?
When someone comes in contact with your business, are you able to get back in contact with them? @chekohler explains how an email list can be invaluable for updating previous customers or convincing someone who didn't end up following through to purchase.
This post is absolutely full of great advice for anyone looking to start building or improving an email list!
"Emails and phone numbers are the commodities of today in marketing; it's our gold, it's our real estate, its how cash flow tool. The more of it you can collect, the more likely you are to turn a profit."

You know what else is a hustler's best friend?
Partnerships & Collaborations!
Just like the one @hivehustlers has made with @hivelist! Hivelist has decided to integrate the majority of their discord activity into our server!
With this partnership, the entire #hivecommerce community will work together more seamlessly, and build some real foundation for the future of entrepreneurship on the blockchain!

We would like to take just a second to remind everyone that posting to the #hivehustlers tag and especially the Community page should be reserved for content related to business, entrepreneurship, incubation, startups, etc. We're making connections with much larger curation groups in an effort to reward those who deserve it, and we would like people interested in our niche to be able to readily find the content they're looking for.

Come join the hustle!
Our community is growing by the day, and we invite you to join us as well! If you're an entrepreneur yourself, our community is all about mutual leverage of knowledge to help everyone propel their businesses to succeed in an ever-changing world. If you're just a fan of the ecosystem and want to watch and support new HIVE projects as they spring to life before your eyes, this will be the place to be! Join our discord and come chat with us!

Thanks for reading! If you enjoyed this post, share it to spread awareness of our humble community, and the amazing people who make it all possible!