En mi último post en esta comunidad, les dije que tomé la decisión de cambiar el lugar donde coloco mis plantas, ya que donde se encontraban (patio de la casa) habían insectos que las estaban dañando, por ese motivo decidí colocarlas dentro de la casa, en un lugar cerca de la ventana, donde yo pensé que les haría bien, porque iban a recibir algo de iluminación.
Al transcurrir las semanas, me pude dar cuenta que tres de mis plantas se estaban viendo afectadas, una de ellas estaba perdiendo su coloración (comenzó a opacarse), a otra le salió manchas negras y al Cactus le salieron machas blancas.
In my last post in this community, I told you that I made the decision to change the place where I place my plants, since where they were (patio of the house) there were insects that were damaging them, for that reason I decided to place them inside the house, in a place near the window, where I thought it would do them good, because they would receive some illumination.
As the weeks went by, I realized that three of my plants were being affected, one of them was losing its coloration (it started to get dull), another one got black spots and the Cacti got white spots.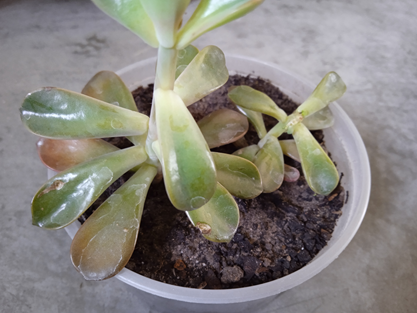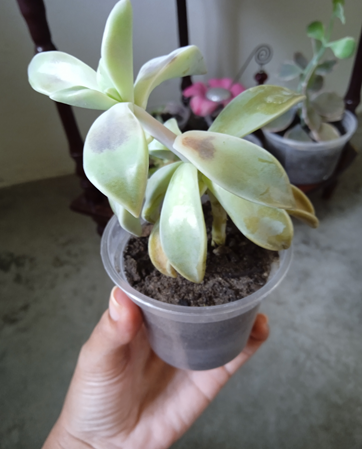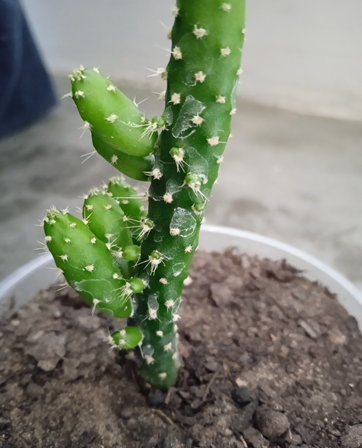 ---
La razón principal era que no estaban recibiendo la cantidad de luz solar que necesitaban, así como también, el lugar donde las ubiques no tenía una buena ventilación, lo que produjo que le salieran esas manchas (hongos). En el momento lo que hice fue moverlas más cerca de la ventana, para que pudieran aprovechar aún más la luz solar, también desde ese día, minimice la cantidad de agua al momento de regarlas, para así evitar el exceso de humedad, solo las regaba cuando era necesario (cuando la tierra estaba muy seca).
Al pasar de los días, observe que no mejoraban y que se iban sumando aún más plantas con estos y otros síntomas parecidos.
The main reason was that they were not receiving the amount of sunlight they needed, as well as the place where they were placed did not have good ventilation, which caused them to get those spots (fungus). At that moment what I did was to move them closer to the window, so that they could take advantage of the sunlight even more, also from that day, I minimized the amount of water at the moment of watering them, in order to avoid the excess of humidity, I only watered them when it was necessary (when the soil was very dry).
As the days went by, I noticed that they did not improve and that even more plants with these and other similar symptoms were being added.
Afectados mis Cactus / Affected my Cacti
Una de las cosas que quiero resaltar porque de verdad me sorprendió es que se vieron más afectadas las Suculentas que los Cactus, pensaba que sería al contrario, incluso una de las cosas que pensé y pensé antes de tomar la decisión de tenerlas dentro de la casa, fue exactamente eso, el tema de la luz solar, ya que sabemos que los Cactus son plantas de sol, y en este caso ellas siguieron prosperando, como es el caso de mi Opuntia Microdasys White, a esta le siguieron creciendo nuevos retoños, aunque ya no tan redondas como solían formarse cuando estaban en el otro lugar, donde la luz solar era directa y más prolongada. Esto podrás notarlo en la siguiente foto, siendo las más redonditas las que crecieron estando en el patio de la casa y las más largas estando dentro de la casa. A este Cactus también le salieron manchas blancas.
One of the things I want to highlight because it really surprised me is that the Succulents were more affected than the Cacti, I thought it would be the opposite, even one of the things I thought and thought before making the decision to have them inside the house, was exactly that, the issue of sunlight, since we know that Cacti are sun plants, and in this case they continued to prosper, as is the case of my Opuntia Microdasys White, this one continued to grow new shoots, although not as round as they used to form when they were in the other place, where the sunlight was direct and longer. You can see this in the following photo, being the rounder ones the ones that grew in the patio of the house and the longer ones inside the house. This Cacti also got white spots.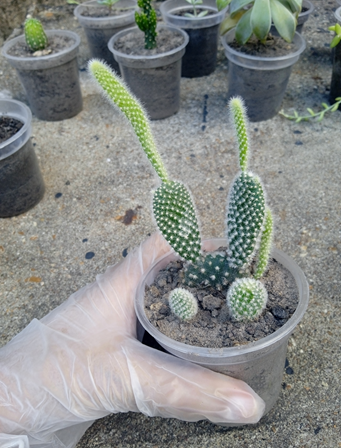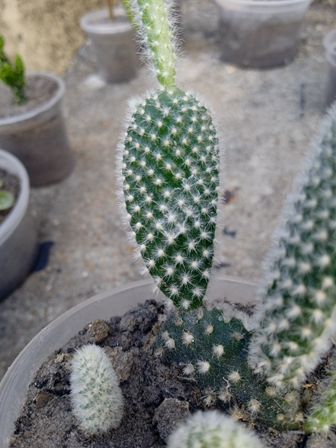 ---
Este grupo de Cactus que verás a continuación también prosperaron aun estando en esa condición de poca luz, en el primero puedes observar que le han crecido más retoños, al segundo le continuaron creciendo sus hojitas y el tercero va aumentando su tamaño.
This group of Cacti that you will see next also prospered even being in that condition of little light, in the first one you can observe that they have grown more shoots, the second one continued to grow its leaves and the third one is increasing its size.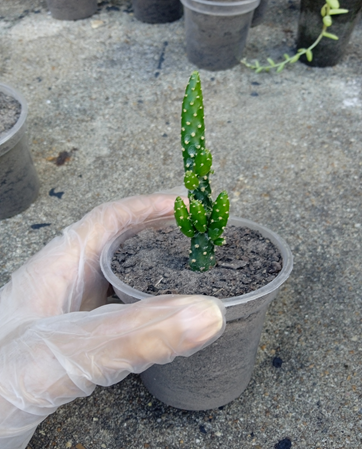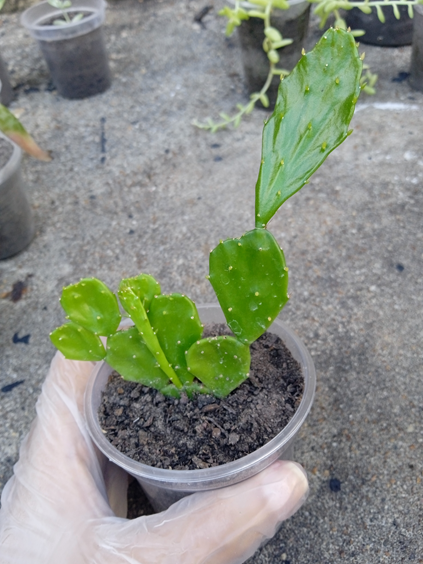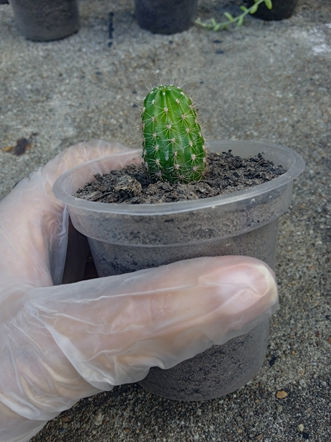 La única que no ha prosperado es la Mammillaria Gracilis, que sigue del mismo tamaño, y al verla me causa risa, porque yo digo que ella se quedó en el mes de Diciembre, como que le gustó mucho ese mes! XD XD XD, si te fijas bien, parece un arbolito de navidad jejeje.
The only one that has not thrived is the Mammillaria Gracilis, which is still the same size, and looking at it makes me laugh, because I say it stayed in the month of December, as if it really likes that month! XD XD XD, if you look closely, it looks like a Christmas tree jejeje.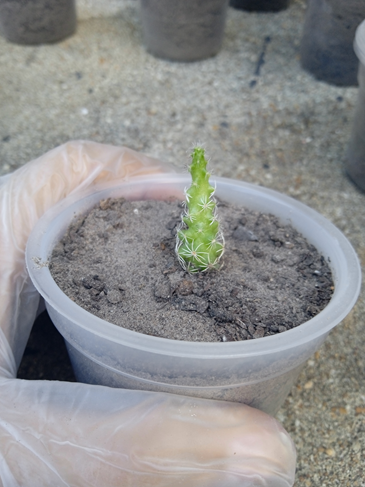 ---
Afectadas mis Suculentas / My Succulents Affected
A pesar de que las Suculentas no son plantas de estar tantas horas expuestas al sol, fueron las más afectadas. Al parecer las horas de sol que recibían desde la ventana no fueron suficientes. En las siguientes fotos te muestro sus daños.
Although Succulents are not plants that spend so many hours exposed to the sun, they were the most affected. Apparently the hours of sun that they received from the window were not enough. In the following photos I show you their damages.
Reparando mis Cactus y Suculentas / Repairing my Cacti and Succulents
Al ver que no funciono lo que había hecho anteriormente, debía hacer algo más por ellas, así que me coloque mis guantes e inicié.
Seeing that what I had done before did not work, I had to do something else for them, so I put on my gloves and started.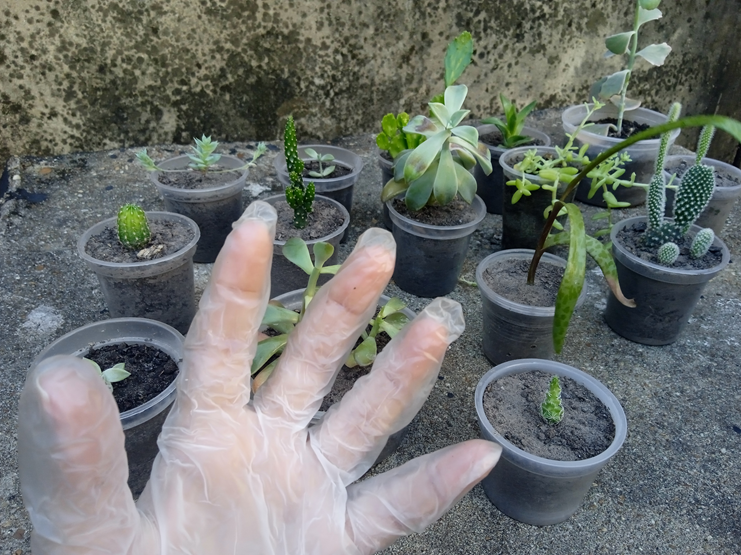 • Primero: Fui retirando cada una de las plantas de los envases donde se encontraban.
• First: I removed each of the plants from the containers they were in.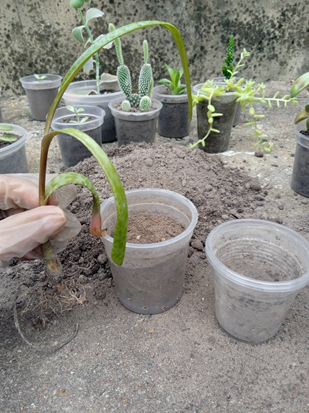 • Segundo: Le retiré la tierra negra (abono) que tenían los envases y le agregue tierra negra nueva.
• Second: I removed the black soil (compost) from the containers and added new black soil.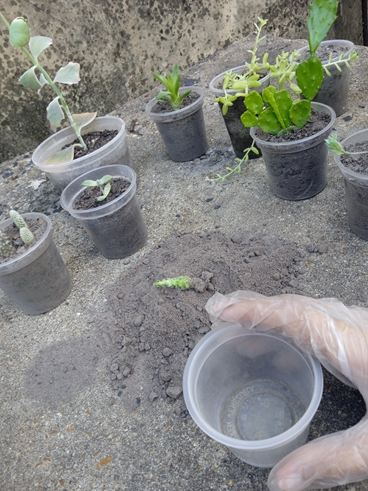 • Tercero: En algunos casos fue necesario quitar algunas hojitas de las plantas dañadas, ya que se encontraban en mal estado y podían dañar el resto de la planta.
• Third: In some cases it was necessary to remove some leaves from the damaged plants, as they were in poor condition and could damage the rest of the plant.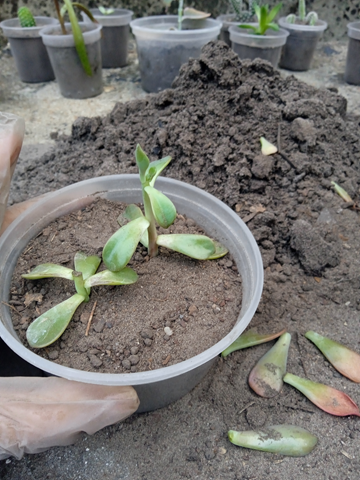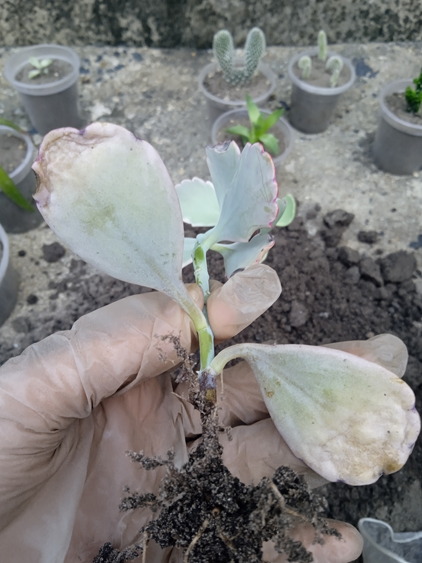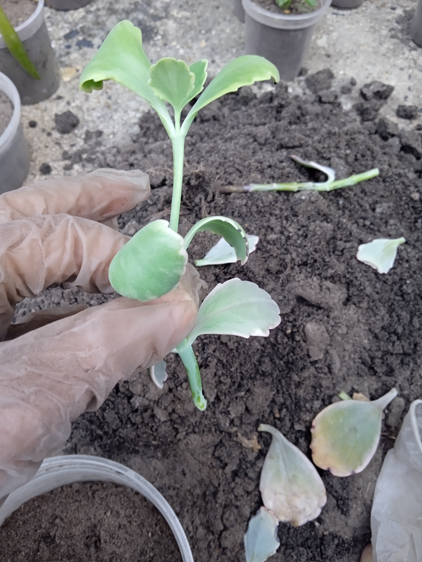 ---
• Cuarto: Sembré nuevamente las plantas en los envases.
• Fourth: I planted the plants again in the containers.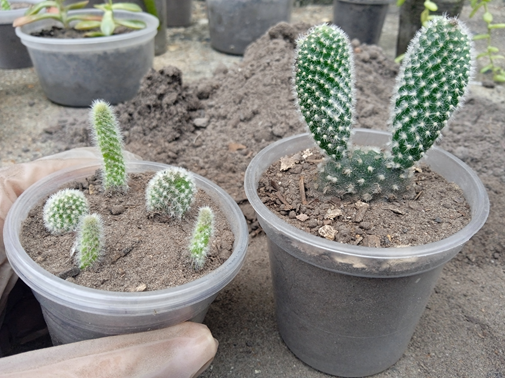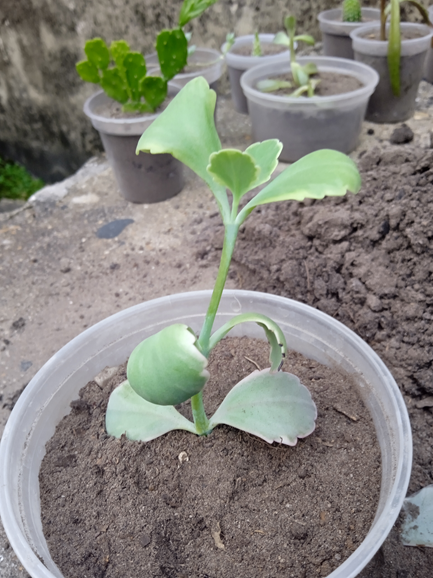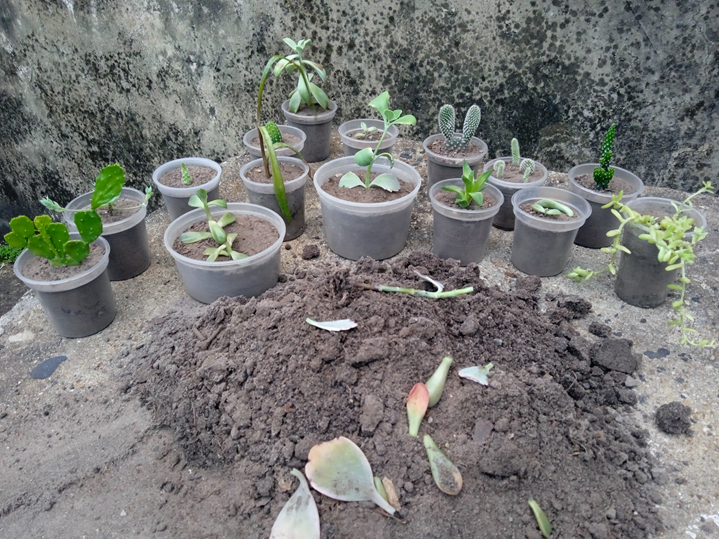 • Quinto: Las regué, y nuevamente las coloque en el patio de la casa, para que reciban mayor cantidad de luz solar.
• Fifth: I watered them, and again placed them in the patio of the house, so that they receive more sunlight.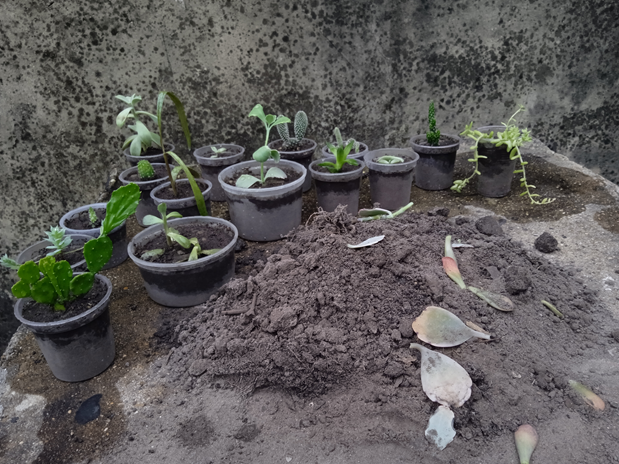 Espero que este segundo intento funcione, porque la verdad me he encariñado mucho con ellas y no me gustaría perder más plantas. En los próximos post le estaré dando detalles de cómo van. Gracias por leer hasta el final. Bendiciones.
I hope this second attempt works, because I have become very fond of them and I would not like to lose any more plants. In the next posts I will be giving you details of how they are doing. Thanks for reading to the end. Blessings.

• Las fotos de esta publicación fueron tomadas por mí, desde mi celular.
• El Banner lo hizo mi cuñada: @ferguis-ve, con las aplicaciones: Poster Maker y Text Art, descargadas de Play Store.
• The photos in this post were taken by me, from my cell phone.
• The Banner was made by my sister-in-law: @ferguis-ve, with the applications: Poster Maker and Text Art, downloaded from Play Store.