Read this post on TravelFeed.io for the best experience
---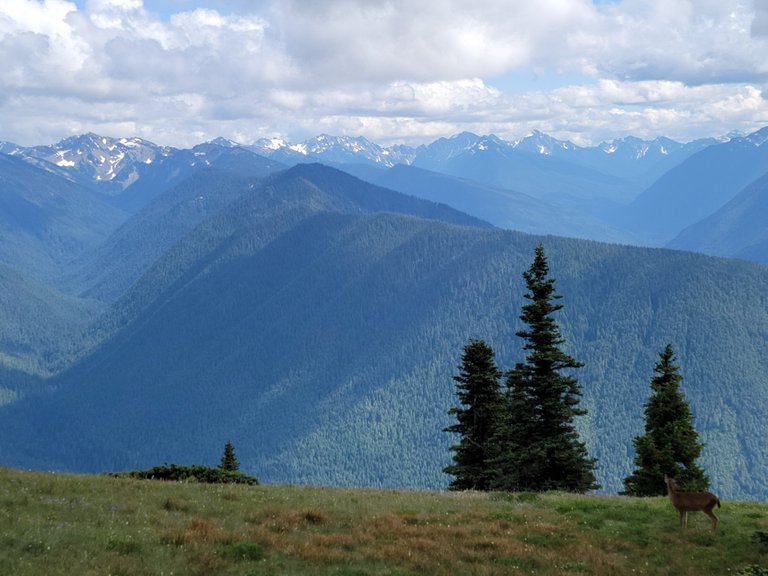 ---
The Olypmic National Park in NW Washington is a wildlife area encompassing nearly 1 million acres of beauty from the Olypmic mountain range to the Hoh Rain Forest.  If you visit the Seattle, Washington area it's a must-do trip.  
This article is focused on the Hurrican Ridge area.  Since we flew into Seattle we decided to book a tour to take us on this adventure.  Our tour started out with us taking a short trip on Seattle's Link system, which took us to our pickup point in downtown Seattle.  From there we took one of the many ferries running throughout the bay and water system to the various islands.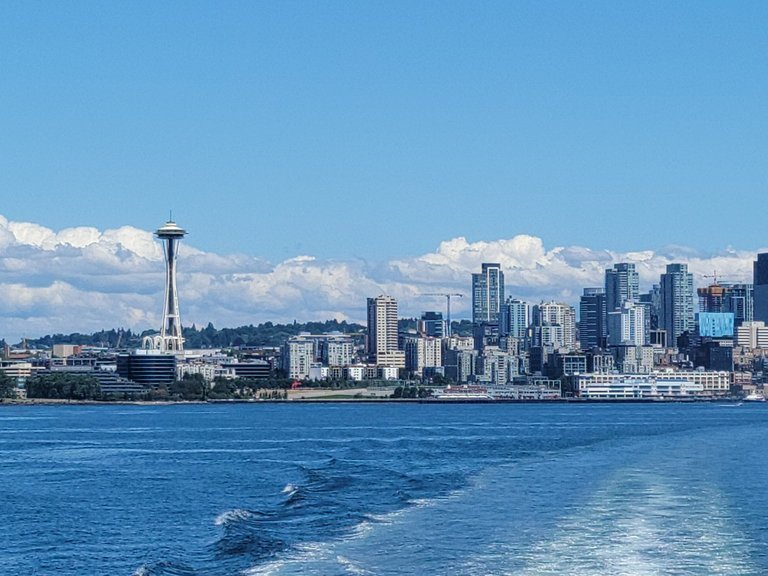 Looking from the back of Bainbridge Ferry toward downtown Seattle
It was toward the end of the trip that we actually arrived at Hurricane Ridge.  We parked at the Visitor's Center there and had access to many hiking trails.  We took the High Ridge Trail to Sunrise Point.  This ridge gets its name due to the up to 75 MPH wind gusts that buffet the top of the ridge.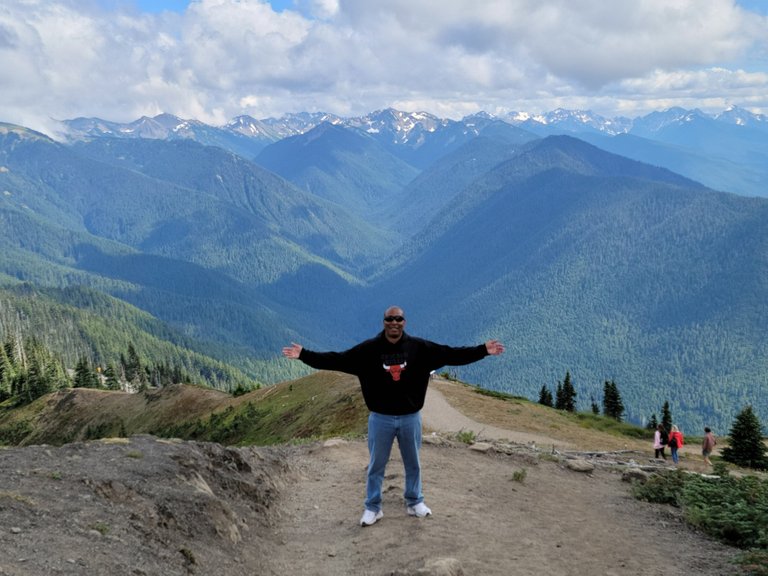 This is near the high point of the trail, Sunrise Point.
Walking the trail you are likely to see wildlife along the way.  The black-tailed deer is a common sight and we saw several both during the hike and when driving along the roads in the area.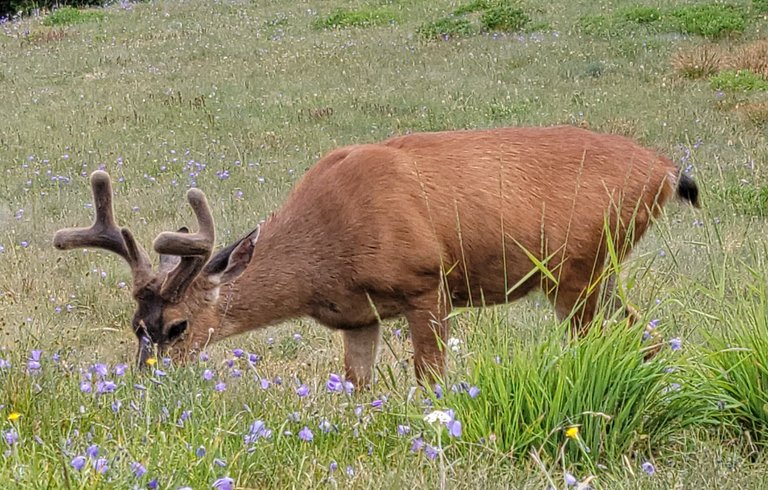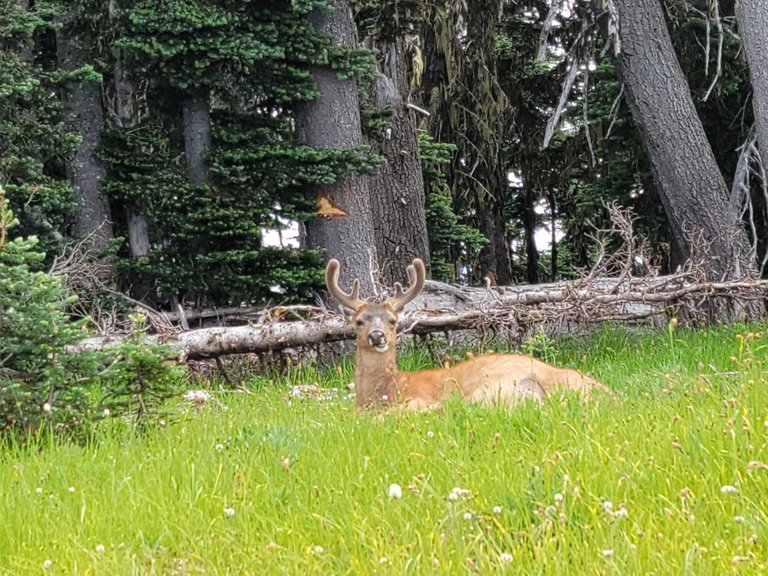 One thing we were not expecting to see up close and personal was a black bear.  This one wandered quite close to the trail and thankfully was much more interested in the blackberry bushes in front of him rather than the humans nearby.
A little too close for comfort!
In mid-July the weather in Seattle is quite nice, in the low 70s during the late afternoon and early evening.  Up here at this elevation, it was a little colder and much windier.  My Chicago Bulls hooded sweatshirt came in very handy.  You need to dress in layers to accommodate the different conditions all on the same day.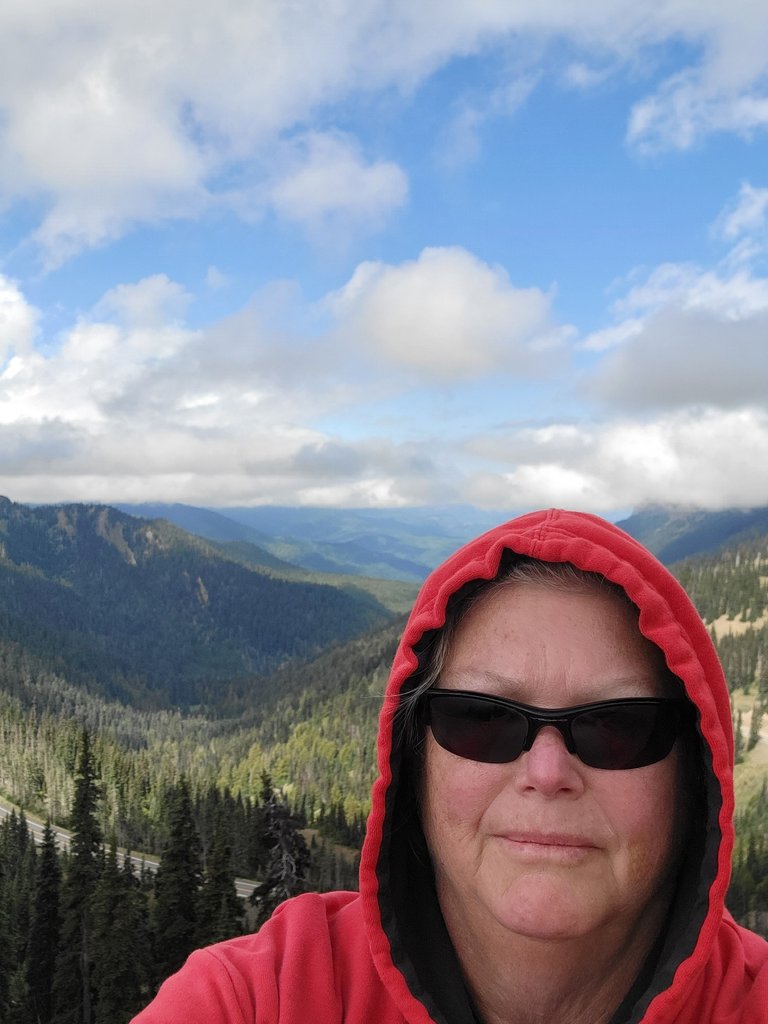 As I said, we booked this tour through a professional company and the cost for my husband and me was over $500.  It included the ferry fares, a light breakfast, a picnic lunch, snacks & drinks, van transportation to the park, and a professional guide.  After the fact, my advice is that if you are independent and not wary of venturing out of your own, this price was not worth what you received.
Rent a car for the day (around $150 these days, unfortunately!) and do some online research about where to go in the park.  Mapping apps can get you there and you can do everything we did on your own!  Pack some clothes, drinks, & snacks and explore at your leisure.  Trails are well marked and our "professional guide" did not have much to do with enriching the trip nor take us any place than we could have gone on our own.
Seattle has turned out to be a great place to visit and I'm very happy that we included the Olypmic National Forest in our trip.  The scenery is breathtaking and well worth the effort.  
All photos were taken with my Samsung S21.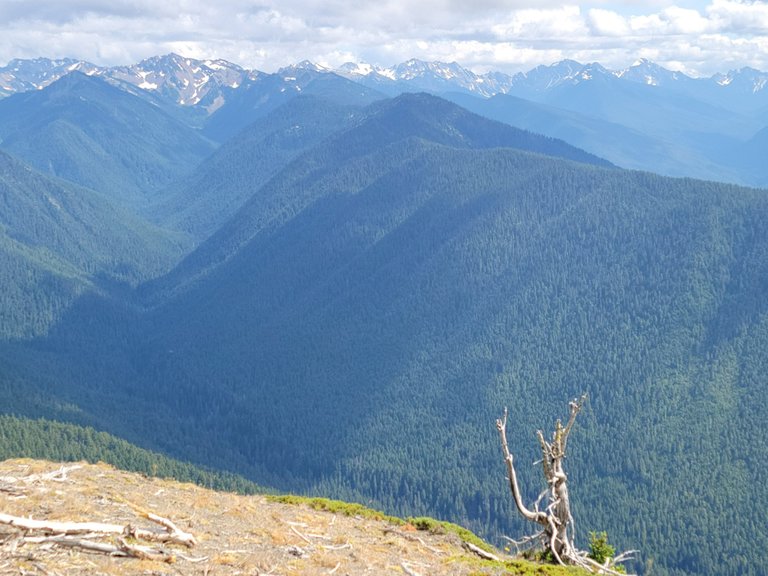 ---
View this post on TravelFeed for the best experience.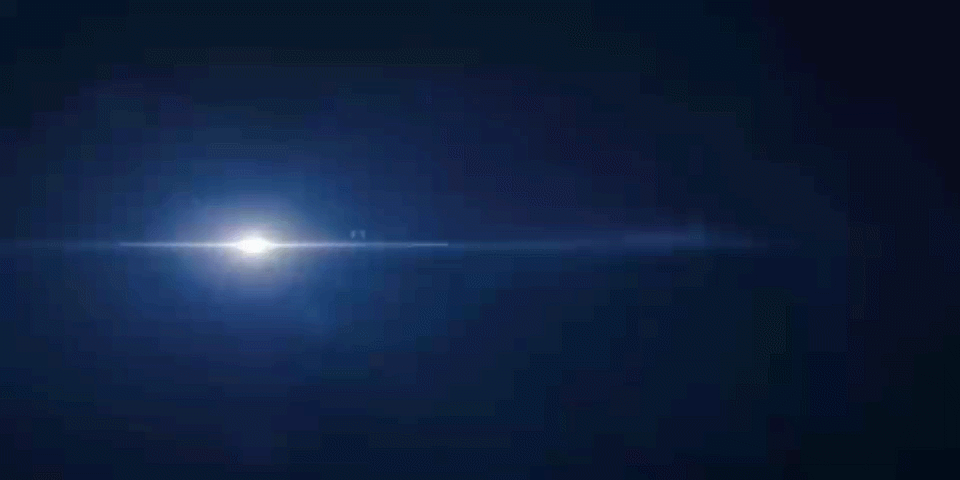 Hive is a social blockchain where you can join communities, share and curate content and earn cryptocurrency that is growing in value. Sign up for an account at Sign up for Hive.