Read this post on TravelFeed.io for the best experience
---
Most of the high passes in the Alpes around Briancon, like col d'Izoard, col du Galibier and col du Granon are in their present form military in origin. Fortifications to defend the country were build high up in the mountains and to get there roads had to be build. The army needed tarmic roads to transport heavy material and building equipment up into the mountains. The installations and fortifications build their are still in ise. The French army uses these facilities for regular military exercise. However, since the second World War these high passes have become more and more integrated in the recreational activities of increasing numbers of people. Each day is summer hundreds if not thousands of climb these passes. Hikers use the passes to get high starting points for their hikes and numerous people drive up in their cars just to enjoy tje spectacular views. 
And let's not forget that most of these passes are also a means to get from one valley into the next without having to drive around the mountains that divide them. Even though driving these passes is slow, driving around the mountains often takes hours more than driving the pass.
Col du Granon is a notable exception to this last use of these high passes. Lying at an altitude of 2414 metres only southern approach is a narrow tarmic road that winds up steeply. Beyond the pass a gravel road continues into a military training zone and the road is forbidden for non military personnel. The only reason for civilians to travel up to the col is for the challenge as a cyclist to do just that or to use it as a starting point for some interesting hikes.
As such, Col du Granon is extremely popular. On a beautiful summer's day it is adviseble to take the journey up early because later on the day it becomes crowdy and finding a parking spot can become a problem.
Perhaps the most popular hike from Col du Granon is to first climb the summit of La Gardiole, a climb of a little over 350 metres to 2753 metres and then to descend to the Lac de l'Oule at 2430 metres. The summit of La Gardiolr offers a spectacular view of the surrounding mountains and Lac de l'Oule is an idyllic spot to enjoy your lunch.
Though we were a litttle late at the col, we were in time to find a place to park the car. The view from the col is already breathtaking.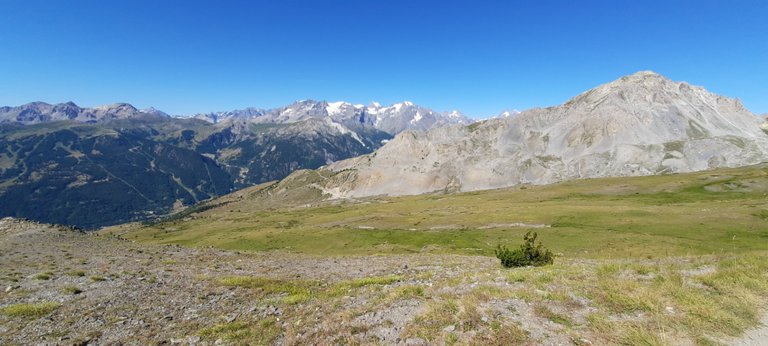 The path first leads through a grassy landscape, only rising slowly, till the point where the climb of La Gardiole starts.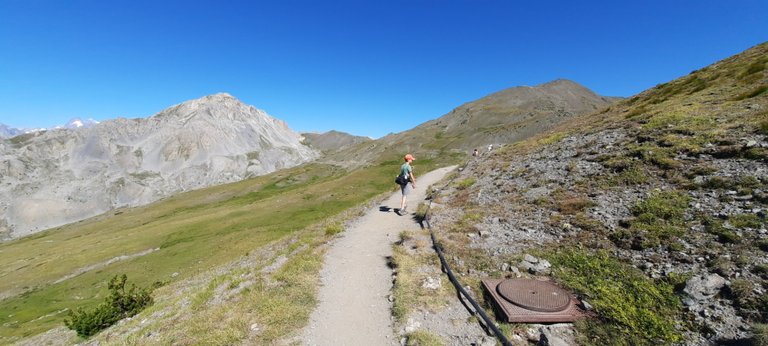 Though the climb of La Gardiole is only a little over 300 metres it is a very steep climb through rocky terrain. In some places you have to use feet ánd hands to get up.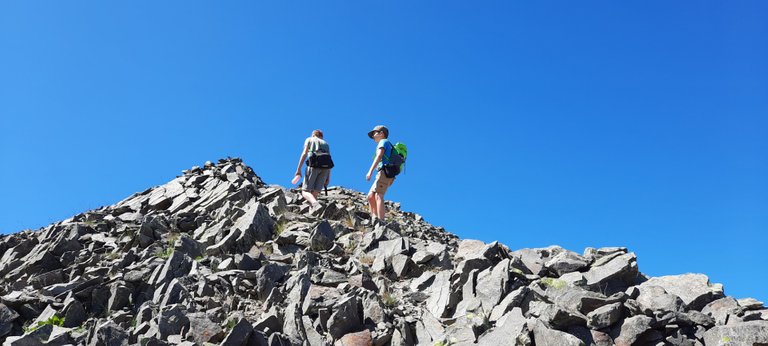 All the trouble and effort of climbing up is well rewarded with the view. Such a magnificent view should be seen in real ive. Taking pictures of it, is actually only good for refreshing one's memory of the view. My photography skills are not sufficient to convey the grandness of the view to someone who has not seen it yet. Standing up there and seeing all those magnificent mountains, some covered in snow and glaciers makes you really seem small. Here's the view in the direction of Col du Granon.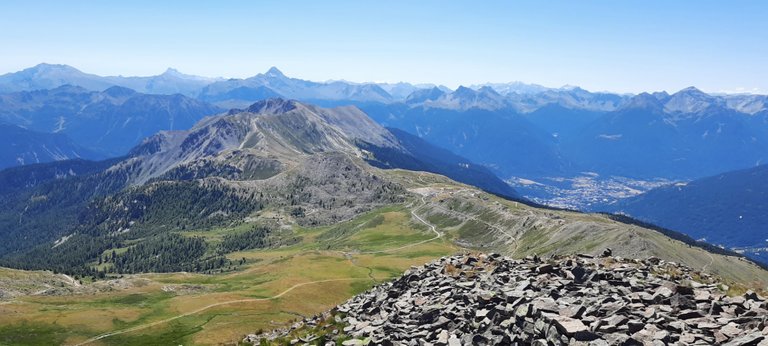 And here's the view in the other direction where Lac de l'Oule can be seen in the distant.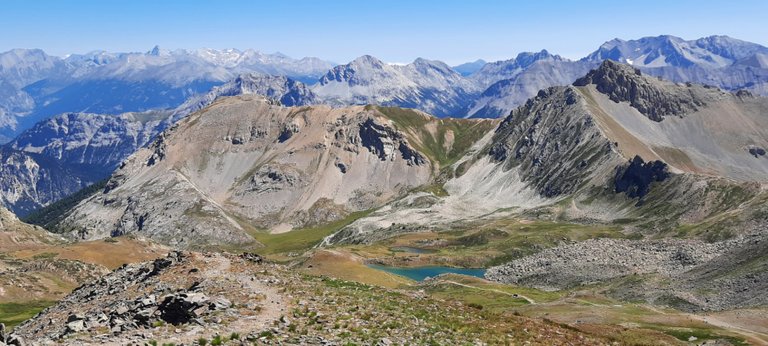 The summit itself is not too large and can become crowded quickly. And that's another reason to try and get there early.
When you're this high up you have a change to see one of the great predator birds from relatively close up. During the time we were up there a griffon vulture circled close over our heads. It's quite an impressive sight to see a bird with wingspan of some 2 metres that close up. The descent to Lac de l'Oule takes close to an hour and by the time we got there it was lunch time and already quite lot of people had found a nice spot on the border of the lake.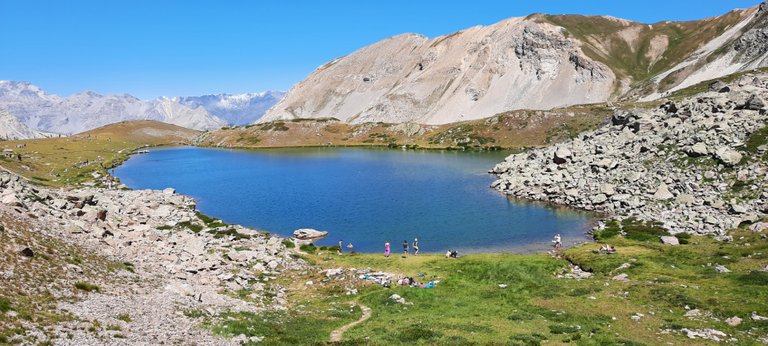 As I wrote already, it is quite a popular hike. The air was buzzing with the talk of all the people having lunch there. 
From the Lac de l'Oule it is a short climb of 100 metees back up to the Col de l'Oule. From there it is a very gradual descent back to Col du Granon.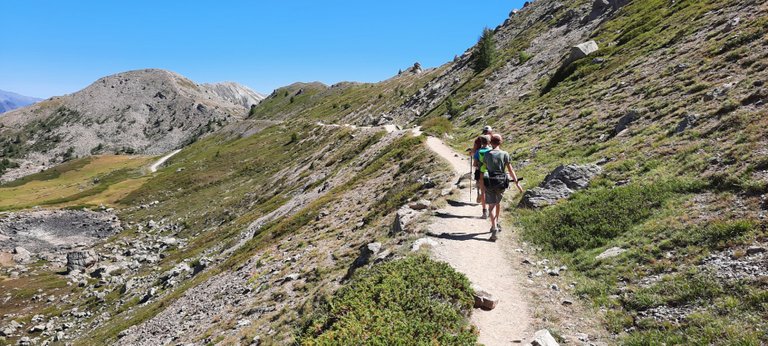 It was a great walk. Thanks to the French military for building the road.
(All images were made by me)
---
View this post on TravelFeed for the best experience.