Hey Travel Community,
for this December/January my brother and I have planned to see a little more of Phuket and possibly visit a few more islands, of course always 3-4 days per island.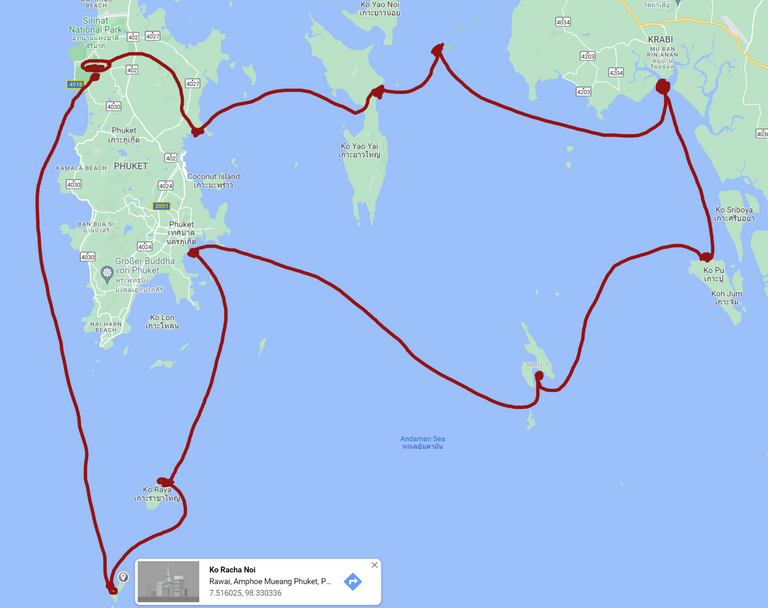 My roughly planned route so far would be from
Phuket Airport >> Koh Yao Yai Village
Here we would land and either allow us a day still on Phuket or go directly to the island of Koh Yao Yai to move there in the Village.
Here I thought of 3-4 days, the island is large, there is certainly much to see.
Do you have suggestions, ideas or even experiences what you can experience on Koh Yao Yai?

Koh Yao Yai >> Hong Island
On Hong Island I thought of a day trip with a private boat which brings us afterwards further to Krabi.
On Hong Island there should be nice and good restaurants and really good beaches.
Thoughts?

Hong Island >> Krabi
In the late afternoon / evening I would go from Hong Island then over to Krabi to let the evening end there relaxed at a hotel, bar or club / beach bar.
Recommendations for Krabi (1 or 2 days) are welcome <3

Krabi >> Koh Phi Phi or Koh Pu/ Koh Jum ?
I am not yet really decided by the ferry that goes either to Koh Phi Phi or Koh Jum - perhaps a longer stay in Krabi would be good to go from here to Phi Phi and Koh Jum?
In each case I think day trips make sense whereby Koh Phi Phi is possibly interesting as the later, even for a further trip to Chalong.

Koh Phi Phi >> Chalong
Back to the island of Phuket and its beautiful beaches and small villages. I already got to know the pier in Chalong on my last vacation. From here you could take off directly to visit Ko Raya or you have a good starting point to visit the Big Buddha or animal parks.

Chalong >> Ko Raya and Ko Racha Noi
For sure there will be no ferry or similar here therefore a private skipper will have to bring us to the far away island Ko Raya.
Closer / deeper you will not come to the Adamansee and I can well imagine that there are also boat tours far out here that you will not forget. Rare animals are here for sure.

So far is my first planning for the vacation in December - do you have maybe experiences you want to share, can recommend travel points?
Since we have planned at least 1 month we are grateful for any recommendation ;-) maybe @julee have an idea?
All the best,
@RivalzZz