Read this post on TravelFeed.io for the best experience
---
The Canary Islands are located in the Atlantic Ocean, not far from the shores of Morocco and Western Sahara. This is where we decided to spend the last two weeks of 2019.
For the first time in all our trips to different countries, this trip was divided into two almost equal parts, underwater and overwater: diving and trips around the island. We also planned to climb the highest point in Spain — Mount Teide, which is in the title photo).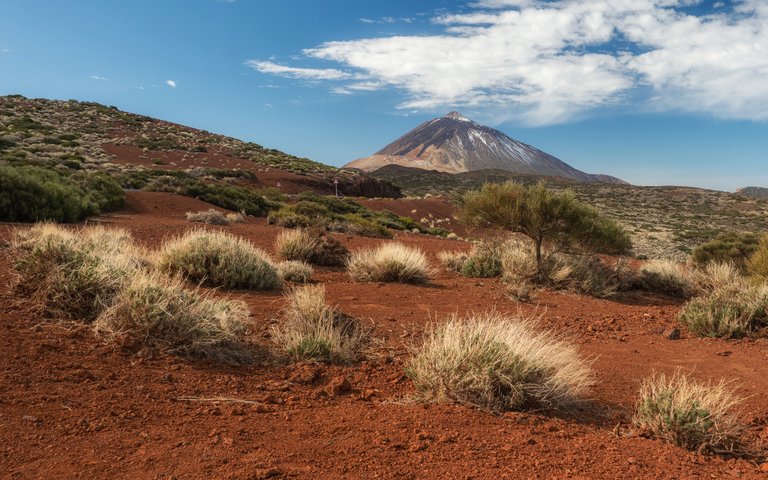 First of all, after buying tickets for the direct flight Moscow — Tenerife (South Airport), we rented a car from CICAR. The rental price for two weeks with full insurance turned out to be quite low, only 289 euros + 35 euros were taken in advance as insurance for a full gas tank upon return. Just € 20 per day is a great price! And it's possible to pay in cash. After reading about winding and narrow serpentines usual for the island, I decided to take a small Seat Ibiza.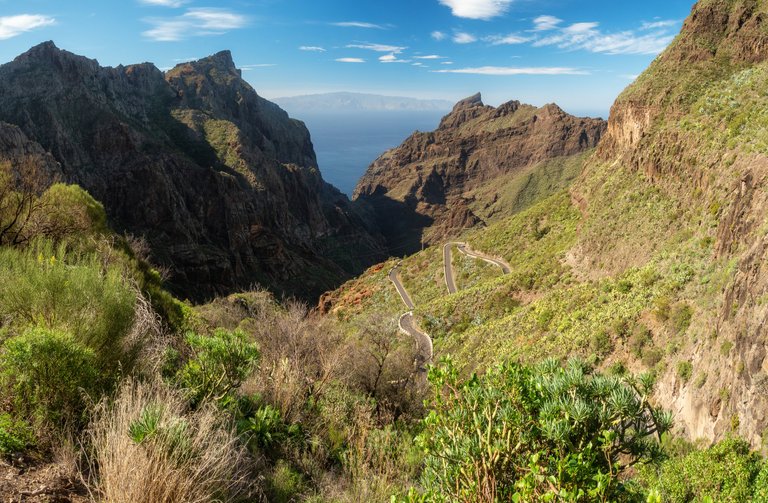 Upon arrival at Cicar office, I received a turbocharged Opel Mokka. Larger, but also a small car, and it was almost always quite comfortable to drive past oncoming cars on narrow roads.. It is good, however, that it was at least not a Toyota Hilux pickup, as I was given once in Chile, I certainly would not feel as comfortable here on it. In any case, mountain serpentines and parking lots there were some kind of challenge for me, but at the same time a good experience.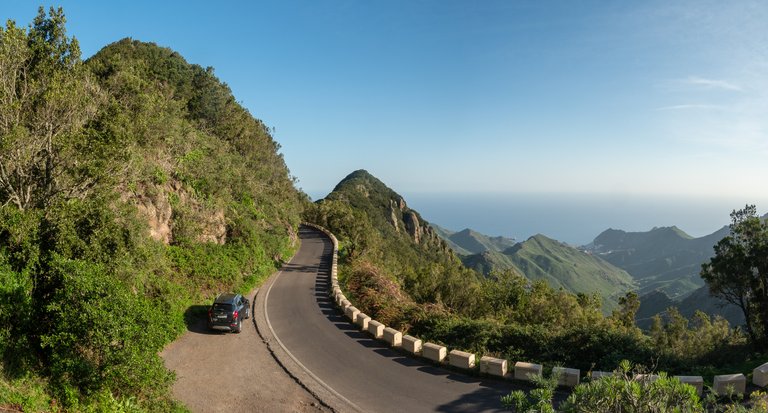 Our first long stop was in the town of Los Cristianos on the southwest coast. We lived there the whole first week.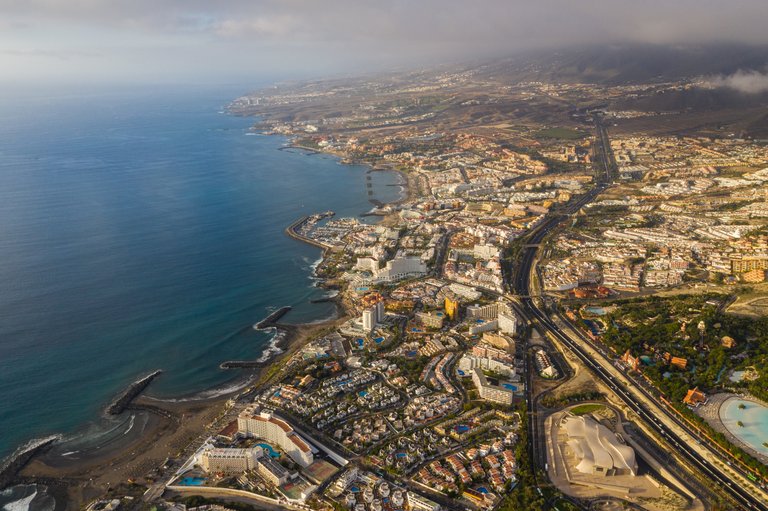 In the town's bay there is Los Cristianos Beach, a water sports center, and a wide promenade stretches along it. The nearby market sells a variety of handicrafts and clothing.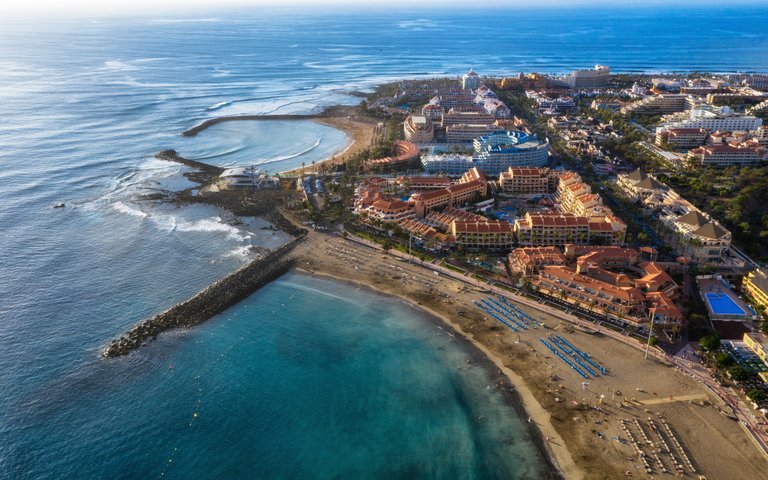 We decided to dive with the Russian diving center "Okeanos" and it was a good idea. Our underwater guides Pavel and Georgy showed us a lot of interesting things. They speak English very well and Spanish quite well, so they work not only with Russians, but, of course, it was most convenient for us with them.
This time I did not take the underwater camera box and light with me, and all the photos of me used in this post were taken by Olga @kibela. Only in the last two dives I took her small underwater camera Olympus Tough TG-5 and took some pictures.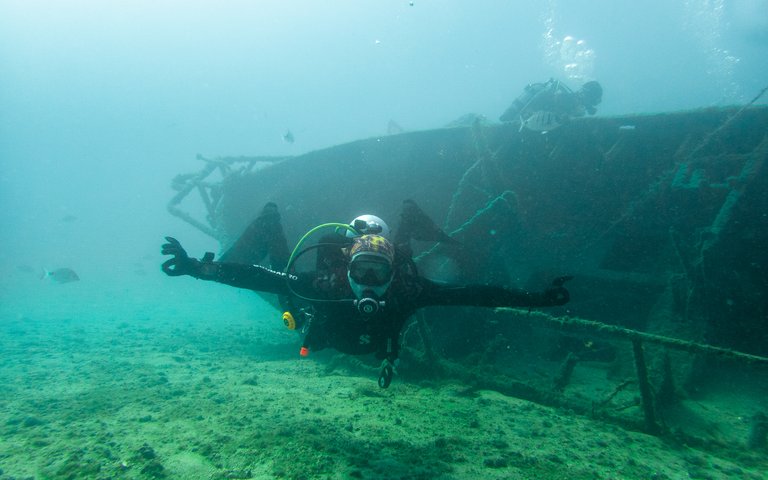 The dive center itself is located almost on the very promenade of Los Cristianos, and the zodiac boat with which we dived is in the port of another town, Las Galletas — in the photo below it is in the upper left corner. There is a wonderful restaurant El Bichero in this town, where octopuses and small grilled peppers are delicious. On the same coast, to the right, you can see a small white line — this is the Faro Punta de Rasca lighthouse. The circles on the water are fish farms.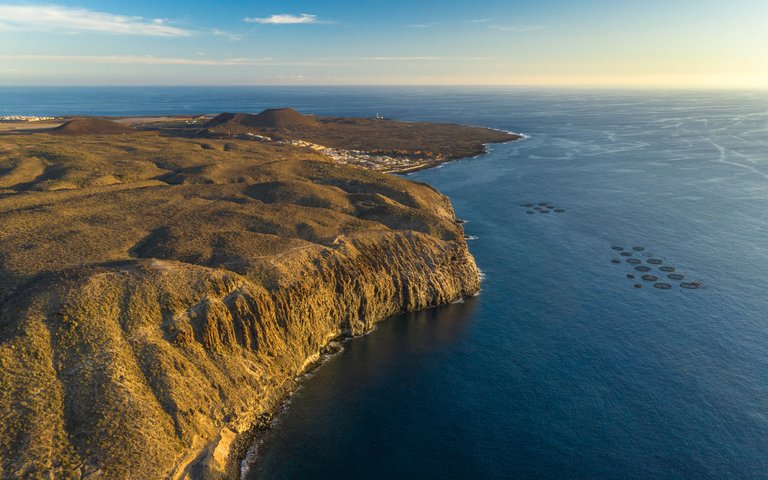 We quite often sailed past this lighthouse, going to the dive site and back, but unfortunately didn't bother to come here at sunset. After diving, I usually want not to drive and go somewhere, but just relax)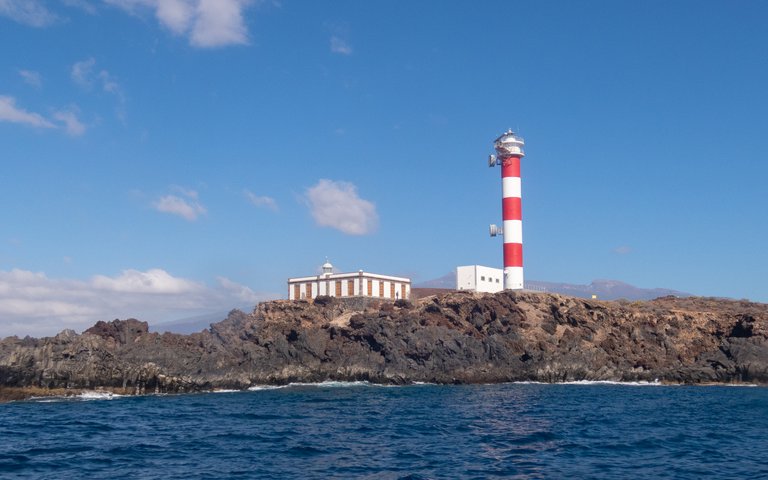 Near the coast of Tenerife, there are very friendly turtles and huge black Atlantic and green stingrays. I hope that @kibela will show her photos of these beautiful creatures soaring in the depths.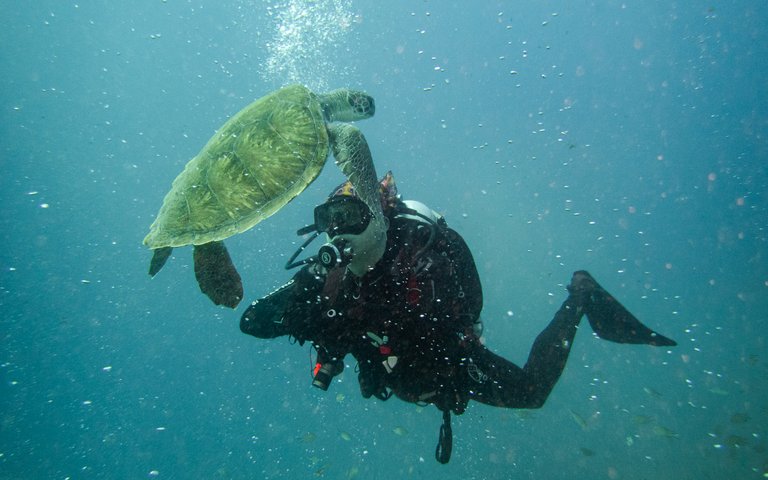 Together with stingrays, there are a lot of flounders on the sandy bottom, which I never tire of watching. It is especially fun to watch them burrow into the sand and quickly change color, merging with the environment. This one, for example, has not yet had time to disguise)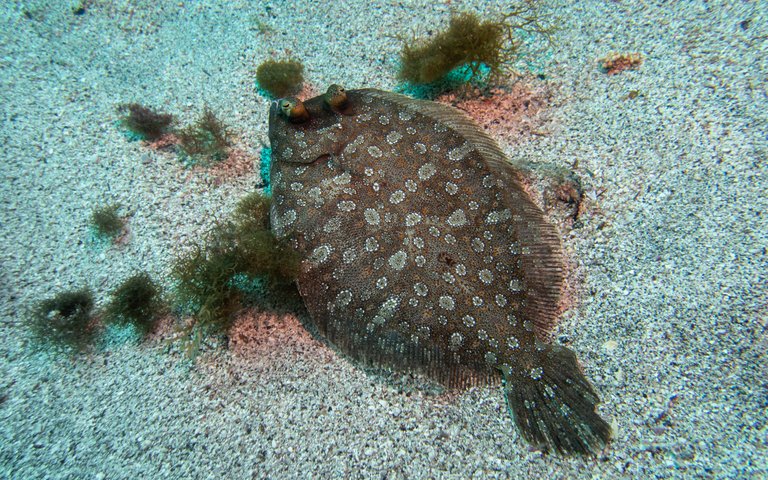 The Canary Islands are of volcanic origin, so under water there are clusters of dark basalt columns, similar to man-made sculptures. It looks quite majestic. If you wish, you can sit on them and, if you're lucky, even find something like a throne from the well-known series.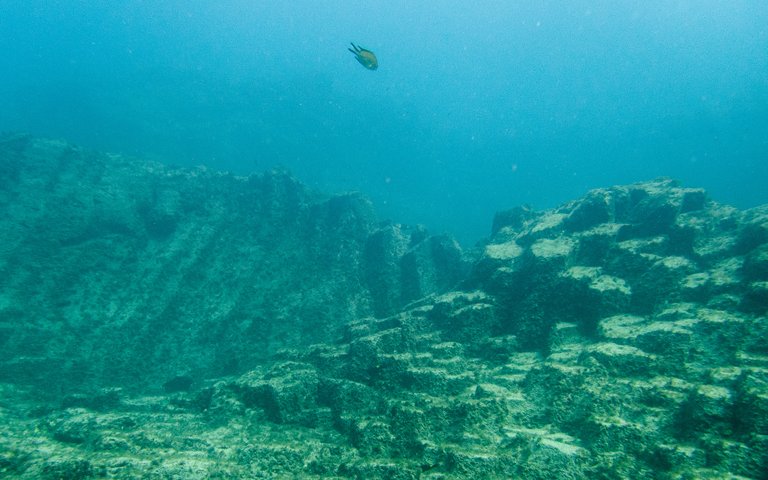 Tenerife is an island of "eternal spring", and although there is a cold Atlantic around, diving in a 5 mm suit is quite comfortable in late December, we didn't even wear helmets. But I sincerely recommend gloves: the first two days I dived without gloves, so my hands still froze pretty quickly. The water temperature then averaged 21 degrees Celsius.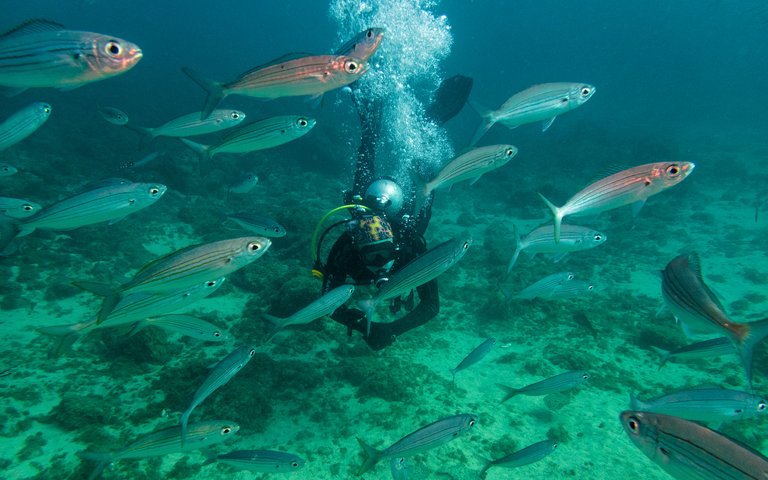 On the rocks there are starfish, in various grottoes there are a lot of spiny sea urchins. We also saw several "cone" mollusks.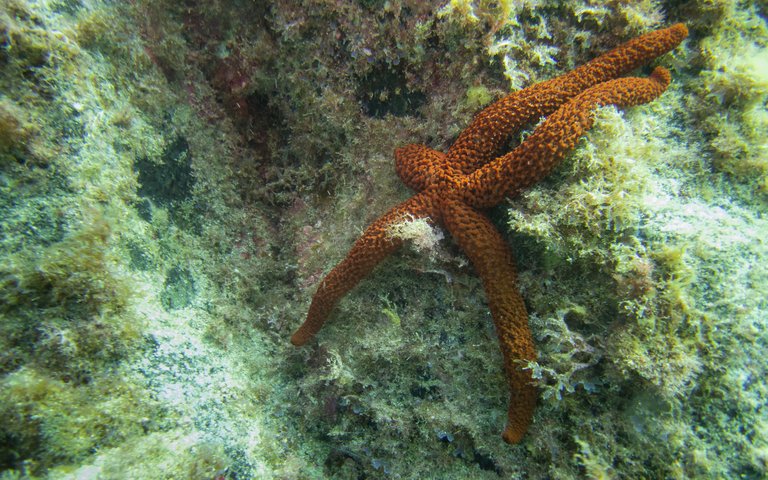 After diving, it's good to sit in a restaurant on the beach, take sangria and paella with seafood and look forward, squinting from the bright sun on the horizon.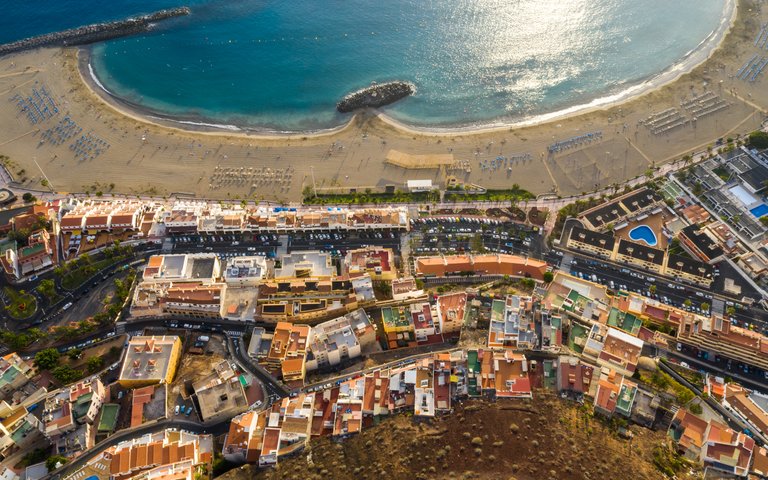 This, by the way, is the Playa de Las Vistas beach, which is about a kilometer long. There was a fountain on a rocky islet, which, however, did not work.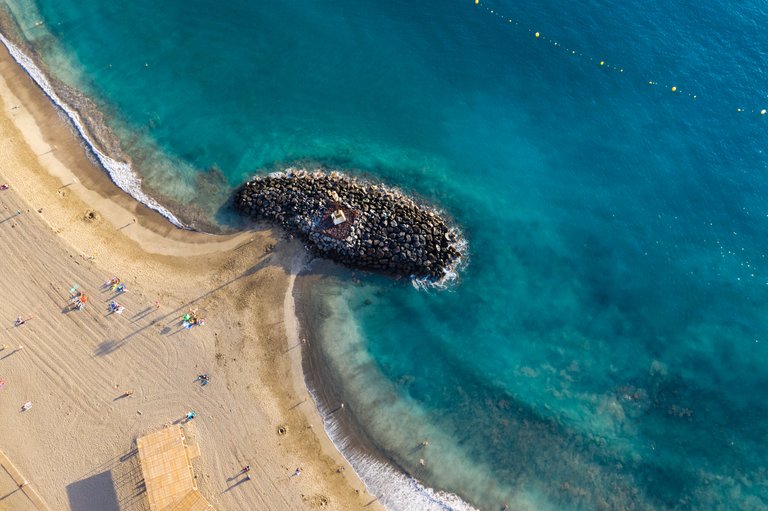 There are many apartments and hotels with swimming pools around. Actually, I have a feeling that the town for the most part consists of them.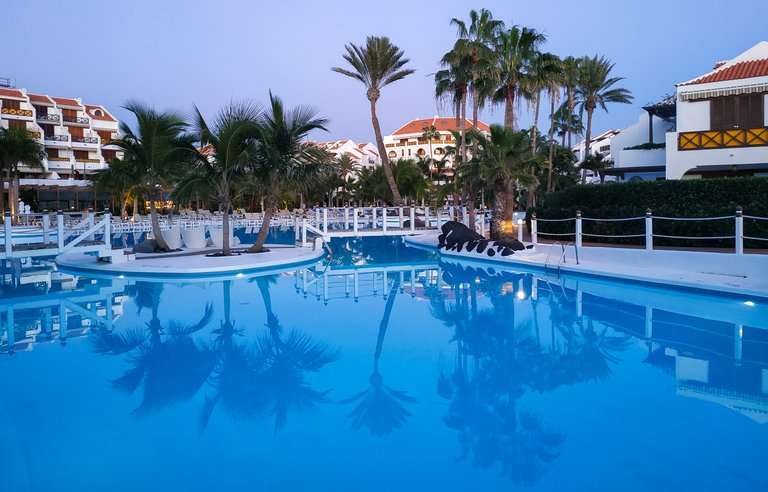 At sunset you can come ashore at the end of the Paseo Orinoco and watch the waves of the Atlantic crash against a rather pretty rock.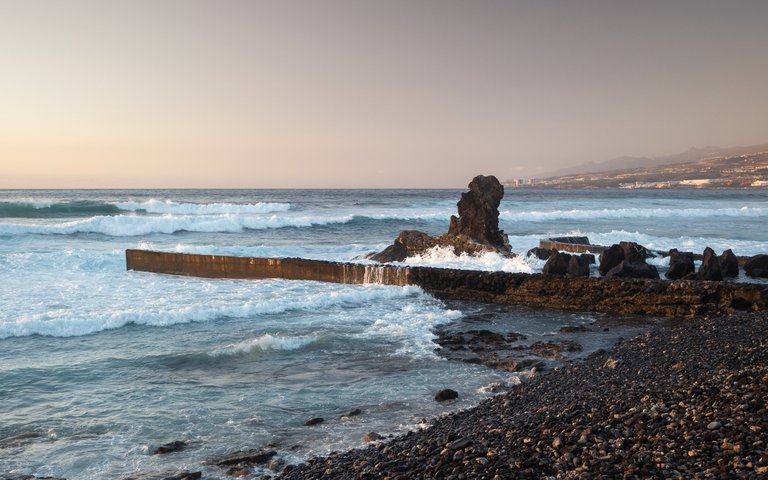 The ocean is much more active here than in the south of the city, where the breakwaters are larger. In this photo, the waves are not visible due to the long exposure.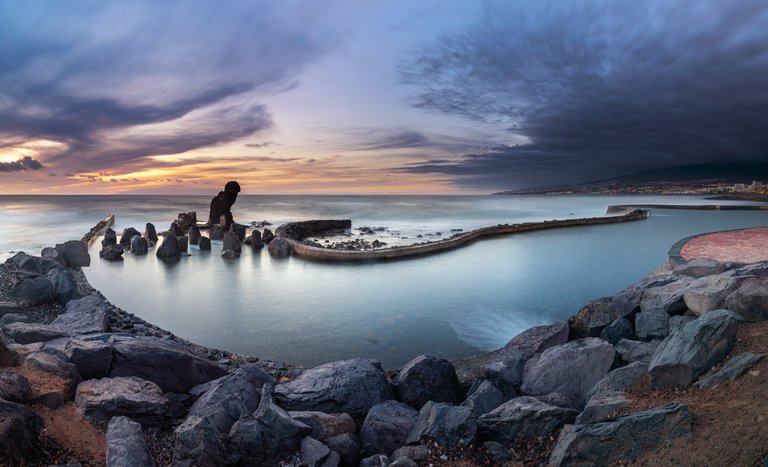 ---
It's better to watch the photos in high resolution.
---
P.S.One small but important note. Because this post was made for the TravelFeed.io project through its interface, it seems to me that sometimes all links may work correctly only when viewing through TravelFeed.io interface. This applies to both text links and high-resolution image links. So, if some links don't work, but you are interested in them — follow the links at the beginning or at the end of the post and wathc the post on TravelFeed.io.
---
Camera: OLYMPUS E-M1 Mark II, OLYMPUS Tough TG-5 and DJI Mavic 2 Pro
---
You can also see my photos in my blog LJ and in my profile on NatGeo
---

By the way, if you are interested in purchasing my high-resolution photographs in order to use them privately (including printing on photo paper or large canvas), create a collection of limited editions of digital pictures you own or just thank me for my work, you can visit the new Lensy.io marketplace and view and buy one of limited editions of my tokenized photos. Lensy.io is a digital photography marketplace built on the Hive blockchain.
You can also feel free to write me and ask any photo you like from my blog to add there for the purpose of further purchase.
---
View this post on TravelFeed for the best experience.