Read this post on TravelFeed.io for the best experience
---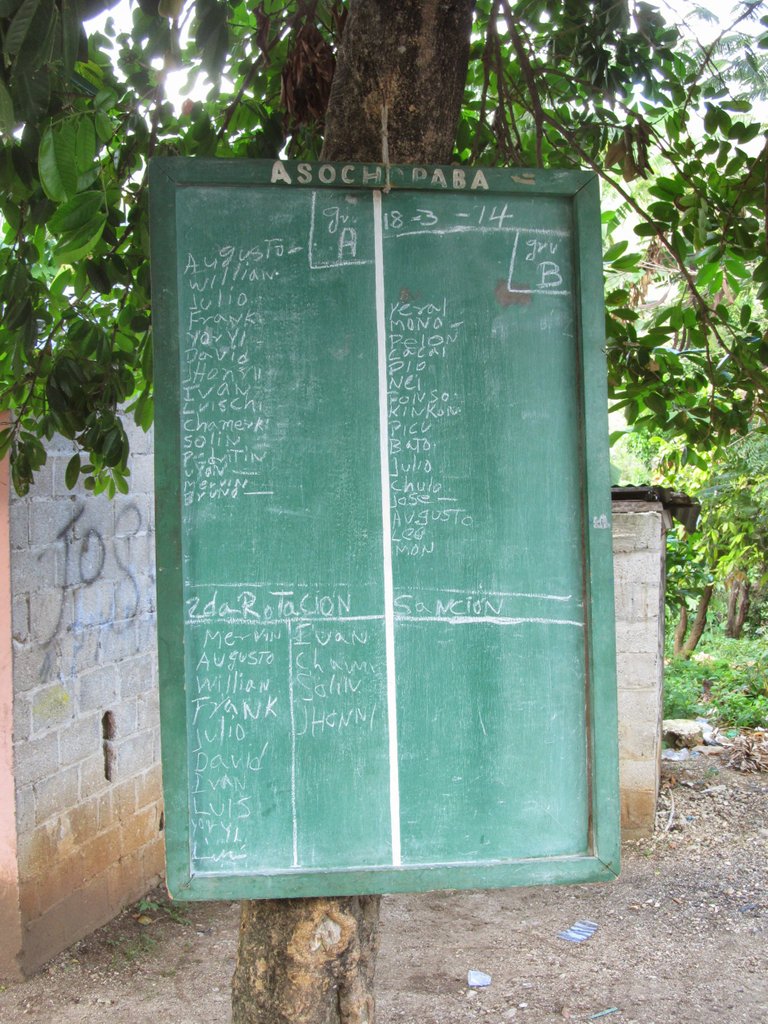 Tablica stojąca na postoju Gua Gua. To chyba jakaś ich rozpiska, kto jedzie jakim kursem? Nie udało mi się rozszyfrować jak to działa.
Łapiemy pierwsze guagua, które wiezie nas dobrze znaną nam drogą nad Morzem Karaibskim. Zbliżamy się do miejsca, w którym ostatnio siedzieliśmy z poznaną dominikańską rodziną czekając na rozwój wydarzeń, mijamy ostry zakręt na drodze, gdzie wczoraj toczyły się zacięte walki pomiędzy mieszkańcami a wojskiem. Dzisiaj droga jest już przejezdna. Jest cicho i spokojnie, ludzie krzątają się przy swoich gospodarstwach i toczy się normalne życie. Tylko pozostawione jeszcze na poboczu zwęglone pnie drzew świadczą o zaciętych walkach, które miały tu miejsce jeszcze poprzedniego dnia. Na szosie co kawałek widać sterty kamieni, tych większych, zapewne tworzących wczoraj barykady, i tych mniejszych, którymi rzucano w kierunku próbujących stłumić strajk żołnierzy.

Dojeżdżamy do Enriquillo. To niewielka miejscowość rozciągająca się wzdłuż drogi, pomiędzy Morzem Karaibskim a górami. Mówimy kierowcy, że chcemy dojechać do Laguny de Oviedo. Wysadza nas na końcu trasy i pokazując nam kierunek mówi, abyśmy szli w kierunku Zona Militar (strefy militarnej), tam powinniśmy złapać transport w kierunku Laguny. Tak też robimy.

Przy Zona Militar witają nas nieco zdziwieni naszym widokiem żołnierze. Pewnie nie często widują tu białych turystów podróżujących na własną rękę. Pytają skąd jesteśmy i dokąd chcemy się dostać. Na początku myślą, że chcemy iść na Lagunę pieszo. Wyjaśniamy, że kazano nam się tu przesiąść i że wiemy, że to daleko. Nie ma tu zwyczajowego przystanku dla guagua, więc normalnie busy się tu raczej nie zatrzymują, ale wszystkie jadące w kierunku Laguny busy muszą tędy przejechać. Żołnierze pomagają nam zatrzymać guagua i proszą kierowcę, aby znalazł dla nas jakieś wolne miejsca. Tym oto sposobem niebawem siedzimy w zatłoczonym guagua jadącym w kierunku Laguny. W tym samym guagua podróżuje również para amerykanów, oni jednak jadą gdzieś dalej, pewnie na tą osławioną plażę - Bahia de las Aquilas.
C.d.n
---
*Zdjęcia własnego autorstwa
---
View this post on TravelFeed for the best experience.