MORF
When you reach the Sint-Joris bridge in Dordrecht, you will find an old KPN 'building'. It's an old building housing the internet / telephone landlines for this part of Dordrecht. It was first painted by Spanish artist Lucia Alonso for Iconoclash back in 2016, but some city cleaners tried to clean up the painting on this property. Since August 2020 you will now find the structure painted by the English Brighton based MORF team. They repainted it, with some hint's to the old mural done by Lucia, the pomegranate.
The artist
MORF is an collective based in Brighton, UK. Known for there colorful murals, which have the name MORF used in the murals most of the times.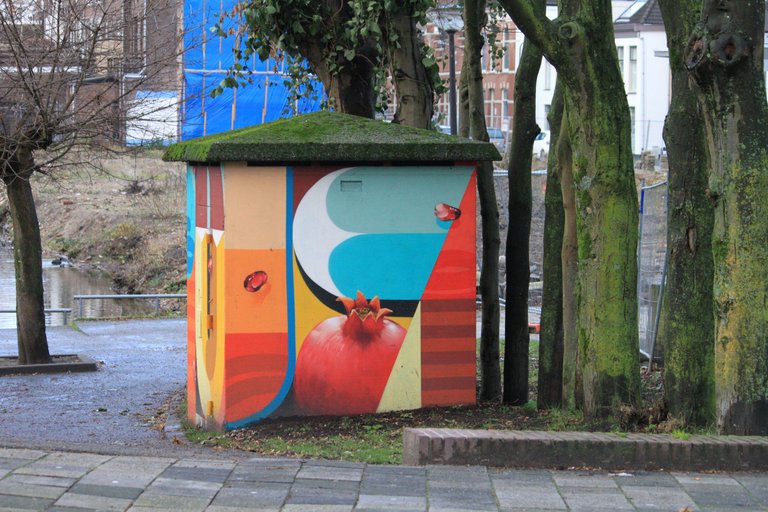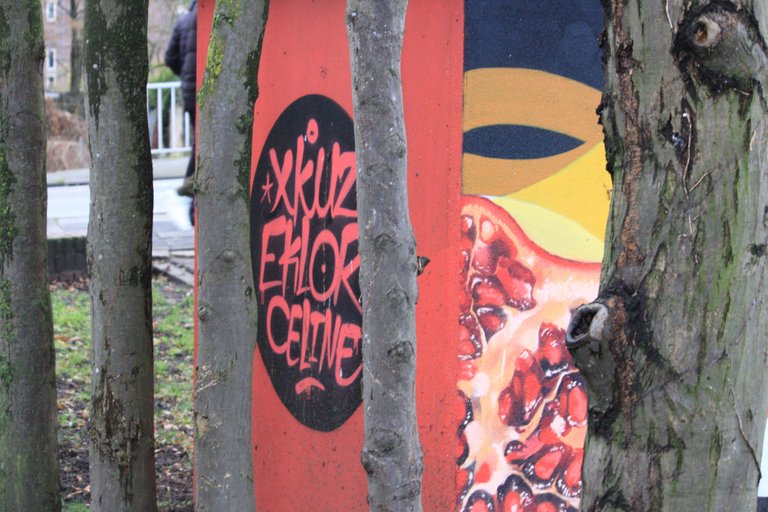 | | |
| --- | --- |
| Artist | MORF |
| Artwork | Pomegranate |
| Location | Sint-Joris Brug 12, Dordrecht, The Netherlands. Google Maps |
| Year | 2020 |
| Pinmapple | [//]:# (!pinmapple 51.814758 lat 4.673873 long MORF: Pomegranate mural d3scr) |
Robbert Visser
Just behind the mural done by MORF, you will find an old Stedin building (Dutch based network operator for the gas network) done by Robbert Visser in his particular abstract style.
Because of road works, i couldn't get around the building to photograph the other side.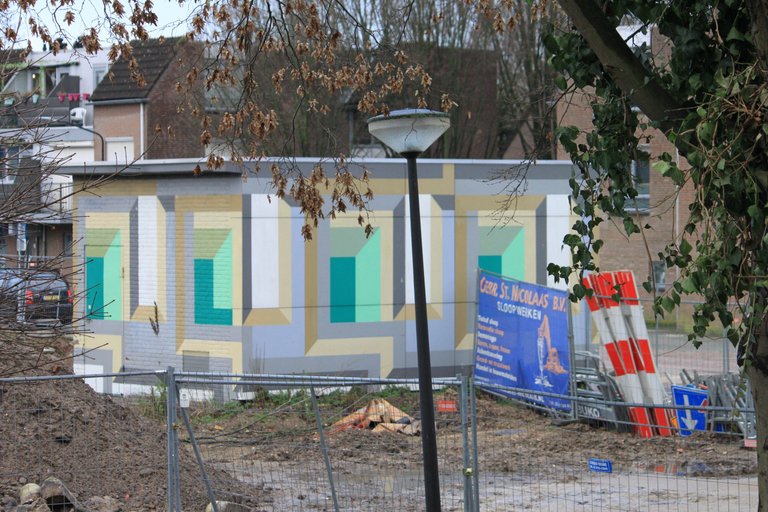 | | |
| --- | --- |
| Artist | Robbert Visser |
| Artwork | Stedin |
| Location | Kromhout 68, Dordrecht, The Netherlands. Google Maps |
| Year | 2016 |
| Pinmapple | [//]:# (!pinmapple 51.814877 lat 4.674490 long Robbert Visser: Stedin Object mural d3scr) |
Streetart Tour Dordrecht
Dordrecht hosted a Streetart competion back in 2016 (Iconoclash, part of Beeldenstroom Woordenstorm festival), with Simian Switch as a curator. The winners of this competition would be invited to share there mural art in Dordrecht at the time of the Beeldenstroom Woordenstorm festival in 2016 and a streetart festival in 2018.
Please have look at his website, because just wow: https://simianswitch.nl
Walking Routes:
Other murals on the route