December 8th, 2021
---
The First Plow
We had some snow on Thanksgiving day November 26th about 4 inches of very light snow with cold temperatures in the mid minus single digits Fahrenheit. (about -5F at the time the pictures were taken).
On Monday the 6th of December we had a major warm up temperatures hitting the mid thirties and a mix of rain and snow in the very early morning hours and the weather service even issued a winter storm advisory in effect until ten AM Monday morning.
The good thing was it gave us a reprieve from the bone chilling minus teen temperatures we were having, but the bad was it was a mix of rain and snow, heart attack snow, heavy and wet and very slippery on the roads.
Fortunately we had no need of travel on Monday, Tuesday though was a different story. The main roads were plowed and driveable, but the sand trucks had not really had their go around yet, so stopping was done very cautiously.
We managed to get all our running around done and it just took a bit longer than normal, about 5 hours. We got home and settled in, and about a half hour to hour later the plow guy showed up. It was dark already so we were pretty surprised, but also glad he did show up.
So Thanksgiving Picture from eleven days ago, Taken on the 26>th of November, and the pictures taken today. The ones in November were taken around one o'clock in the afternoon, and today's around 2 o'clock in the after noon.


Now for the Picture Show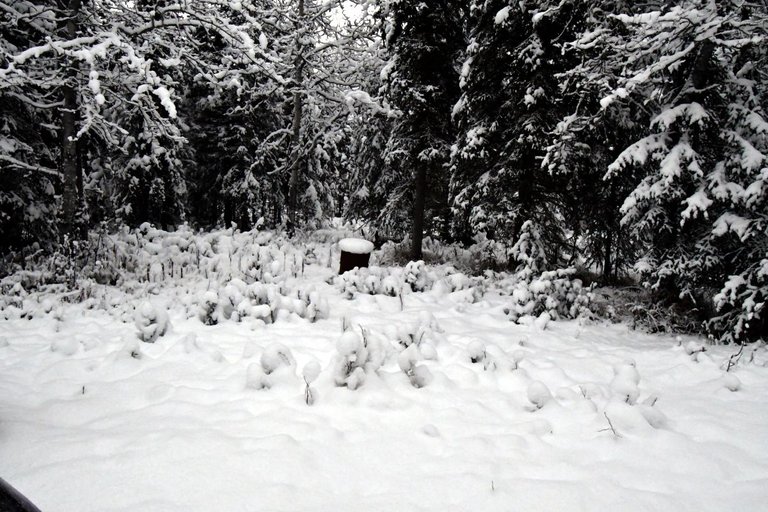 I used the auto image adjust so I could see on line the difference from non adjusted pictures on these first two only. In the background there is the burn barrel that has not seen any use at all.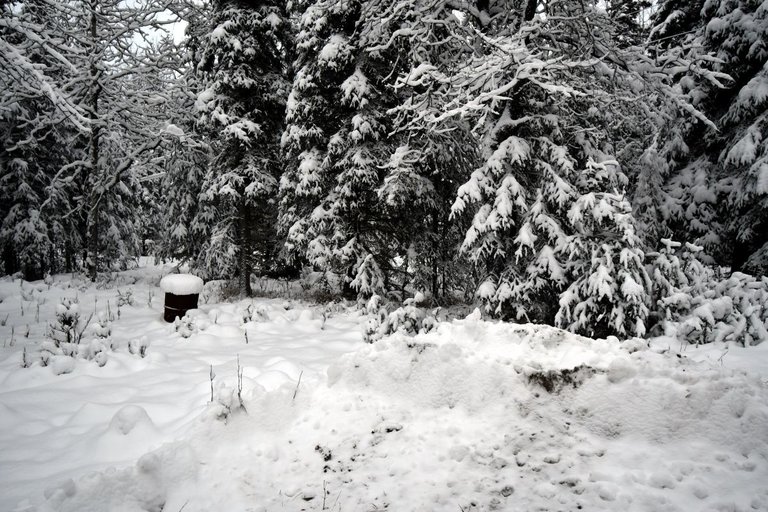 The beginning of the front pile. it will not be long before the burn barrel is hidden and only the snow hat on it is visible.
---
Here are the views from behind where I park out to the drive way: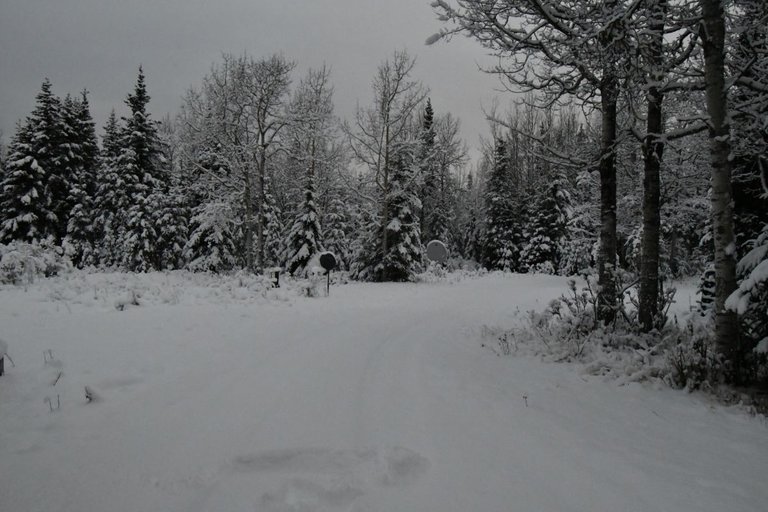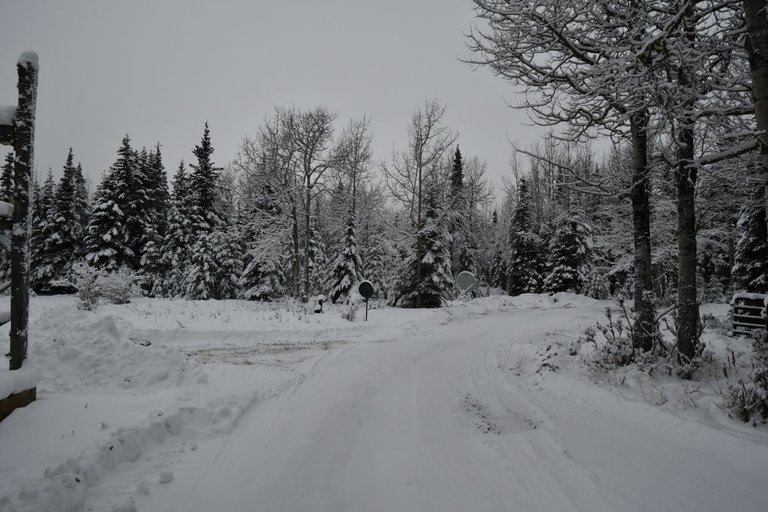 ---
The circle part of our driveway with the clump of trees in the middle.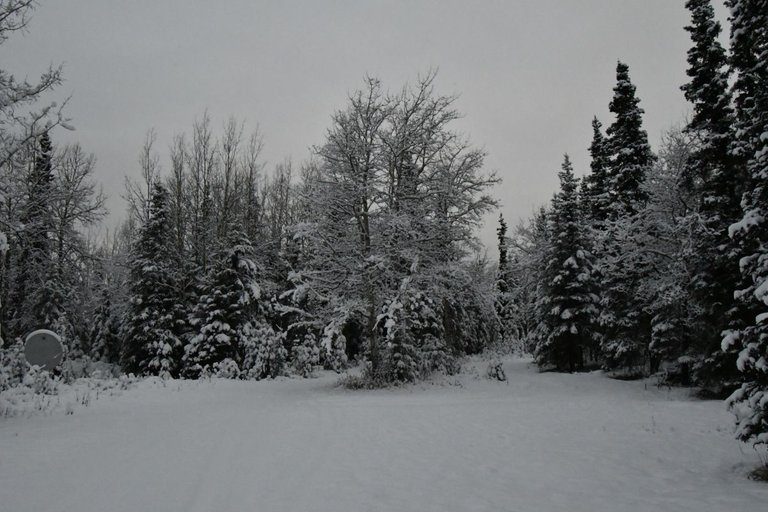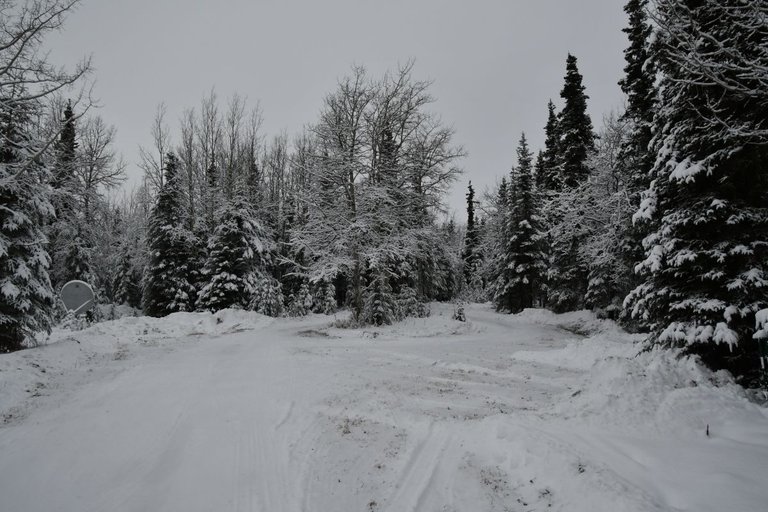 ---
And last set, the in and out part of the driveway: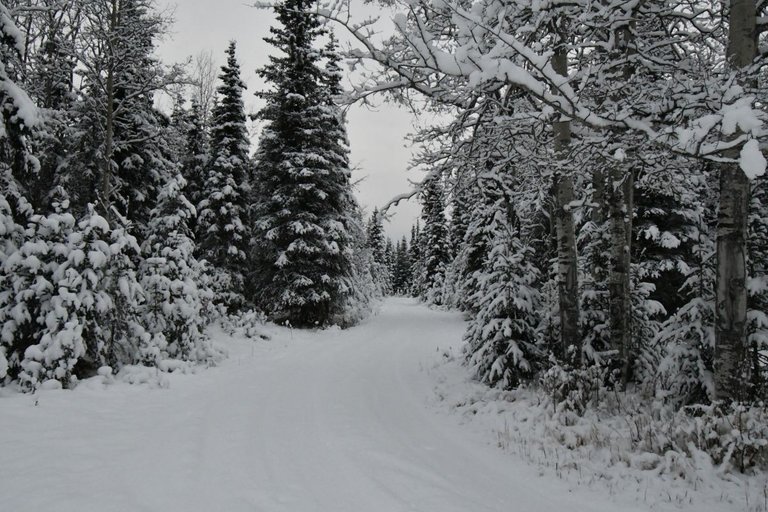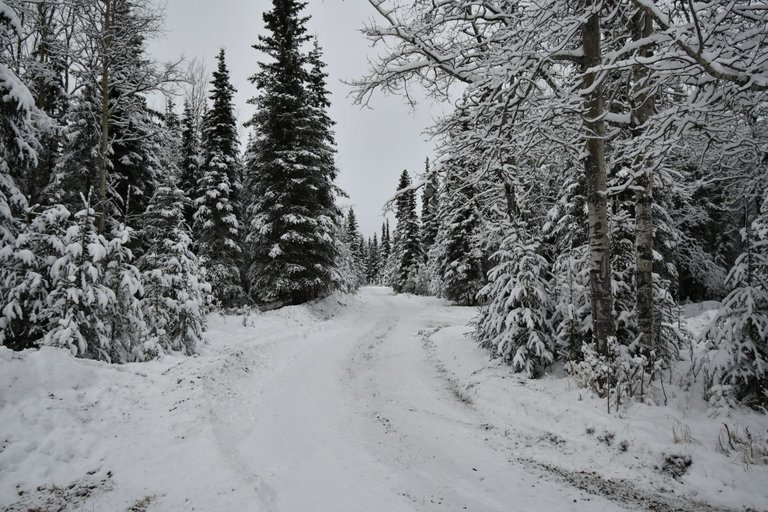 ---
End of picture show, as you can tell pretty dreary skies and conditions. We have little enough light at this time of year. We do get a little overnight clearing on occasion, like last night I was able to see Orion out my window, but as you can see when it became morning back to clouds.
You do get use to the dreary skies and lack of color, and monotone views, but there are really nice days, they may be really cold when the skies are clear but it sure helps make for a nice view.
Well that is pretty much it, this is the latest out of the four years now for the first plow job.
Season 1 - 11/11/2018
Season 2 - 11/14/2019
Season 3 - 11/29/2020
Season 4 - 12/7/2021
A slight trend to later in the year, or just an increase in tolerance for when the driveway needs to be plowed, not sure hard to tell, but we really have not had much snow so far.
Season links
At the end of Season 4 Pilot episode you will find links to all the previous episodes. I really did not think it would take two months after the pilot before the first real update.
Be safe out there people all areas have their own unique driving conditions so when in a bad situation don't make it worse, slow down and keep your eyes open and limit your distractions.
Tiny Picture links back to my blog: