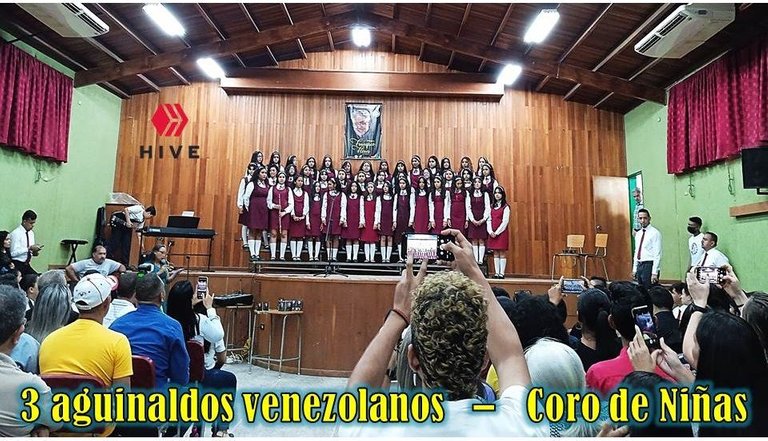 El pasado día 22 de noviembre se conmemoraba y se celebrara en Venezuela y otras regiones del mundo el día de Santa Cecilia patrona de todos los músicos. Acá en la ciudad de Villa de Cura también conocida como la "Atenas Cultural de Aragua" es cuna de importante agrupaciones musicales de distintos géneros y una gran cantidad de músicos talentosos que cada año egresan de una de las instituciones más importantes a nivel nacional como lo es Los Niños Cantores de Villa de Cura patrimonio cultural del Estado Aragua.

El Coro de dicha institución estaba casualmente cumpliendo ese mismo día 52 años de su fundación por lo que el director general de la escuela Padre Salvador Rodrigo organizó una presentación de las tres corales de la institución para deleite y entretenimiento de los presentes que en su mayoría eran padres y representantes de los jovenes cantantes.



Last November 22 was commemorated and celebrated in Venezuela and other regions of the world the day of Santa Cecilia, patron saint of all musicians. Here in the city of Villa de Cura also known as the "Cultural Athens of Aragua" is the cradle of important musical groups of different genres and a large number of talented musicians who each year graduate from one of the most important institutions at the national level as it is the Niños Cantores de Villa de Cura cultural heritage of the State of Aragua.
The Choir of this institution was coincidentally celebrating its 52nd anniversary that same day, so the general director of the school Father Salvador Rodrigo organized a presentation of the three choirs of the institution to the delight and entertainment of those present, most of whom were parents and representatives of the young singers.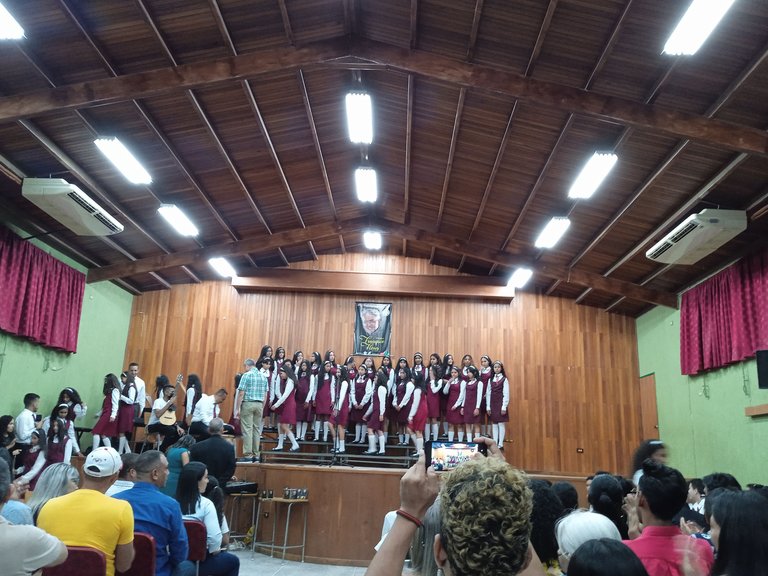 Coro de Niñas de la escuela Niños Cantores de Villa de Cura

En el vídeo que les presento a continuación desde mi canal de YOUtube podremmos observar tres hermoso aguinaldos interpretado por el CORO DE NIÑAS de dicha institución durante la tarde del 22 de noviembre en las instalaciones del Salón Parroquial de la ciudad. Las canciones interpretadas por esta coral son en su orden de aparición:

1.- Precioso Querube
2.- De un Carpintero
3.- Casta Paloma.




Personas a la entrada del Salón Parroquial minutos antes de empezar el concierto




In the video that I present below from my YOUtube channel you can see three beautiful aguinaldos interpreted by the GIRLS CHOIR of this institution during the afternoon of November 22 in the facilities of the Parish Hall of the city. The songs interpreted by this choir are in their order of appearance:

1.- Precioso Querube
2.- Of a Carpenter
3.- Casta Paloma.





Es el proyecto de curación más grande para la comunidad hispanohablante del mundo, dentro de su Discord existen cantidades de estrategias para crecer y desarrollar buen contenido en nuestro idioma natal. Su tag principal es spanish seguido de la palabra cervantes.

Te invito a apoyar este proyecto como witnes y a formar parte de esta gran comunidad uniéndote a su Discord en el siguiente enlace:

Créditos:

Cámara: Celular Redmi 9C
Editor: Movie Maker
Video y Fotografías: @yusmi