Greetings to the entire Hive community.// Saludo a toda la comunidad de Hive.
HispaPro continúa trabajando arduamente para fomentar el crecimiento y la economía individual de los usuarios de Hive. HispaUP es una iniciativa emocionante y divertida para todos los participantes que mes a mes se dan cita para buscar fortalecer sus cuentas en comunidad.
HispaPro continues to work hard to foster the growth and individual economy of Hive users. HispaUP is an exciting and fun initiative for all participants who come together every month to strengthen their collective accounts.
---
Es importante destacar que HispaUP es una excelente manera de acumular Hive. Cada Hive que se obtiene permitirá tener más influencia en la plataforma y, por lo tanto, más oportunidades de ganar recompensas y ser reconocido por la comunidad.
It is important to note that HispaUP is an excellent way to accumulate Hive. Each Hive you earn will allow you to have more influence on the platform and, therefore, more opportunities to earn rewards and be recognized by the community.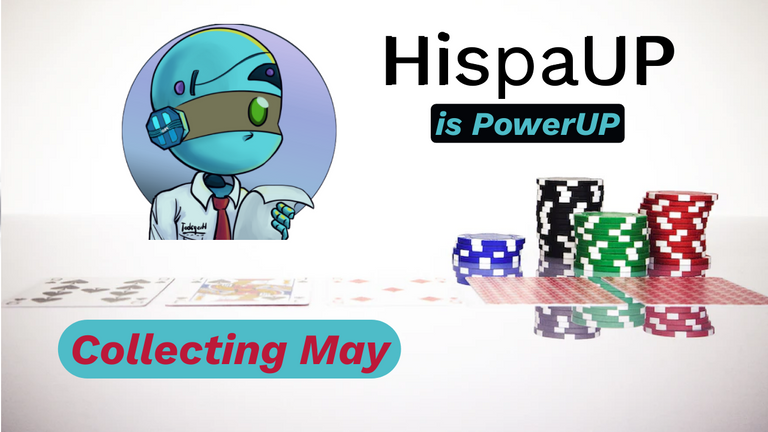 Únete para que cada vez seamos mas. // Join us so that there will be more and more of us.

What is HispaUP? // ¿Que es HispaUP?
HispaUP es un sorteo que se realiza mensualmente. El premio es un fondo que se junta con la inscripción de los participantes,1 Hive, y es entregado en su totalidad a través de un PowerUP. El ganador es seleccionado aleatoriamente los primeros días de cada mes.
HispaUP is a monthly sweepstakes. The prize is a fund that is pooled with the participant's registration, 1 Hive, and is delivered in its entirety through a PowerUP. The winner is randomly selected on the first days of each month.
---
The selection of the winner is made by HispaBOT, a computer tool that is in charge of recognizing all the transfers, making the drawing and then transferring the PowerUP of the total collected to the winner.
La selección del ganador es realizada por HispaBOT, una herramienta informática que se encarga de reconocer todas las transferencias, realizar el sorteo y luego transferir el PowerUP del total recaudado al ganador.

Encender nuestras cuentas es importante porque cuanto más fuerte sea la economía de Hive, más atractiva será para los inversores, habrá más oportunidades para la innovación en la plataforma y una lista de beneficios particulares que nos involucra a todos.
Powering up our accounts is important because the stronger the Hive economy is, the more attractive it will be to investors, the more opportunities there will be for innovation on the platform, and a list of particular benefits that engages us all.

Invitamos a todos a participar en HispaUP, informar a sus seguidores, amigos y conocidos a formar parte de esta herramienta comunitaria de encendido. Les recordamos que somos parte de esta gran empresa llamada Hive y es responsabilidad de todos sacarla adelante, cada uno haciéndose eco desde su rol e influencia adquirida dentro del ecosistema
We invite everyone to participate in HispaUP, inform your followers, friends and acquaintances to be part of this community ignition tool. We remind you that we are part of this great company called Hive and it is everyone's responsibility to take it forward, each one echoing from their role and influence acquired within the ecosystem.

Cómo participar en el HispaUP // How to participate in HispaUP
1- Transfiere 1 Hive a @hispaplus con el memo "hispaup" // Transfer 1 Hive to @hispaplus with the memo "hispaup ".
2- Busca tus cotufas y diviértete viendo la cuenta que impulsaremos juntos, ¡espero que sea la tuya! // Look for your cotufas and have fun watching the bead we'll be pushing together, I hope it's yours!.

Así que hacemos este recordatorio a todos nuestros amigos faltando 5 días y un poco mas para finalizar la recolección de mayo para realizar el sorteo el venidero primero de junio.
So we make this reminder to all our friends with 5 days and a little more to go before the end of the May collection to carry out the drawing on the first of June.

@abejaobrera, @alberto0607, @almajandra, @anamariag, @arzkyu97, @ayneblood, @beysyd, @care1869, @crisch23, @dayadam, @eliudgnzlz, @enclassecu, @enfocate, @eollarvesm, @esalcedo, @filoriologo, @flywithmarlin, @fragozar01, @frankches, @germanandradeg, @gr33nm4ster, @hispaliterario, @hispapro, @hjrrodriguez, @javikun, @jesusalejos, @jesuspsoto, @juniorgomez, @karelysk89, @larosa007, @marilour, @miriannalis, @neruel, @ninaeatshere, @numa26, @oscarps, @plantpoweronhive, @popurri, @ramisey, @sirenahippie, @soyanafuentes, @susurrodmisterio, @tarot911, @tomasjurado, @verdesmeralda, @violetaperez, @visualblock, @vonjerico, @wbrandt, @wendyth16, @yonnathang, @zullyscott, @eliigonzalez, @josegilberto, @aguamiel, @mireyaromero, @zuly63, @miguelarl, @mercmarg, @silher, @mllg, @sacra97, @yeceniacarolina, @ferbu, @norberto1, @manuelgil64.
Imagen: Markus Spiske


Entra al servidor de Discord de HispaPro