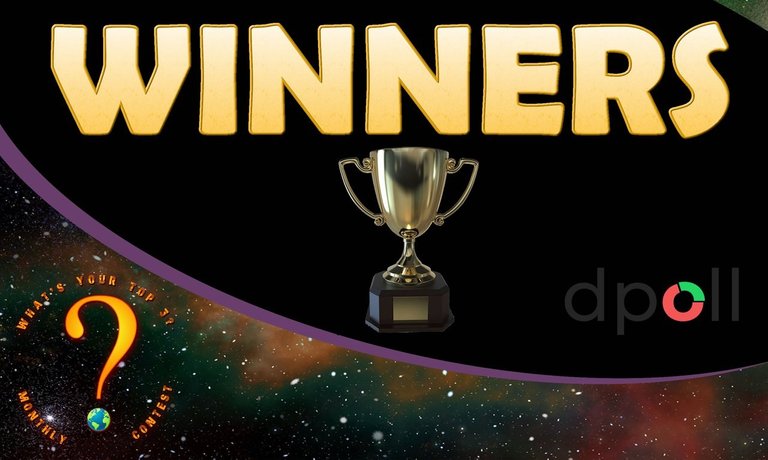 The trophy in the header Image by Victor Jumbo from Pixabay
A Gaming Month!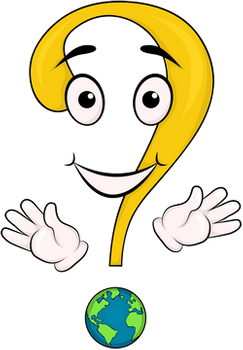 Hey everyone!! It's Q here, the mascot for the Your Top 3 Contest and I'm back to reveal this month's winners along with my Q2 League Winners! Before I get into the details, myself and everyone at Top 3 really hopes that everyone stays safe during these turbulent times with Coronavirus.
But first, let's see how things have gone this month as we reach the half way point for the calendar year. This month, I asked you to get your gaming chairs primed to share some of your favourite Video Games with the Hive world, although some of you seemed to only see red mist with memories of gamer rage coming back in full force (you "try hards")!
However, once the dust settled on the discussions, there was only one to decide the winner - FIGHT! Oh no, wait, dpoll! Yes, Dpoll!
So let's see what you all voted for from the list of nominations that came in and who came out on top...

Contest Results
As this is an open door contest, I like to use dpoll to let ALL of YOU vote for your choices from the nominations that have come in from those who entered. I then assign points to those voting positions and add up the three nominations for each contestant to make a final league table.
And here is the final league table: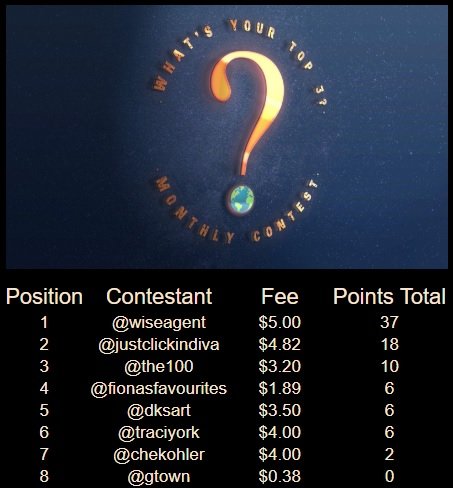 Link to post - Entry fee paid $5.00 Prize $11.50
Link to post - Entry fee paid $4.82 Prize $7.50
Link to post - Entry fee paid $3.20 Prize $4.15
Topic Choice Bonus
In April's contest, the topic was picked by @riverflows so I have sent you 1 HIVE to say thank you (finally)! Yay!
Referral Bonus
Thank you to @fionasfavourites for referring @gtown to the contest this month - I have sent you 1 HIVE to say thank you! Yay x2!!
Congratulations to the winners for the excellent nominations and winning this month's contest round! Be sure to check your wallets as the prize payouts will be with you shortly!

Q2 League Winners
My personal "Q's League" that runs every quarter involves some revolutionary mathematics to give points to those who finished outside the Top 3 in the regular monthly contest. These points build up each month and contribute to that quarter's points total.
Those who finish in the Top 3 of the Quarterly Leagues will get HBD prizes too. So don't despair if you didn't win the big monthly prizes, there's a chance to win with the quarterly leagues!
And so, with this being the end of Q2, it's time to announce the winners! Here's how the final Q2 League looks like: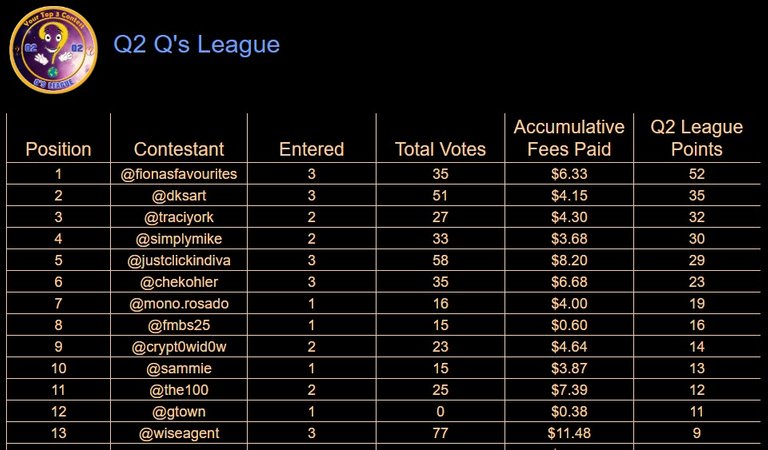 2nd place @dksart - $1.15
Congratulations to the top 3 finishers. It was a really close contest but your consistency paid off. Good luck to everyone in the Q3 contest, starting in July.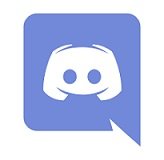 I Am On Discord!
You can join my Discord server here, which is where all the FAQ and contest rules will be housed and it makes it easier for our amazing contestants to come ask questions, interact and drop their links to entry posts. This way you can make sure you never miss an announcement and easily be able to check out your monthly competition 😉

Showing Gratitude
Such thanks should also be given to our delegators, we appreciate this immense generosity!!

The more delegations we receive the more support we can give to our contestants' entry posts then the bigger the prize pool will be at the end of the month. If you would like to delegate to @yourtop3, click one of the links below to delegate that amount of HP to our account.
Thanks for entering this month's contest. I hope you had fun and we get to do it all again on the 1st! Be sure to follow me at @yourtop3 so you don't miss the announcements and I look forward to seeing your entries next month!
Q
Your Top 3 Contest Mascot