Despite my best efforts to behave, my willpower crumbled today and I engaged in a bit of "retail therapy." Thankfully today was a normally scheduled day off from work for me. This allowed me to stay up until 4 A.M. obsessively watching election coverage, sleep fitfully on the sofa, generally feel like shit, and then recover a bit here in the evening hours!
Over the past couple months my finances have taken a bit of a beating leading me to the conclusion that I really needed to cut back on my comic book addiction. That rational decision doesn't seem to be sticking. Posts by folks like @sagesigma don't help as I see his recent comic acquisitions and get jealous! So as the sun began to set at an ungodly early hour (thanks a lot daylight savings time!) I ventured out for a bite of dinner and a swing by my local comic shop. It was actually pretty bustling as I arrived at a time when a lot of folks are probably on their way home from work, and Wednesday is "New Comic Book Day," the day of the week when shops get new releases from publishers and avid fans flock there to scoop them up.
So here's a little rundown of today's purchases for fellow geeks and enthusiasts. If you spot something that intrigues you please feel free to ask for more details. Likewise, if you spot something you've also read or enjoyed, drop a mention in the comments, I'd love to hear about it!
---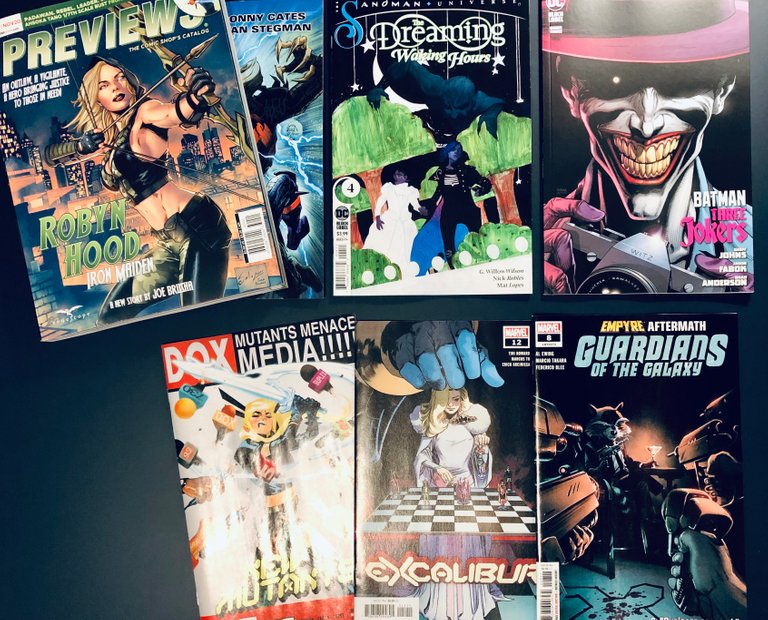 ---
The Previews catalog isn't the most expensive item up front… but it probably is in the long run! It details everything product that shops will be receiving in two months time and I'm already thumbing through it planning my preorders. Yep. My fiscally responsible willpower seems to have crumbled completely! But hey, we all need a little joy in life, so I'll try not to beat myself up too bad. (And I'll keep posting on Hive to try and recoup some of my expenses!)
I grabbed the last issue of the highly hyped Three Jokers series. I have all three now and enjoyed the first, although the second still sits on my "to read" pile.
Likewise for The Dreaming: Waking Hours, a comic book set in the Sandman universe. I've picked up lots of the recent stories in this particular niche imprint as I really enjoy the Sandman mythos, but I'm quite behind on reading them!
New Mutants I've been a fan of since I first started collecting in 1987, so it's an easy purchase and the current series iteration has actually been quite well done.
Excalibur is another X-Men related book that I enjoy the fantasy flavor of and love the artwork by Marcus To.
Guardians of the Galaxy I've been a longtime fan of as well, and while I'm behind on reading this latest series, I'm a huge fan of Marcio Takara's art and Al Ewing's writing (from Immortal Hulk) so I'm quite eager to get caught up.
---
---
I've enjoyed the first couple issues of Dryad and like to support the more independent comics as much as possible.
I've picked up a few issues of Money Shot but haven't started reading yet. I first discovered it through the online educational content of the series' colorist, K. Michael Russell. I'm picking it up to further study his work and the premise just seems rather delightful. The tagline? "Their Mission: Seek out new worlds. Discover new life, and fck it."* My understanding is that it's about a team of interstellar scientists who had to turn to making porn to fund their research. I'm intrigued. I'll have to give this a read soon and then see about tracking down a collection of the early issues I'm missing if I find it enjoyable!
Some books like Origins can catch my eye off of appealing artwork and color palettes alone.
Grabbed the second issue of Norse Mythology although I haven't read the first yet… I did read the book! Being a fan of Gaiman's writing, Russell's artwork (different Russell! This is P. Craig, not K. Michael!) and cover artist David Mack makes this another easy purchase though.
Inkblot is a delightful new comic about an interdimensional cat. I actually had a whole post written about issue #1 which was lost to me in the ether of cloud storage unfortunately. Perhaps I'll rewrite it to some extent and share soon. Needless to say I grabbed issue #3 today.
And finally, Crossover is a new series that looks intriguing. I also picked up a blank cover variant. I have tons of sketch covers that I intend to someday work on drawing for online sales and convention inventory, so this will go on that pile!
Okay! I'm off now to read a bit! I'd love to share some more about the series and stories I enjoy most and the first step is reading them! As I've pondered the direction of my content on Hive, I've come to the realization that I am most definitely not a comic book "reviewer" or "critic." I'm rarely critical of anything that I read, finding something enjoyable, interesting or educational in almost any material. I think that comes from being a creator myself. However I would love to casually share more of what I enjoy most, as I love promoting the work of others and finding likeminded enthusiasts to engage with as well.