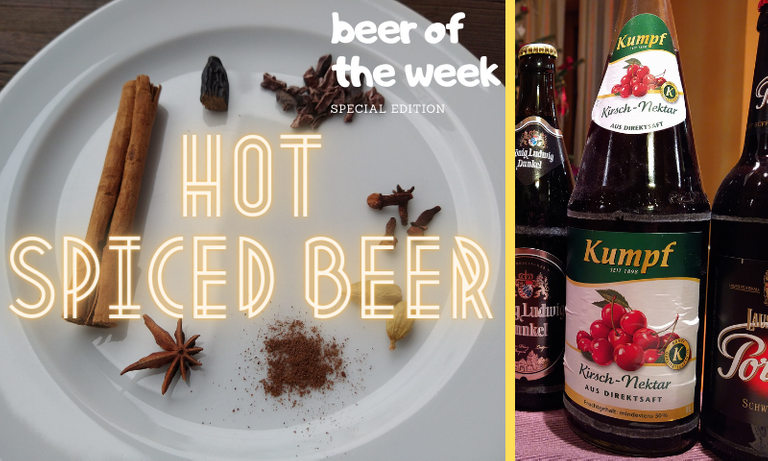 Around Christmas time we usually see mass-gatherings of people that seem to enjoy getting bumped into during freezing blizzards and getting their disgusting sugary concotions spilled over their hands and jackets. You might have already figured out my opinion on christmas markets and the hot wine they serve, and I am truely happy to be limited to selfmade beverages right now, thanks to the coronavirus shenanigans.
Mulled wine has been a steady over the years and I can say that I refined my personal recipe to a level that even gordon ramsay wouldn't complain about. But recently a new player entered the game: Hot spiced beer.
As a beerlover I obviously had to try it, but you would have to be a insane to think that the premade one would be any better than its wine based brother. As I promised - in a slightly tipsy state - to bring selfmade hot beer to our tiny, corona limited new year's eve party, I had no other choice than to start a scientific investigation on the matter.
What are your experiences with hot spiced beer? Have you encountered it or even made your own? Let me know in the comments, so I can hand out some BEERs to you!


---
Recipe making-of
A quick google search suggested the use of a dark and strong bock beer, so I strolled my local beer dealer and snatched every candidate that matched those criteria. In Belgium they seem to use a cherry flavoured barrel aged beer, so I also got a bottle of cherry juice to add some fruity flavors into the mix. For the spice mix I eyeballed following mixture and gave it a few spins in the coffee grinder. Filled into a teabag, it simmered in 600 ml of cherry juice until enough flavors were transfered. After the cherry-spice syrup is ready, you can add the beer and gently heat the mixture to the desired drinking temperature. Make sure not to boil the beer!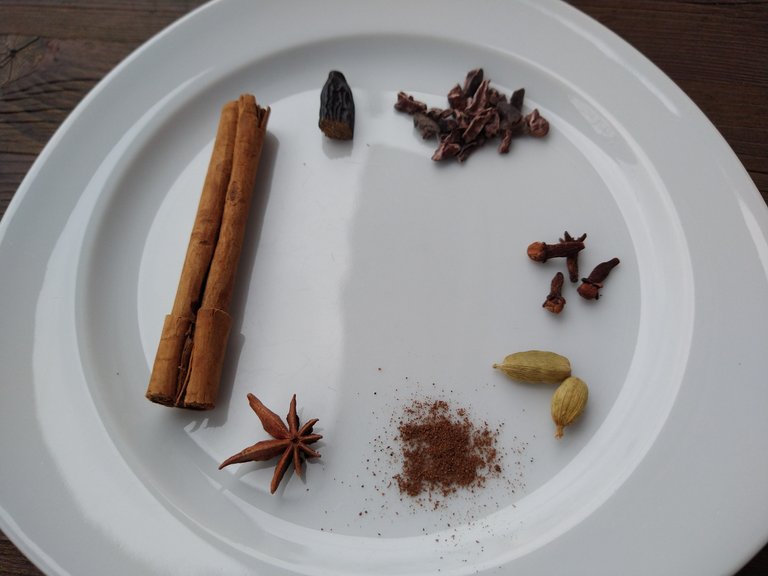 300-400ml beer
100ml cherry juice
3g unrefined cane sugar
Spices:
Cinnamon
Vanilla
Cloves
Star Anise
Pimento
Cocoa nibs
Tonka bean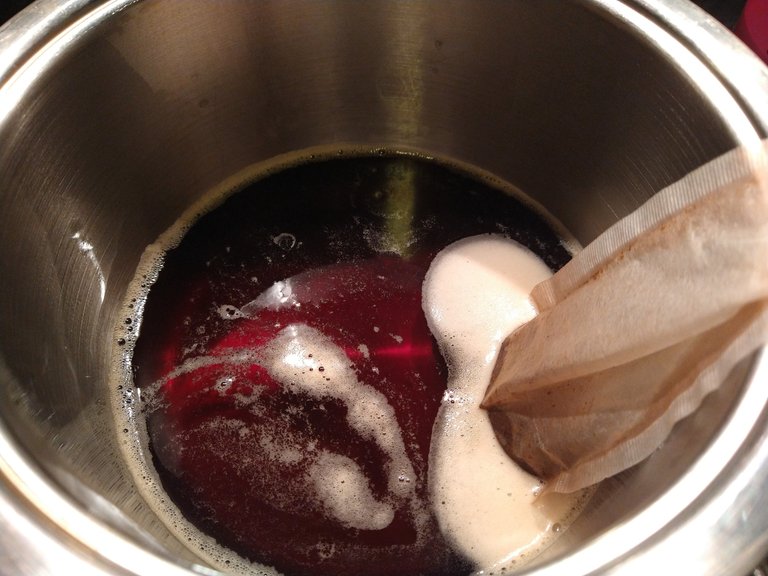 Performance of different beers
---
Hoepfner Picher
A classic dark beer similar to something like Köstritzer
Flavors similar to a sweet malt drink paired with the slightly sour cherry juice flavors. The bitterness on this one is slightly too strong. Overall a bit boring.
König Ludwig dark
Similar style but widely available
Smell is way more toasty, very similar to burned wood. Tastewise more balanced with less bitterness. I slightly redused the amount of juice, which seemed to work way better (1:4 ratio)
---
Lausitzer Porter
A very sweet porter style beer
The smell is very mellow and the head pretty vigorous, due to the high sugar content. Quite sweet at first but very well balanced overall. The juice is more dominant compared to other beers. Probably the best choice if you want to please the most people possible. Closest to wine.
Hoepfner Porter
A strong version of a porter with very little sweetness.
Nice cherry smell and well balanced at first, but then becomes a bit weird and bitter.
Somewhat interesting, but ended up beeing the least favorite.
---
Ulmer Winterbock
Sweet Märzen Doppelbock
I do not like this beerstyle, but it works well in a spiced beer. It is obviously lighter and would be the equivalent to a white mulled wine. Cherry is probably not the right flavor for this one and apple might work way better.
Interesting for sure, but should be paired with different flavors.
Waldhaus Doppelbock
Light Doppelbock
Pretty similar beer and therefore similar results. It's overall a more refined beer with hints of dried fruits and less of those awefully sweet malts I do not like. A bit rounder overall.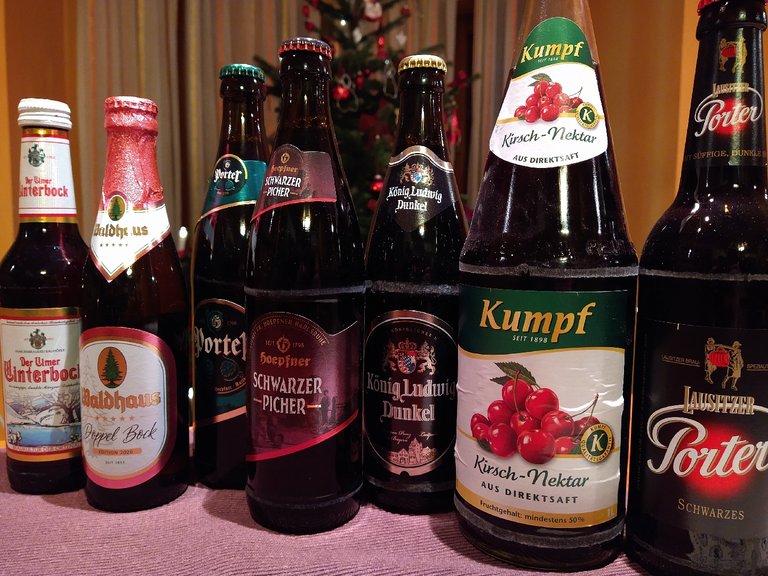 ---
Conclusion
I ended up using the Lausitzer Porter and König Ludwig dark in a 5:1 ratio, and no one complained until the pot was empty. Cocoa nibs and tonka beans were only used in the final recipe, not during the test, but I think they were a nice addition to the dark beers.
Personally I would prefer wine over beer in this case, but both can be enjoyable drinks if prepared properly. Hot beer seems to be a lot more sensitive, though. While with wine you just randomly grab a cheap bottle and it will work, a wrong type or brand of beer can really ruin the experience.
As long as you stick to a slightly sweet porter style beer you should be fine, though.
As winter is not over yet, further investigations on a light beer variant seem appropriate...


---
Sidenote
The major benefit of hot spiced drinks: when eating raclette, you can put your drink right next to it without worrying about it getting warm.