[PL] W mojej piwnej piwniczce zapodziała się jeszcze butelka z jedynej zeszłorocznej podróży zagranicznej. Było kilka wyjazdów zagranicznych, ale jednodniowa wyprawa do Boulogne sur Mer na francuskie Côte d'Opale była jedyna w celach turystycznych.
[EN] A bottle from my only foreign trip last year is still stashed in my beer cellar. There were a few trips abroad, but a day trip to Boulogne sur Mer on France's Côte d'Opale was the only one for tourism purposes.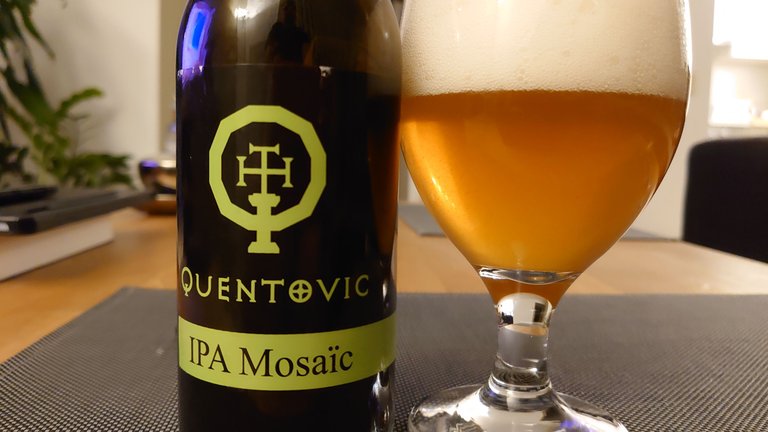 [PL] Głównym celem tamtej wycieczki było oceanarium Nausicaá, ale nie mogliśmy odpuścić sobie zwiedzania tego urokliwego nadmorskiego miasteczka. Gdzieś w rejonie starego miasta znaleźliśmy sklep z lokalnymi produktami i alkoholami. Mnie najbardziej zainteresowało piwo, to kilka butelek kupiłem na pamiątkę.
[EN] The main purpose of that trip was the Nausicaá oceanarium, but we couldn't pass up exploring this charming seaside town. Somewhere in the old town area we found a store with local products and spirits. I was most interested in the beer and bought a few bottles as souvenirs.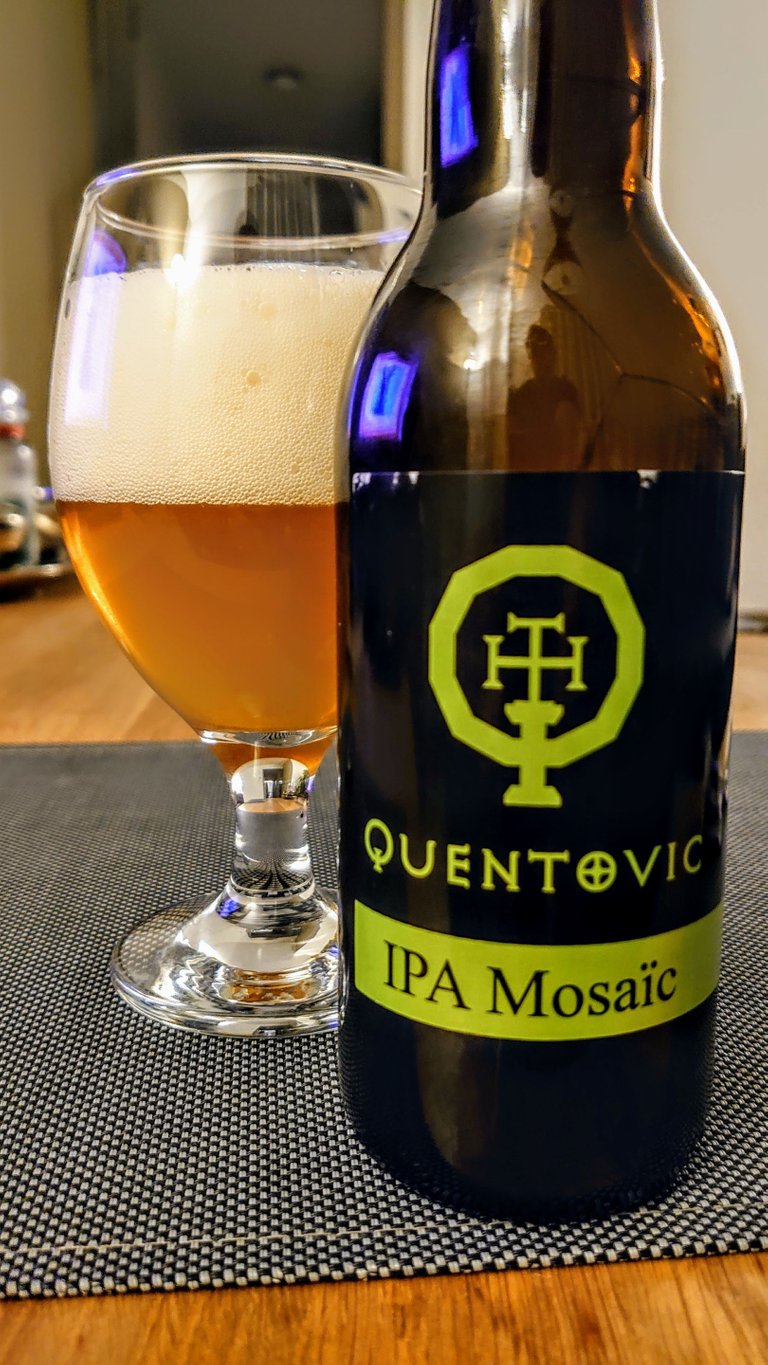 [PL] W swoim piwnym pamiętniku wspomniałem już o kilka z nich, teraz nadszedł czas na Quentovic IPA Mosaic z Brasserie Quentovic. Browar został założony w Beaurainville siedem lat temu przez dwóch braci Jean Jacques i Grégoire, którzy rozsmakowali się w piwach rzemieślniczych do tego stopnia, że postanowili samodzielnie warzyć piwo według najlepszych przepisów. Tradycyjnie wszystko zaczęło się w ich własnej kuchni, gdzie powstawały pierwsze warki. Z czasem bracia rozwinęli swój interes, decydując się na warzenie piwa innego od tego które można znaleźć w każdej restauracji i barze na północy Francji.
[EN] I've already mentioned a few of them in my beer diary, now it's time for Quentovic IPA Mosaic from Brasserie Quentovic. The brewery was founded in Beaurainville seven years ago by two brothers Jean Jacques and Grégoire, who became so fond of craft beers that they decided to brew their own beer using the best recipes. Traditionally, it all started in their own kitchen where the first brews were created. Over time, the brothers expanded their business, deciding to brew a different beer than the one you can find in every restaurant and bar in the north of France.
[PL] Nazwa browaru jest zainspirowana tysiącletnią historią miejsca w którym funkcjonuje browar, Quentia to łacińska nazwa rzeki Canche w pobliżu browaru. Natomiast Vic oznacza "miejsce, w którym mieszkamy". W takim razie "Quentovic" to miejsce, w którym mieszkamy, w pobliżu rzeki Canche.
[EN] The brewery's name is inspired by the millennia-old history of where the brewery operates, Quentia is the Latin name for the Canche River near the brewery. Vic, on the other hand, means "the place where we live." In this case, "Quentovic" is where we live, near the Canche River.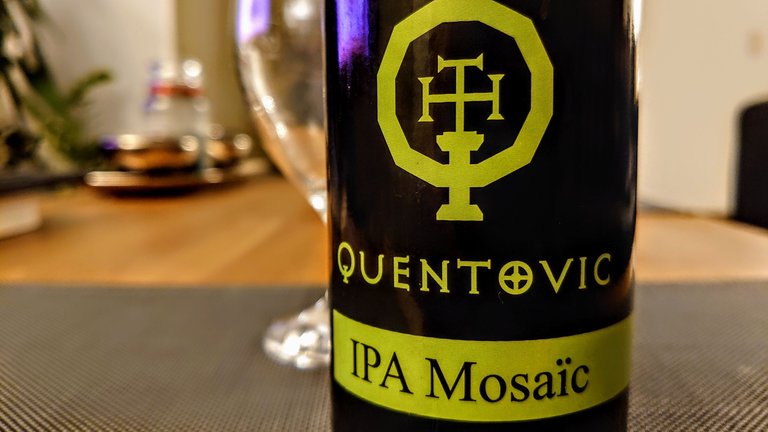 [PL] Pomysł na piwo "Quentovic IPA Mosaic" narodziło się latem 2017 roku, w samym środku szaleństwa związanego z serialem "Gra o Tron" i słynną frazą "winter is coming". Bracia z najbardziej zimnego regionu Francji postanowili puścić oko do swoich klientów warząc IPA które nazwali "Summer is Here". Mocno chmielone piwo z nutami owoców tropikalnych wniesionych przez chmiel Mosaic od razu odniosło sukces. Z czasem zmieniono nazwę piwa na "Quentovic IPA Mosaic", żeby była bardziej uniwersalna.
[EN] The idea for the beer "Quentovic IPA Mosaic" was born in the summer of 2017, right in the middle of the craze surrounding the TV series "Game of Thrones" and the famous phrase "winter is coming". The brothers from France's coldest region decided to wink at their customers by brewing an IPA they called "Summer is Here". The heavily hopped beer with tropical fruit notes brought on by Mosaic hops was an immediate success. Over time, the beer's name was changed to "Quentovic IPA Mosaic" to make it more versatile.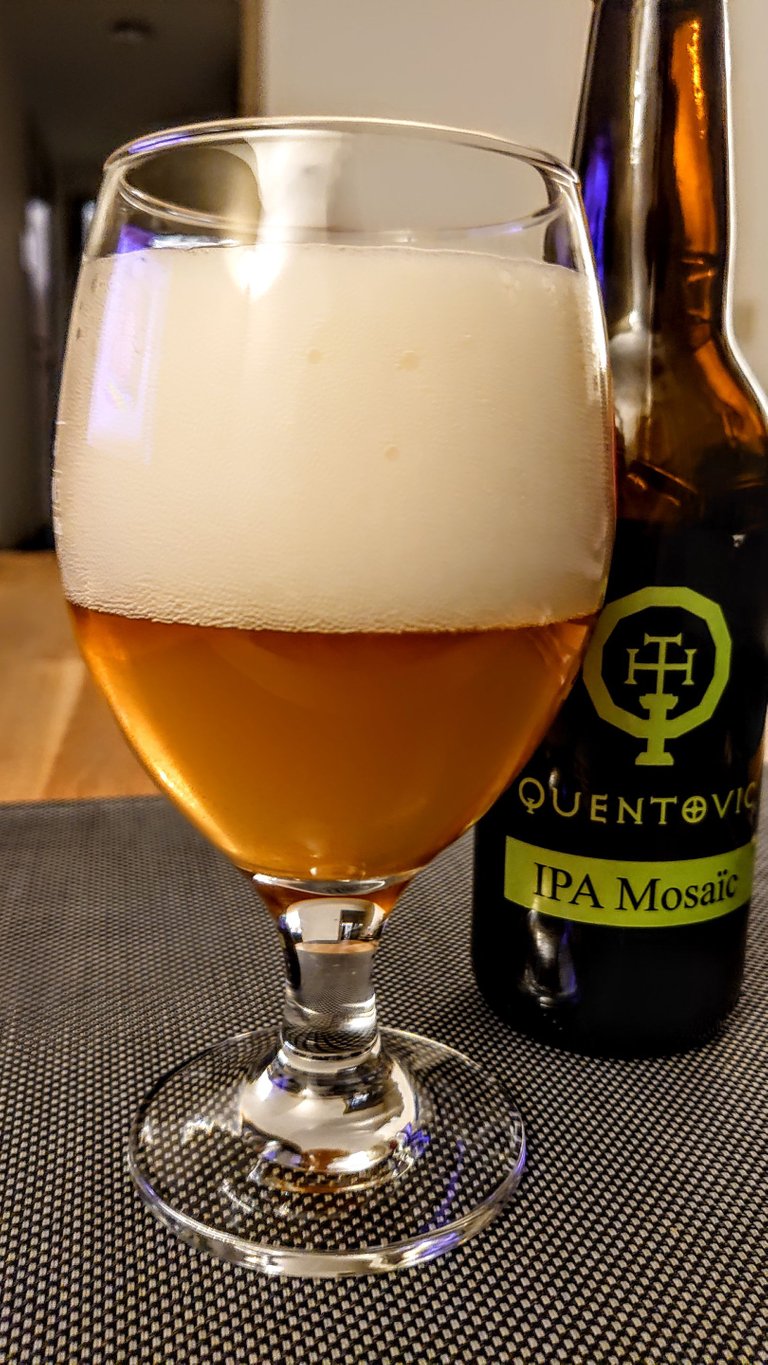 [PL] Mętny złocisty kolor, wysoka i trwała drobna pęcherzykowa piana. Mocno chmielone z nutami owoców tropikalnych. Dość aromatyczne i pachnące, z wyraźną żywiczną goryczką. Podobnie w smaku. Goryczka na finiszu. Szkoda, że była to tylko jedna butelka.
[EN] Cloudy golden color, high and persistent fine-bubble foam. Strongly hopped with tropical fruit notes. Quite aromatic and fragrant, with a distinct resinous bitterness. The same on the taste. Bitterness on the finish. Too bad it was only one bottle.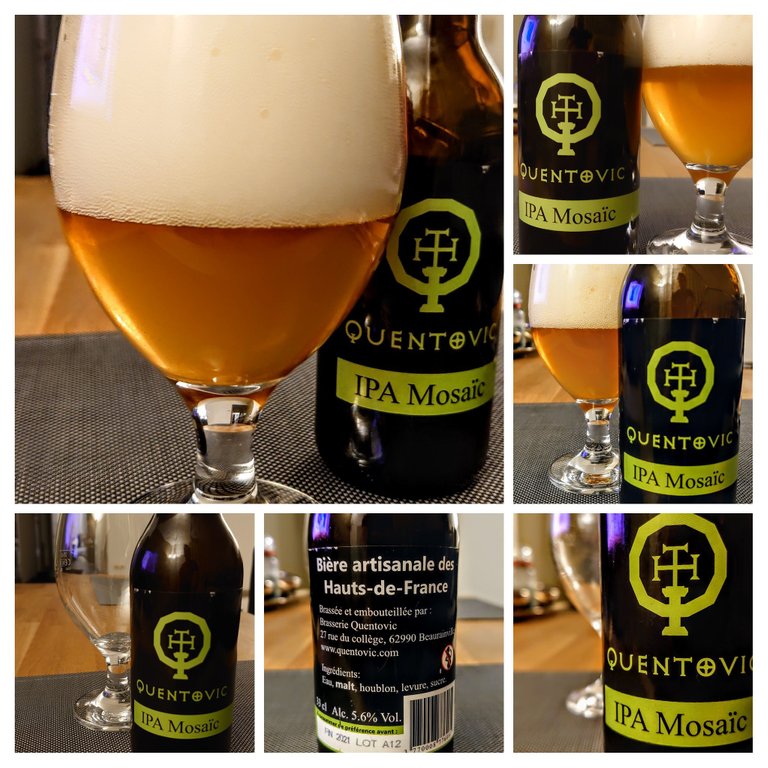 Quentovic IPA Mosaic
Styl: IPA
5,6% ABV
45 IBU
Country: France
Price: 2,20 EUR per 0,33 bottle