Ein Bild des Jammers erblickte ich da auf meiner Terrasse, den neuen Nachbarn.
Zusammengekrümmt und stöhnend saß er dort, brabbelte irgendetwas von Tabletten, ich verstand das er zu viel von denen genommen hatte und wollte schon den Krankenwagen rufen.
Der Typ sah echt beschissen aus.
" Kopfschmerztabletten " röchelte er, hielt sich dabei aber den Bauch und etwas ratlos schaute ich ihn an.
Mein Liebchen welches nun auch auf der Bildfläche erschien, erkannte sofort an welchem Leiden der Herr litt, einem ausgewachsenen Alkoholkater und bereitete ihm einen Zitronensaft, zu dem sie ein Aspirin reichte. Er nahm dankend an, warf die Pille, spülte sie hinunter und kotzte mir unvermittelt auf die Terrasse.
Wie sich kurz darauf herausstellte hatte er gestern Nacht, auf dem Rückweg von der Party auch noch sein Auto in den Straßengraben gesetzt und versuchte die letzten 12 Km bis nachhause zu Fuß zurückzulegen. Es gelang ihm nicht, 500 m weiter lag er auf der Fresse, rollte sich auf die Seite und schlief ein. Geweckt wurde er am Morgen von einem Wanderer, dessen Finger er an seiner Halsschlagader spürte, als dieser wohl kontrollieren wollte ob noch Leben im Kadaver steckte.
Jaja, so kann es einem ergehen wenn man mit Alkohol nicht umgehen kann und daher werde ich zu @detlevs wöchentlich stattfindenden #BeerSaturday, der bereits in die 268. Runde geht, auch nur ein Bier probieren. Genießen statt gießen!
Ob dieses COBRA BEER eines britischen Bierverlages gleichen Namens wirklich ein Genuss ist, das sehen wir gleich.
A picture of misery I saw there on my terrace, the new neighbor.
Bent together and groaning he sat there, babbling something about pills, I understood that he had taken too much of those and already wanted to call the ambulance.
The guy looked shitty.
"Headache pills" he rattled, but held his stomach, and a little perplexed I looked at him.
My sweetheart, which now appeared on the scene, immediately recognized what ailment the gentleman was suffering from, a full-blown alcohol hangover, and prepared him a lemon juice to which she handed an aspirin. He accepted gratefully, threw the pill, washed it down, and abruptly vomited on the terrace.
As it turned out shortly afterward, last night on the way back from the party he had also put his car in the ditch and tried to walk the last 12 km home. He did not succeed, 500 m further he lay on his face, rolled on the side, and fell asleep. He was awakened in the morning by a hiker whose finger he felt on his carotid artery when he wanted to check whether there was still life in the carcass.
Yep, that's what can happen to you if you can't handle alcohol and that's why I'm going to @detlev's weekly #BeerSaturday, which is already going into the 268th round, to try just one beer. Enjoy instead of pouring!
We'll see in a moment whether this COBRA BEER from a British beer publisher of the same name is a treat.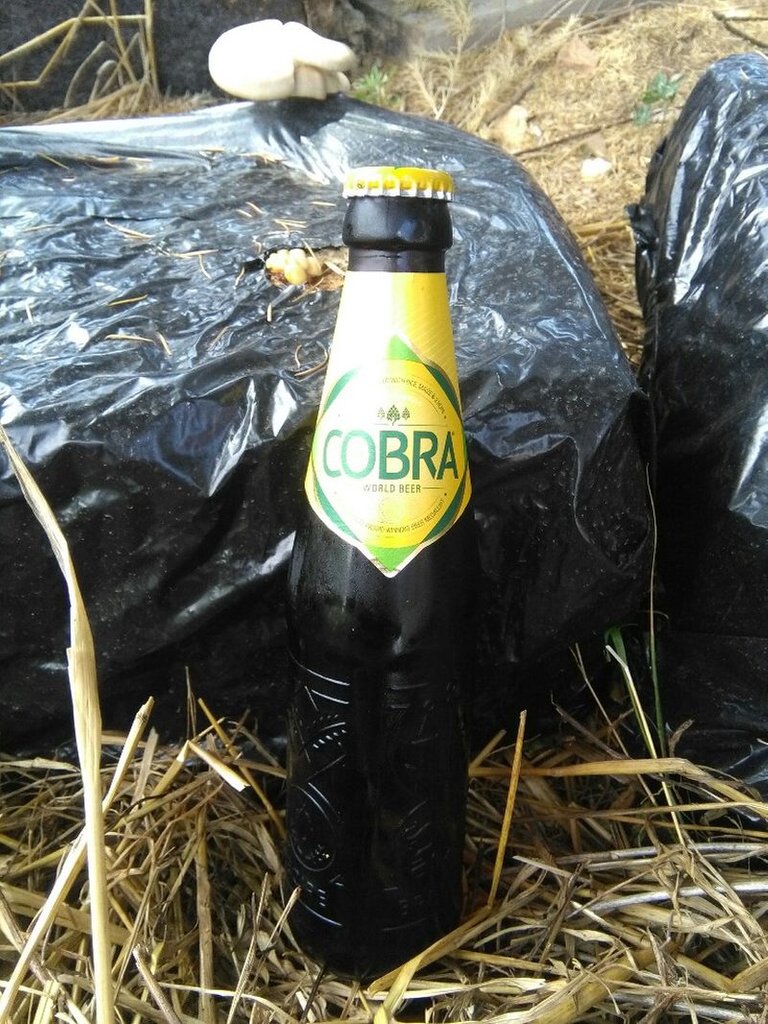 Die Flasche selbst kommt recht elegant daher, wenig Etikett, dafür hübsche Gravuren im Glas.
Mit Schrecken entnehme ich dem Geschriebenen, das hier mit Mais, Reis und 3 verschiedenen Sorten von Hopfen gebraut wurde.
Mais & Reis im Bier? Was soll das denn wieder sein?
Alle Hoffnung liegt nun beim Hopfen.
The bottle itself comes along quite elegantly, with a little label, but pretty engravings in the glass.
With horror, I take from the writing that was brewed here with corn, rice, and 3 different varieties of hops.
Corn & rice in beer? What is that supposed to be again?
All hope now lies with the hops.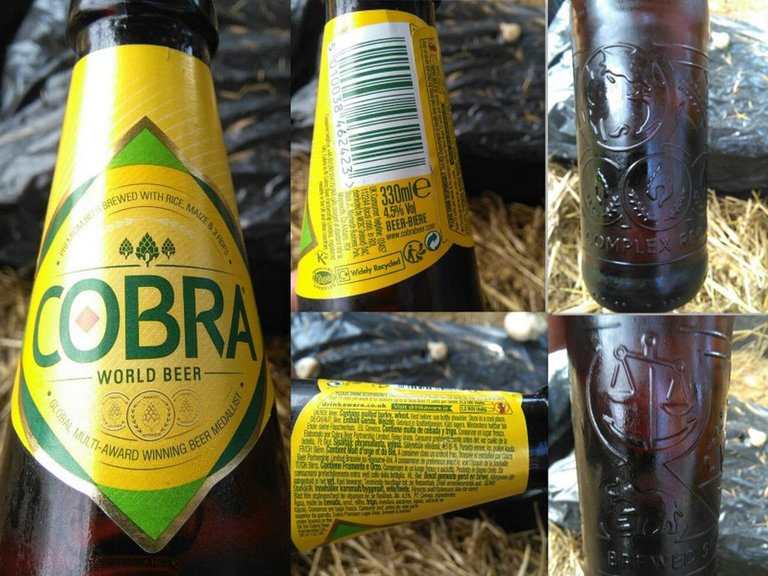 Im Glas erscheint dieses ursprünglich aus Indien stammende Bier so, wie man es von einem Bier erwartet, die Schaumkrone ist akzeptabel, die Farbe goldig und aufsteigende Luftbläschen zeugen von genügend Kohlensäure.
Umher schwirrende Aromen sucht man vergeblich, was auf ein leichtes Bier schließen lässt und tatsächlich ist es mit 4,5% Vol/Alc kein Schwergewicht.
In the glass, this beer, originally from India, appears as you would expect a beer to, the head is acceptable, and the color gold and rising bubbles are evidence of sufficient carbonation.
You look in vain for aromas buzzing around, which suggests a light beer, and indeed, at 4.5% vol/ac, it is not a heavyweight.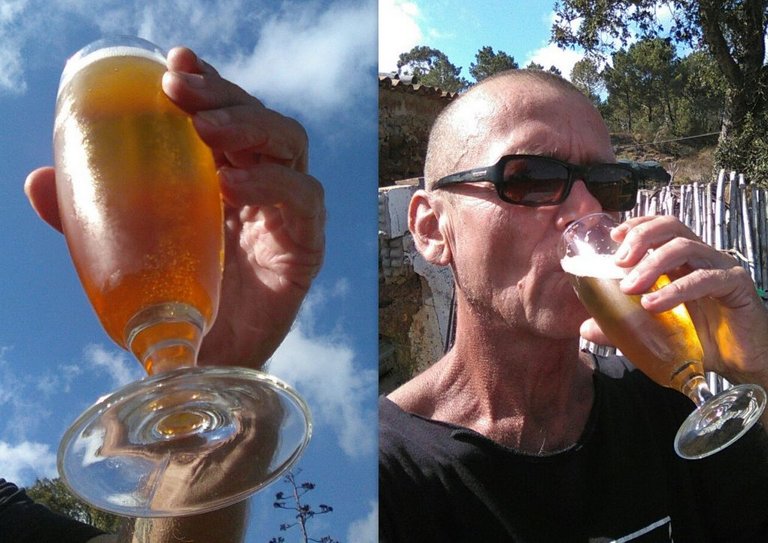 Nach dem ersten Schluck war ich etwas ratlos und bat mein Liebchen zu probieren.
Sie zeigte sich ganz begeistert von dem Leichtfuß, schön mild und samtig sagte Sie.
Dabei hatte sie nicht ganz unrecht, denn in der Tat schmeckte es wirklich sehr angenehm und erfrischend, doch eine Frage blieb offen.
Wo zur Hölle hat sich der Hopfen versteckt?
Dafür das hier angeblich mit gleich 3 verschiedenen Sorten davon gebraut wurde, hielt er sich doch sehr zurück am Gaumen, beziehungsweise trat gar nicht erst in Erscheinung. Das ist schon eine Kunst für sich. 😎
After the first sip, I was a bit perplexed and asked my sweetheart to try it.
She was quite enthusiastic about the light foot, nice and mild and velvety she said.
She was not wrong, because in fact it tasted very pleasant and refreshing but one question remained unanswered.
Where the hell did the hops hide?
For that here allegedly with equal 3 different varieties of it was brewed, he held back but very much on the palate, or did not even appear. That is an art in itself. 😎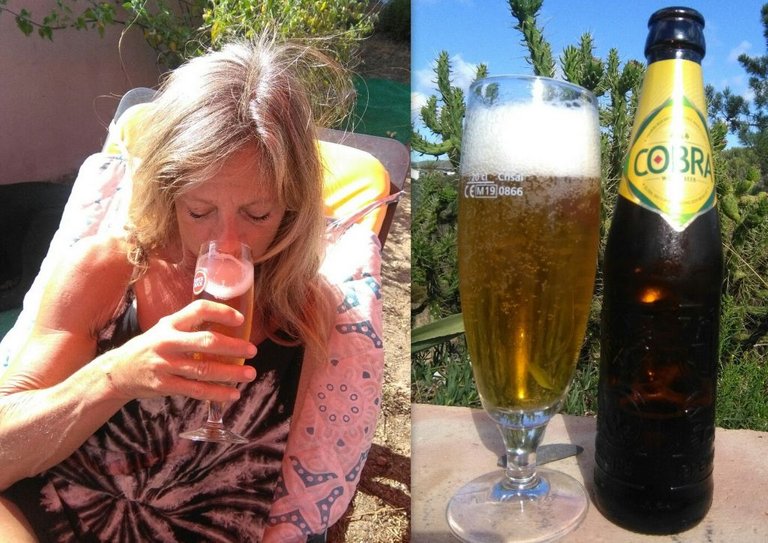 Nichtsdestotrotz kann ich dieses Bier ruhigen Gewissens empfehlen, ein Tröpfchen für jedermann, unaufdringlich, ohne große Überraschungen und als Durstlöscher bestens geeignet.
Nevertheless, I can recommend this beer with a clear conscience, a droplet for everyone, unobtrusive, without big surprises, and perfectly suitable as a thirst quencher.
PROST, CHEERS, NASTROVJE & SAUDE!

PHOTOS: @muelli 😎🍻