"The Earth is more important than money, and if we want our children to have a clean place to live, we need to do our part now. We can't buy our children a new planet" Catherine Norton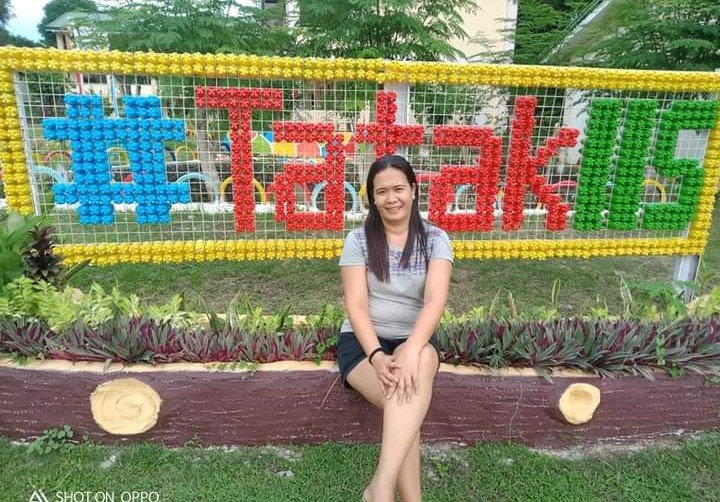 Global warming and climate change are the issues we often heard about today. It happens when a high percentage of carbon and other greenhouse gases are in the air. Cutting trees, smoke from vehicles and factories, improper waste disposal, and burning are the causes of this phenomenon. A populated country is experiencing this waste garbage disposal problem. I salute those who implemented the best practices of proper garbage disposal and for having responsible citizens who dispose of their garbage properly and not anywhere else.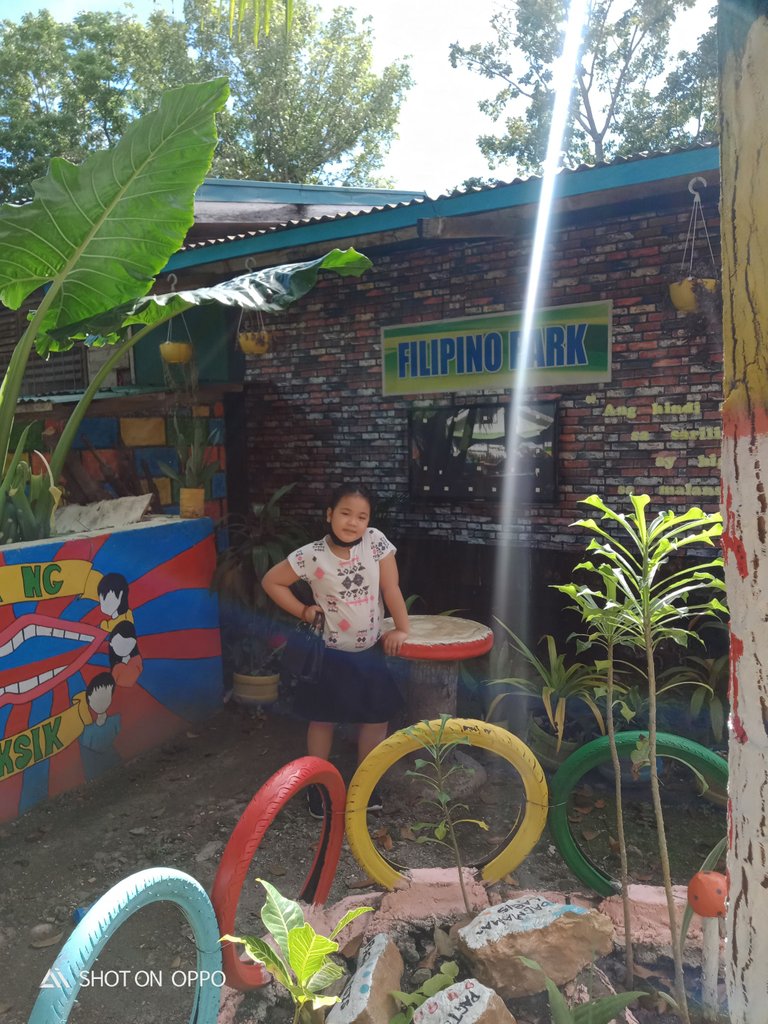 In this blog, I want to share how our school implemented waste recycling into products that could beautify our school and have a sustainable environment. We recycle waste materials in schools and the community by creating new products like vegetable and ornamental containers, subject park designs, school garden fences, school beautification, labels, decorative purposes, charcoal paper, paper machetes, and others. These projects are the combined effort of all teachers in our school.
How We Implemented the Project
Teacher advisers, students, and parents are encouraged to have at least five newly crafted/created products from various recyclable materials. These products must be present or available in their assigned ornamental and vegetable garden, Subject Park, or in any way of utilization. Clubs and organizations are encouraged to have at least one project utilizing recycled materials.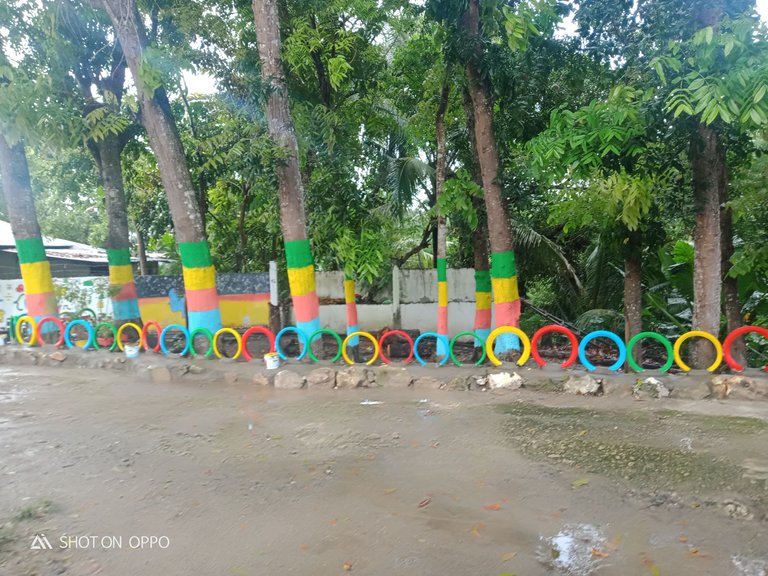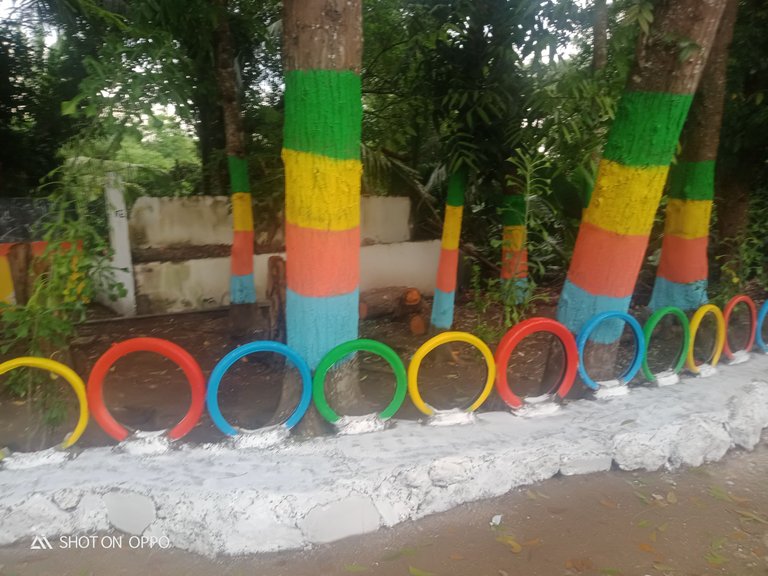 You might wonder about the colored ring as a fence in the garden and landscaping. It is just used tires coming from our generous stakeholders.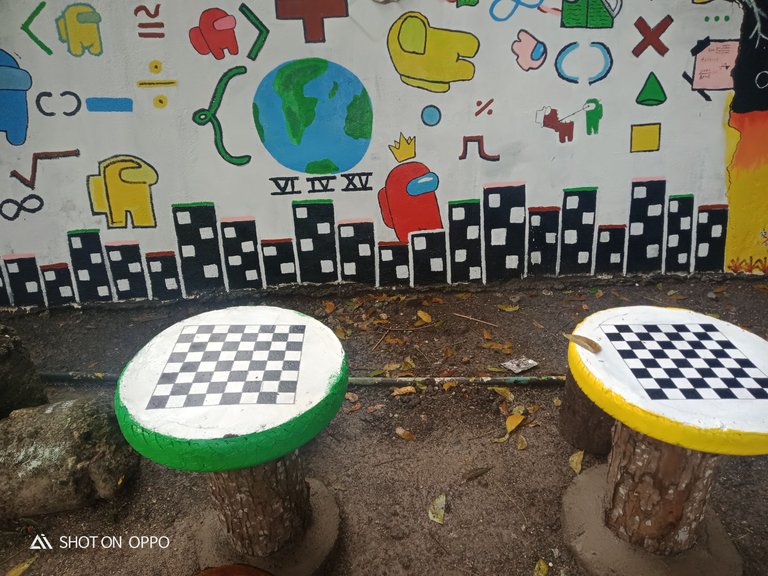 Old tire and waste logs are used as tables and chairs ( DAMATH Board ), the perfect place for relaxation while learning MATH concepts.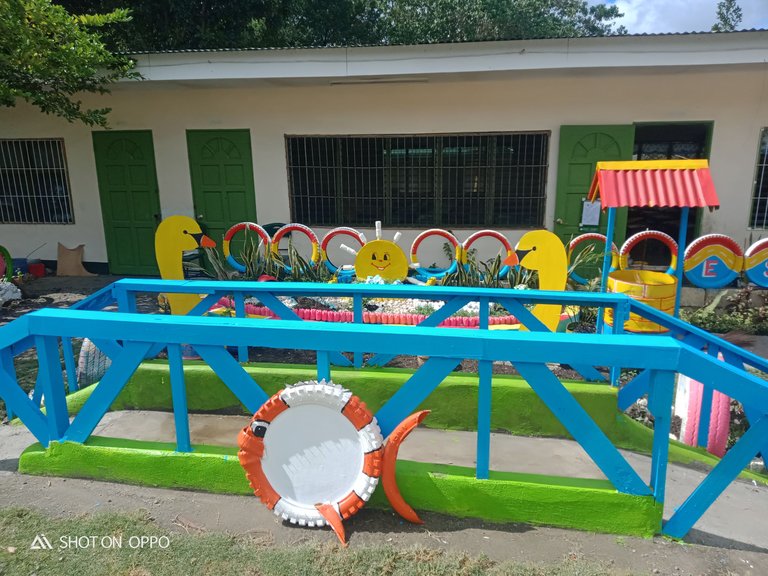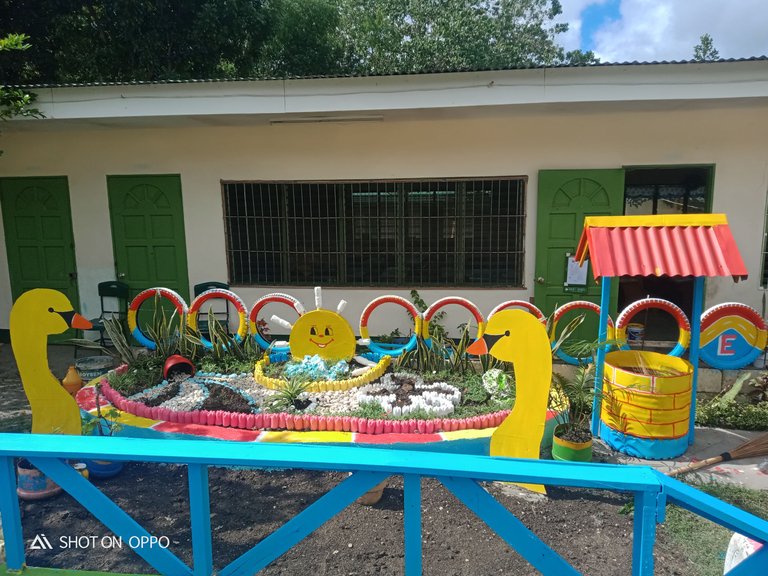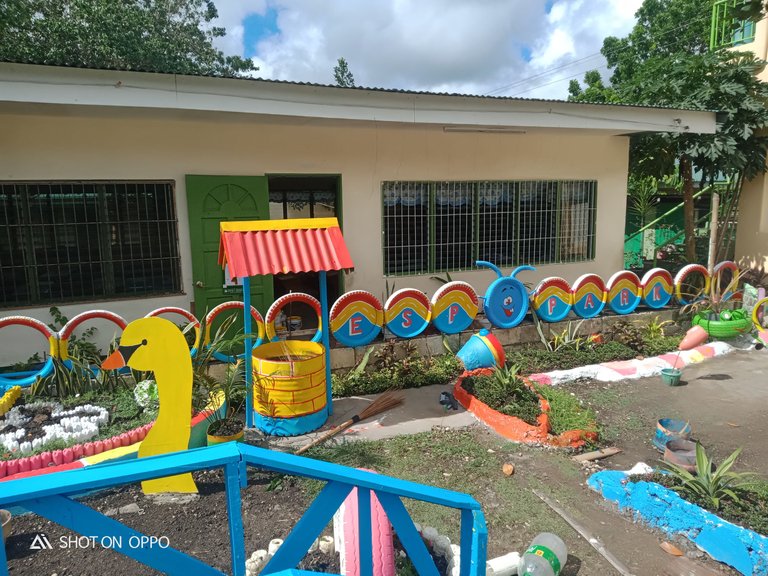 Colors that are good for the eyes are here! A good combination of colors, the material recycled is just a matter of a bright idea and putting it into action. Also, a catchy bridge caught the viewer's eye.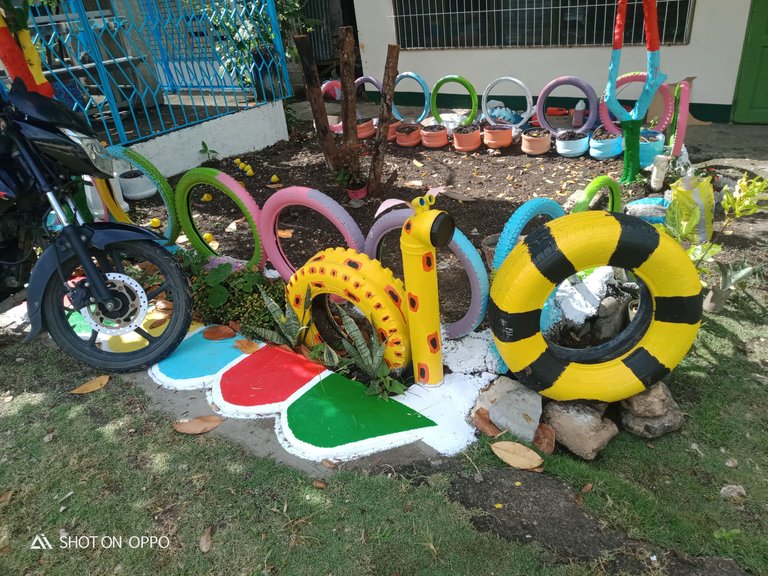 Recycled materials are used for beautification in school. It came from scrap and neglected materials into a beautiful and well-painted animal-like design. It is a matter of collecting junk things and having the idea of recycling them to form significant stuff may it be a flowering garden or vegetable garden.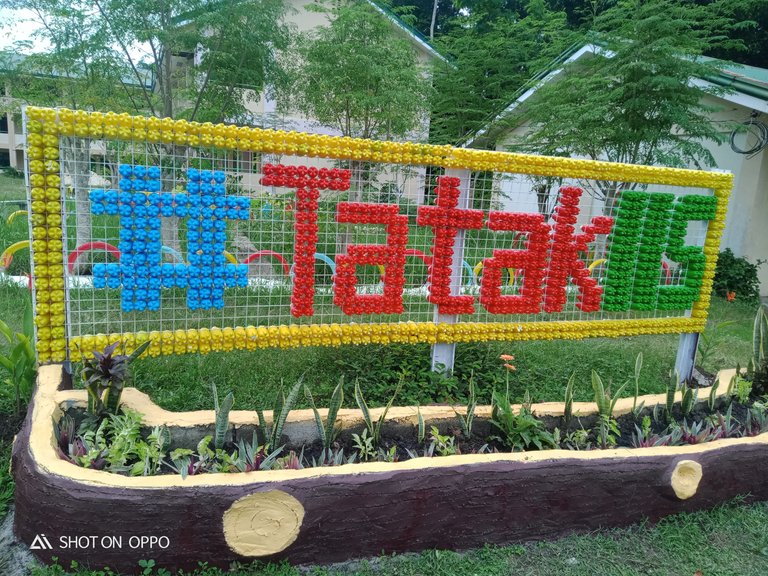 Empty bottles of soft drinks were used to create this hashtag; Tatak IIS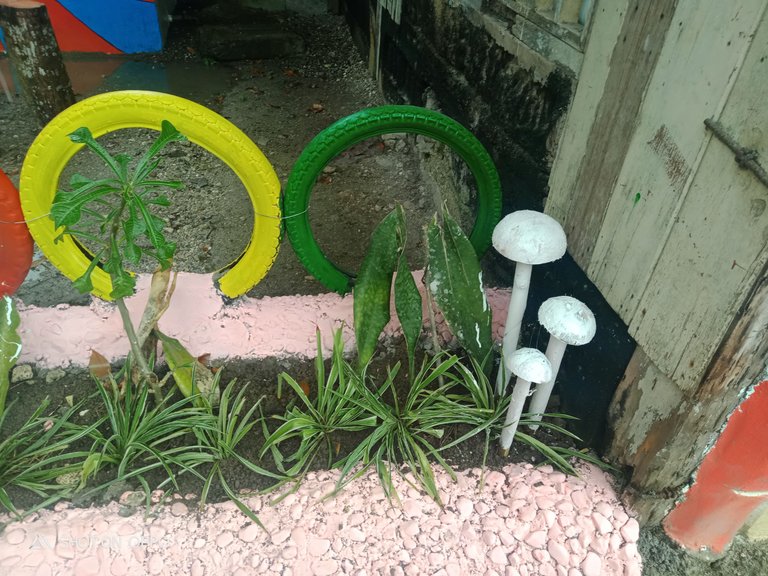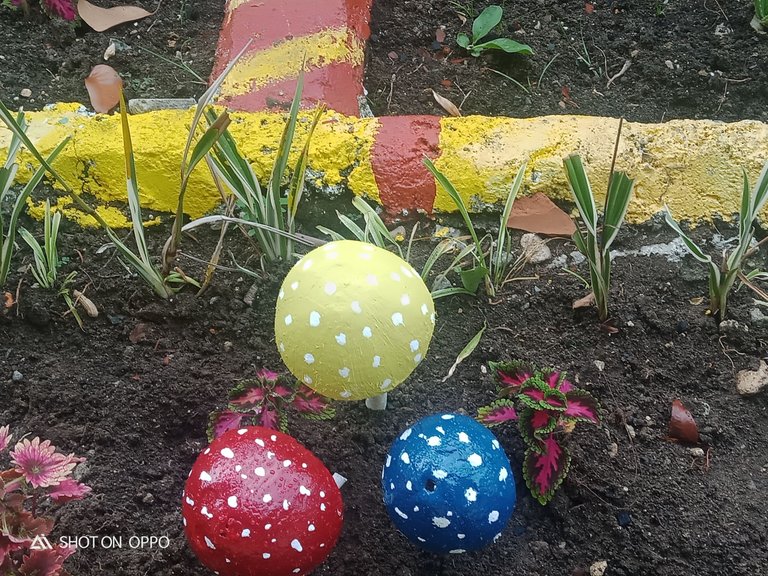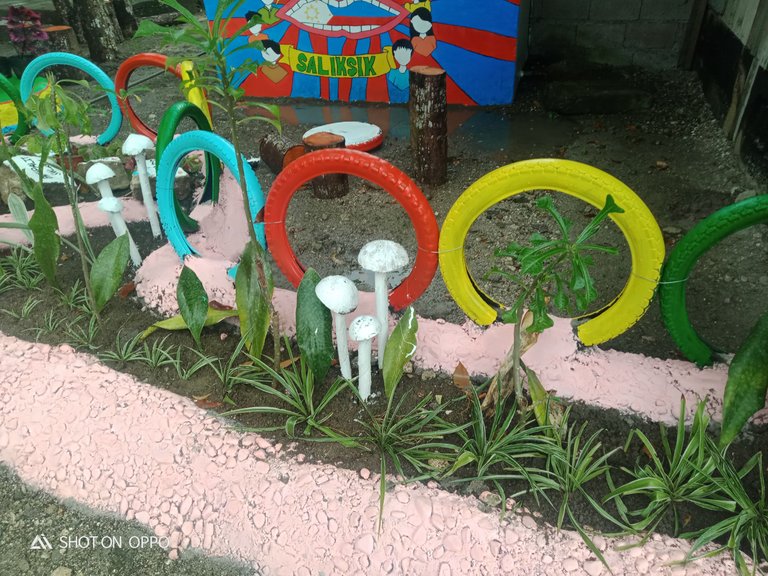 Empty coconut shells beautifully crafted into mushroom that grows in the garden.
Project Monitoring
As a motivating body, we give merit and recognition for the efforts and support of all teachers in making this project possible. In this regard, the project coordinator will recognize the Best Project Implementer of this endeavor. We will identify the Best Project implementer using a criteria/ rubric. The awardee will then receive a cash prize and certificate of recognition. It is just a simple act in our school, but for me, this practice is a big help in minimizing waste in our environment. Let's help one another to save mother earth. If not today, when? Now is the right time, what about you? What can you offer to protect our environment?
That's all for today's blog. I hope you learned something from reading this.