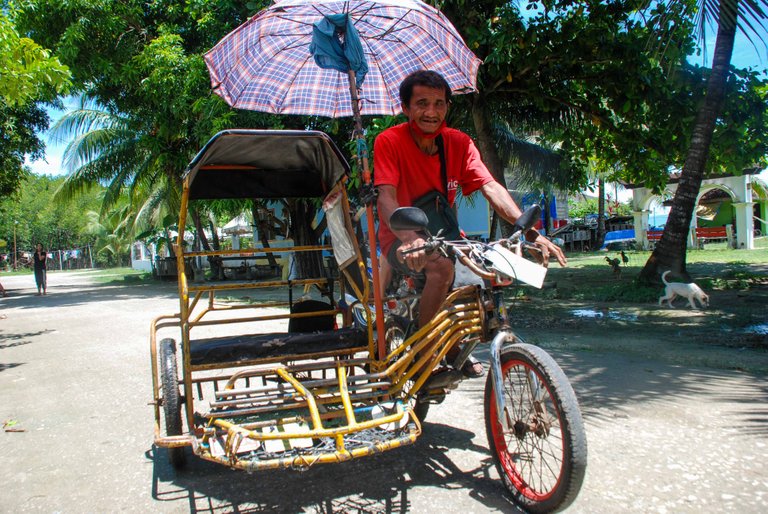 A little bit more than a week ago, I posted my first #WhoAreTheyPhilippines post and then the follow-up a couple of days ago.
I am going to try and make #WhoAreTheyPhilippines a weekly thing where I randomly select a person in the area where I live or work. I will interview that person, take a few pictures and then post about him/her on the Hive PH Community. After 7 days, when the author reward can be claimed, I will convert the whole HBD amount to the local currency (PHP) and will hand it over to him/her, along with a 1HBD contribution from @ybanezkim26 and 1HBD contribution from myself.
Today, I went back to Ronda, South Cebu, looking for Romeo, the trisikad driver I mentioned in the last post about Ernesto the bladesmith. I thought I could feature him, but sadly I wasn't able to find him. That's ok, I'll just pick someone else. After all it's all about being random in selecting my subject.
So here I was cruising down the streets of Ronda on my scooter, looking for my next "victim" when I suddenly saw this older man sitting on his trisikad on the side of the street. I approached him and asked him if he spoke any English. My Bisaya is very very limited which makes it quite a challenge for me to interview my subjects. I understood from him that he didn't speak any English at all. Luckily for me though, there was somebody else just a few meters away who did speak good English and who agreed to be my translator.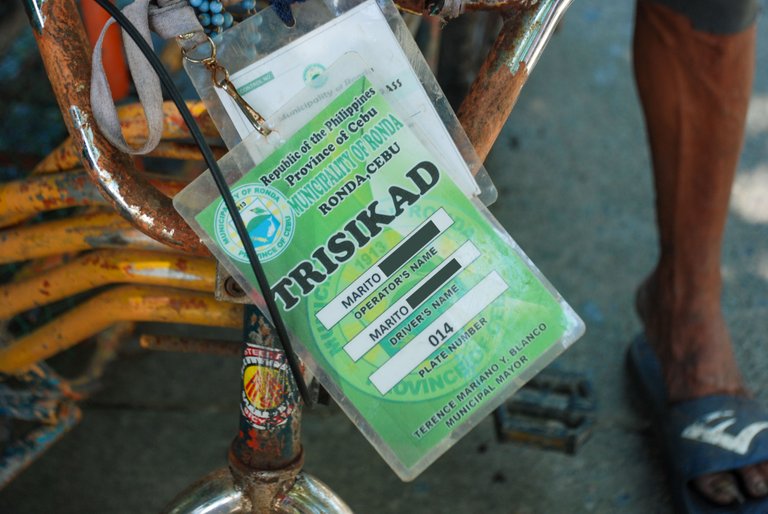 I quickly realized that it wouldn't be easy, even with a translator because Marito, the trisikad driver is almost deaf and can't clearly understand what he's being asked.
Being a foreigner in this country, I very often catch the attention of the people around and before I knew it, there were 20 or more people around us already. I guess it's unusual for a foreigner armed with a notebook, a pen and a camera to be standing on the side of a small street talking to an old trisikad driver.
Most of these people knew Marito and so they were very helpful in providing some answers.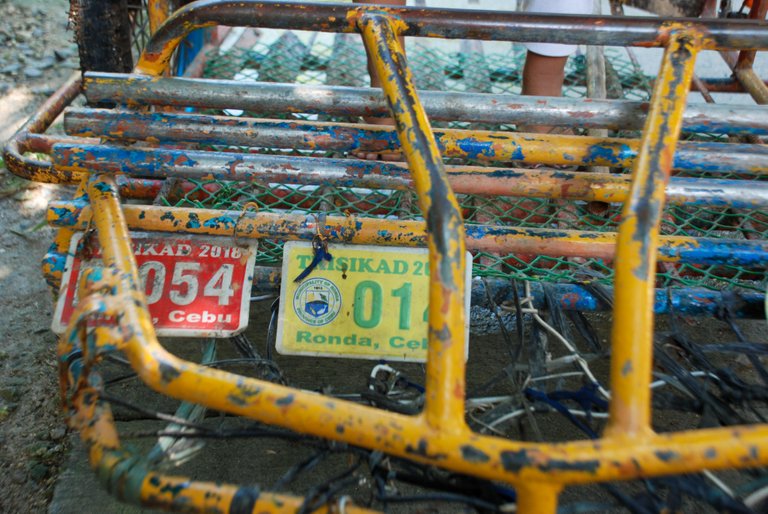 Marito is a 61 year old man born and raised in Ronda. He has been a trisikad driver since he was 15 years old and sometimes doing some carpentry jobs as well. These 2 jobs are his only source of income to support his wife and his children. They are 2 boys and 1 girl aged 22, 16 and 15. Just like a lot of Filipinos he doesn't have possessions and lives day by day.
In the picture below, the child is not his 🙂 It is one of the children of the people around us at that time.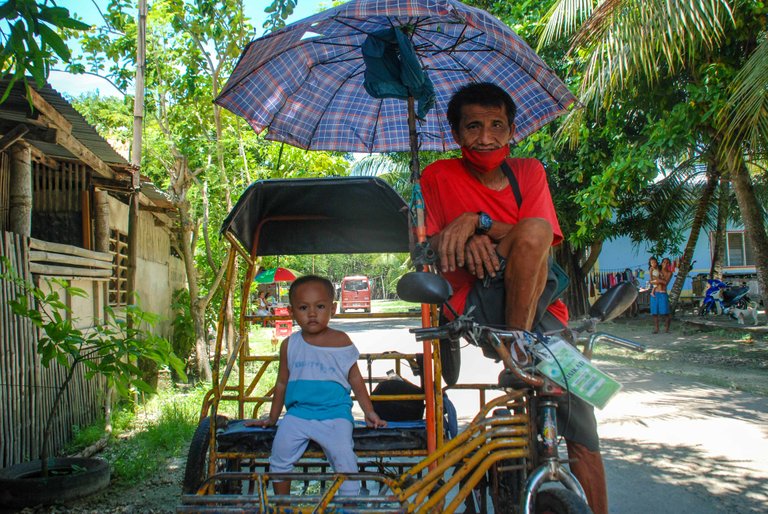 I asked him about his hobby or passion or dream. He didn't have any answer for me simply because he's contented with the life he's had so far and just enjoys the little things in life. The spur of the moment. He does however enjoy spending time with his friends drinking the local homemade liquor on his rest day.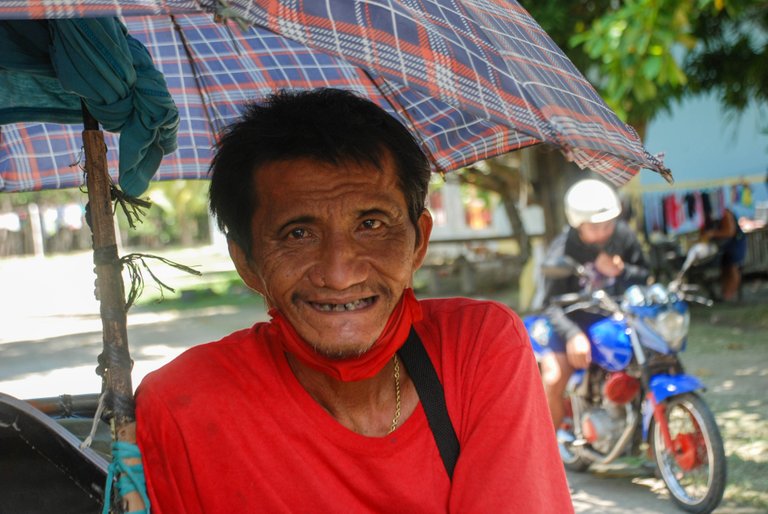 Even though I couldn't converse much with him, I could sense from being around him and from the stories of the people gathered around that he's a good person and appreciated by his neighbors. As the crowd grew bigger, I took a few pictures of my subject and bid goodbye to all.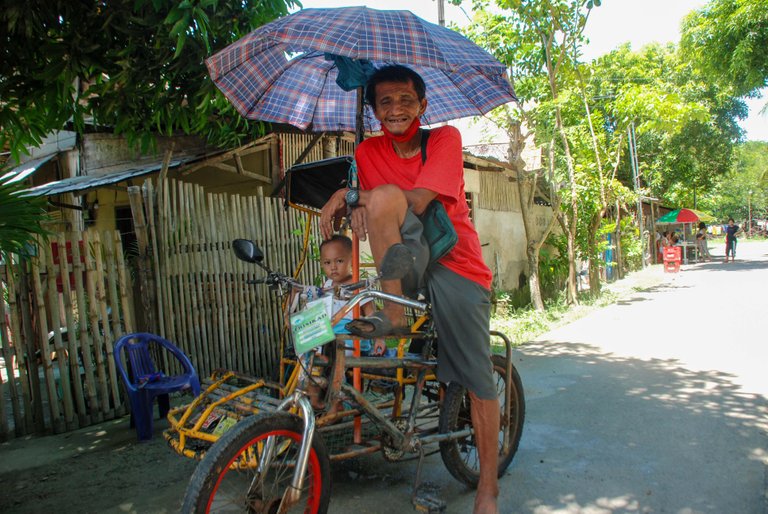 ---
I would like to thank all of you who have upvoted the previous post about Ernesto the bladesmith and contributed to his reward.
Since then, @ybanezkim26 has generously contributed 20 HBD to the #WhoAreTheyPhilippines initiative and since this contribution came after the reward post for Ernesto, I thought it would be fair to go back to him and also hand him his share of that amount. Here's the proof: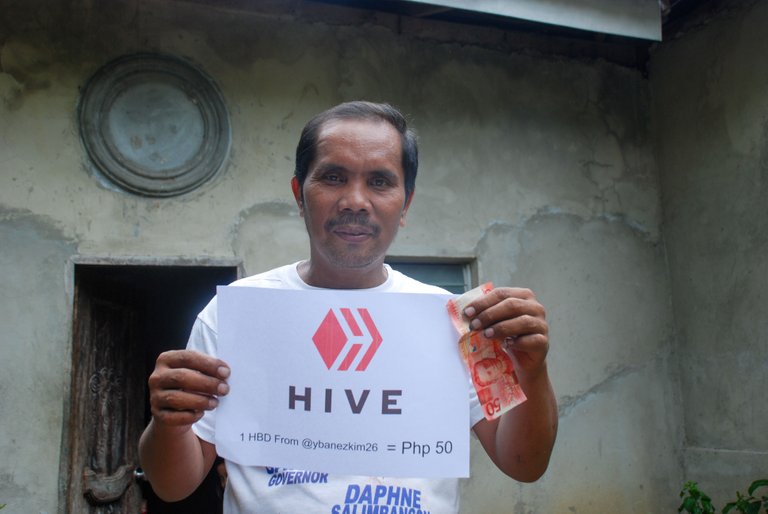 I'd like to thank everyone who is supportive of the #WhoAreTheyPhilippines initiative. Especially @ybanezkim26 for his contribution as well as @romeskie for allowing me to post these features in the Hive PH Community.
See you next week for the next feature and for Marito's reward from this post.