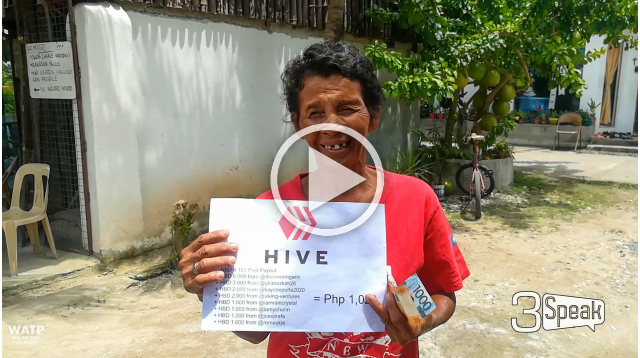 ---
Hello #Hive,
This is @discoveringarni for the video of Trinidad's reward.
Last Saturday, we went to see Trinidad. Unfortunately, Trining was preoccupied with work, so we only got to meet her for a few minutes to give her her reward.
This was my first vlog and the whole WATP experience was great. Sorry for the shaky footage.
Anyway, it was nice seeing Trining again and she was happy with her reward. The total amount that she has received is equivalent to at least 3 days of work. This is considering an average salary of Php 250 to Php 300 per day for a laundrywoman.
Thank you so much for the generous contributions from @ybanezkim26, @kayceeports2020, @iamraincrystal, @viking-ventures, @romeskie, @iamyohann, @josejirafa and everyone who upvoted, re-blogged and re-tweeted the feature.
A Huge Thank You! This turned out to be a very successful feature with a high post payout and contributions.
Special shoutout of thanks to @scubahead for lending me his action camera for this video.
Next week, @whoaretheyph will be back with a new feature and Alfredo's reward. If you haven't done so already, please upvote his feature story.
Thank you for watching and reading.
Signing off..
Please note that this post is set at a 50%/50% payout and the HBD part of it will be kept in the wallet to be used for a potential undervalued feature.
---
▶️ 3Speak