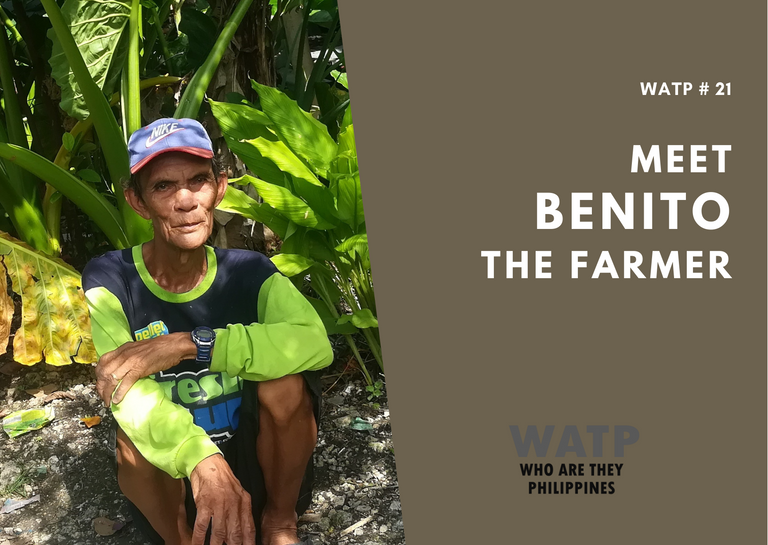 Hello #Hive!
When I started #WhoAreTheyPhilippines, I wanted to share some of the $HIVE rewards with struggling families in the area where I live. It's an amazing feeling to be able to financially help a family and witness their happiness and gratitude, even if it is only a small amount. It all became a reality thanks to the help of regular contributors. Despite a long hiatus, we are now on feature #21. Thank you all!
It's been about 6 months since the last #WATP feature. For several personal reasons, I decided to pause the project for a while and as much as I want to continue with it, I'm not sure I can do so, at least not on a regular basis.
Since there are still contributions available from past donations from @romeskie, @sagadahoctrott , @discoveringarni and @iamraincrystal (for a total of 17HBD and 20 HIVE), it was decided in an agreement with them that instead of returning it to them, I will do a few more features to make use of it.
Yesterday, I took the opportunity when @ybanezkim26, @indayclara and @chillwithshanna came to Moalboal and visited us to ask Kim, who has been a supporter for #WhoAreTheyPH since day one, whether or not he would be interested to hop on the scooter with me and go look for a person to be feature #21. I have to admit that I wanted to share this experience with him, even though he had already participated in the past doing a feature himself (check out WATP #11), but at the same time I also saw the benefit for me of having someone who speaks the language. I wouldn't struggle as much during the interview 😁.
I know he already had plans to work on Hive curation and so I was expecting him to decline but I was pleasantly surprised when he agreed. Ten minutes later we left the house and headed towards the back roads of Moalboal on the scooter.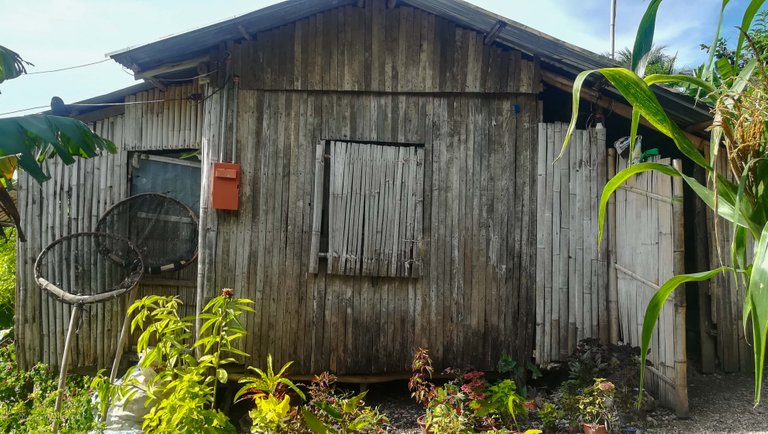 Benito's house
After driving for maybe 20 to 30 minutes on a road with alternating concrete and limestone/gravel patches, taking a few turns here and there before turning back around to try another direction, we saw a small hut on our left. We both mentioned it at the same time but we didn't see anyone outside and so we continued driving a bit further. As I knew we were going to reach a dead end, we decided to go back to that hut, and see if we could find someone there.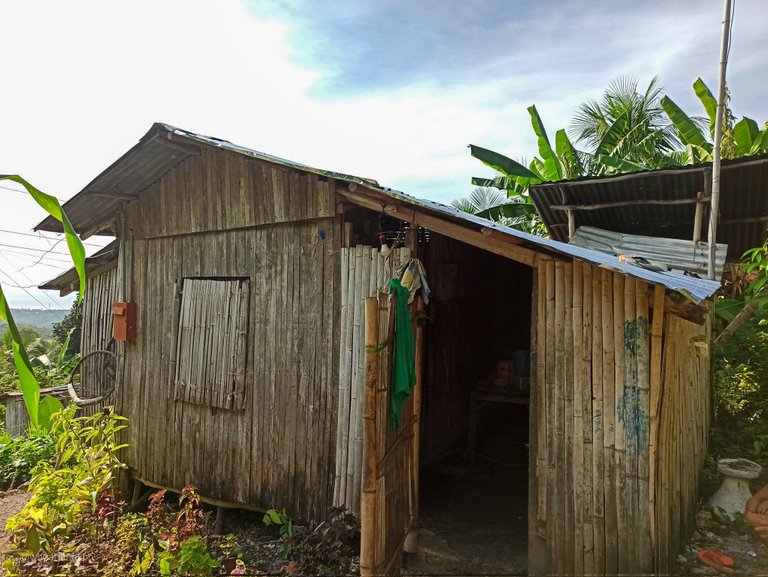 Benito's house (Picture by @ybanezkim26)
As we stopped the scooter, a man was walking up the trail in front of the hut and we started asking him a few questions. His name was Sally and he is a farmer who lives in the small house opposite the road. After explaining to him what we were doing, he agreed to be the next #WATP feature, so we headed to his house to conduct the interview and take some pictures. As we arrived beside his house, his wife came out and asked what we were doing there. We explained it to her and she declined the offer, she didn't want herself nor her husband to be a part of it.
No problem, we're going to look for someone else!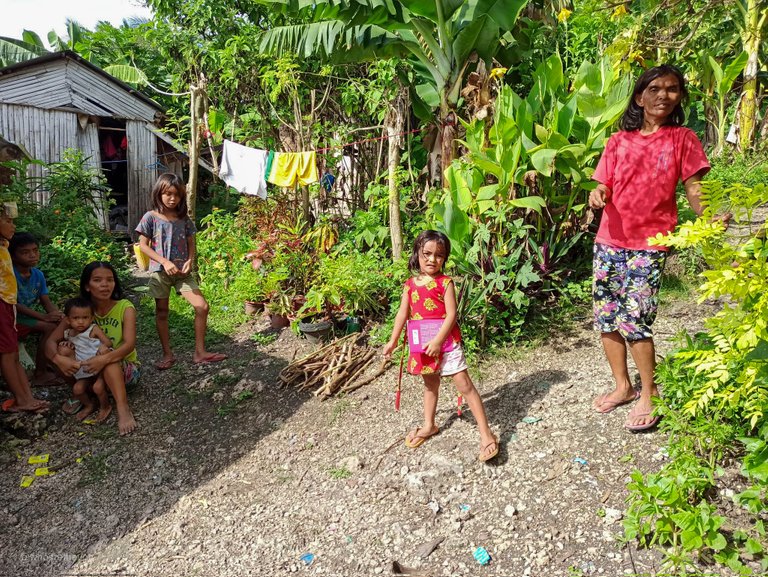 Outside Benito's house. His daughter on the right with the red t-shirt. (picture by @ybanezkim26)
As we got back to the original hut, there was a lady and some kids curiously looking at us. Kim started to engage a conversation with her and that's when I saw an older man crouched a few meters away. I looked at Kim and asked him: "why don't we interview this person?".
It turns out that he was the father of the lady Kim was talking to and coincidentally the owner of the hut we had been attracted to. After explaining the concept to them, they agreed to be interviewed and for us to take pictures. She also offered to help in answering some questions since her father is a little bit deaf.
This is how we met Benito.
---
Who is Benito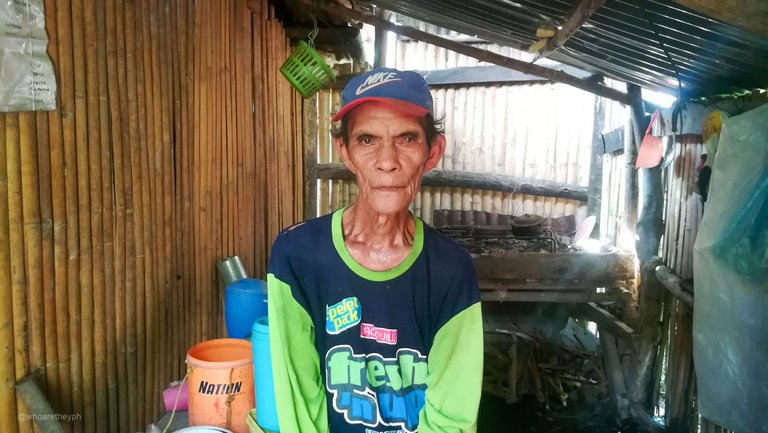 Benito inside his house
Benito is a 73 year old man who was born and raised in barangay Agbalanga in Moalboal. He was the second child out of 12. Life was so hard back then that it was too common for kids to get sick and pass away. Sadly, it happened to his family and 6 of his siblings didn't make it to adulthood. Today, there are only 2 still living out of the 12, Benito being one of them of course.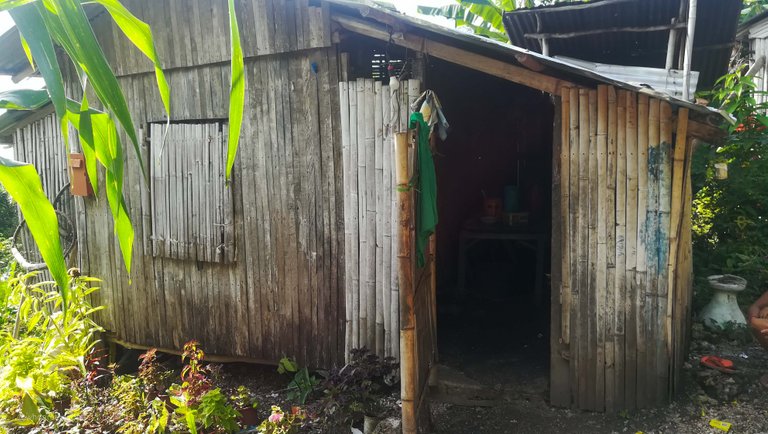 Benito's house
Benito never went to school and started working in the fields at a very young age. All his life and even today, he has cultivated corn and raised chickens for himself and his family. He also sometimes helps other farmers. At some time in his life, he was also cutting wood and bamboo in order to sell them and get a little extra income.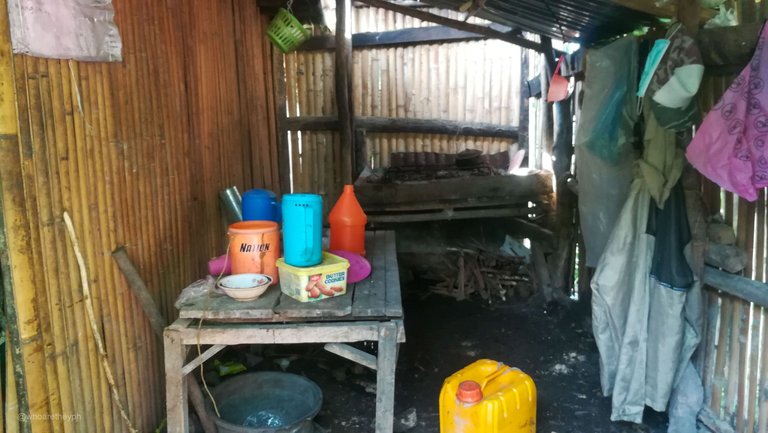 Benito's kitchen
At the age of 25, he married his wife and together, they had 9 children, 6 boys and 3 girls, who are now between the ages of 48 and 35. His spouse sadly passed away a couple of years ago but some of his children who still live next door help in taking care of him.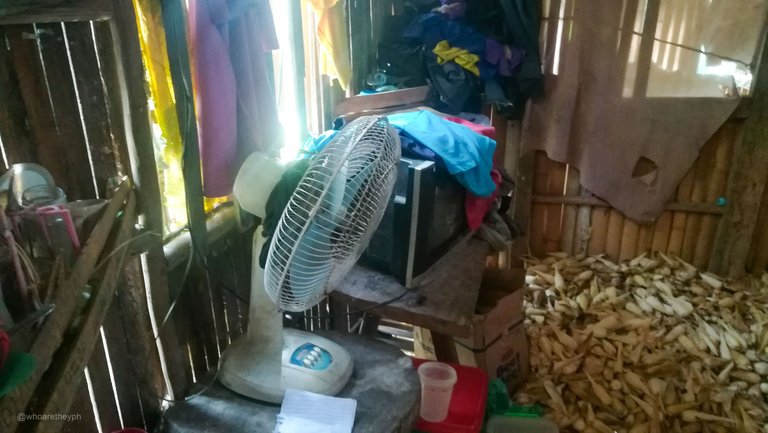 Benito's living quarters. You can see the TV which he spends time watching to rest and relax and corn drying on the floor.
When asked about his dream, he answered like most of the other #WATP features. He is contented and happy with the life he has and has had.
Living in a remote area, he has not been affected by the covid19 pandemic and so life has been the same as before during the last 2 years.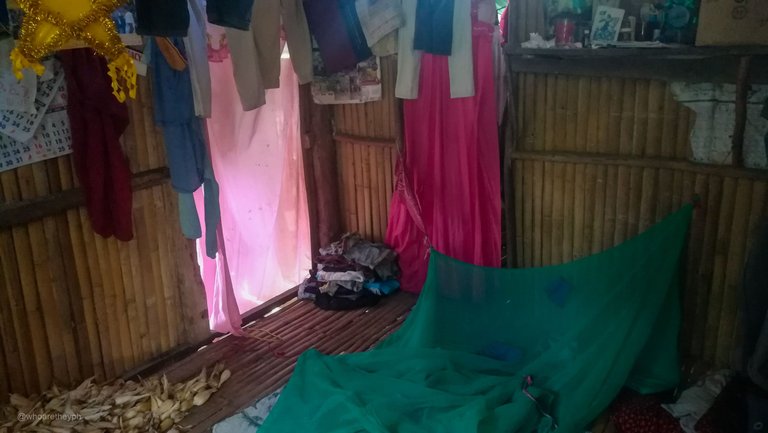 Benito's sleeping quarters (the other side of the room).
Benito likes to spend his resting time watching TV or drinking tuba (coconut wine) and Kulafu with his friends.
When asked what the money he will receive next week will be used for, he answered that he would be buying rice and different vegetables.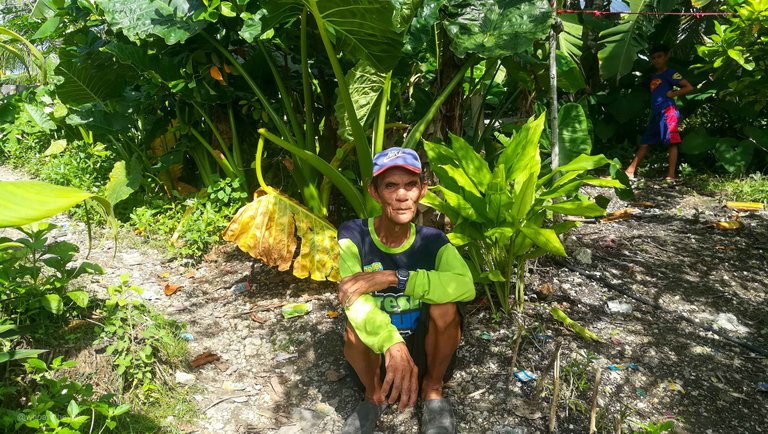 After taking a few pictures, Kim and I said goodbye and I promised them to come back after a week.
This is it for Benito's feature. To contribute to his reward, please upvote this post and share it with your followers by reblogging it.
This interview would not have been possible without Kim's help in translating all my questions. I usually manage with my broken English/Tagalog but this time it was much more difficult since Benito and his daughter who also helped by answering some questions spoke only Bisaya. So a big thank you @ybanezkim26 for your help. Very much appreciated.
Thank you all again for your support.
---
#WhoAreTheyPhilippines is a project which aims at sharing Hive cryptocurrency rewards with Filipinos. Every week a person within the Philippines is randomly selected. Our interviewer asks him/her some questions and takes a few pictures before writing a feature and posting it on the Hive PH Community. After 7 days, when the author reward can be claimed, the HBD payout amount along with some contributions from fellow Hivers are converted to the local currency (PHP). Our interviewer then makes his way back to this person and hands over the total amount to him/her.
We are very thankful to all of you for your support, upvotes and contributions. We are also glad this initiative is well received.
---
Check out the previous editions here:
WATP #1 - Ernesto The BladeSmith and Ernesto's HBD Reward
WATP #2 - Marito The Trisikad Driver
WATP #3 - Pampilo The Vulcanizer
WATP #4 - Virgilia The Sari-sari Store Owner
WATP #5 - Eliza The Plant Seller
WATP #6 - Kris The Street Food Seller
WATP #7 - Claudia & Rosalina The Homemakers
WATP #8 - Trinidad The laundrywoman
WATP #9 - Alfredo The Retired Fisherman
WATP #10 - Mark The Construction Worker
WATP #11 - Bitiliana the Malunggay and Lemongrass Seller
WATP #12 - Alexous the Fisherman
WATP #13 - Arjay the Buko Vendor
WATP #14 - Lynmae the Street Food Seller
WATP #15 - Jaynelyn the Stay at Home Mum
WATP #16 - Elvish & Knizalyn a Couple From Badian
WATP #17 - Special Edition: For the victims of Typhoons Goni and Vamco
WATP #18 - Rosalie the Farmer
WATP #19 - Norito the Farmer
WATP #20 - Elma the Farmer