Hello Everybody,
The #WhoAreTheyPhilippines has been going for 5 editions already and being a person who enjoys numbers and statistics, I couldn't help myself but prepare some charts.
My goal when working on those was to:
See the progress on different levels from the 1st edition to the 5th
Be completely transparent with the contributions
See who is engaging the most with the initiative
After coming up with several charts (quite a lot to be honest), I thought that maybe a few of you would also be interested to see them. I am planning to update and post them after every edition is complete.
I would very much appreciate some feedback to know whether I should continue posting these or if there is no need.
In case you'd like to see different charts or statistics, just let me know and I can potentially work on it provided that the data is available. The same way, I could remove the useless ones.
Anyways, enough talk, here it is.
---
Editions Statistics
Monetary Rewards
The main goal for #WATP is to reward a random person with a cash reward in the local currency (Philippines Pesos - PHP) which is equivalent to the Hive Dollar value of the post payout.
Knowing this, I couldn't not do a few charts about the money handed over to the previous featured persons.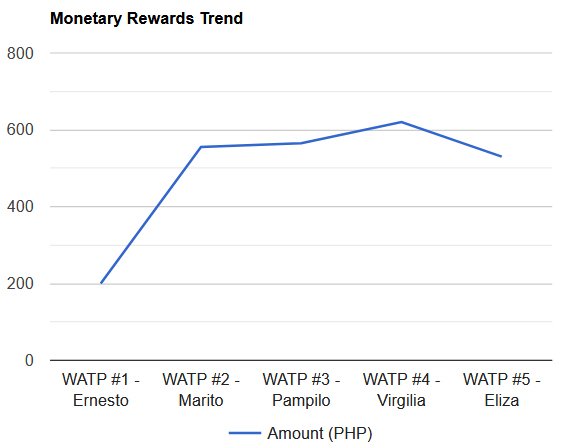 Used Contributions
A big part of the cash rewards handed over to the person comes from the contributions received so of course I needed some charts about it: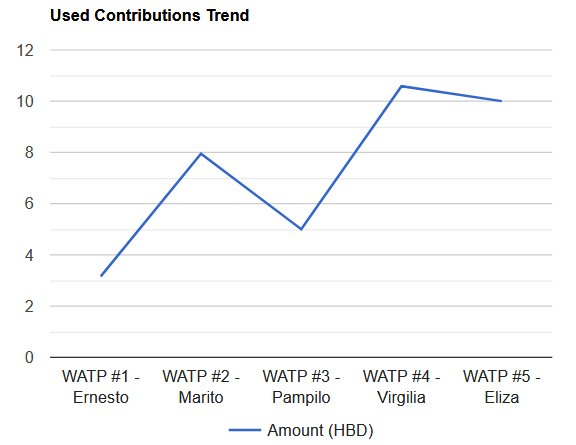 Total Upvotes
Have a look at how the upvotes were distributed.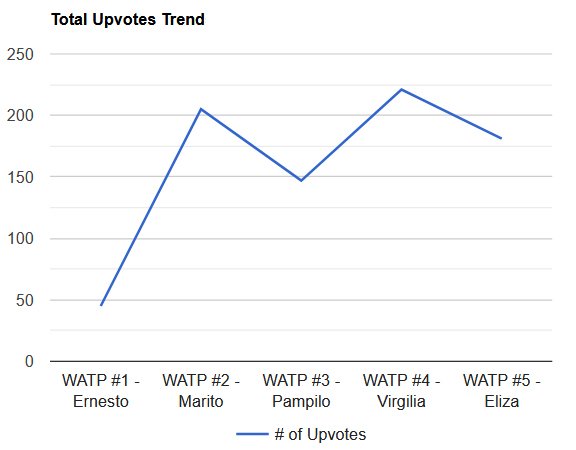 Total Comments
Have a look at the comments statistics.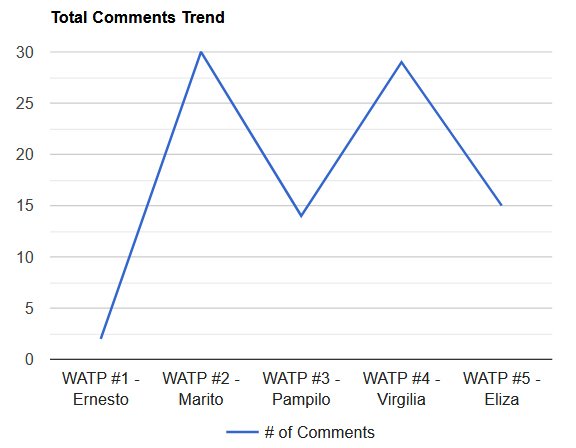 Total Reblogs
Have a look at the reblogs statistics.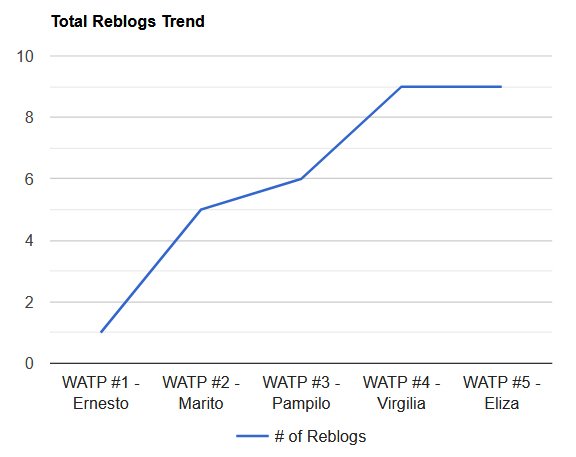 ---
Contributions
As I mentioned above, the contributions are what is making #WhoAreTheyPhilippines successful so far, so here are some statistics:
Total Contributions Received

Total Contributions Used

Remaining Contributions

A big thank you to @ybanezkim26, @kayceeports2020, @iamraincrystal, @romeskie, @iamyohann, @discoveringarni, @kneelyrac, @macchiata and @mrnightmare89.
---
Top Upvoters
By Hive Rewards Value

By Number of Upvotes
This Chart is kinda useless, only 3 users (@allmonitors, @discoveringarni and @laissez-faire) upvoted all 5 editions but then 83 Hivers upvoted 4 editions. I obviously couldn't show 83 people on 1 chart.
I will most likely remove this chart from the next statistics post.

---
Top Commentors
Thank you @kayceeports2020, @ybanezkim26, @hivebuzz, @romeskie, @macchiata and @hiveph for engaging with the initiative and being the top commentors.

The @iamyohann and @whoaretheyph were removed from this statistic. These 2 accounts, obviously commented quite a lot just to reply to you.
---
Top Rebloggers
Thank you @ybanezkim26, @discoveringarni, @hiveph, @guruvaj, @kayceeports2020, @kneelyrac and @romeskie for spreading the word about #WhoAreTheyPhilippines and being the top rebloggers.

The @whoaretheyph was removed from this statistic.
---
This is it, any feedback would be appreciated.
For all of you being tagged to this post, leave a comment if you don't want to be mentioned in the future.
Unless I'm asked to stop doing it, I'll see you next week with the updated statistics.