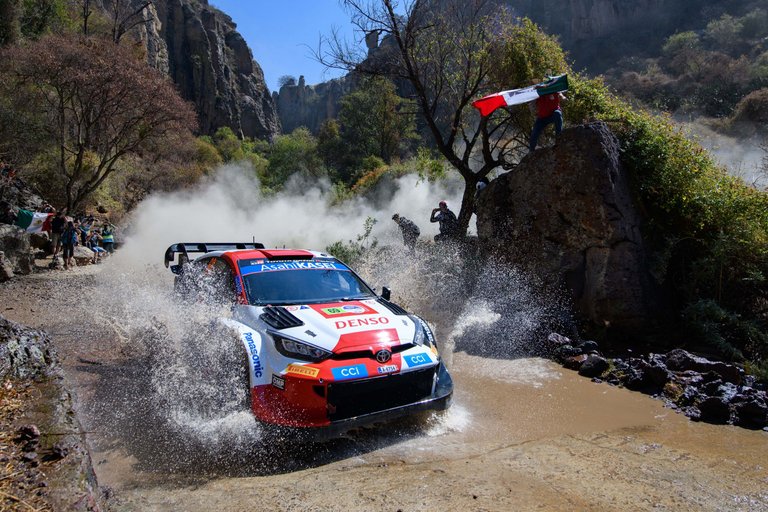 Source

Desde el día jueves que se está disputando el Rally de México del Campeonato Mundial de Rallies (WRC) en su temporada 2023, luego del país latinoamericano estar fuera en los últimos tres años. Este es uno de mis rallies favoritos que no sea en nieve, ya que en México la superficie donde se transita es de tierra, dando también excelente espectáculo para los espectadores. Esta competencia comenzó el día jueves 16 de Marzo de 2023 y finalizará el día de mañana domingo 19 con la última etapa que se conoce como el power stage y que es tan importante porque les otorga puntos extras a los pilotos para los que es el campeonato. Hasta el momento ha sido un bonito evento, con una lucha entre tres pilotos por la victoria.
Since Thursday the Mexico Rally of the World Rally Championship (WRC) is being disputed in its 2023 season, after the Latin American country has been out for the last three years. This is one of my favorite rallies that is not in snow, since in Mexico the surface where it is transited is dirt, giving also excellent spectacle for the spectators. This competition began on Thursday, March 16, 2023 and will end tomorrow, Sunday 19, with the last stage known as the power stage, which is so important because it gives extra points to the drivers for the championship. So far it has been a nice event, with a fight between three pilots for the victory.
A parte del regreso de este importante rally que ya es un logro, también tenemos la agradable noticia de que Sébastien Ogier del equipo Toyota, volvió a las competiciones, lo cual es un plus para la audiencia de esta importante categoría del automovilismo mundial, ya que es el piloto que más fanáticos atrae, junto a su compatriota, el francés Sébastien Loeb. Este última también se espera que al menos haga algunas competencias dentro del WRC este año, pero aún no tenemos nada confirmado, para tener una lucha entre estos dos pilotos que entre los dos poseen 17 títulos mundiales, 9 para Loeb y 8 para Ogier. Ogier hasta el momento y el día de hoy ha dominado el Rally de México, siendo el líder por +28.5 segundos a de ventaja a su compañero de equipo dentro de Toyota, Elfin Evans, mientras que en la tercera posición se encuentra Thierry Neuville, piloto belga del equipo Hyundai, quien está +37.2 segundos, hasta el momento en las 15 etapas que se han desarrollado hasta el momento.
Apart from the return of this important rally, which is already an achievement, we also have the pleasant news that Sébastien Ogier of the Toyota team, returned to competitions, which is a plus for the audience of this important category of world motorsport, as it is the driver who attracts more fans, along with his compatriot, French Sébastien Loeb. The latter is also expected to do at least some competitions within the WRC this year, but we still have nothing confirmed, to have a fight between these two drivers who between them have 17 world titles, 9 for Loeb and 8 for Ogier. Ogier so far and today has dominated the Rally Mexico, being the leader by +28.5 seconds ahead of his teammate within Toyota, Elfin Evans, while in third position is Thierry Neuville, Belgian driver of the Hyundai team, who is +37.2 seconds, so far in the 15 stages that have been developed so far.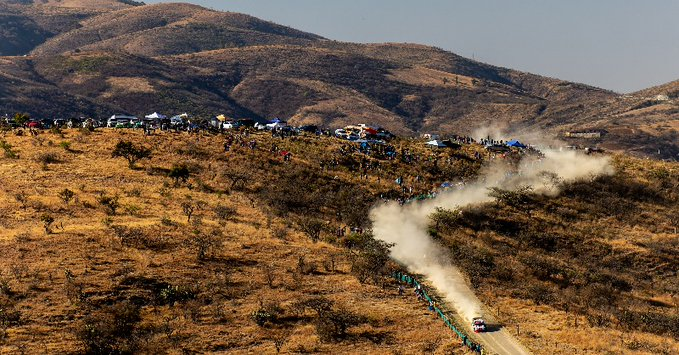 Source
El día 1 (jueves) se dieron tres etapas, la primera fue el SHAKEDOWN, una etapa especial que da inicio a la competencia y que fue liderada por Esapekka Lappi, piloto finalandes del equipo Hyundia. Lappi superó en esta prueba a su compatriota Kalle Rovanperä por tan solo tan solo 8 milésimas. La primera etapa que da inicio a la competencia fue la SS1 Street Stage GTO 1 que fue lidera por Ott Tänak de M-Sport (Ford) con un tiempo de 58 segundos exactos, mientras que Kalle Rovanperä por tan solo 8 milésima de segundos, seguido por Esapekka Lappi a +1.3 segundos del líder hasta el momento del Rally. Elfyn Evans fue cuarto a +1.5 segundos del tiempo realizado por Tänak, mientras que en la quita posición de esta SS1 quedó Thierry Neuville. Por otro lado Sébastien Ogier quedó séptimo a 1.8 segundos. Esta etapa 1 fue muy pareja, como se esperaba en la previa. Esta etapa tan solo fue de 1.12 km.
On day 1 (Thursday) there were three stages, the first one was the SHAKEDOWN, a special stage that starts the competition and was led by Esapekka Lappi, Hyundia team's final driver. Lappi beat his compatriot Kalle Rovanperä by only 8 thousandths of a second. The first stage that starts the competition was the SS1 Street Stage GTO 1 which was led by Ott Tänak of M-Sport (Ford) with a time of 58 seconds exactly, while Kalle Rovanperä by only 8 thousandths of a second, followed by Esapekka Lappi at +1.3 seconds of the leader so far of the Rally. Elfyn Evans was fourth at +1.5 seconds of the time made by Tänak, while in the fifth position of this SS1 was Thierry Neuville. On the other hand Sébastien Ogier was seventh at 1.8 seconds. This stage 1 was very even, as expected in advance. This stage was only 1.12 km long.
La etapa dos fue de SS2 Street Stage GTO 2, donde al igual que la primera, esta también fue ganada por Ott Tänak, quedando segundo Kalle Rovanperä y en la tercera posición Esapekka Lappi, estos últimos dos empatados en tiempo con 57.1 segundos. Sébastien Ogier mejoró en esta etapa tras quedar a tan solo 1 segundos del tiempo realizado por el ganador de etapa de 56.2 segundos. Este tramo era de 1.12 km de longitud, de allí las tiempos menores a 1 minuto. Este primer día de actividad dejó como líder a Tänak, quien se pensó que tendría un impresionante rally. Otra cosa es que vimos un dominio de los finlandeses, así que se pensó que las cosas serían distintas a las dos primeros rallies de la temporada. El segundo día (Viernes) se disputaron en total 8 etapas (desde la SS3 hasta la SS10). Este día fue dominado por Esapekka Lappi quien ganó la SS3 de TC3 El Chocolate 1 con una distancia en el tramo de 29.07 km haciendo un tiempo de más de 23 minutos. Lappi también se llevó las etapas 5, 6, 8 y 9, mientras que Ogier se quedó con las etapas 4 y 7, mientras que el español Dani Sordo fue quien se adjudicó la última etapa del día. Hasta este día la general quedó al mando de Lappi con 1:25:12.0, seguido por Sébastien Ogier a +5.3 segundos, Elfin Evans a +30.1 segundos, Thierry Neuville a +39.8 segundos en la cuarta posición, mientras que la quinta fue para Kalle Rovanperä a casi una hora del líder.
Stage two was SS2 Street Stage GTO 2, where like the first, this was also won by Ott Tänak, being second Kalle Rovanperä and in third position Esapekka Lappi, the latter two tied in time with 57.1 seconds. Sébastien Ogier improved in this stage after being just 1 second behind the time made by the stage winner of 56.2 seconds. This section was 1.12 km long, hence the times under 1 minute. This first day of activity left as leader Tänak, who was thought to have an impressive rally. Another thing is that we saw a dominance of the Finns, so it was thought that things would be different from the first two rallies of the season. On the second day (Friday) a total of 8 stages were contested (from SS3 to SS10). This day was dominated by Esapekka Lappi who won SS3 of TC3 El Chocolate 1 with a stage distance of 29.07 km with a time of over 23 minutes. Lappi also took stages 5, 6, 8 and 9, while Ogier took stages 4 and 7, while Spaniard Dani Sordo won the last stage of the day. Up to this day the overall remained in command of Lappi with 1:25:12.0, followed by Sébastien Ogier at +5.3 seconds, Elfin Evans at +30.1 seconds, Thierry Neuville at +39.8 seconds in fourth position, while the fifth was for Kalle Rovanperä almost an hour behind the leader.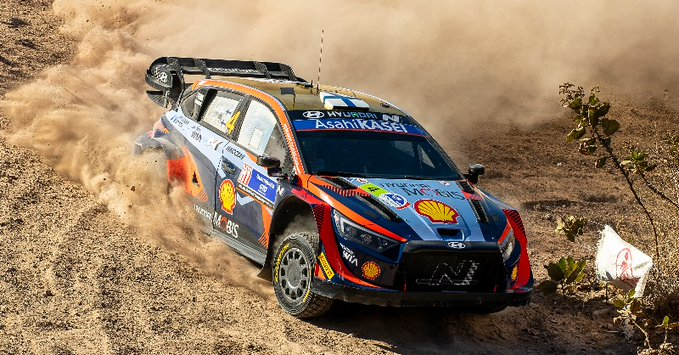 Source
El día de hoy, sábado 18 de Marzo de 2023 se esperaba que se disputarán etapas, que hasta el momento se han dado 5, desde la SS11 hasta la SS15. La etapa 11 (Ibarrilla 1 - 14.82 km) fue ganada por el francés Sebastien Ogier de Toyota quien iba a dar el todo por el todo para concretar la remontada, luego de unos primeros días que no fueron los esperados, al menos en mi opinión personal. En esta etapa 11 el segundo lugar fue logrado por Evans a +27.3 segundos del tiempo de 1:33:52.9 logrado por Ogier. El tercer lugar fue para Thierry Neuville a +38.9 del francés. Fue un dominio por parte del 8 veces campeón del Campeonato Mundial de Rally. En la SS12 el ganador fue Neuville, secundado por Elfyn Evans y Ogier en la tercera posición, para afianzarse más en el primer lugar, aunque Elfyn descontaba casi 11 segundos. Otro que viene remontando tiempos es Thierry Neuville quien también ganó en la SS13 y la SS14, aunque fueron pocos segundos, pero cada tiempo que se recorta, es vital para las aspiraciones de los pilotos.
Today, Saturday, March 18, 2023 was expected to be disputed stages, which so far have been given 5, from SS11 to SS15. Stage 11 (Ibarrilla 1 - 14.82 km) was won by the Frenchman Sebastien Ogier of Toyota who was going to give his all to make the comeback, after a first few days that were not as expected, at least in my personal opinion. In this stage 11 the second place was achieved by Evans to +27.3 seconds of the time of 1:33:52.9 achieved by Ogier. Third place went to Thierry Neuville at +38.9 of the Frenchman. It was a dominance on the part of the 8-time World Rally Championship champion. In SS12 the winner was Neuville, seconded by Elfyn Evans and Ogier in third position, to further strengthen the first place, although Elfyn discounted almost 11 seconds. Thierry Neuville, who also won in SS13 and SS14, is another driver who has been gaining time, although it was only a few seconds, but every time that is cut, is vital for the aspirations of the drivers.
Para el día 3 faltan aún 4 etapas por disputarse, la SS16 en el tramo del Mosquito 2 con un recorrido de 22.56 km, la SS17 en Derramadero 2 con un longitud de 21.70 km, Las Dunas Superspecial 3 donde es una etapa bastante corta de 3.53 km en la cual se espera que las distancia sean bastantes cortas. Finalmente Rock & Rally SSS es la etapa 19 de este Rally de México, donde se recorrerá tan solo 1.30 km. Para el día se mañana Domingo tenemos lo que es Las Dunas Superspecial 4 de 3.53 km a las 8 de la mañana hora de Venezuela, la etapa 21 en Otates con 35.63 km a las 9:16am (Hora de Venezuela), mientras que San Diego es la etapa 23 con un recorrido de tan solo 12.61 km, esta se dará a las 10:24 am. Finalmente tendremos el Power Stage de tan solo 9.59 km, en El Brinco, donde finalmente sabremos el triunfador de este Rally y quienes son los que se llevan los puntos extras.
For day 3 there are still 4 stages to be disputed, the SS16 in the Mosquito 2 section with a distance of 22.56 km, the SS17 in Derramadero 2 with a length of 21.70 km, Las Dunas Superspecial 3 where it is a fairly short stage of 3.53 km in which the distance is expected to be quite short. Finally Rock & Rally SSS is the 19th stage of this Rally Mexico, where only 1.30 km will be covered. For tomorrow Sunday we have what is Las Dunas Superspecial 4 of 3.53 km at 8 am Venezuelan time, stage 21 in Otates with 35.63 km at 9:16am (Venezuela time), while San Diego is stage 23 with a distance of only 12.61 km, this will be at 10:24 am. Finally we will have the Power Stage of only 9.59 km, in El Brinco, where we will finally know the winner of this Rally and who are the ones who get the extra points.
---
Comentarios Finales
Final Comments
El regreso del Rally de México era uno de los más esperado del año ya que la competencia que se da por la victoria es muy dura, con escenarios bastantes complicados, mucho polvo e incluso en el camino los pilotos se pueden encontrar con piedras que le causen un daño al auto o a los neumáticos. La estrategia siempre es importante, los conductores y sus copilotos deben analizar cuando usar los compuestos de neumáticos, donde en este punto se puede ganar o perder mucho tiempo, una etapa se puede ganar o perder por este factor, de allí las variaciones en las posiciones. Para este Rally de México veo como favorito al francés Sebastien Ogier, quien en los primeros días no lució tan bien, pero en este tercer día las cosas se le han dado y le sigue sacando tiempo a sus rivales, aunque vemos a un Elfyn Evans fuerte, lo mismo pienso con ROVANPERÄ, quien es un los pilotos favoritos para quedarse con su segundo campeonato consecutivo de la categoría, pero en esta competencia a deslucido un poco. Veremos qué pasa en lo que falta del día de hoy y mañana, pero también tenemos que ver cómo se van dando las etapas y que los pilotos no sufran contratiempos.
The return of the Rally Mexico was one of the most anticipated of the year since the competition for the victory is very tough, with quite complicated scenarios, a lot of dust and even on the road the drivers may encounter stones that can cause damage to the car or tires. The strategy is always important, drivers and co-drivers must analyze when to use the tire compounds, where at this point you can win or lose a lot of time, a stage can be won or lost by this factor, hence the variations in positions. For this Rally Mexico I see as favorite the Frenchman Sebastien Ogier, who in the first days did not look so good, but on this third day things have been given and continues to take time to his rivals, although we see a strong Elfyn Evans, the same I think with ROVANPERÄ, who is one of the favorite drivers to win his second consecutive championship in the category, but in this competition to tarnish a little. We will see what happens in the rest of today and tomorrow, but we also have to see how the stages are going and that the drivers do not suffer setbacks.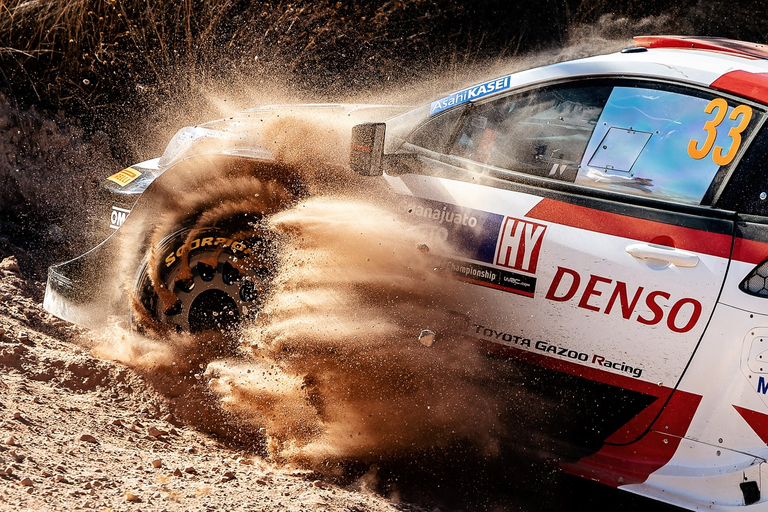 Source
Así marcha hasta los momentos la general de este Rally de México 2023 del Campeonato Mundial de Rally:
This is how the overall standings of this Rally Mexico 2023 of the World Rally Championship are going so far:

Source
---

Source

Separador de textos tomador del Post fue creado por mi persona en: Canva || Post taker text separator was created by myself at: Canva .
Translated with www.DeepL.com/Translator (free version)
Gracias por su visita. Espero que les haya gustado. // Thank you for your visit. I hope you liked it.
Hasta una próxima oportunidad // Till a next chance


Vote la-colmena for witness
By @ylich
Sin más que decir, se despide de ustedes, su cordial servidor @franz54. // Without further ado, he bids farewell to you, his cordial server @franz54.