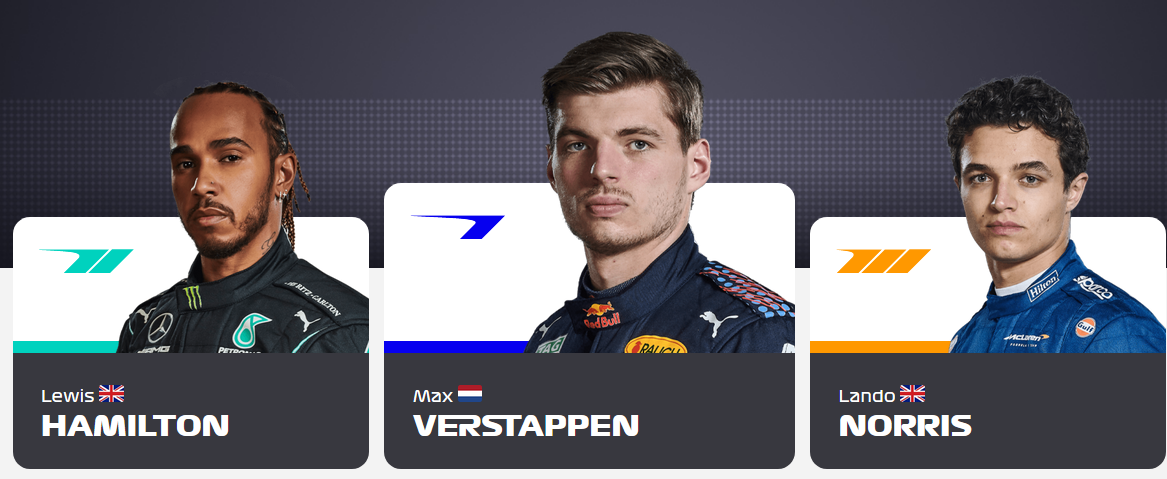 Fuente.
Este fin de semana se disputará una prueba en el calendario 2021 de la Fórmula 1 en otro circuito callejero, el de Bakú en Azerbaiyán.
Circuito callejero como el de Mónaco pero muy distintos desde todo punto de vista.
Desde el punto de vista histórico ya que es un circuito nuevo, con una escasa tradición automovilística a sus espaldas, a diferencia del circuito de Montecarlo, hasta el técnico ya que, a diferencia del circuito monegasco, en éste si se puede adelantar lo que hace la carrera más entretenida, más luchada y, por ende, más espectacular.
Un punto de inflexión en la Fórmula 1 2021
El GP de Mónaco marcó un punto de inflexión en los Campeonatos Mundiales de Pilotos y Constructores en la Fórmula 1.
Porque Mercedes perdió el predominio abrumador que venía teniendo desde hacía varios años. Y por primera vez, en ese lapso, pierde la punta en ambos campeonatos.
El de constructores por apenas un punto y el de pilotos por algunos más.
Pero el hecho estadístico queda: por primera Red Bull (Max Verstappen como piloto y el equipo) pasan a encabezar ambas clasificaciones. Algo inédito. Aunque no imprevisto. Se veía que la hegemonía de Mercedes en el 2021 era debida más a estrategia que a rendimiento.
Y en el circuito de Montecarlo la estrategia cuenta relativamente. Quien parte primero (generalmente) llega primero para hacer una simplificación.
Cuenta muchísimo la clasificación. Y en ese aspecto Mercedes mostró cierta vulnerabilidad. Y Red Bull la aprovechó muy bien.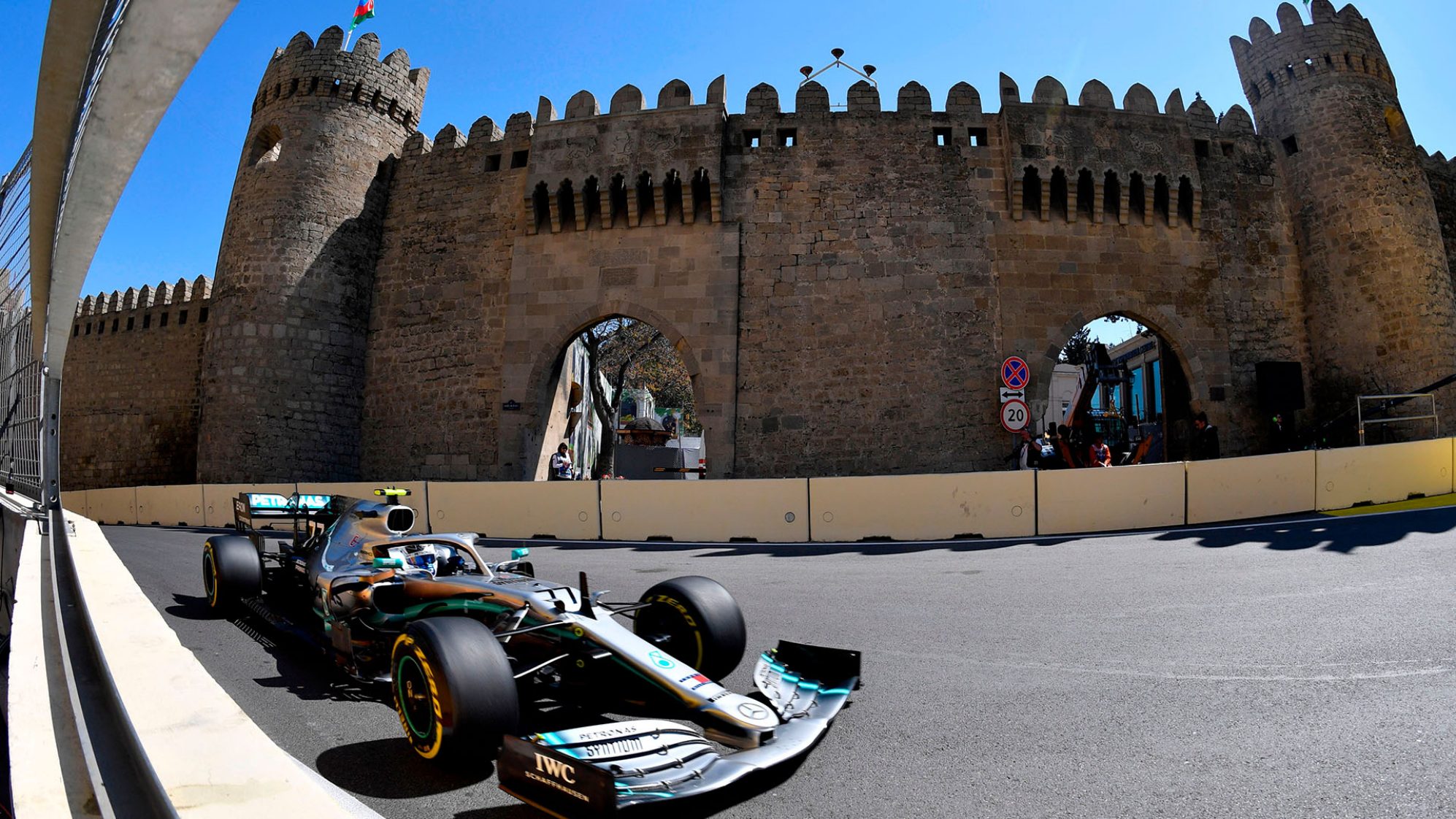 En el año 2019 -en el 2020 la carrera fue suspendida por pandemia del coronavirus- Valtteri Bottas obtuvo la pole position.
Historia.
El circuio de Bakú es uno de los más nuevos de la Fórmula 1 y surgió como consecuencia del abandono de otros circuitos, especialmente por causas económicas.
Montar la organización de una carrera de Fórmula 1 es algo que cuesta mucho dinero y si no se dispone de sponsors de un cierto calibre es imposible seguir adelante con el proyecto.
Son muchos los circuitos abandonados por la Fórmula 1. La histórica pista de Jacarepaguá, en Río de Janeiro (Brasil) con triunfos históricos de Ayrton Senna, Nelson Piquets, Carlos Alberto Reutemann y Juan Pablo Montoya entre otros; el circuito callejero de Valencia celebrado entre el 2008 y el 2012; el Circuito Internacional de Buddh (India) surge contemporáneamente con la idea de desarrollar un equipo enteramente nacional (Force India) -el euipo logró sobrevivir al cierre del cicuito por algunos años-; y el Circuito de Montjuïc que tenía la particularidad de ser un circuito semi-permanente situado en la montaña de Montjuic en Barcelona sede de carreras de F1 alternas en 1969, 1971, 1973 y 1975. Son muchos más los circuitos abandonados por supuesto y, en algún momento, volveré sobre el tema. Algunos por razones de seguridad pero, en general, por problemas económicos.
Azerbaiyán (y en general todos los países que en un cierto momento fueron agrupados en la llamada URSS -Unión de Repúblicas Socialistas Soviéticas- tiene estos grandes sponsors y por lo tanto aprovechó la oportunidad para reemplazar el llamado Gran Premio de Europa en el 2016.
Vistos los excelentes resultados obtenidos, a nivel deportivo y mediático, la carrera no solo quedó firme en el calendario de la Fórmula 1 sino que además tomó un nombre propio, el del paìs que lo aloja: Azerbaiyán.
No me doy a prolongar en los detalles ténicos ya que el especialista en este tipo de temas es @acont solo quiero hacer algunas precisaciones.
Es un GP muy difícil de predecir, el efecto aerodinámico es fundamental ya que suelen mezclar temperaturas muy bajas con temperaturas muy bajas.

Tiene largas rectas por lo cuál una correcta gestión de los pneumáticos puede ser fundamental para limitar el número de paradas en boxes.

El circuito está rodeado en forma alternativa por edificios altos, por esta razón la pista presenta conos de luyz y conos de sombra con diferentes temperaturas.

De todos los circuitos urbanos es el más largo y más rápido en la Fórmula 1, la pista tiene 6.003 metros.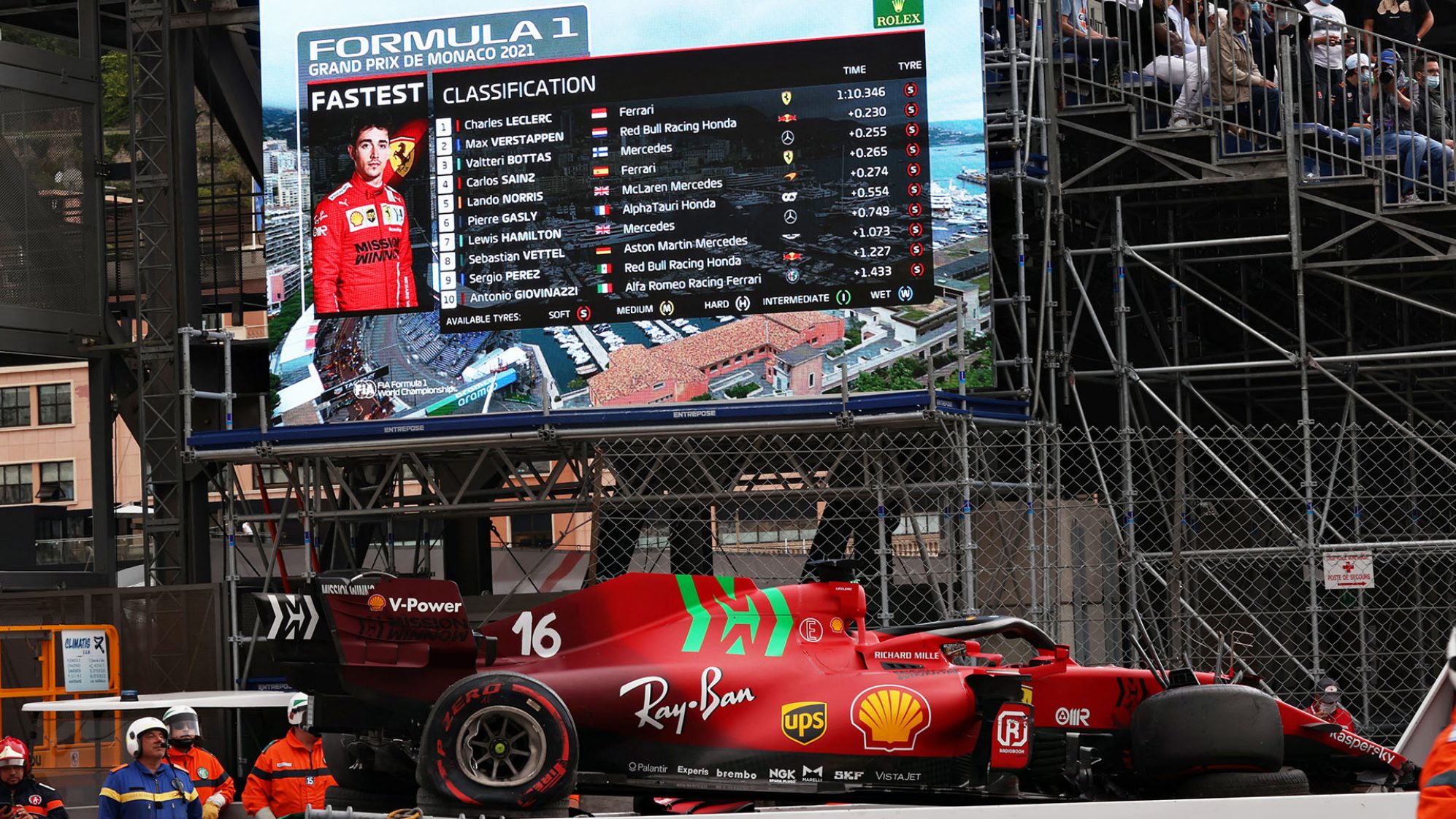 Leclerc intentará repetir la hazaña de Montecarlo en las pruebas de clasificación.
This weekend will be disputed a test in the 2021 Formula 1 calendar in another street circuit, Baku in Azerbaijan.
Street circuit like Monaco but very different from every point of view.
From the historical point of view as it is a new circuit, with little motor racing tradition behind it, unlike the Monte Carlo circuit, to the technical because, unlike the Monegasque circuit, in this if you can overtake which makes the race more entertaining, more fought and, therefore, more spectacular.
A turning point in Formula 1 2021
The Monaco GP marked a turning point in the Drivers' and Constructors' World Championships in Formula 1.
Because Mercedes lost the overwhelming dominance it had been having for several years. And for the first time in that period, it lost the lead in both championships.
The constructors' championship by just one point and the drivers' championship by a few more.
But the statistical fact remains: for the first time Red Bull (Max Verstappen as driver and the team) now leads both classifications. Something unprecedented. Although not unforeseen. It was seen that the hegemony of Mercedes in 2021 was due more to strategy than to performance.
And on the Monte Carlo circuit, strategy counts relatively. Who starts first (generally) arrives first to make a simplification.
Qualifying counts a lot. And in that aspect Mercedes showed some vulnerability. And Red Bull took advantage of it very well.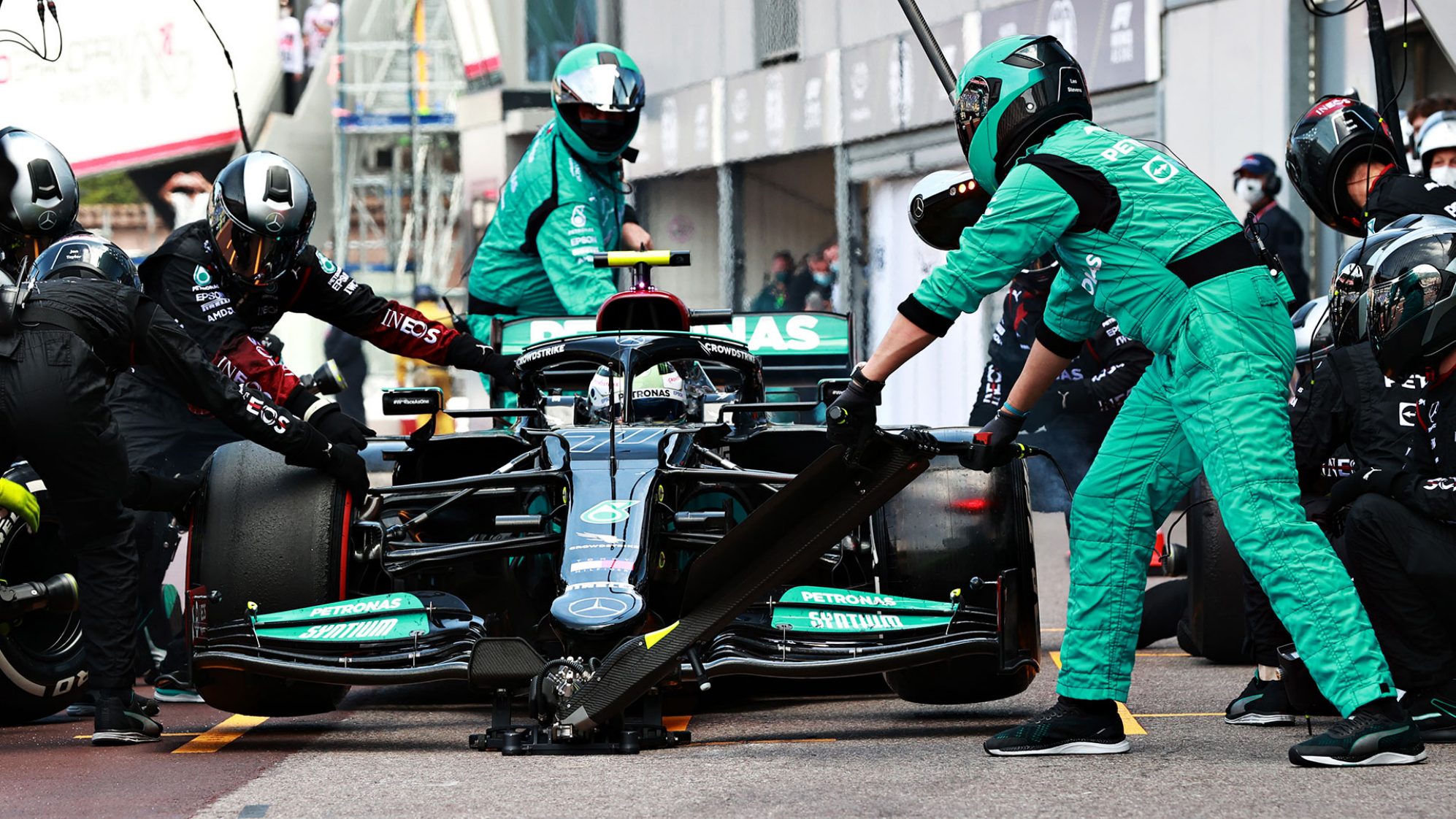 Source.
History.
The Baku circuit is one of the newest in Formula 1 and was created as a consequence of the abandonment of other circuits, especially for economic reasons.
Setting up the organization of a Formula 1 race is something that costs a lot of money and if you do not have sponsors of a certain caliber it is impossible to go ahead with the project.
There are many circuits abandoned by Formula 1. The historic Jacarepaguá track, in Rio de Janeiro (Brazil) with historic victories of Ayrton Senna, Nelson Piquets, Carlos Alberto Reutemann and Juan Pablo Montoya among others; the street circuit of Valencia held between 2008 and 2012; the Buddh International Circuit (India) arose at the same time with the idea of developing an entirely national team (Force India) -the team managed to survive the closure of the circuit for a few years-; and the Montjuïc Circuit, which had the particularity of being a semi-permanent circuit located on the Montjuic mountain in Barcelona, host of alternating F1 races in 1969, 1971, 1973 and 1975. There are many more abandoned circuits of course and, at some point, I will come back to the subject. Some for safety reasons but, in general, because of economic problems.
Azerbaijan (and in general all the countries that at a certain time were grouped in the so-called USSR - Union of Soviet Socialist Republics - has these great sponsors and therefore took the opportunity to replace the so-called Grand Prix of Europe in 2016.
In view of the excellent results obtained, on a sporting and media level, the race not only remained firmly on the Formula 1 calendar but also took on a name of its own, that of the country that hosts it: Azerbaijan.
I won't go into the technical details as @acont is the specialist in this kind of topics, I just want to make some clarifications.
It is a very difficult GP to predict, the aerodynamic effect is fundamental since they usually mix very low temperatures with very low temperatures.

It has long straights so a correct tire management can be fundamental to limit the number of pit stops.

The circuit is alternatively surrounded by tall buildings, so the track has light cones and shadow cones with different temperatures.

Of all the street circuits it is the longest and fastest in Formula 1, the track is 6,003 meters long.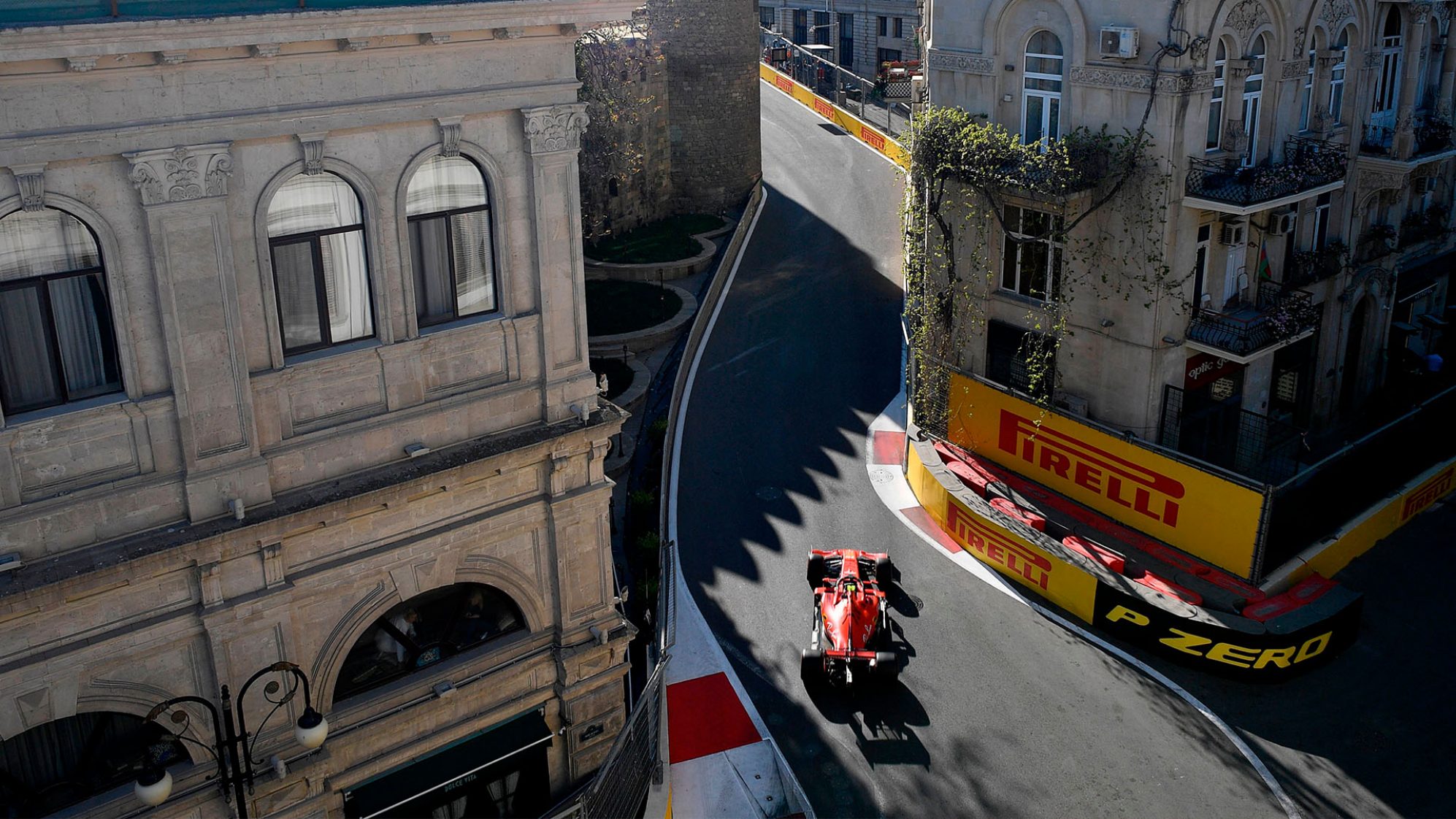 Source.
Traducido con: / Translated with: DeepL Translator (free version)