Como ha cambiado todo en tan pocos meses, el Barcelona recibió al Viktoria Plzen en el Camp Nou en un nuevo comienzo de la Champions League, y con el recuerdo de lo que fue la fase de grupos del año pasado y la eliminación temprana en la Europa League aún están presentes, por lo que el equipo de Xavi tenía la misión de conseguir una victoria convincente, y no solo se sumaron los 3 puntos ante los checos, sino que además los azulgranas empiezan a dar miedo, con un rendimiento colectivo muy bueno, pero sobre todo, con dos bestias que están desatadas.
As everything has changed in so few months, Barcelona received Viktoria Plzen at the Camp Nou in a new beginning of the Champions League, and with the memory of what was the group stage last year and the early elimination in Europe League are still present, so Xavi's team had the mission of achieving a convincing victory, and not only did they add the 3 points against the Czechs, but also the azulgranas are beginning to be scary, with a very good collective performance, but above all, with two beasts that are unleashed.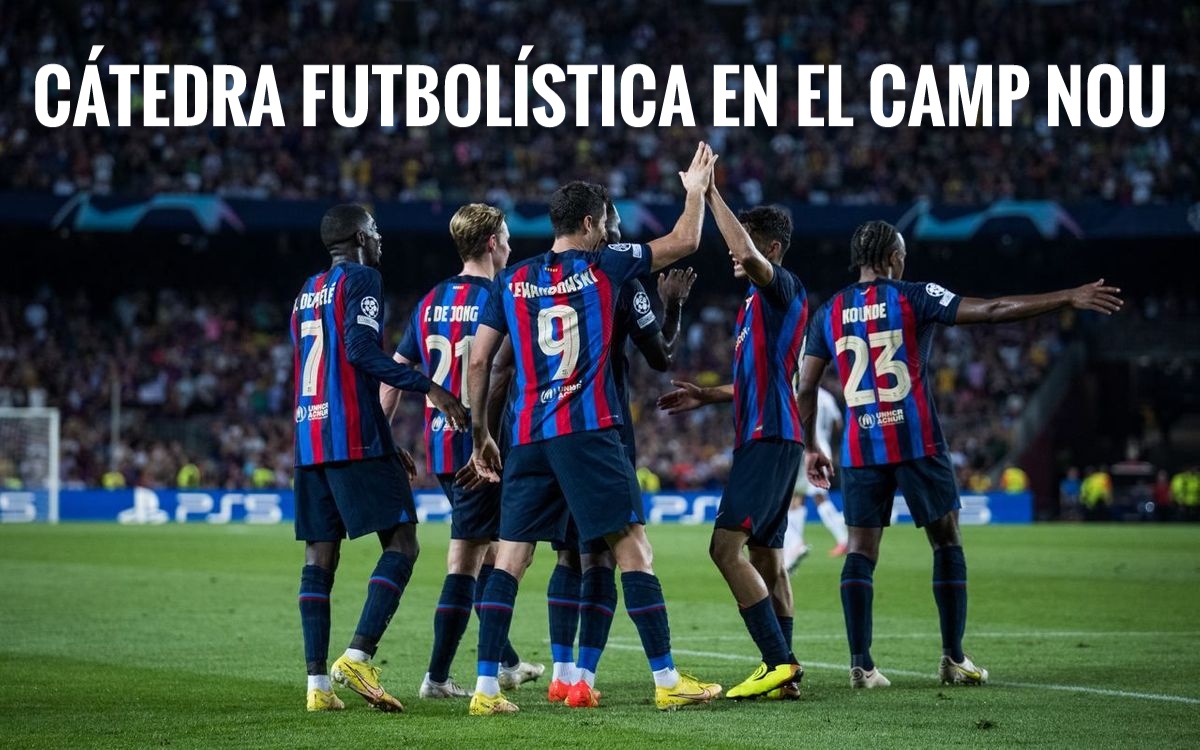 Fuente
Las dudas antes de este partido eran muy comprensibles, hace dos temporadas cuando el Slavia Praga visitó el Camp Nou se llevó un muy merecido empate, mientras que los culés lograron una victoria muy trabajada en República Checa, y de igual forma, el Dinamo de Zagreb fue un rival al que vencimos de milagro en ambos partidos el año pasado, con par de 1 a 0, por lo que infiriendo que el nivel del Viktoria Plzen es parecido al de estos dos rivales, se necesitaba un gran comienzo para dejar atrás los fantasmas recientes. Por pura casualidad, los dos equipos más fuertes de este grupo también jugaron contra nosotros en esas ediciones, y no hay que olvidar lo mal que nos va sin un comienzo sólido.
The doubts before this game were very understandable, two seasons ago when Slavia Prague visited the Camp Nou they got a well-deserved draw, while the Catalans achieved a hard-fought victory in the Czech Republic, and in the same way, Dinamo Zagreb they were an opponent that we miraculously beat in both games last year, with a 1-0 pair, so inferring that Viktoria Plzen's level is similar to these two rivals, a great start was needed to leave the ghosts behind recent. By sheer chance, the two strongest teams in this group also played us in those editions, and don't forget how poorly we do without a solid start.
Pese a la importancia de este partido, Xavi realizó varias rotaciones en todas las líneas, pero donde sin duda se notó más fue en la defensa, debutando la pareja Christensen y Jules Koundé, teniendo un buen control a nivel defensivo y aportando mucha calidad con la salida del balón, además de ver por los laterales a Jordi Alba y Sergi Roberto, realizando un partido más que correcto, aunque con algunas desatenciones en la marca. En el medio centro Frenkie De Jong dió descanso a Sergio Busquets, y siendo sincero, no desentonó, realizó varias corridas y rompió las líneas de presión de los rivales, viéndolo más concentrado y metido en el partido que cuando sale de inicio en el interior.
Despite the importance of this game, Xavi made several rotations in all the lines, but where it was undoubtedly most noticeable was in defense, with the Christensen and Jules Koundé couple making their debut, having good control at a defensive level and contributing a lot of quality with the out of the ball, in addition to seeing Jordi Alba and Sergi Roberto on the wings, playing a more than correct game, although with some inattentiveness in the brand. In the central midfield, Frenkie De Jong rested Sergio Busquets, and to be honest, he was not out of tune, he made several runs and broke the pressure lines of the rivals, seeing him more concentrated and involved in the game than when he starts inside.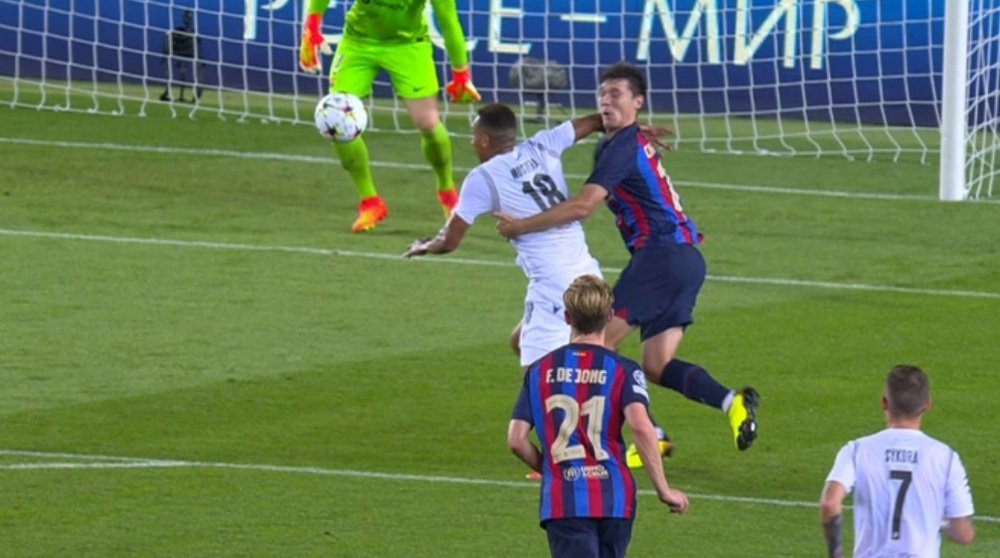 Fuente
Kessie también obtuvo su primera titularidad con el Barcelona, y que mejor manera que en la Champions, formando junto a Pedri la pareja de interiores, haciendo un trabajo muy bueno al hacer de Gavi, pues no solo fue importante en la circulación del balón, sino que presionó constantemente a los rivales, provocando múltiples pérdidas de balón, sumado a que fue el abrelatas del equipo, marcando el primer tanto de los culés luego de un pase de Koundé, que está destacando en esta faceta. Ese primer gol llegó después de una pelota parada, lo que es una buena señal para el Barça, ya que está mejorando en este aspecto, aunque aún preocupa que nadie haya marcado de falta directa desde que Messi estaba en el equipo.
Kessie also got his first start with Barcelona, ​​and what better way than in the Champions League, forming the inside pair with Pedri, doing a very good job playing Gavi, because he was not only important in the circulation of the ball, but who constantly pressured the rivals, causing multiple turnovers, added to the fact that he was the team's opener, scoring the first goal for the Catalans after a pass from Koundé, who is standing out in this facet. That first goal came after a set piece, which is a good sign for Barca as they are improving in this regard, although there are still concerns that no one has scored from a direct free kick since Messi was in the team.
Al Barcelona le costó mucho entrar en el partido, el Viktoria Plzen se cerró bien atrás y pese a que hasta los laterales subieron más de lo normal, haciendo aún más ancha la cancha, a los culés les costó meter un balón peligroso al área de los checos, y aunque luego de irse arriba en el marcador empezaron a encontrar más espacios, todo estuvo a punto de complicarse con una tarjeta roja a Christensen, pues el defensa tocó abajo al colombiano Mosquera dentro del área, pero el VAR salió al rescate del Barcelona, mostrando que ena jugada previa el mismo delantero había impactado un codazo en el rostro del danés, ganándose una amarilla en el proceso y viendo como se anulaba esa pena máxima.
Barcelona had a hard time getting into the game, Viktoria Plzen closed well behind and despite the fact that even the sides rose more than normal, making the field even wider, the Catalans had a hard time putting a dangerous ball into the area of ​​the Czechs, and although after going up on the scoreboard they began to find more spaces, everything was about to get complicated with a red card to Christensen, because the defender touched the Colombian Mosquera down inside the area, but the VAR came to Barcelona's rescue , showing that in a previous play the same striker had hit an elbow in the Dane's face, earning a yellow card in the process and seeing how that maximum penalty was annulled.
La importancia de Pedri sigue siendo capital en el equipo catalán, el español era quién presionaba con más intensidad en el medio campo, recuperando un balón en la medular previo al segundo gol, de allí asistió a Sergi Roberto, quien cabalgó varios metros hasta el área rival para asistir a Lewandowski, tomando desordenada la defensa rival. Su entendimiento con el polaco también está siendo de lo mejor en esta nueva temporada, el delantero volvió a habilitar al canario con un tacón exquisito, aunque esta vez no pudo batir al portero, ya que un defensa logró despejar su disparo.
The two best players of the match were undoubtedly Robert Lewandowski, who stood out with his first hat trick as a Barça player, demonstrating his repertoire of skills, shooting from the edge of the area, gaining position from his markers and setting up his teammates well, while Ousmane Dembélé was once again a real nightmare for the Viktoria Plzen defence, constantly overflowing his side, drawing several yellow cards and showing intensity like no other, stealing the ball before assisting Lewandowski's second goal. The third member of the trident was Ansu Fati, and although he did not play a bad game, he was very anxious, and clearly he was elevated by the level of the two beasts at his side.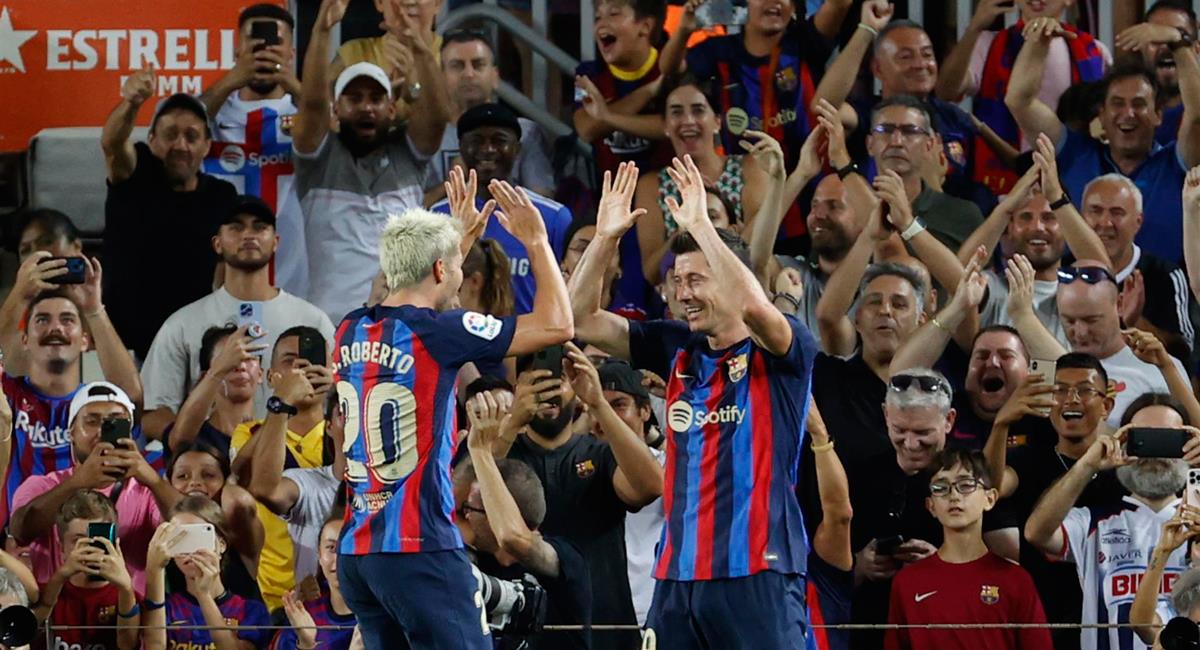 Fuente
Los dos mejores del partido sin duda fueron Robert Lewandowski, que se destapó con su primer hat trick como azulgrana, demostrando su repertorio de habilidades, rematando desde la frontal del área, ganando la posición a sus marcadores y habilitando bien a sus compañeros, mientras que Ousmane Dembélé volvió a ser una verdadera pesadilla para la defensa del Viktoria Plzen, desbordo constantemente a su lateral, provocó varias tarjetas amarillas y demostró intensidad como ninguno, robando el balón previo a dar la asistencia del segundo gol de Lewandowski. El tercer integrante del tridente fue Ansu Fati, y aunque no jugó un mal partido, se le noto muy ansioso, y claramente se vió encumbrado por el nivel de las dos bestias que tenía a su lado.
The importance of Pedri continues to be capital in the Catalan team, the Spaniard was the one who pressed with more intensity in the midfield, recovering a ball in the midfield prior to the second goal, from there he assisted Sergi Roberto, who rode several meters to the area rival to assist Lewandowski, taking the rival defense out of order. His understanding with the Pole is also being the best in this new season, the forward enabled the canary again with an exquisite heel, although this time he could not beat the goalkeeper, since a defender managed to clear his shot.
A diferencia de partidos de la temporada pasada, los jugadores que entraron en la segunda parte lograron mantener el nivel de la primera parte, cosa que es lo mejor de esta plantilla, ya que si sale cualquier jugador por molestias o para darle descanso, todas las posiciones tienen al menos un recambio de garantías. Gerard Piqué debutó en esta temporada, al igual que Pablo Torre, mientras que Ferran Torres entró a jugar los últimos 25 minutos, teniendo tiempo suficiente para asistir a Lewandowski en su tercer gol, sino que además marcó su primer tanto de la temporada, al rematar de volea un pase picado de Dembélé agarrando a contra pie a la defensa checa.
Unlike last season's games, the players who came on in the second half managed to maintain the level of the first half, which is the best thing about this squad, because if any player leaves due to discomfort or to rest them, all Positions have at least one replacement of collateral. Gerard Piqué made his debut this season, as did Pablo Torre, while Ferran Torres entered to play the last 25 minutes, having enough time to assist Lewandowski in his third goal, but also scored his first goal of the season, finishing off volleyed a chopped pass from Dembélé grabbing the Czech defense against the foot.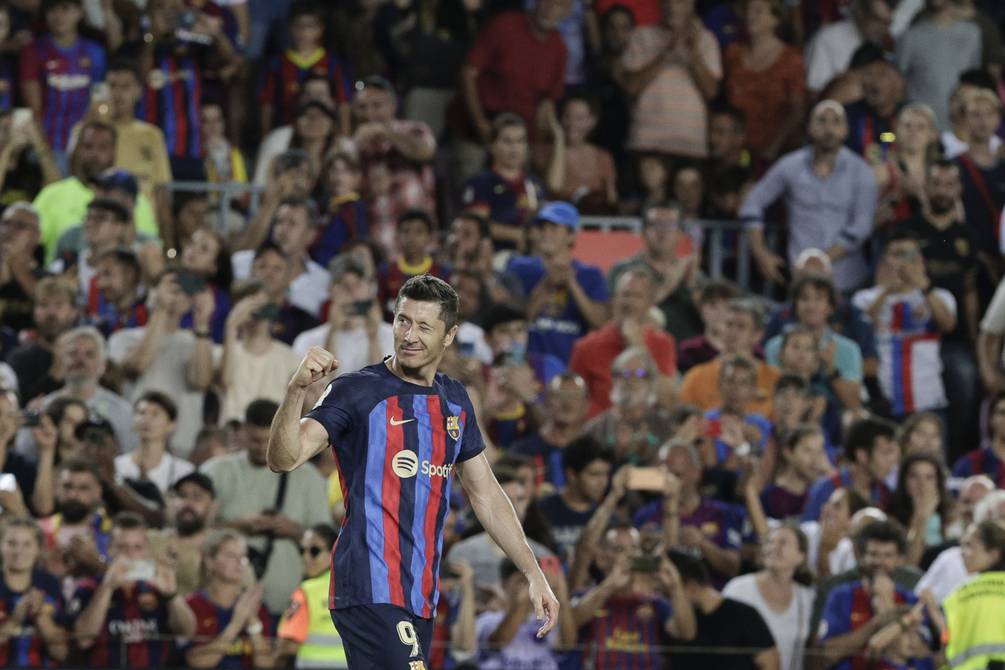 Fuente
No todas las noticias de este partido fueron positivas, ter Stegen volvió a encajar un gol luego de dos partidos en blanco, aunque no por su culpa obviamente, ya que en el equipo de Xavi aún se ven muchas desatenciones y desconcentraciones, cosa que pudo provocar un segundo gol por medio de Chory, que remato afuera un centro desde la banda luego de un contra golpe donde agarraron mal posicionada a la defensa. El siguiente partido del Barcelona será contra el Cádiz, equipo al que tenemos dos temporadas seguidas sin poder vencerlo, y más allá de romper esa racha, el máximo reto de los culés será la próxima semana cuando visitemos al Bayern Munich, donde veremos realmente de lo que está hecho este equipo.
Not all the news from this game was positive, ter Stegen conceded a goal again after two blank games, although obviously not his fault, since in Xavi's team there are still a lot of inattentiveness and lack of concentration, which could have caused a second goal through Chory, who finished off a cross from the sideline after a counterattack where they grabbed the defense badly positioned. Barcelona's next match will be against Cádiz, a team that we have two seasons in a row without being able to beat, and beyond breaking that streak, the Catalans' biggest challenge will be next week when we visit Bayern Munich, where we will really see what What is this team made of?