Hola a todos, cómo se encuentran? Después de dos empates consecutivos en la Premier League, el Arsenal volvió a la senda del triunfo al jugar un gran partido contra el Aston Villa, amargando esta vez la vuelta de Emiliano Martínez al Emirates, que no pudo conseguir otra victoria como en la temporada pasada.
Hello everyone, how are you? After two consecutive draws in the Premier League, Arsenal returned to the winning path by playing a great game against Aston Villa, this time embittering the return of Emiliano Martínez to the Emirates, who could not get another victory like last season .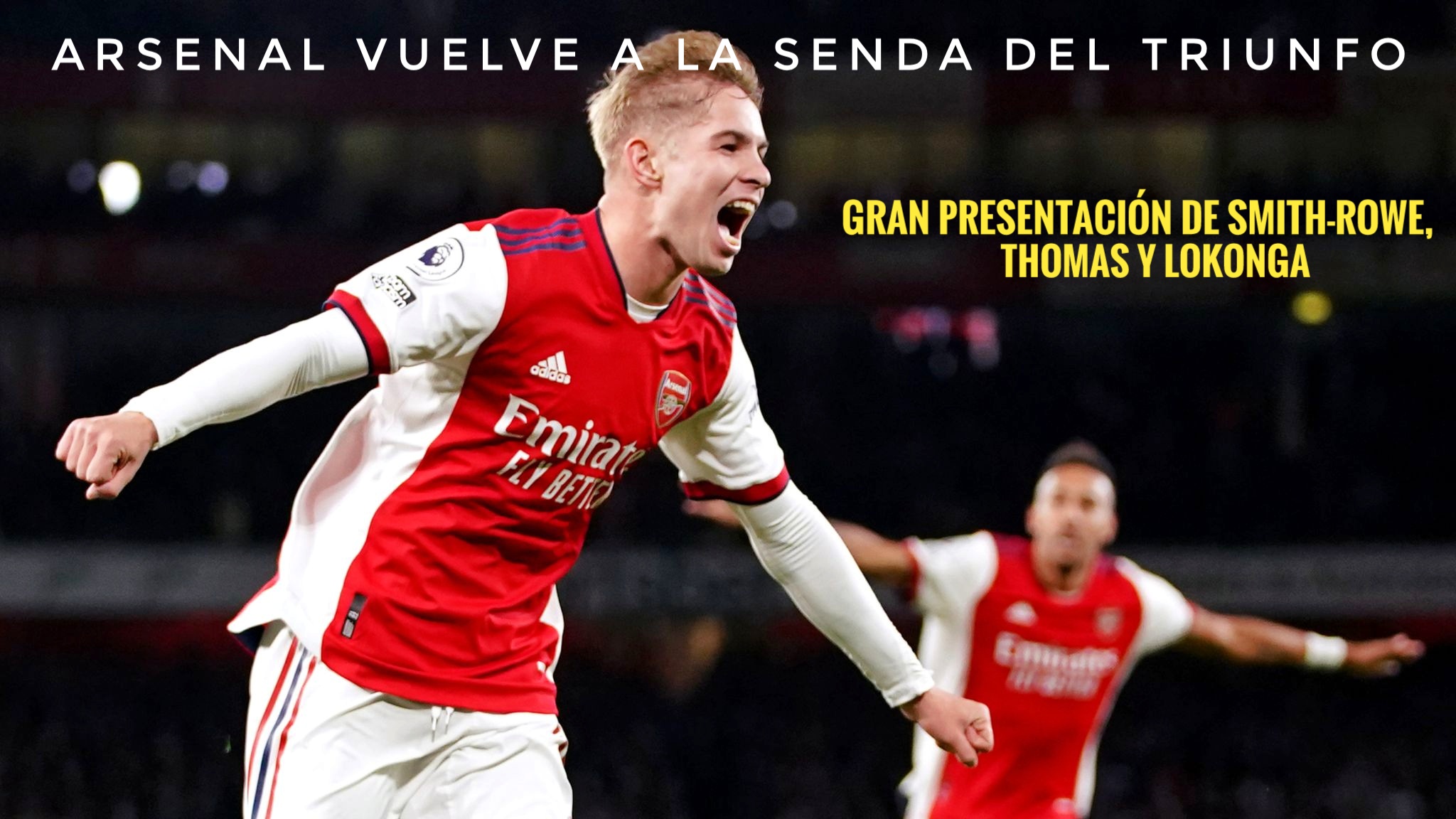 Fuente
Los Gunners se asentaron rápidamente en el terreno de juego, moviendo el balón a lo largo y ancho del campo, y cuando perdían el balón, recuperaban el balón casi de inmediato, mientras los villanos intentaban meterse en el partido. Aunque es difícil de imaginar, el noruego Martin Ødegaard se quedó en el banquillo, llevando las hilos del juego del equipo de Arteta el canterano Smith-Rowe, que fue el mejor del encuentro.
The Gunners quickly settled on the field of play, moving the ball across the field, and when they lost the ball, they recovered the ball almost immediately, while the villains tried to get into the game. Although it is difficult to imagine, the Norwegian Martin Ødegaard remained on the bench, leading the strings of the game of the Arteta team the youth squad Smith-Rowe, who was the best of the match.
La superioridad del Arsenal se traducía en oportunidades, pero aún les faltaba el pase final para marcar, teniendo que recurrir el Aston Villa a faltas en los últimos metros para frenar las jugadas, sobre todo a Saka y a Lacazette, que jugó como un segundo delantero, mientras que Aubameyang esperaba un balón en largo para ganar en velocidad y crearse una oportunidad frente al arquero argentino. Pero fue finalmente la pelota parada la mejor herramienta del equipo para dañar a la visita.
The superiority of Arsenal was translated into opportunities, but they still lacked the final pass to score, having to resort to Aston Villa fouls in the last meters to stop the plays, especially Saka and Lacazette, who played as a second striker, while Aubameyang waited for a long ball to gain speed and create an opportunity against the Argentine goalkeeper. But it was finally the ball stopped the best tool of the team to damage the visit.
Primero fue una falta cobrada por Saka desde la derecha, la defensa no logra despejar, dejando la pelota viva, y Thomas la manda contra el travesaño. El ex Atlético de Madrid tendría su revancha rápidamente, transcurría el minuto 23 y Smith-Rowe cobró un corner desde la derecha, Thomas anticipó a todos por arriba, logrando cabecear en el primer palo, y a pesar de no ser un tiro con mucha potencia, se le escurre por debajo a Martínez.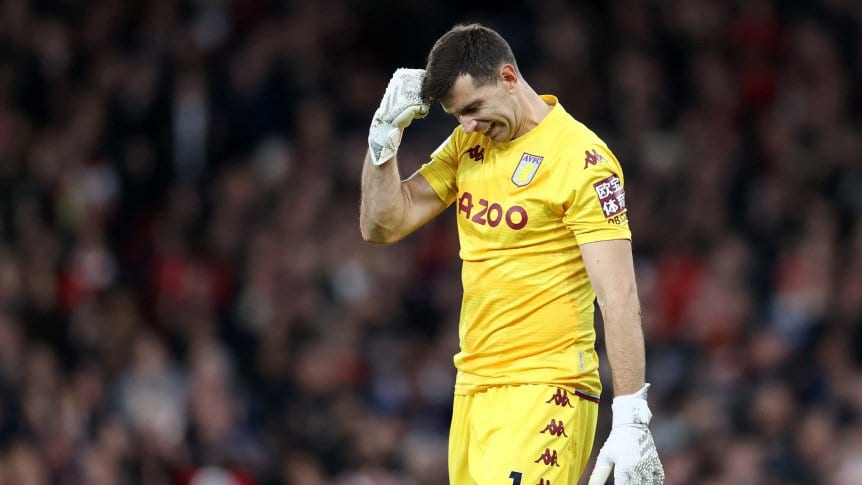 Fuente
First it was a foul kicked by Saka from the right, the defense failed to clear, leaving the ball alive, and Thomas sent it against the crossbar. The former Atlético de Madrid would have his revenge quickly, the 23rd minute passed and Smith-Rowe took a corner from the right, Thomas anticipated everyone from above, managing to head at the near post, and despite not being a very powerful shot, it slips under Martinez.
El Arsenal siguió con la misma intensidad, y después de recuperar un balón en su propia área, lanzó un contra rápida orquestada por Lacazette, balón largo a Lokonga y el belga le sirve un pase perfecto a Saka casi en el área chica, pero esta vez el argentino demostraría mucha agilidad y reflejos, sacando el disparo con los pies al tiro de esquina.
Arsenal continued with the same intensity, and after recovering a ball in their own area, they launched a quick counter orchestrated by Lacazette, long ball to Lokonga and the Belgian serves a perfect pass to Saka almost in the small area, but this time the Argentine would show great agility and reflexes, taking the shot with his feet at the corner kick.
En el tiempo añadido del primer tiempo hubo una jugada polémica en el área de Aston Villa, Saka le pasa el balón a Lacazette, pero un defensa lo toca abajo y con eso logra despejar el balón y provocar una contra, los jugadores se quejaron, pero el árbitro dejó seguir la jugada. Pero cuando ya había transcurrido el tiempo agregado, el árbitro no decreta el final hasta ver esa acción en el VAR, pitando penal y con eso Aubameyang decretaría el 2 a 0 antes de ir a los vestidores.
In the added time of the first half there was a controversial play in the Aston Villa area, Saka passes the ball to Lacazette, but a defender touches him down and with that he manages to clear the ball and provoke a counter, the players complained, but the referee let the play continue. But when the added time had elapsed, the referee did not decree the end until seeing that action in the VAR, whistling a penalty and with that Aubameyang would decree the 2 to 0 before going to the locker room.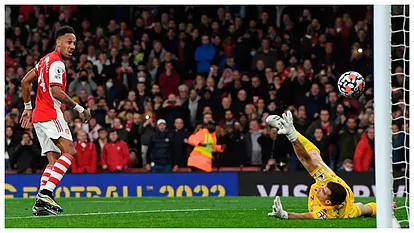 Fuente
Pero para meterle más drama al cierre del primer tiempo, Martínez atajaría en primera instancia el lanzamiento del gabones, pero el delantero no desperdicio el rechace y marcó. Con este penal atajado, el argentino se confirma como uno de los mejores en este rublo, teniendo un porcentaje muy alto en comparación del promedio y si no le equivoco, tapando 7 de los últimos 10 que le han lanzado.
But to put more drama at the end of the first half, Martínez would stop the gabones in the first instance, but the forward did not waste the rebound and scored. With this penalty saved, the Argentine is confirmed as one of the best in this ruble, having a very high percentage compared to the average and if I am not mistaken, covering 7 of the last 10 that have been thrown at him.
El Aston Villa empezó mejor la segunda parte, tuvieron más el balón y empezaron asociarse mejor, pero nuevamente el Arsenal recupero un pelota en su área y lanzó una contra. Pase en largo para Aubameyang en el circulo central, y de primera la pincha y mete un pase al vacio para Smith-Rowe, que en velocidad llega al área rival casi sin oposición y define al primer palo de Martínez, finalizando la misma jugada que el inicio.
Aston Villa started the second half better, they had more the ball and began to associate better, but again Arsenal recovered a ball in their area and launched a counter. A long pass for Aubameyang in the central circle, and first he punctures it and puts a pass into the void for Smith-Rowe, who at speed reaches the rival area almost unopposed and defines Martinez's near post, ending the same play as the beginning.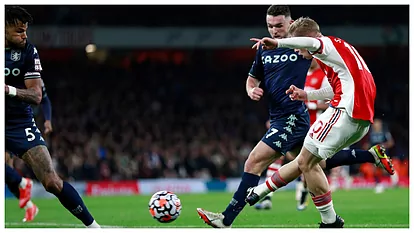 Fuente
Con este gol, Arteta empezó a realizar cambios en la delantera y a poblar el medio campo, sacando a Lacazette para ingresar a Ødegaard y tener más control del balón, y también dando entrada a Maitland-Niles por Lokonga, que tuvo un muy buen partido en el doble pivote con Thomas, y a partir de aquí fueron los mejores minutos de los villanos.
With this goal, Arteta began to make changes up front and populate the midfield, taking Lacazette to enter Ødegaard and have more control of the ball, and also entering Maitland-Niles for Lokonga, who had a very good game in the double pivot with Thomas, and from here were the best minutes of the villains.
Ramsdale tuvo que interferir a 20 minutos para el final, después de un pase al vacio para Danny Ings que terminó rematando al cuerpo del portero inglés. A falta de 10 minutos, el Aston Villa lograría descontar por medio de Ramsey, con un disparo muy violento desde la media luna que se mete en el ángulo izquierdo del portero, imposible de atajar.
Ramsdale had to interfere with 20 minutes to go, after a pass to empty for Danny Ings that ended up finishing the body of the English goalkeeper. In the absence of 10 minutes, Aston Villa would manage to discount through Ramsey, with a very violent shot from the half moon that gets into the goalkeeper's left corner, impossible to stop.
Los visitantes intentaron en esos minutos finales, pero los dirigidos por Arteta estuvieron sólidos e intentaron con pelotas largas, esperando conseguir otro gol, pero no se movió más el marcador. Con este partido los de Londres consiguen otros 3 punto, estando a solo 1 punto de la zona Champions, pero aún muy lejos de la punta del torneo, y más viendo el nivel ofrecido por los dirigidos de Tuchel, Guardiola y Klopp.
The visitors tried in those final minutes, but those led by Arteta were solid and tried with long balls, hoping to score another goal, but the score did not move any more. With this game, those from London get another 3 points, being only 1 point from the Champions area, but still very far from the top of the tournament, and more so seeing the level offered by the leaders of Tuchel, Guardiola and Klopp.
Mikel Arteta por fin está consiguiendo el equipo, sacando una buena cantidad de puntos y manteniéndose invicto en las últimas 6 jornadas, pero aún faltan varios equipos que se encuentran en la zona altas, por lo que aún falta por ver el verdadero nivel de este equipo ante adversarios más potentes.
Mikel Arteta is finally getting the team, getting a good amount of points and remaining undefeated in the last 6 days, but there are still several teams that are in the high zone, so the true level of this team still remains to be seen. against more powerful opponents.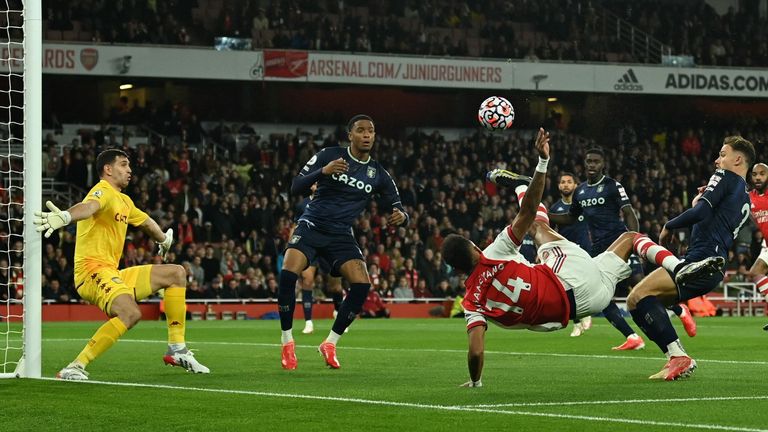 Fuente
También hay que esperar a ver la mejor versión de algunos jugadores, White llegó para ser el nuevo líder de la defensa y por los momentos está haciendo una buena labor junto al brasileño Gabriel, mientras que Martin Ødegaard, que fue la gran apuesta Gunner para esta temporada, esta en un bajo nivel de forma y el cantero Smith-Rowe le está ganando la posición, pero aún estamos en el comienzo de la temporada y el noruego tiene chance de cambiar su situación y mejorar sus prestaciones.
We must also wait to see the best version of some players, White arrived to be the new leader of the defense and at the moment he is doing a good job together with the Brazilian Gabriel, while Martin Ødegaard, who was the great Gunner bet for this season, he is in a low level of form and the stonecutter Smith-Rowe is winning the position, but we are still at the beginning of the season and the Norwegian has a chance to change his situation and improve his performance.