About the dream... what do I have to say about it? Let's see, it's daytime and my head is now like a radio station without an antenna. I woke up with a hangover and dressed in the same clothes I went to the party in. But I can assure you that when I fell into bed last night, drunk as a skunk, I fell asleep immediately. Other times when this has happened it's not that I have trouble sleeping, however before I fall into the arms of Morpheus, the sky is spinning. It's desperate, in fact, I don't know if it's the sky that spins me around because I don't see it, there's nothing there!
Acerca del sueño… ¿qué tengo yo que decir sobre esto? A ver, es que es de día y mi cabeza ahora es como una estación de radio sin antena. Desperté con resaca y vestida con la misma ropa con que fui a la fiesta. Pero les puedo asegurar que cuando caí anoche en la cama, borracha como una uva, me dormí de inmediato. Otras veces cuando ha pasado esto no es que me cueste dormir, sin embargo antes de caer en los brazos de Morfeo, el cielo me da vueltas. Es desesperante, de hecho no sé si es el cielo lo que me da vueltas porque no lo veo, ¡no hay nada ahí!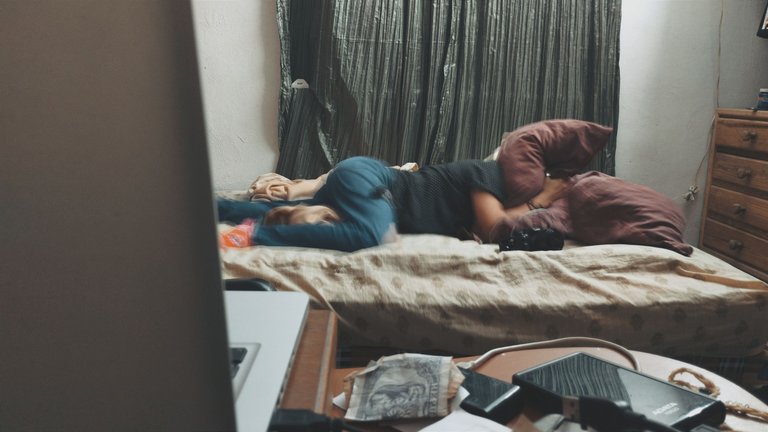 I definitely don't have a sleep schedule. I sleep when it pleases me, no matter what time it is. And early mornings, even if they are conducive to restorative activity of the body and mind, are my favourite times to write or edit photos. I've also spent a lot of time hooked on TV series. I remember for example, Breaking Bad, Billions, Lucifer, Games of Thrones, La Casa de Papel... horror movies, NO, this I don't usually watch at night. And if I happen to watch one, I think I miss the gory parts because I get scared and cover my head with a blanket or one of my pillows. I remember a horror movie that left me with insomnia for several days because it wasn't like the usual ones, it was more psychological, don't watch it, it's called Paranormal Activity, directed by the Israeli Oren Peli.
I don't know how much sleep is necessary to be healthy. What I can tell you is that I need at least eight hours of sleep, otherwise I spend the day with sluggishness like overdone spaghetti. Sometimes I feel like the tendons in my hands and legs ache. It's weird... but since I can't stand going to the doctor, or taking pills, that check-up is still pending.
I think that when I sleep the most is when I get a migraine. Then I turn everything off, even my life, and I sink into the bundle of pillows I have on my bed as if I were in A Journey to the Centre of the Earth, but unlike the characters of Jules Verne's novel, who almost die of thirst, for not finding water, I make sure to put lots of water around the bed, litres and litres of water. I drink it, but I think water is magical and fills the room where @nanixxx lies dying with energy. Water is also sensual... oh, where am I going now, will the antenna have started receiving some signal? Sure, I know. I just like to sleep a lot after lovemaking. I think it's the best time for restful sleep you can have.
I think I don't really have big sleep problems because I don't take long to fall asleep when I'm about to. It has to be that an idea crosses my mind and then I just have to go and clear it. As I am characterized by being very free and extroverted, I immediately look for a way to solve that issue. And if there is no solution, well, I try not to think about it any more.
Socrates said that a good conscience is the best pillow to sleep on, and I think that's why my sleepless nights are never about worries. But this is another matter and I think it is enough to write another post.
My recommendations for anyone who has trouble sleeping are the following:
1 - Avoid taking sleeping pills, they are addictive.
2 - Never leave loose ends in your life, remember that it is short and every minute counts.
3 - Try to be happy in the company of your person (true happiness is the one that comes from oneself).
4 - Always be thankful at bedtime, for the good things, as well as for the bad things that have happened to you during the day, everything has an explanation and happens for a reason that will always make you grow. You will have that answer at some point, I assure you.
5 - Be thankful when you wake up because you are alive.
6 - I would tell you to be creative, to face your whole life with creativity. Why be just another automaton in this society? Surely this will influence the quality of your sleep and even what you dream and how you dream it.
If I'm missing something, or you disagree with any of the ideas I propose, please let me know, it's always very good to exchange ideas.
In my bookworm mode (I can't remember now where I read what I am going to tell you), I think I have seen sometimes the statement that the things you try to do best are the things that come out worst. This applies to the sleeping issue, to the lovemaking issue, or the loving issue, or the writing issue... just flow, get out of the jam.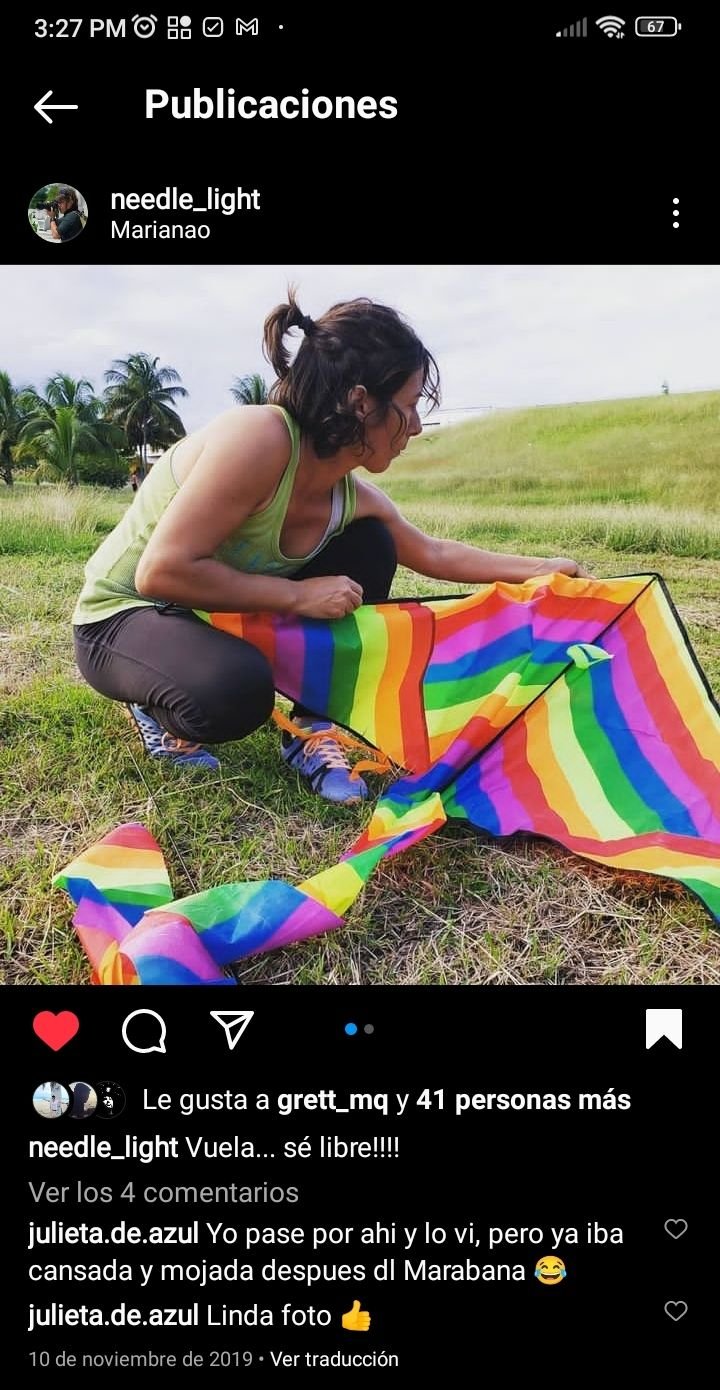 Para dormir definitivamente no tengo horarios. Duermo cuando me place, no importa la hora. Y las madrugadas aunque sean propicias para la actividad reparadora del cuerpo y la mente son mis momentos preferidos para escribir o editar fotos. También he pasado muchas enganchada con series de televisión. Recuerdo por ejemplo, Breaking Bad, Billions, Lucifer, Games of Thrones, La Casa de Papel… películas de terror, ¡NO!, esto no suelo verlo de noche. Y si por casualidad me da por ver alguna, creo que me pierdo las partes sangrientas porque me asusto y me tapo la cabeza con la manta o con una de mis almohadas. Recuerdo una película de terror que me dejó con insomnio varios días, porque no era como las usuales, era más psicológica, no la vean, se llama Actividad paranormal, dirigida por el israelí Oren Peli.

No sé cuánto tiempo sea necesario el sueño para estar sano. Lo que sí puedo decirles es que necesito dormir al menos ocho horas, porque de lo contrario me paso el día con una flojera como de espaguetis pasados de tiempo. A veces siento que me duelen los tendones de las manos y de las piernas. Es raro… pero como no soporto ir al médico, ni tampoco tomar pastillas, esa revisión sigue pendiente.

Creo que cuando más duermo es cuando me da migraña. Ahí sí apago todo, hasta mi vida, y caigo hundida en el bulto de almohadas que tengo en mi cama como si estuviera en el Viaje al centro de la Tierra, pero a diferencia de los personajes de la novela de Julio Verne, que casi llegan a morirse de sed, por no encontrar agua, yo me aseguro de poner mucha alrededor de la cama, litros y litros de agua. Bebo toda la que pueda, y también creo que el agua es mágica y llena de energía la habitación donde yace @nanixxx moribunda. El agua también es sensual… oh, ¿a dónde estoy yendo ahora? ¿La antena habrá comenzado a recibir alguna señal? Claro, ya sé. Es que me gusta dormir mucho después de hacer el amor. Creo que es el mejor momento de sueño reparador que se puede tener.

Pienso que en realidad no tengo grandes problemas de sueño, pues no demoro en dormirme cuando me dispongo a hacerlo. Tiene que ser que una idea se me atraviese en la cabeza y entonces solo tengo que ir a despejarla. Como me caracterizo por ser muy libre y extrovertida, enseguida busco la manera de solucionar ese tema. Y si no tuviera solución, pues, trato de no darle más vueltas al asunto.

Dijo Sócrates que la buena conciencia es la mejor almohada para dormir, yo creo que por eso mis desvelos nunca se tratan de preocupaciones. Pero ya esto es harina de otro costal y creo que da hasta para escribir otro post.

Mi recomendaciones para todo el que tenga problemas para dormir son las siguientes:

1 - Evita tomar pastillas para eso, son adictivas.

2 - Nunca dejes cabos sueltos en tu vida, recuerda que es corta y cada minuto cuenta.

3 - Trata de ser feliz en compañía de tu persona (la verdadera felicidad es la que parte de uno mismo).

4 - Agradece siempre al acostarte, tanto por las cosas buenas, como por las malas que te hayan ocurrido en el día, todo tiene una explicación y sucede por algún motivo que te hará crecer siempre. Esa respuesta la vas a tener en algún momento, te lo aseguro.

5 - Agradece cuando despiertes porque estás vivo.

6 - Te diría que seas creativo, que afrontes tu vida toda con creatividad. ¿Por qué ser un autómata más de esta sociedad? Seguramente esto influirá en la calidad de tu sueño e incluso en lo que sueñes y cómo lo sueñes.

Si se me queda algo, o estás en desacuerdo con alguna de las ideas que te propongo dímelo por favor, siempre es muy bueno intercambiar ideas.

En mi modo tragalibros (no puedo recordar ahora dónde leí esto que voy a decirles), creo haber visto alguna vez el planteamiento de que las cosas que intentas hacer mejor, son las que peor salen. Esto aplica para el tema de dormir, para el tema de hacer el amor, o de amar, o escribir… simplemente fluyan, salgan del atasco.
Translated with DeepL (free version)
---