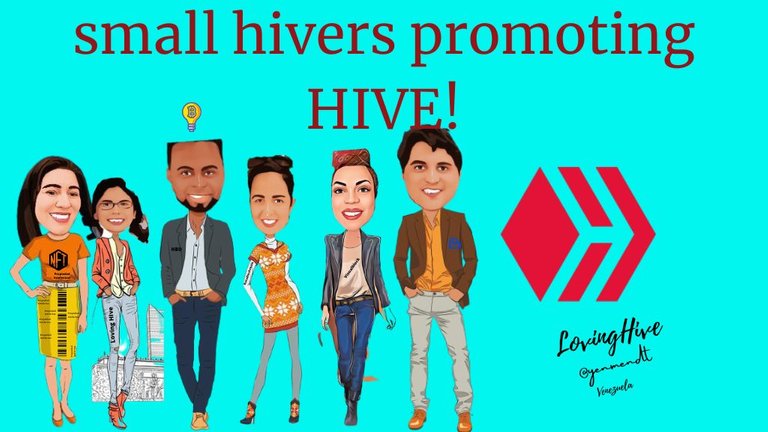 ¡Recuerdo que el 10 de noviembre de este año, por privado en Discord mi querida @Crisch me envía un mensaje pidiendo hablar conmigo, me da su número de teléfono personal para contactarla e inmediatamente procedo a agregarla en mis contactos, le envío un WhatsApp para saludarla y me avisa para participar como ponente en un evento de Hive!
I remember that on November 10 of this year, privately on Discord my dear @Crisch sends me a message asking to talk to me, she gives me her personal phone number to contact her and I immediately proceed to register her in my contacts, I send her a WhatsApp to say hello and notify me to participate as a speaker at a Hive event!



Resulta que el grupo de estudiantes de 6t0 semestre de la carrera Publicidad y Mercadeo ven una materia llamada Formulación y Evaluación de Proyectos y como proyecto final para esa materia en conversaciones con su profesor llegaron al acuerdo de hablar sobre Hive y sus beneficios en la web 3.0 denominando el evento ¡Hablemos de Marketing Digital!
It turns out that the group of students in the 6th semester of the Advertising and Marketing career see a subject called Formulation and Evaluation of Projects and as a final project for that subject in conversations with their professor came to the agreement to talk about Hive and its benefits in the web 3.0 calling the event Let's talk about Digital Marketing!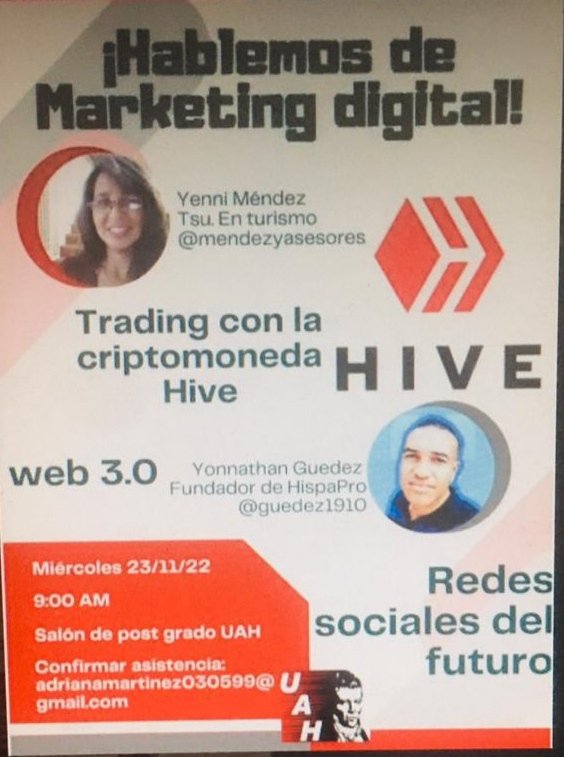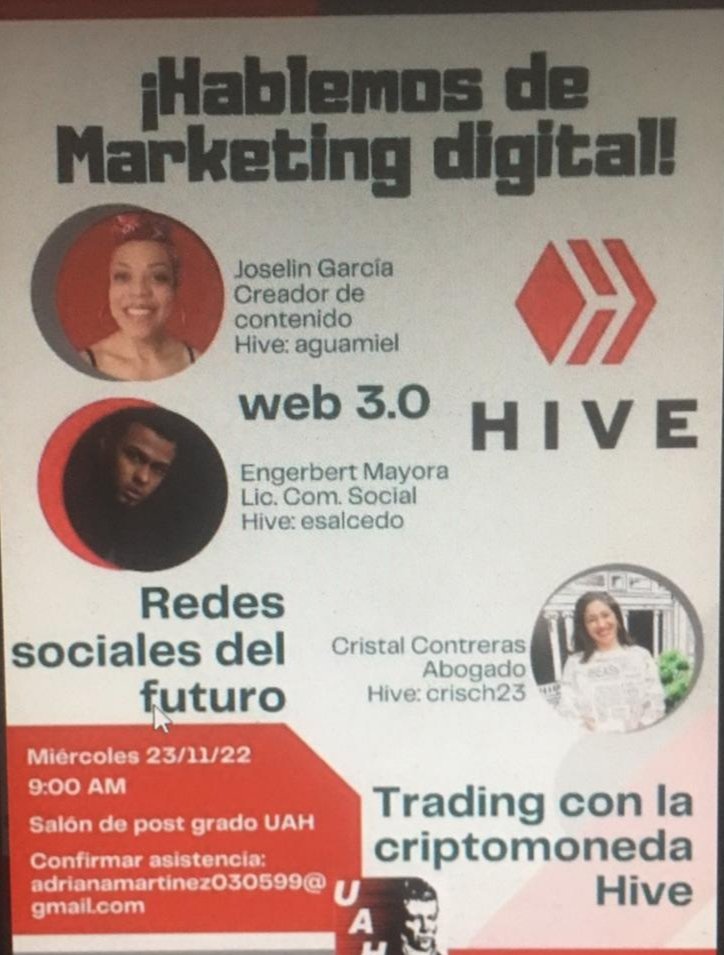 Estos fueron los flyers del evento académico / These were the flyers for the academic event.

Cómo pueden apreciar fuimos varios ponentes y tanto @Aguamiel como a mi nos tocó dar la introducción, representando a nuestros amigos de @Visualblock, ¡Es un honor! recibimos consejos y asesoría de @alberto y @tarot911 con anticipación, pero yo igual perdida en el mapa, 😄 saturada de trabajo propio de oficina sin descanso pensaba ¿Podré cumplir con esa tarea? la semana pasada la gripe se combinó con un fuerte agotamiento y el pensamiento seguía, mi preciosa amiga aguamiel solita realizó las diapositivas el fin de semana porque me fui a la casa familiar y allá no tengo ni señal ni internet, trucutrú pues.🙀
As you can see we were several speakers and both @Aguamiel and I had to give the introduction, representing our friends from Visualblock, it's an honor! we received tips and advice from @alberto and @tarot911 in advance, but I was still lost in the map, 😄 saturated with my own office work without rest I was thinking: Will I be able to accomplish this task? last week the flu combined with strong exhaustion and the thought continued, my precious friend aguamiel alone made the slides for the weekend because I went to the family home and there I have no signal or internet as if I were in the prehistoric era.😬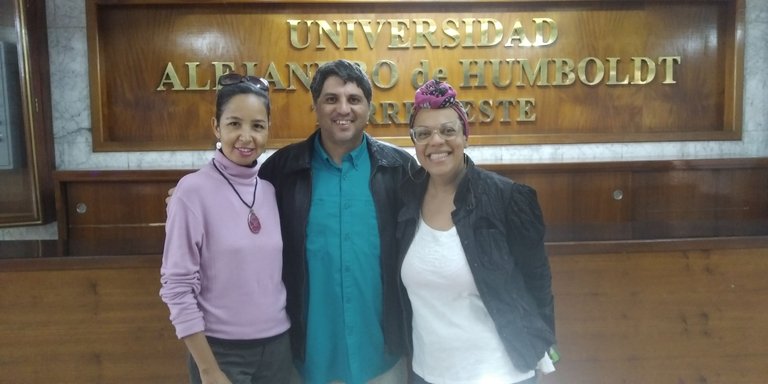 Las primeras en llegar, ya no hay Misterio que descubrir.😄 / The first to arrive, we unveil that there is no more mystery to be discovered.😆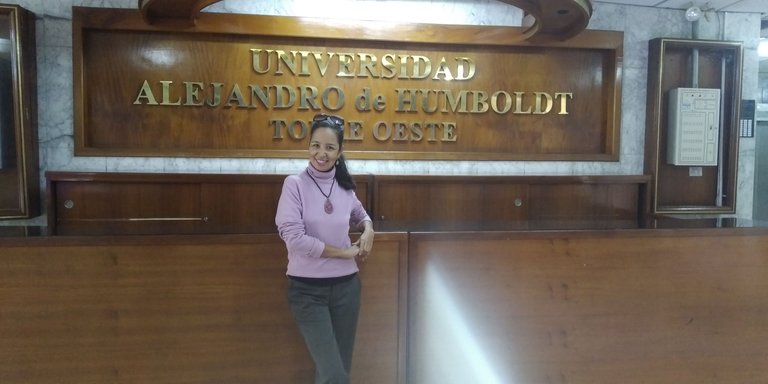 Así que por fin el ansiado día, 23/11/2022 llegamos no tan puntual como hubiera querido, a las 8:30 am y con la duda de saber ¿Quién será el amigo @susurrodmisterio? ¡El misterio fue develado jajaja! debo mencionar que del grupo de protocolo aunque todas atentas debo destacar el compromiso, atención y responsabilidad que tuvo para con nosotros la Srta. Nieves, por mi ya pasó con mas de 100.
Debo destacar también al Decano de la Universidad que nos recibió, así como el grupo de participantes, ingeniería informática, mercadeo y publicidad y profesores, muy dispuestos a recibir como esponjitas todo lo relacionado a la plataforma.
So finally the long-awaited day, 23/11/2022 we arrived not as punctual as I would have liked, at 8:30 am and with the doubt of knowing who will be the friend @susurrodmisterio. The mystery was unveiled hahaha! I must mention that of the protocol group although all attentive I must highlight the commitment, attention, and responsibility that Miss Nieves had for us, for me it already happened with more than 100.
I must also highlight the Dean of the University who received us, as well as the group of participants, computer engineering, marketing, and advertising, and professors, very willing to receive like little sponges everything related to the platform.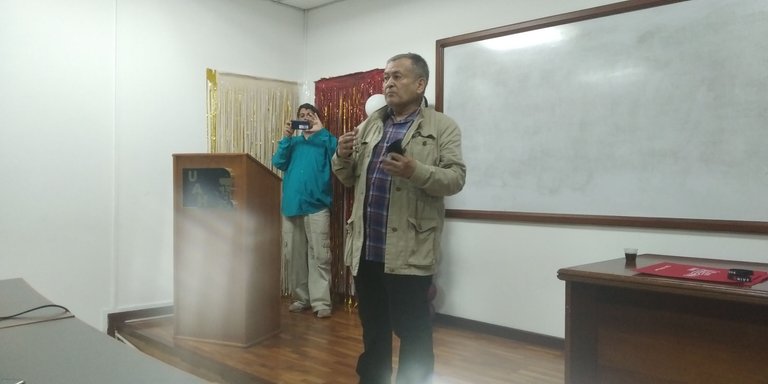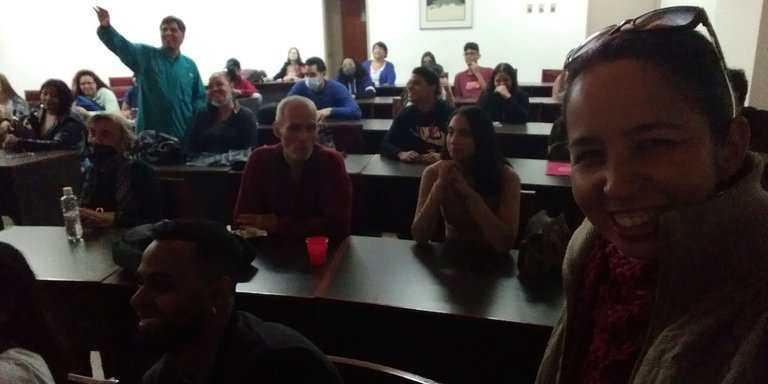 Un grupo pequeño pero chévere.👍/ A small but cool group 😉.

¡Ok comenzamos! de primeritas como ya les dije, fuimos el dúo dinámico para explicar de forma breve y concisa que es Hive, sus beneficios, como hacer comunidad y cómo Visualblock apoya a cada proyecto o iniciativa, también como disfrutamos del programa La Rockola los días sábados sin necesidad de haber curación, cada quien llevando su tema favorito, su canción...solo por citar un ejemplo.👍
Ok, let's start! First of all, as I told you, we were the dynamic duo to explain briefly and concisely what Hive is, its benefits, how to make a community and how Visualblock supports each project or initiative, also how we enjoy the program La Rockola on Saturdays without the need to be curated, each one carrying his favorite song, his song ... just to cite an example.😊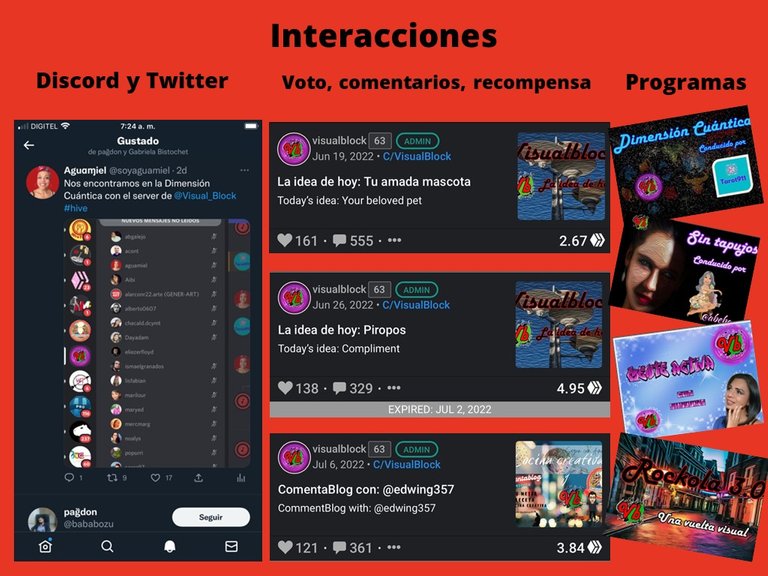 Ejemplo mostrados del apoyo de visualblock a los programas e iniciativas./ Example of visual support for programs and initiatives.

Luego vino el turno de Crisch quien como buena abogada explicó de forma detallada eficaz y eficiente la propiedad digital, el plagio y otros puntos interesantes, cómo afecta la creación de contenido, diferencias notables entre la Web 2 y Web 3, con base legal y anécdotas propias, ahí mismos las preguntas de los asistentes relacionados al tema se hicieron notar.
Then came the turn of Crisch who as a good lawyer explained in a detailed, effective, and efficient way the digital property, plagiarism, and other interesting points, how it affects the creation of content, notable differences between Web 2 and Web 3, with legal basis and own anecdotes, right there the questions of the attendees related to the subject were noted.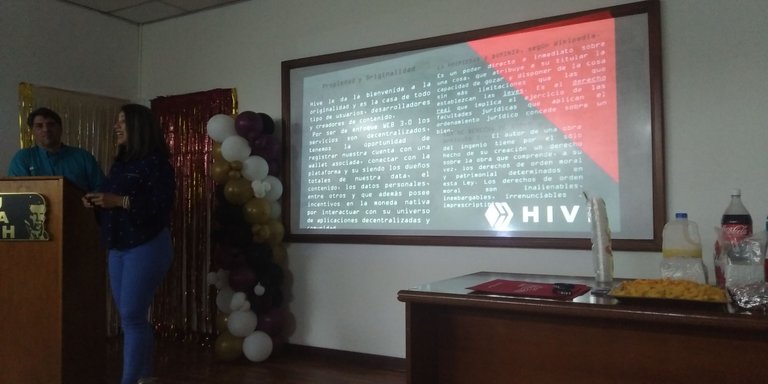 Luego llegó el turno de nuestro buen amigo @esalcedo que habló muy bien sobre el tema de HIVE y HBD como ejemplo de economía Web 3.0, las definiciones de criptomoneda, los diversos sistemas de intercambio, que es la Wallet, cómo beneficia a los hivers, aquí también la presentación fue dinámica por las variadas preguntas del público en pleno.
Then came the turn of our good friend @esalcedo who spoke very well on the subject of HIVE and HBD as an example of Web 3.0 economy, the definitions of cryptocurrency, exchange systems, wallet, how it benefits the hivers, here too the presentation was dynamic by the varied questions from the audience in full.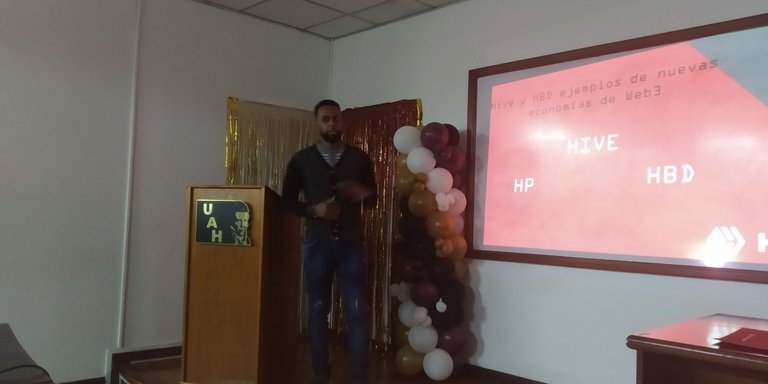 Aquí debo destacar la participación de nuestro apreciado Susurro, quien explicó desde cuando ingresó a la plataforma y como ha evolucionado hoy día, su destacada participación en la escritura narrativa, suspenso, drama y la clara diferencia de cuanto gana vendiendo libros de su autoría en Amazon y lo que gana en una publicación de Hive.
Aparte, mencionó la oportunidad de ayudar a todos los participantes quienes desearan ingresar, la comunidad de @Ecency los ayudaría favorablemente para las aperturas de sus cuentas, así que pronto veremos nuevos hivers talentosos por aquí. 👏
Here I must highlight the participation of our appreciated Susurro, who explained from when he joined the platform and how it has evolved today, his outstanding participation in narrative writing, suspense, and drama, and the clear difference in how much he earns selling books of his authorship on Amazon and what he earns in a Hive publication.
Besides, he mentioned the opportunity to help all participants who would like to join, the @Ecency community would help them favorably for their account openings, so we will soon see new talented hivers around here.🤝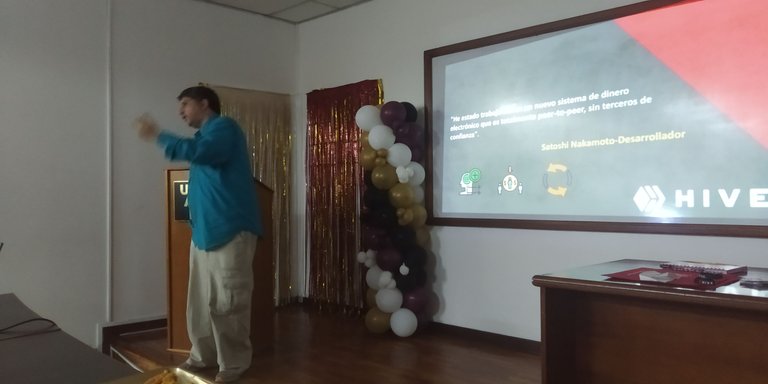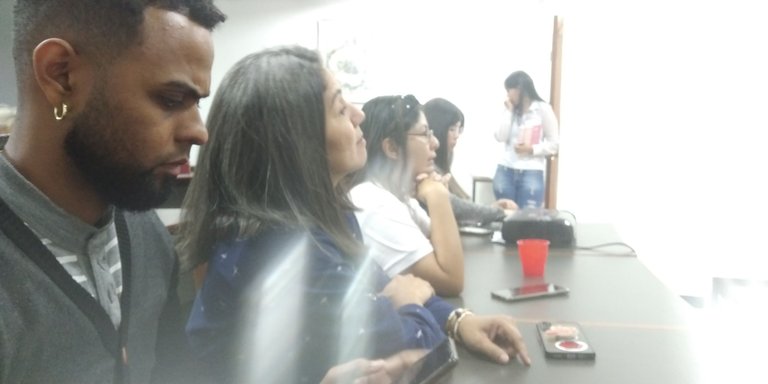 Concentrados escuchando a Susu en su ponencia./ Concentrated listening to @susurrodmisterio in his talk.

Este fue el grupo organizador, ¡Gracias reiteradas chicas! que sigan progresando con éxitos en sus caminos profesionales y personales.😘
This was the organizing group, Thanks again girls! May you continue to progress with success in your professional and personal paths 😘.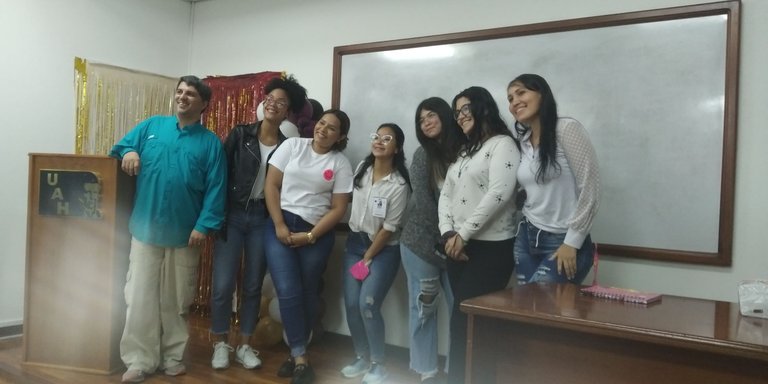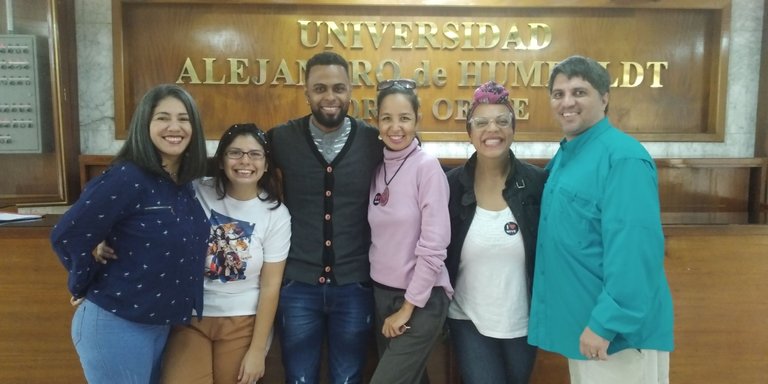 Este fue mi genial equipo para promover a Hive en la Universidad Alejandro Humboldt, agradezco a @kat-nee que hizo acto de presencia también y aportó mucho con su conocimiento y seguridad para apoyarnos en cualquier tema.
Así que aquí estamos, los pequeños hivers emocionados por la experiencia y a la orden para una nueva oportunidad ¡Y por supuesto lo haremos mucho mejor!
This was my great team to promote Hive at Universidad Alejandro Humboldt, I thank @KAt-nee who also made an appearance and contributed a lot with her knowledge and security to support us in any topic. So here we are, the little hivers excited about the experience and ready for a new opportunity. And of course we'll do even better!😘
Fuente / Source:
Lugar: Universidad Alejandro Humboldt. sede Los Dos Caminos, Caracas - Venezuela.
Fotos: propias tomadas gracias por Aguamiel y Esalcedo con mi genial teléfono Redmi 7A.
Plantillas: Editadas y personalizadas por mi en Canva
Separadores: Diseñados por mi en PowerPoint.
Traductor: Gratuito on line DeepL
Place: Universidad Alejandro Humboldt, Los Dos Caminos, Caracas - Venezuela.
Photos: Own photos taken thanks to Aguamiel and Esalcedo with my cool Redmi 7A phone.
Templates: Edited and customized by me in Canva
Separators: Designed by me in PowerPoint.
Translator: Free online DeepL