Hola!!! Muy buenas tardes, mi gente de bella que formamos esta hermosa y muy apreciada comunidad Jewelry, espero se encuentren muy bien de salud que es lo mas importante, en la tarde de hoy me vuelvo a activar nuevamente, ya que por problemas con el internet y otras cosas que me han estado sucediendo, no había podido continuar, pero ya gracias a Dios estoy de vuelta para compartir con ustedes mis proyectos, el día de hoy les traigo un divertido proyecto, se trata de decorar una diadema con perlas corridas, cordón de rabo de raton y cinta de tela, es muy fácil y sencillo de hacer, además estos materiales son muy económicos y fácil de conseguir en los establecimientos comerciales, esta diadema la hice para mi hija, porque a ella les gusta tanto, lo que le hago, ahora sin mas que decir, manos a la obra y comencemos con el paso a paso, seguro les va a gustar y les servirá de mucha utilidad.
Hello!!! Good afternoon my beautiful people who make up this beautiful and appreciated jewelry community, I hope you are in good health, which is the most important thing, this afternoon I am going to activate again, because of problems with the internet and other things that have been happening, I had not been able to continue, but thank God I am back to share my projects with you, today I bring you a fun project, it is about decorating a headband with pearls, mouse tail and ribbon fabric, it is very easy and simple to to do, also these materials are very cheap and easy to find in commercial establishments, I made this headband for my daughter, because she likes it a lot, what I do, now without further ado, let's get down to work and start with the step to step, I'm sure you'll like it and it will be very useful.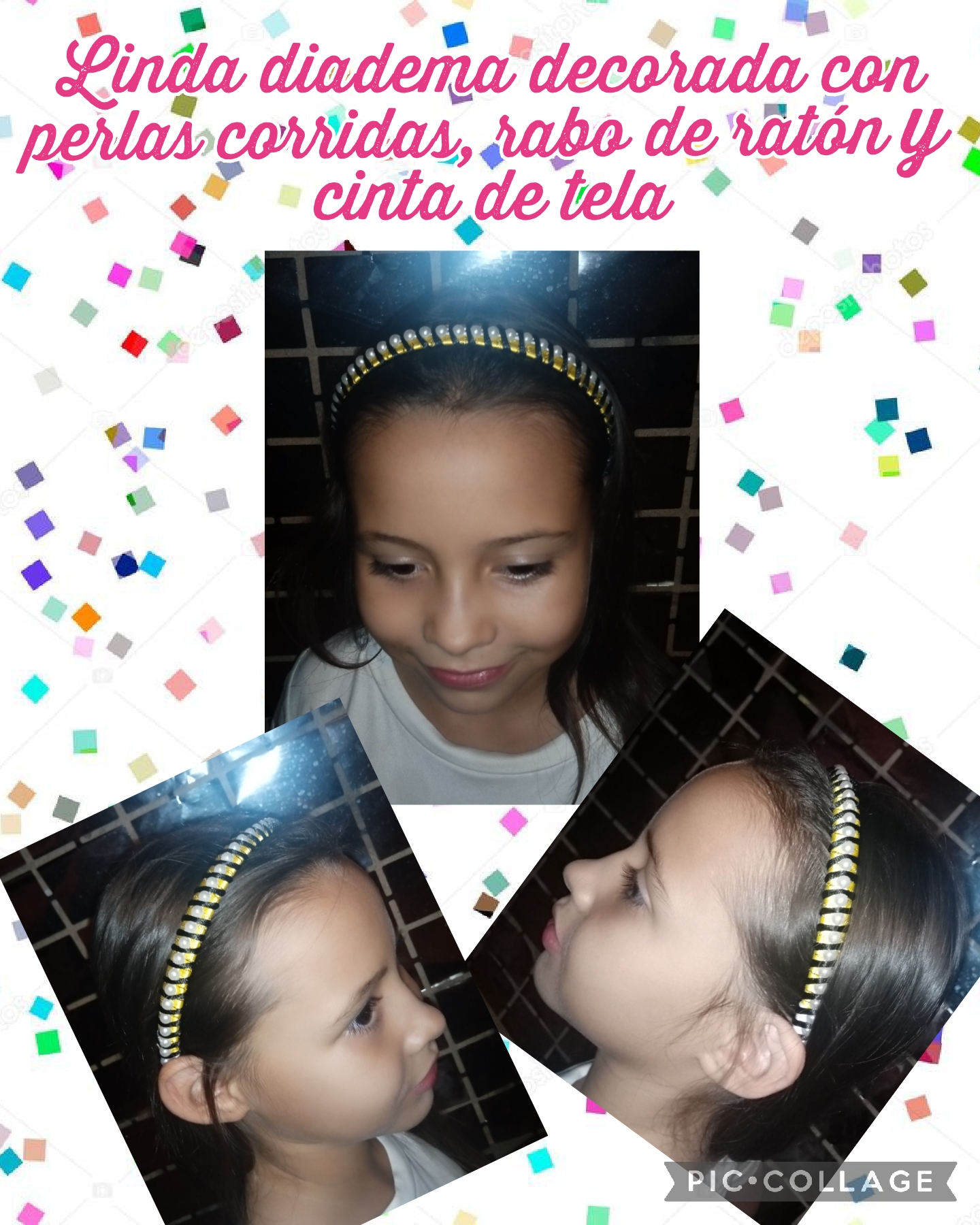 Para hacer esta linda diadema decorada con perlas corridas, cordón cola de raton y cinta de tela de raso, vamos a necesitar los siguientes materiales que verán a continuación:
*1 diadema plástica.
*Cinta de tela, de raso color amarilla.
*Cordón, cola de raton color negra.
*Cordon de cola de raton delgado, color blanco.
*1 tira de perlas corridas.
*Silicona liquida.
*Pistola de silicona y barra de silicona.
*1 tijera.
*1 yesquero.
To make this beautiful headband decorated with pearls, mouse tail cord and satin ribbon, we are going to need the following materials that you will see below:
*1 plastic headband.
*Fabric ribbon, yellow satin.
*Lace, black mouse tail.
*Fine mouse tail cord, white.
*1 string of continuous pearls.
*Liquid silicone.
*Silicone gun and silicone bar.
*1 scissors.
*1 tinderbox.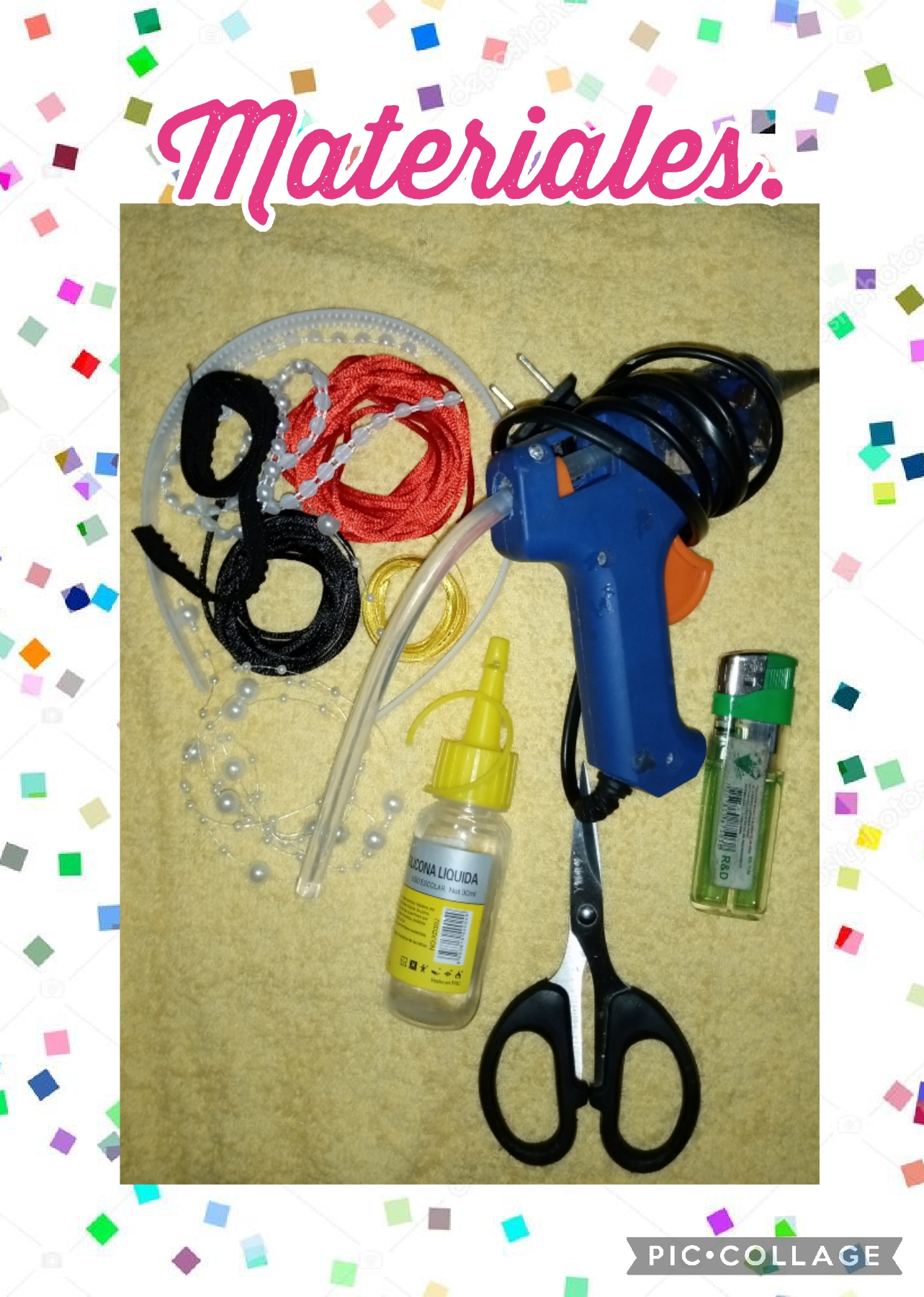 Vamos a comenzar con el paso a paso.
Let's start with the step by step.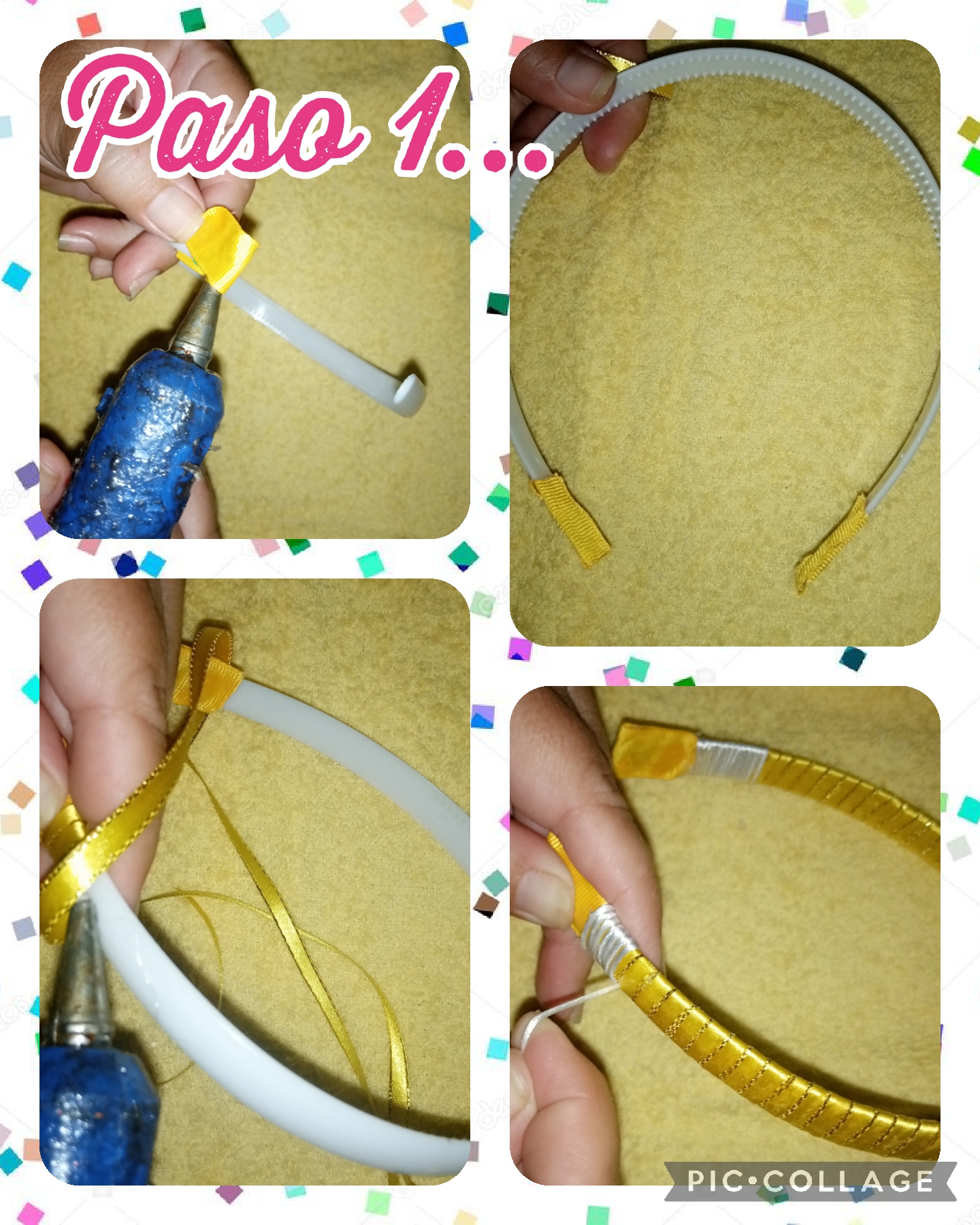 Paso #1. Vamos a comenzar con el paso #1, y lo vamos a hacer de la siguiente manera, para comenzar a forrar esta diadema plástica, lo primero que vamos a hacer es, cortamos 2 tiras, de 5 centímetros cada una, estas tiras las vamos a utilizar para cubrir las 2 puntas de la diadema, después con cinta de tela de raso, vamos a pegarla con silicona caliente en una de las punta, para comenzar a cubrir la diadema y luego con un cordón cola de raton delgado, color blanco y lo pegamos en los lados de la diadema. Vea las imágenes.
Step #1. We are going to start with step #1, and we are going to do it as follows, to start lining this plastic headband, the first thing we are going to do is cut 2 strips of 5 centimeters each, we are going to use it to cover the 2 ends of the headband, then with a satin ribbon, we are going to glue it with hot silicone on one of the ends, to begin to cover the headband and then with a thin, white mousetail cord and glue on the sides of the headband diadem. See images.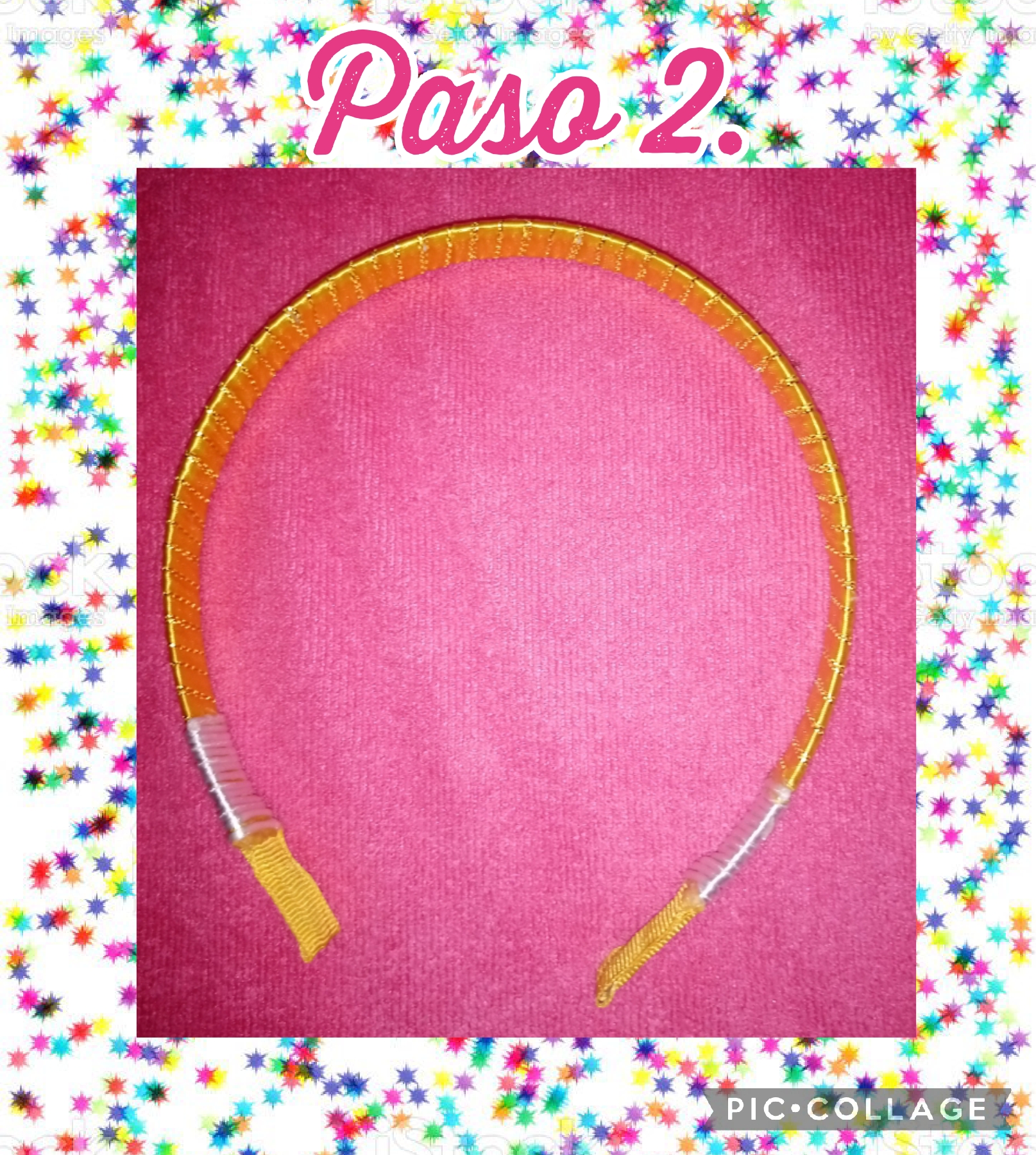 Paso #2. En este paso, vemos como nos va quedando la diadema, ya toda cubierta con la cinta de tela de raso, color amarilla y el cordón de cola de raton delgado, color blanco les muestro las imágenes.
Step #2. In this step we see how the diadem is turning out, already covered with the yellow satin ribbon and the thin white mouse tail cord. I show you the images.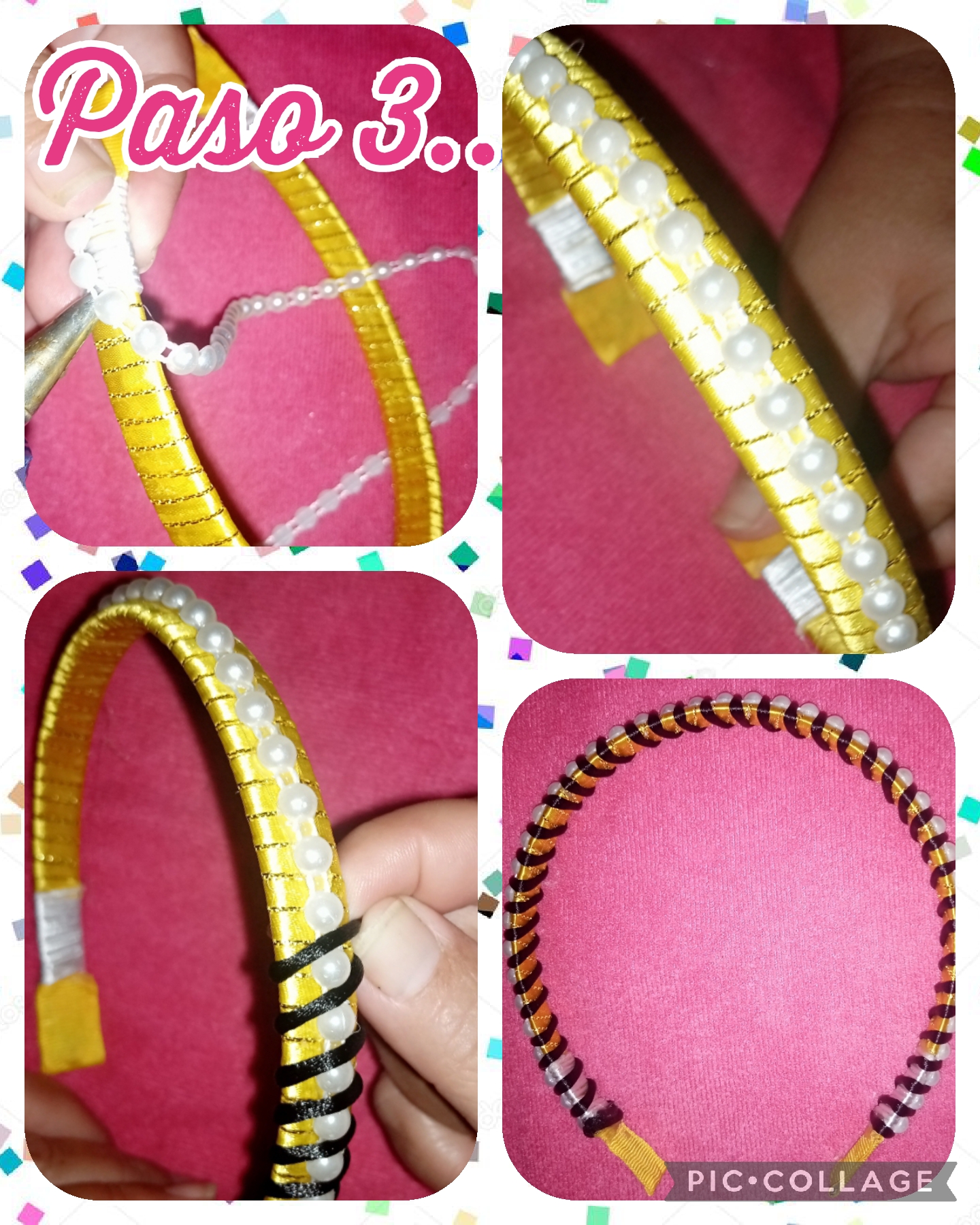 Paso 3. Seguidamente en este paso vamos a seguir decorando la diadema, en este caso vamos a empezar a decorarla con una tira de perlas corridas, color blanca y con la pistola de silicona, comenzamos pegándola de una punta hasta finalizar en la otra otra punta, después con el cordón de cola de raton, color negro, comenzamos a darle la vuelta a la diadema, por el medio de cada perla, hasta terminar de darle la vuelta a la ultima perla, vea las imágenes.
Step 3. Next in this step we are going to continue decorating the headband, in this case we are going to start decorating it with a strip of continuous white pearls and with the silicone gun, we start gluing it from one end until we end up at the bottom. bottom. another stitch, then with the black mouse tail cord, we begin to turn the headband, through the middle of each pearl, until we finish turning the last pearl, see the images.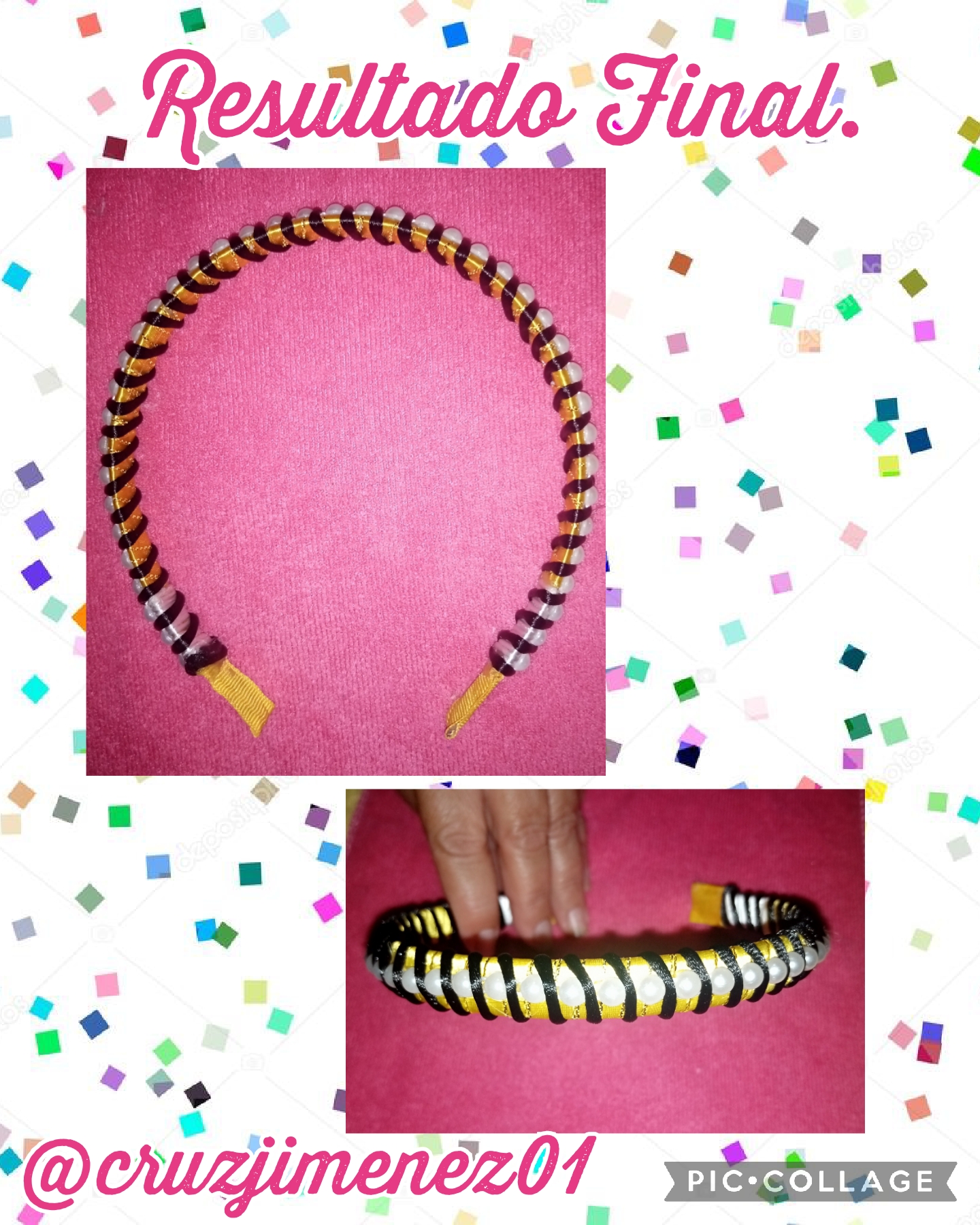 Ya terminado todos los pasos, este es el resultado final, esta linda diadema, decorada con cinta de tela de raso, cordón de cola de raton, y con una tira de perlas corridas, esta diadema es ideal para las princesas de la casa, gracias visitar mi blog y ver hasta el final, nos vemos pronto con otra idea creativa, que pasen muy buenas tardes y Dios los bendiga.
Once all the steps have been completed, this is the final result, this beautiful diadem, decorated with a satin ribbon, a mouse tail cord, and a strip of pearls, this diadem is ideal for the princesses of the home Thank you for visiting my blog and watching until the end, see you soon with another creative idea, have a good afternoon and God bless you.
Las fotos fueron capturadas con mi teléfono Android Tecno Spark 6go y editadas con la aplicación Pic-Collage y el contenido es traducido con el traductor Google Esp-Ing.
The photos were captured with my Android phone Tecno Spark 6go and edited with the Pic-Collage application and the content is translated with the Google Esp-Ing translator.