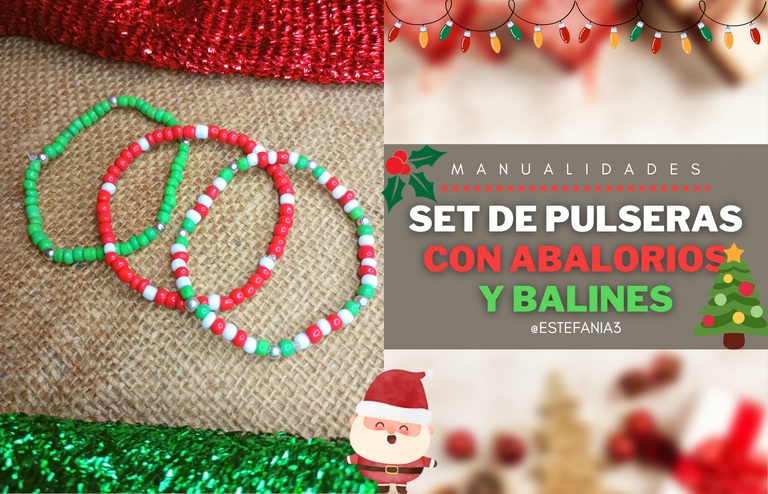 ¡Hola Chicos!
Adoro hacer pulseras con abalorios. Recuerdo que cuando niña hacía de estas para vender a escondidas a mis amiguitos en el colegio. Era un negocio bastante lucrativo y estaba esa adrenalina de que las maestras no te descubrieran 😂.
De ahí nace mi amor por hacer y vender bisutería, y actualmente como lo he comentado en innumerables oportunidades, mi venta está activa a través de la cuenta de Instagram @lakrearte.accesorios y algunas que he estado vendiendo en negocios cercanos a mi casa.
En esta oportunidad quise crear un set de pulseras utilizando abalorios de colores navideños como lo son rojo, verde y blanco y algunos balines de color plateado.
Se pueden utilizar en conjunto o por separado, si no estás acostumbrado a usar tantas pulseras, aunque a mi parecer en navidad las decoraciones y accesorios no importa lo exagerada que sean, siempre se verán bien.
Así que bueno chicos, les cuento un poco como he hecho estas pulseras a continuación.
Hello Guys!
I love making beaded bracelets. I remember that when I was a child I made these to secretly sell to my friends at school. It was quite a lucrative business and there was that adrenaline that the teachers didn't discover you 😂.
This is where my love for making and selling costume jewelery is born, and currently, as I have commented on countless opportunities, my sale is active through the Instagram account @lakrearte.accesorios and some that I have been selling in businesses near my home.
This time I wanted to create a set of bracelets using Christmas colored beads such as red, green and white and some silver colored beads.
They can be used together or separately, if you are not used to wearing so many bracelets, although in my opinion at Christmas the decorations and accessories, no matter how exaggerated they are, will always look good.
So okay guys, I'll tell you a bit about how I made these bracelets below.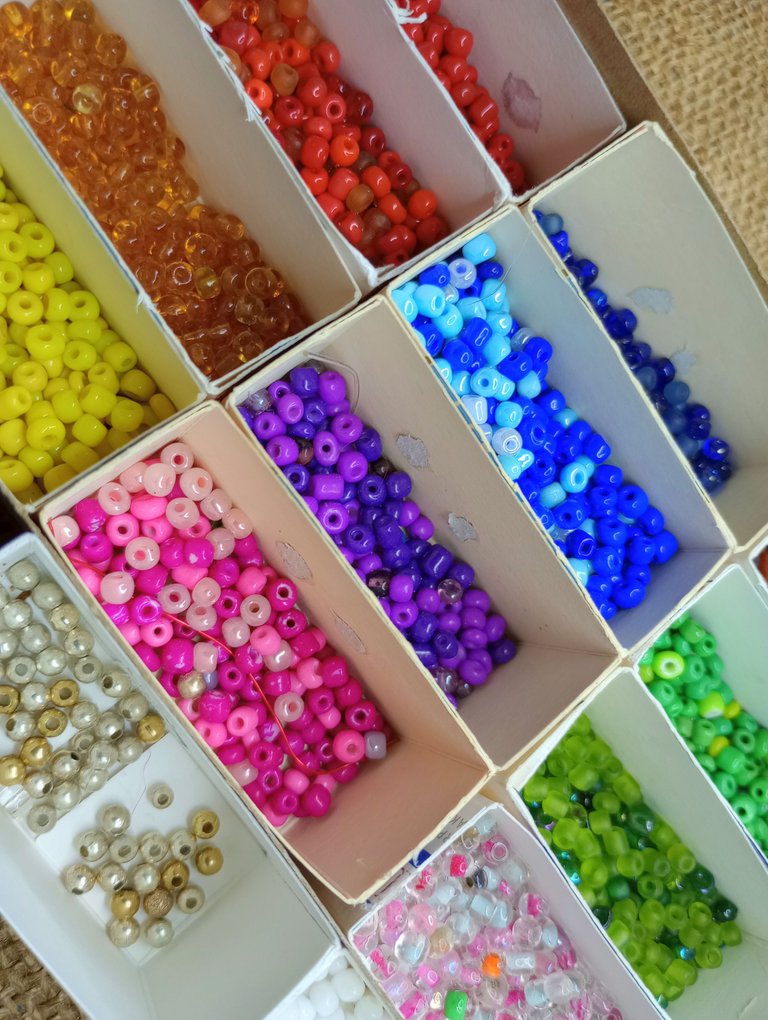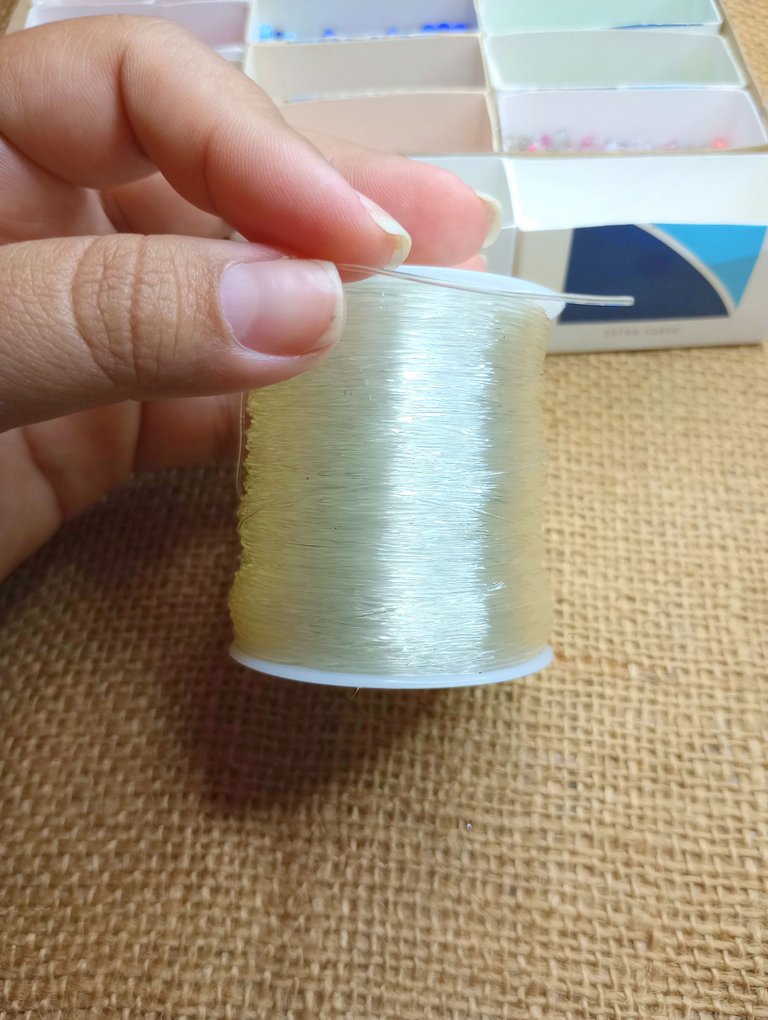 Como base para esas pulseras he utilizado nylon elástico. Me gusta comprarlo por rollos, así puedo crear todas las pulseras que quiera y sale mucho más económico que comprarlo por metros.
Cortamos un trozo de unos 25 centímetros para cada pulsera o si lo deseas, puedes hacer como yo. Armarla sin cortar el nylon y ya cuando esté lista si cortamos los excedentes. Así no desperdiciamos material.
As a base for these bracelets I have used elastic nylon. I like to buy it by the roll, so I can create all the bracelets I want and it is much cheaper than buying it by the meter.
We cut a piece of about 25 centimeters for each bracelet or if you wish, you can do as I did. Assemble it without cutting the nylon and when it is ready if we cut the surplus. So we don't waste material.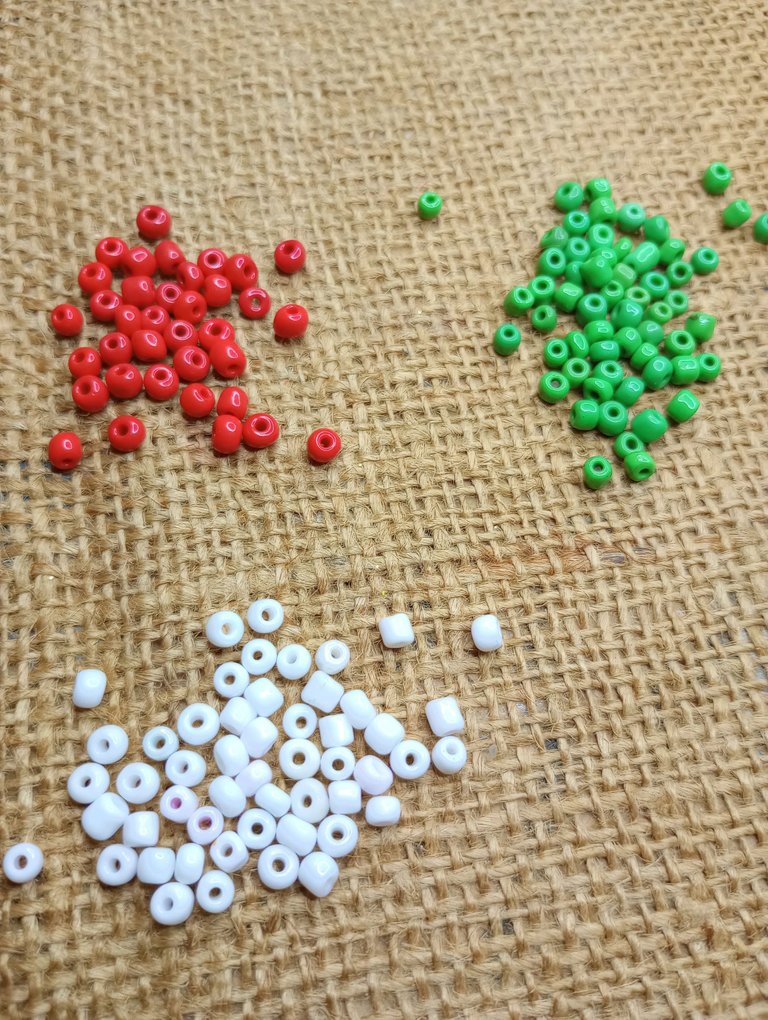 Para la pulsera principal he utilizado los colores antes mencionados y con ellos cree un patrón que me recordaba a los atuendos de los elfos.
En el centro un balín plateado, a los lados abalorios verdes, luego blanco y rojo hasta finalizar en blanco.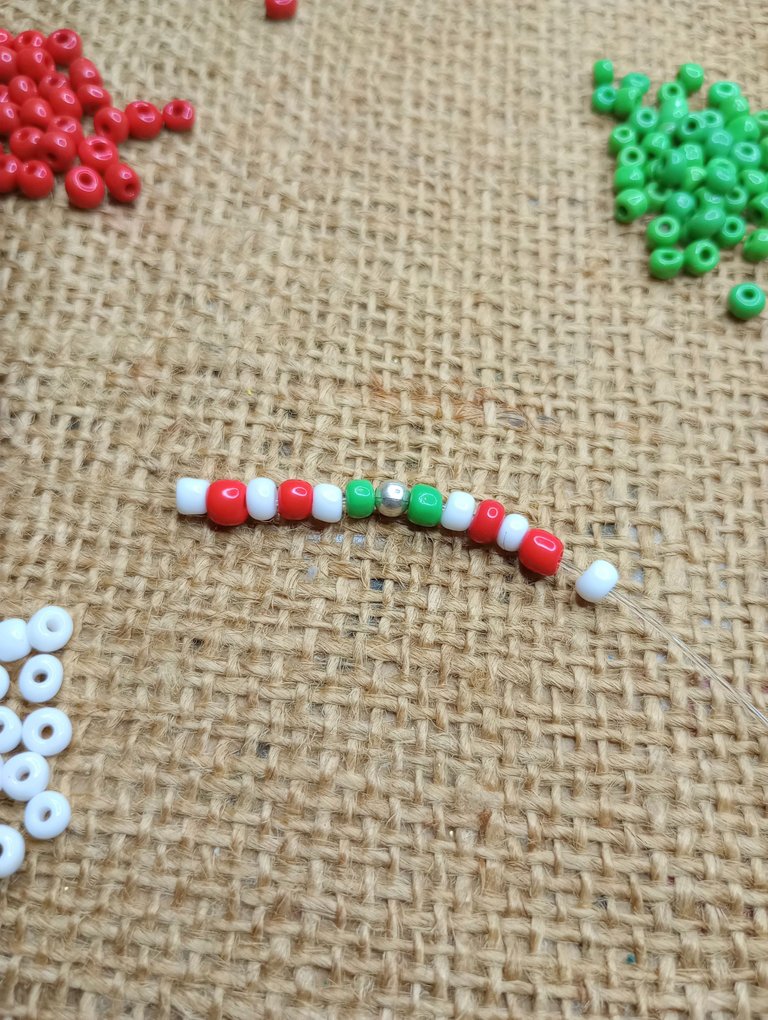 For the main bracelet I have used the aforementioned colors and with them I created a pattern that reminded me of the elves' outfits.
In the center a silver ball, on the sides green beads, then white and red until ending in white.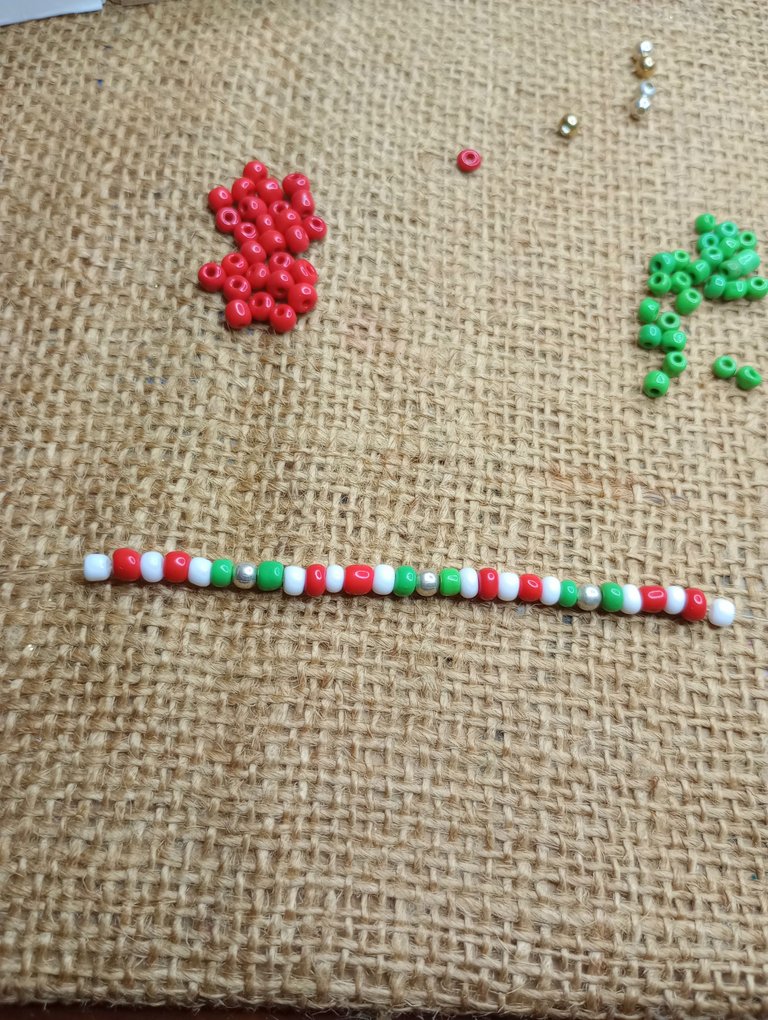 Repetí el mismo patrón hasta lograr un largo de 18 centímetros para la pulsera.
Todo dependerá de la persona para la que estés creando las pulseras, pues no todos tenemos las muñecas del mismo grosor.
Este es un tamaño estándar.
I repeated the same pattern until I reached a length of 18 centimeters for the bracelet.
Everything will depend on the person for whom you are creating the bracelets, since not all of us have wrists of the same thickness.
This is a standard size.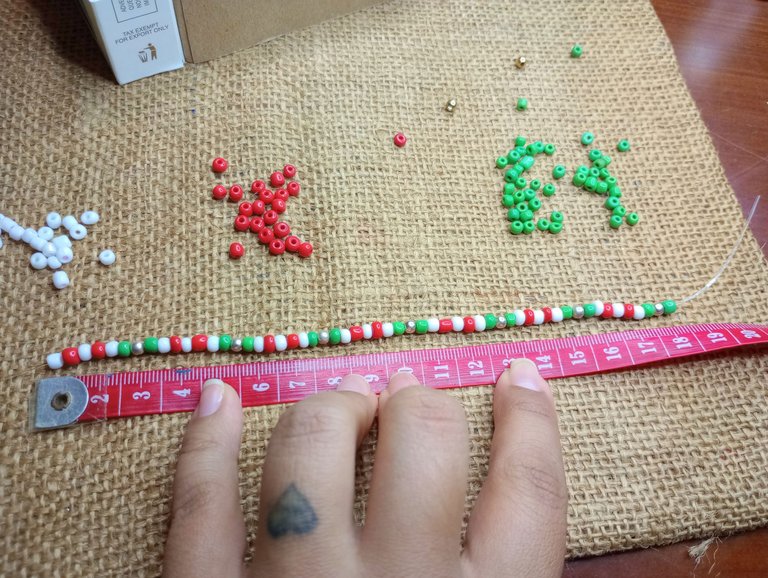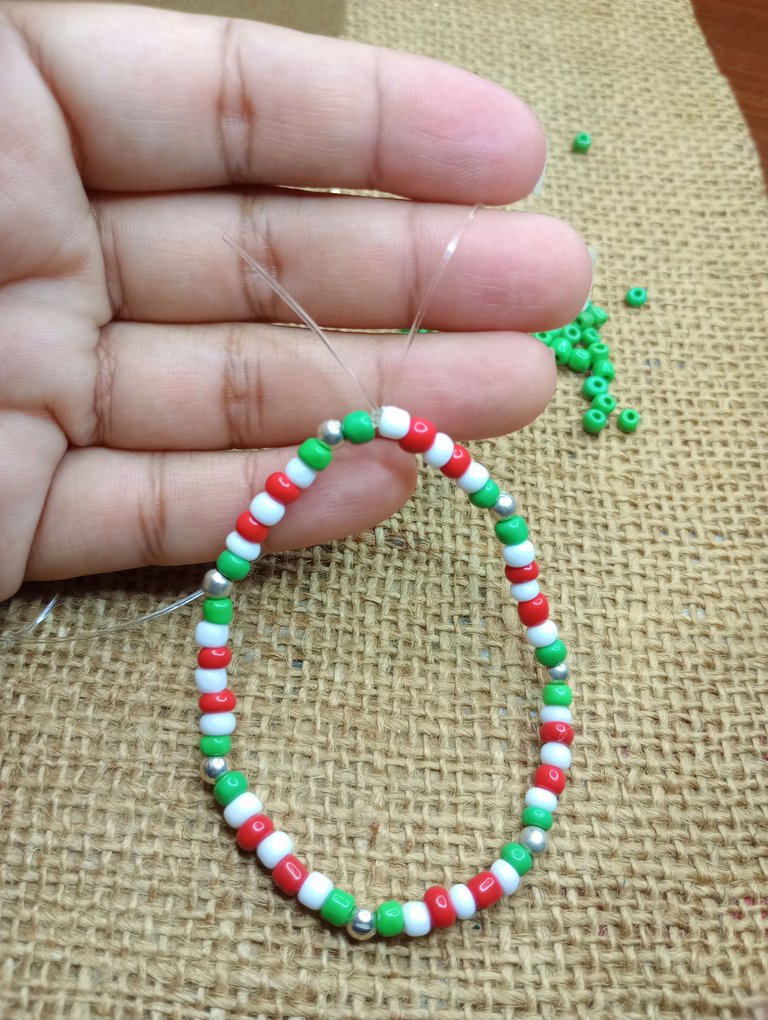 Al alcanzar el largo deseado vamos a cortar el nylon y haremos 3 nudos para asegurar que no vaya a desatarse la pulsera.
Cortamos los excedentes y así tendremos lista la primera de las tres pulseras.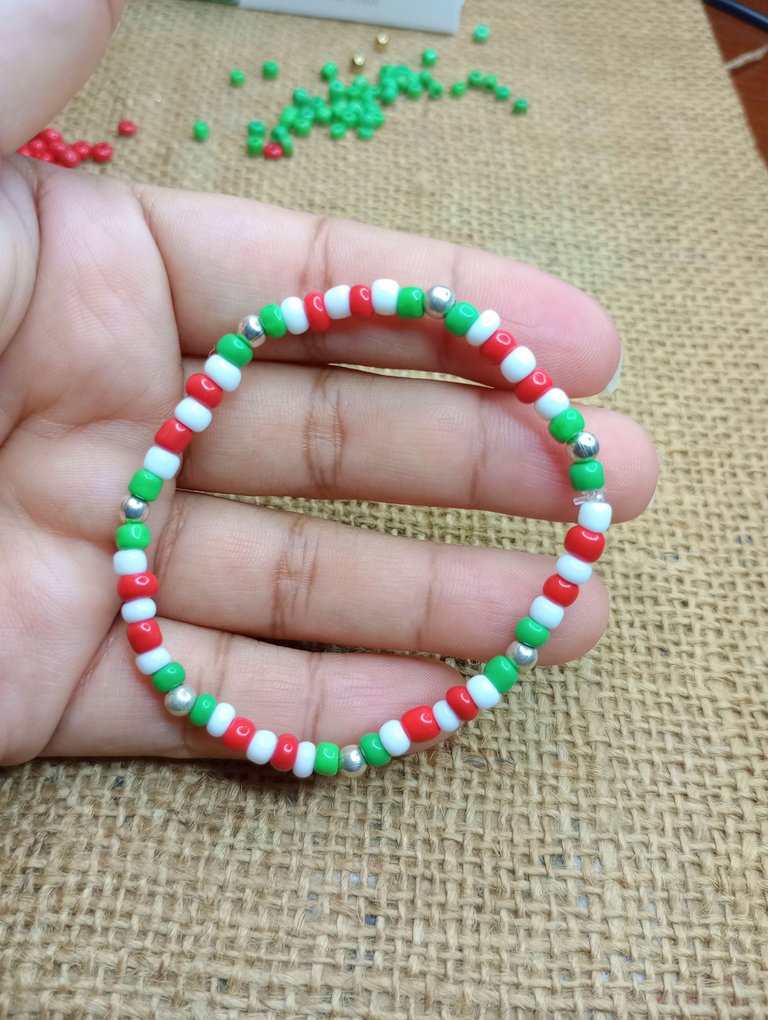 When we reach the desired length we are going to cut the nylon and we will make 3 knots to ensure that the bracelet will not untie.
We cut the surplus and thus we will have the first of the three bracelets ready.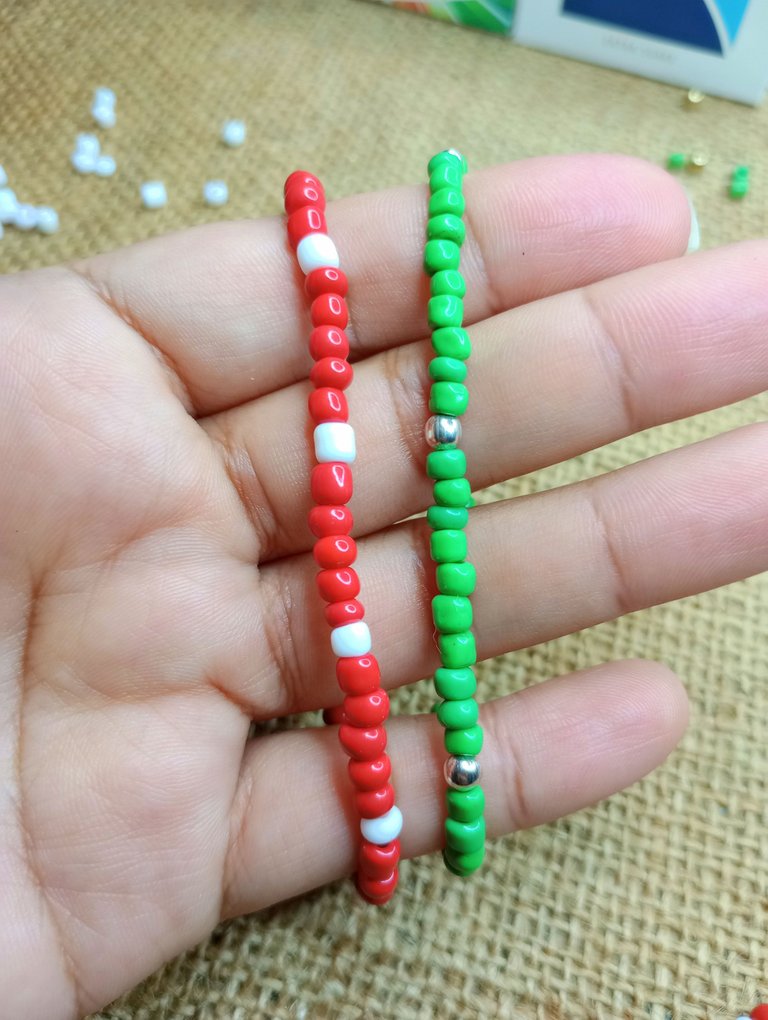 Para las otras dos pulseras quise hacer un patrón más sencillo para que no realzaran sobre la pulsera principal con diseño de elfos.
La primera de color rojo la hice intercalando 5 abalorios rojos y uno blanco.
La segunda la hice utilizando únicamente abalorios verdes y balines plateados. Serian entonces 10 abalorios y luego 1 balín plateado.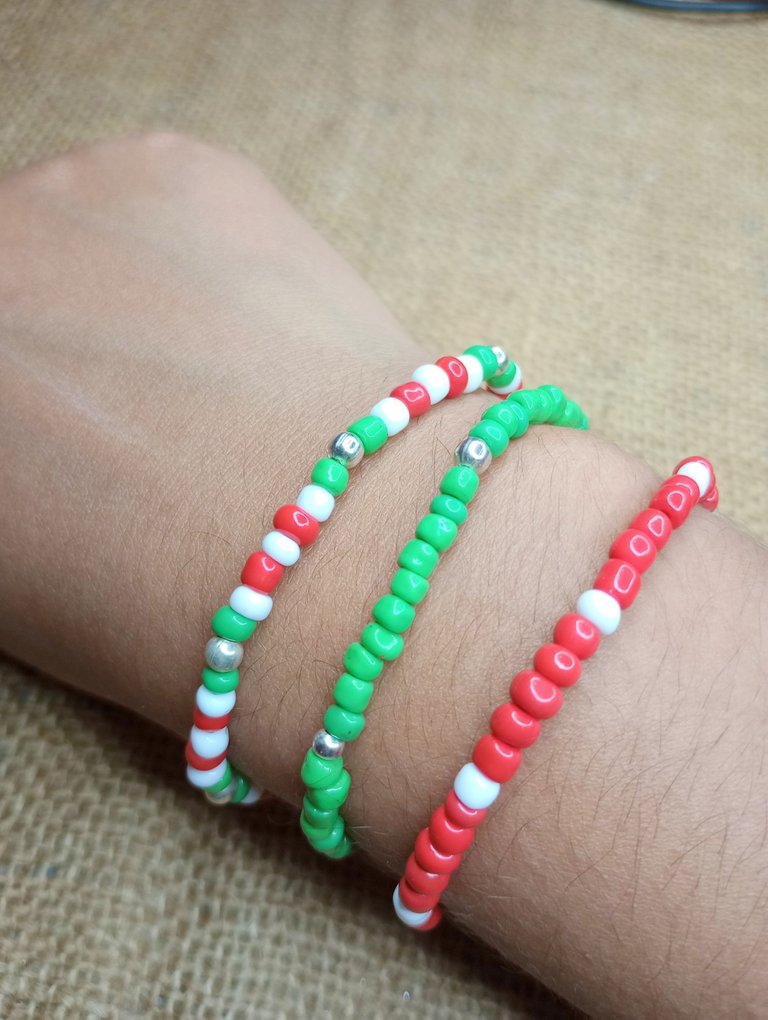 For the other two bracelets I wanted to make a simpler pattern so that they would not stand out on the main bracelet with an elf design.
The first one in red was made by interspersing 5 red beads and one white.
The second one I made using only green beads and silver pellets. Then there would be 10 beads and then 1 silver ball.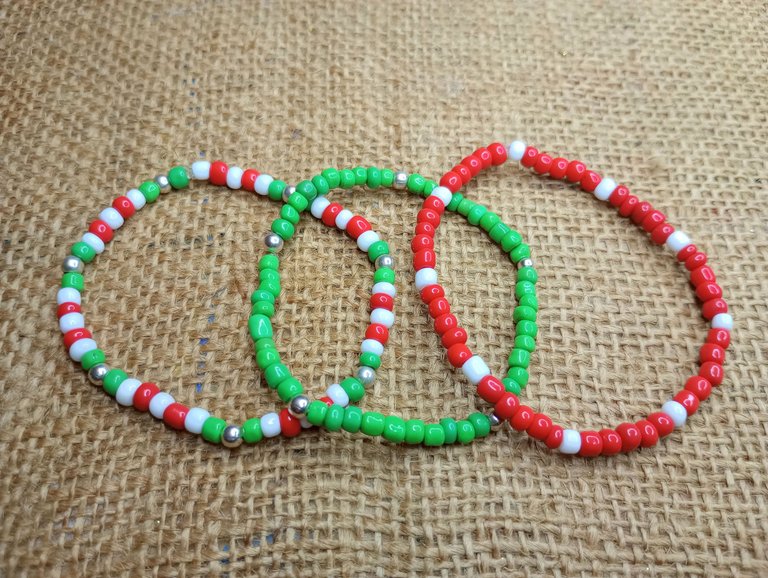 Así quedaron entonces estas lindas pulseras, bien sencillas pero que adornan y resaltan muchisimo y es una manera de llevar el espiritu navideño a donde sea que vayamos.
A mi particularmente me gustó utilizar dos de estas pulseras, pero sin duda alguna, las 3 juntas llaman muchisímo la atención y serán mis acompañantes estos días festivos.
¿A ustedes que les pareció? ¿se atreverían a colocarse tantas pulseras con motivos navideños?
Los leo en los comentarios. No vemos en una proxima manualidad. ♥
This is how these beautiful bracelets were then, very simple but they adorn and stand out a lot and it is a way to bring the Christmas spirit wherever we go.
I particularly liked using two of these bracelets, but without a doubt, the 3 together attract a lot of attention and will be my companions these holidays.
What did you think? Would they dare to put on so many bracelets with Christmas motifs?
I read them in the comments. We don't see in a next craft. ♥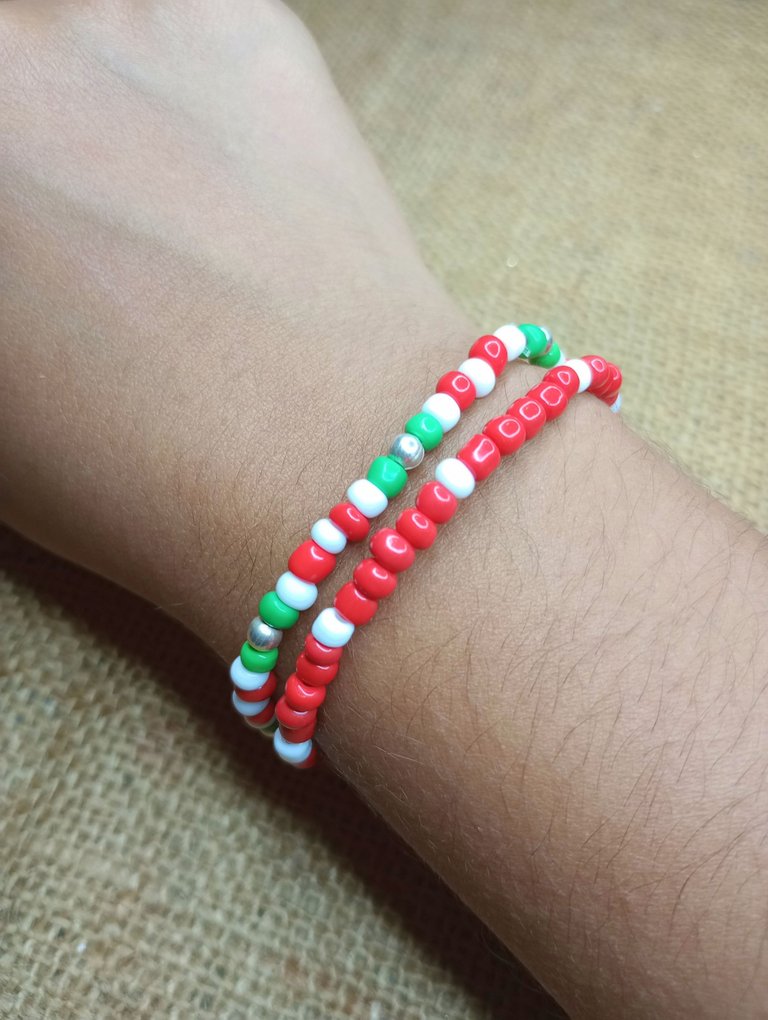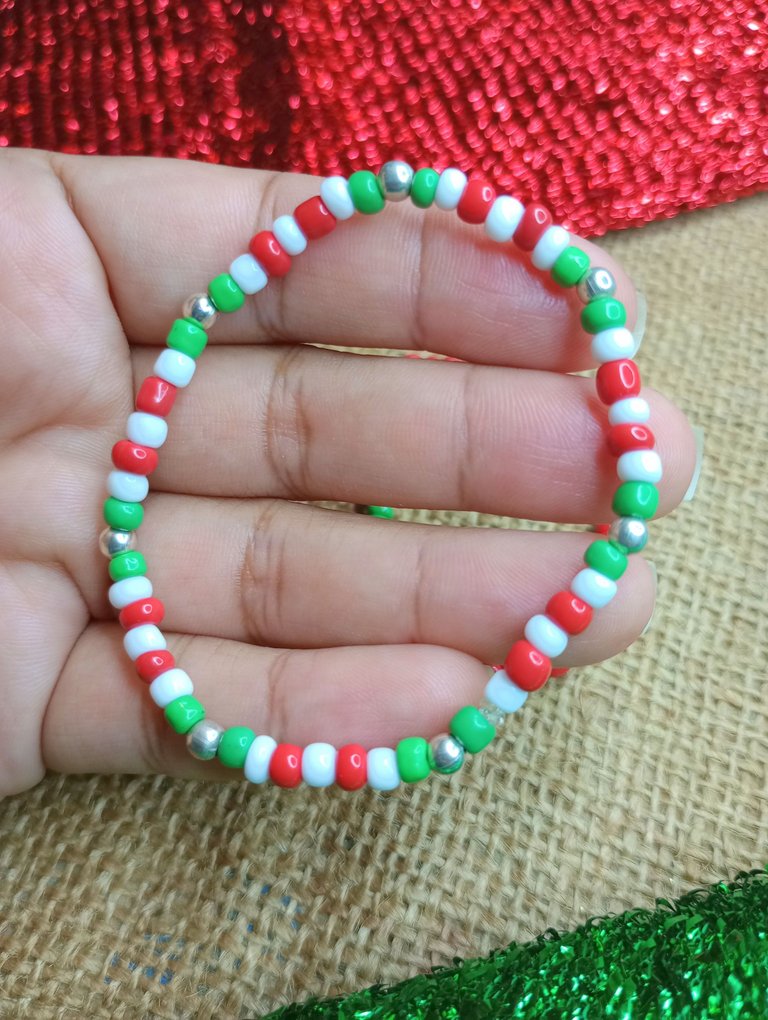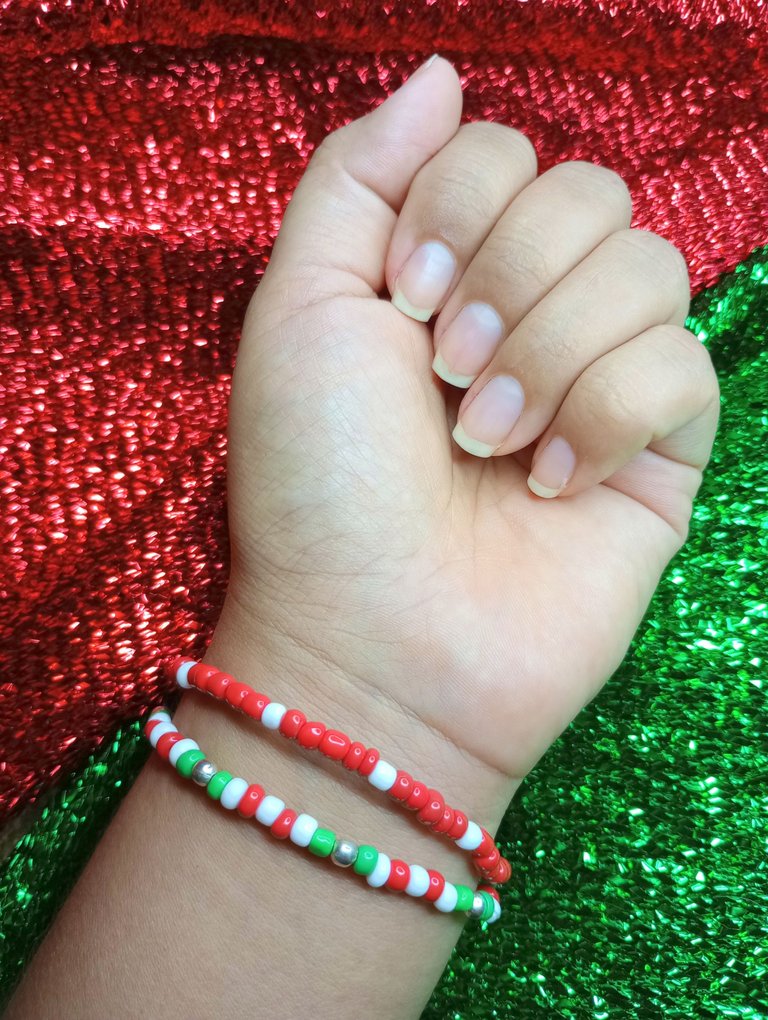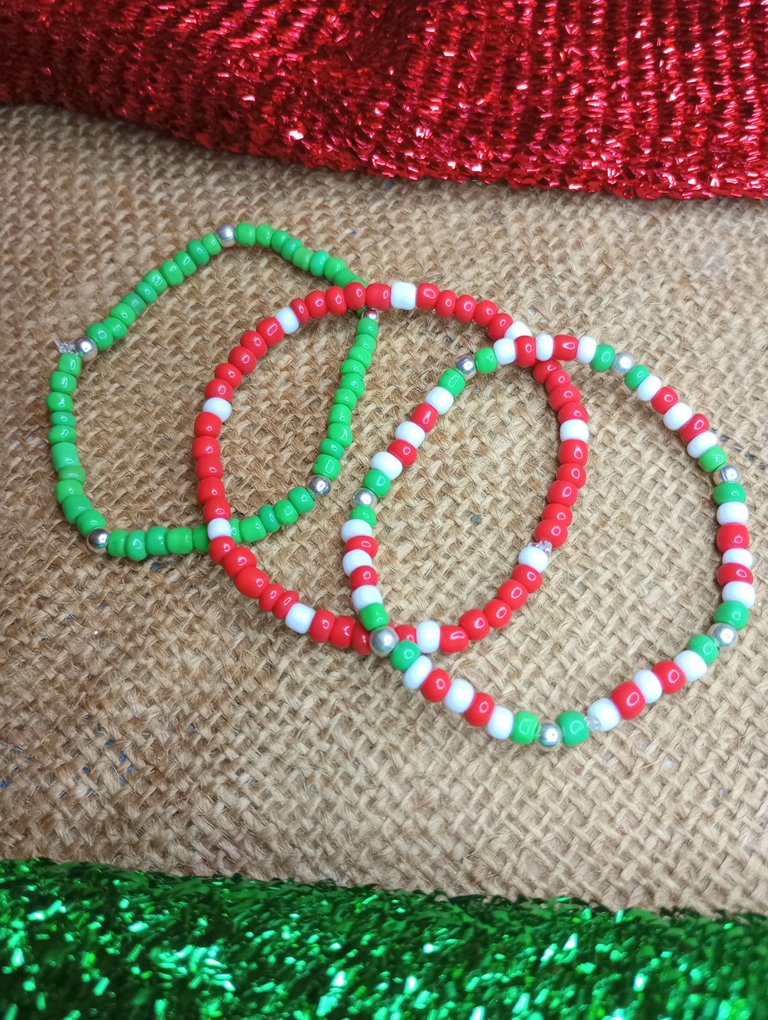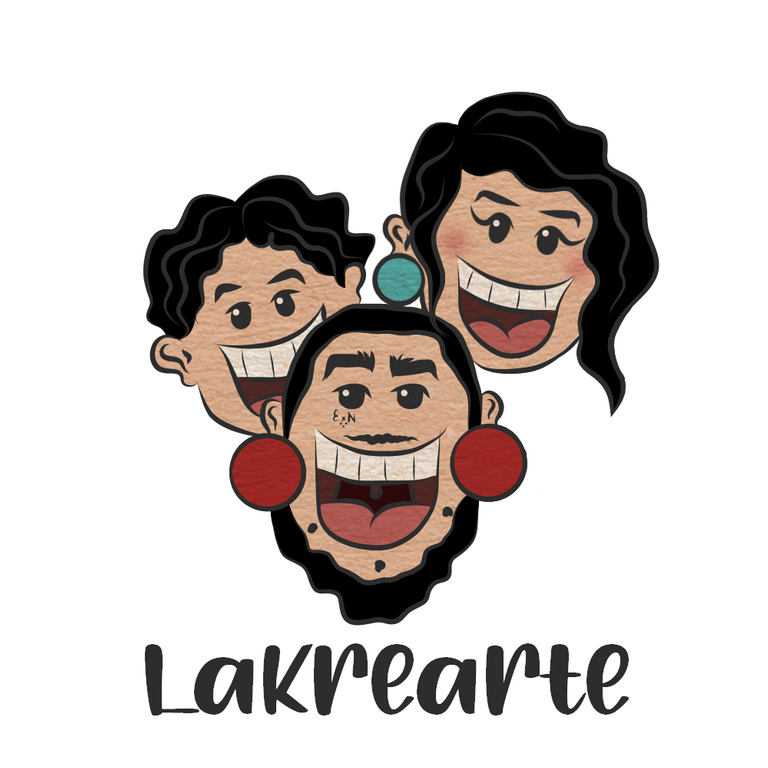 ¡Gracias por leer, comentar y votar mi contenido!
Espero haya sido de tu agrado y provecho.
Un gran abrazo a todos, y nos leemos en un próximo post
• Lakrearte en Hive •

Att: Estefania Garcia ♥

Imágenes y separadores de mi autoría
Portada editada en Canva
Fotografías tomadas con un Moto G31
Texto traducido en Google ImTranslate v.14.27