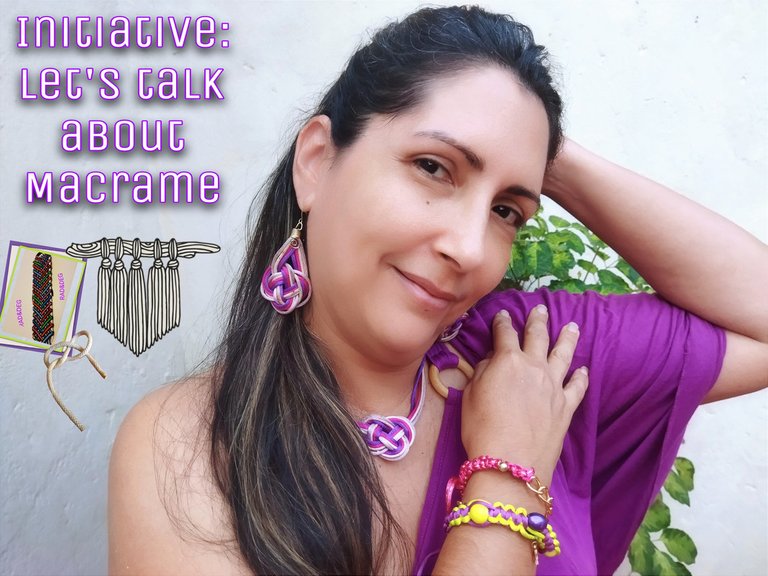 Un saludo mi querida comunidad #Jewelry feliz día 💙 y uno muy especial para @marleyn por traer esta hermosa iniciativa para todos los que nos encanta el arte de tejer y crear a partir de nudos decorativos mejor conocida como técnica del macrame, en la cual nos formula una serie de preguntas las cuales debemos responder y de esta manera ademas de conocernos un poco mas compartir con ustedes todos mis conocimientos sobre esta técnica con la que podemos realizar prendas y accesorios muy hermosos a partir de una hebra de hilo, un poco de practica y también imaginación
Greetings my dear community #Jewelry happy day 💙 and a very special one for @marleyn for bringing this beautiful initiative for all of us who love the art of weaving and create from decorative knots better known as macrame technique, in which asks us a series of questions which we must answer and in this way in addition to know each other a little more share with you all my knowledge about this technique with which we can make very beautiful garments and accessories from a strand of thread, a little practice and also imagination.

¿Sabes tejer con las técnicas de Macrame, desde cuando conoces esta técnica?
Do you know how to weave with Macrame techniques? Since when do you know this technique?
---
Si, aunque todavía pienso que me falta muchas cosas por aprender, ya que con ella se pueden realizar muchísimas cosas pero prácticamente conozco los nudos mas básicos o mas utilizados y con ellos he realizado siempre tejidos pequeños como pulseras, zarcillos y collares. En realidad les confieso que la conozco desde hace mucho tiempo creo que en mi adolescencia, les hablo como de 20 años atrás, nos reuníamos entre amigas y hacíamos pulceras con hilos, combinando colores pero para ese entonces desconocía que ha esta técnica de tejer haciendo nudos se le llamaba macrame
Yes, although I still think that I have many things to learn, because with it you can make many things but I practically know the most basic or most used knots and with them I have always made small weavings such as bracelets, earrings and necklaces. Actually I confess that I have known it for a long time, I think in my adolescence, I'm talking about 20 years ago, we used to get together with friends and we used to weave with threads, combining colors but at that time I didn't know that this technique of weaving with knots was called "macrame".

¿Si no sabes realizar la técnica del Macrame te atreves a aprender y muéstranos algo realizado por ti?
If you don't know how to perform the macrame technique, do you dare to learn and show us something you have done?
---
Como les comente en la pregunta anterior conocí este arte sin saber su nombre, si me llamo mucho la atención que realizando nudos con varios hilos podía tejer con mis manos sin utilizar ninguna herramienta me refiero agujas, desde allí todo lo que tiene que ver con tejer me encanta uno de ellos es el crochet. Pero ahora poco a poco empece a practicar mirando vídeos tutoriales, realizando primero varios modelos sencillos como los que les muestro en las imágenes para después ir tomando destreza con futuros proyectos.
As I mentioned in the previous question I met this art without knowing its name, if I called my attention that making knots with several threads I could knit with my hands without using any tool I mean needles, from there everything that has to do with knitting I love one of them is crochet. But now little by little I started to practice watching video tutorials, first making several simple models like the ones I show you in the images to then take skills with future projects.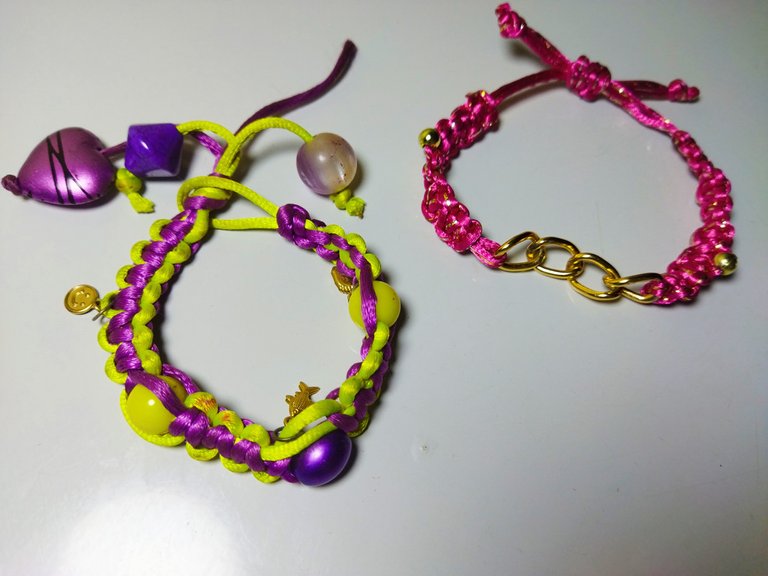 ¿Tienes accesorios de Macrame?, muéstranos
Do you have macrame accessories? show us
---
Si tengo varios aunque algunos ya están un poco viejitos del uso y también he realizado varios accesorios a para obsequiar.
Yes, I have several, although some of them are a bit old from use and I have also made several accessories to give as gifts.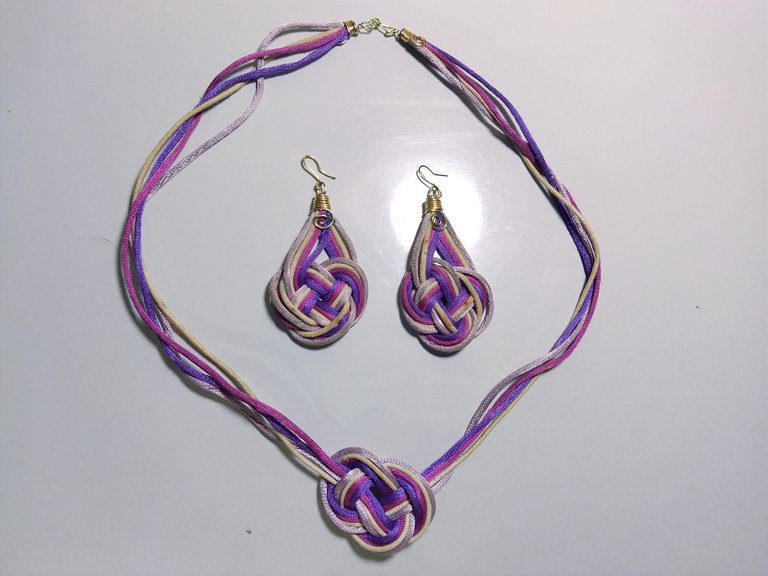 ¿Que nudos te gustan mas de esta técnica?
What knots do you like most about this technique?
---
Los nudos que mas suelo usar par la mayoría de mis proyectos son el nudo plano o cuadrado y también me encanta un nudo muy lindo y bien decorativo que se le llama josefina.
The knots I use for most of my projects are the flat or square knot and I also love a very nice and decorative knot called josefina.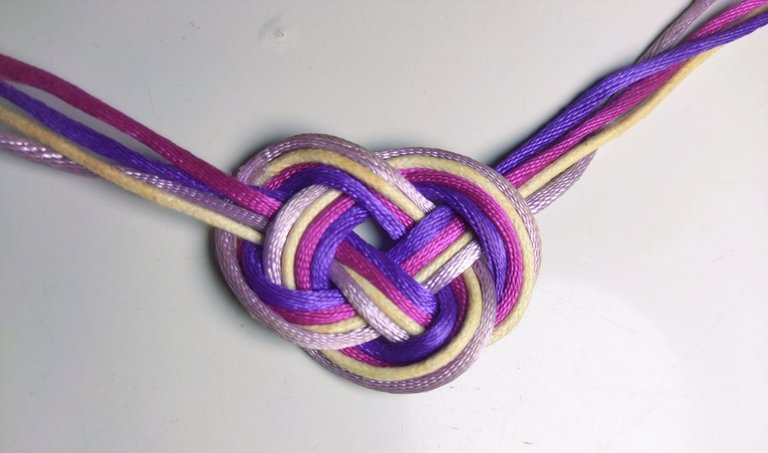 ¿Que hilos nos recomiendas para realizar Macrame, cual es tu preferido y porque?
What threads do you recommend to make Macrame, which one is your favorite and why?
---
Los hilos con los que mas me gusta trabajar y recomiendo siempre son el hilo cola de ratón y el hilo chino, me encantan porque me siento cómoda al manipularlos a la hora de hacer cada nudo, son bastante asequibles y quedan con un hermoso acabado ya que los puedes encontrar en diferentes presentaciones de colores, texturas y grosores para combinar.
The yarns that I like to work with and always recommend are the mouse tail and Chinese yarn, I love them because I feel comfortable to manipulate them when making each knot, they are quite affordable and have a beautiful finish because you can find them in different colors, textures and thicknesses to combine.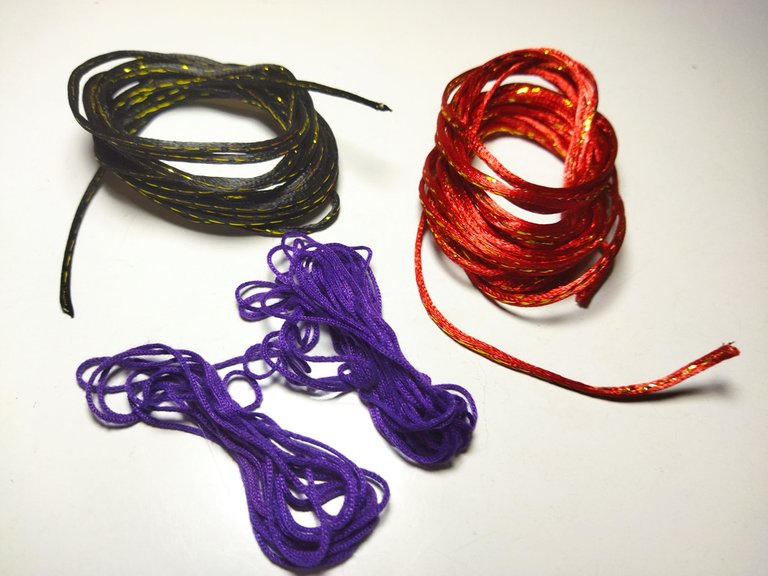 ¿Puedes darnos un consejo para aprender Macrame, si no sabes de esta técnica con lo que has aprendido hasta ahora que piensas de el Macrame?
Can you give us some advice to learn Macrame, if you don't know about this technique with threads with what you have learned so far, what do you think about Macrame?
---
El consejo que les podría dar, ya que en su momento me sirvió, es el practicar mucho, si te equivocas ya en su gran mayoría se debe mantener una secuencia para elaborar los nudos, simplemente tener concentración y un poco de paciencia y ademas sentir amor por lo que hacemos. Ya que a medida que vas practicando los diferentes tipos de nudos se va haciendo mucho mas fácil dominar la técnica y que de esta manera queden con mucho mejor acabado nuestros proyectos.
The advice I could give you, since it helped me at the time, is to practice a lot, if you make a mistake and in most cases you must maintain a sequence to make the knots, just have concentration and a little patience and also feel love for what we do. As you practice the different types of knots, it becomes much easier to master the technique and in this way our projects are much better finished.

¿Cuando conociste esta técnica, o si no la conocías ahora que la conoces que opinas de esta técnica?
When did you know this technique, or if you didn't know it, now that you know it, what do you think about it?
---
Si la conocía, ademas me encanta el arte de tejido bien sea la técnica del macrame o con agujas, una porque me apasiona y la otra tiene que ver con los beneficios que aporta para nuestra salud mental es una excelente actividad para liberar estrés es mi mejor terapia de relajación
Yes I knew it, I love the art of knitting either macrame technique or with needles, one because I love it and the other has to do with the benefits it brings to our mental health is an excellent activity to release stress is my best relaxation therapy.

Por ultimo ¿En la próxima iniciativa de que te gustaría hablar o crear?
Lastly, what would you like to talk about or create in the next initiative?
Bueno ademas de tejer me encanta reciclar y sacar provecho a esas cosas que terminan en la basura, pero que sin darnos cuenta podemos realizar cosas hermosas con ellas. Me gustaría una iniciativa donde realicemos algún accesorio o prenda bien sea un collar, pulsera, zarcillos entre otros con este tipo de material y así hacemos un gran aporte como preservar nuestro medio ambiente evitando la contaminación que tanto daño le hace a este hermoso planeta que habitamos
Well besides knitting I love to recycle and take advantage of those things that end up in the trash, but without realizing we can make beautiful things with them. I would like an initiative where we make some accessory or garment either a necklace, bracelet, earrings among others with this type of material and thus make a great contribution to preserve our environment by avoiding pollution that does so much damage to this beautiful planet we inhabit.

| Pueden seguirme en 💙: | You can follow me on 💙: |
| --- | --- |
| Twitter | eveyese1312 |
| Discord | eveyese1312#6211 |
---
Las fotos y el contenido son de mi autoria, Las imágenes que no me pertenecen tienen su respectiva fuente
Imágenes editadas en PowerPoint Canva y PicMonkey
Para la traducción usé el traductor: DeepL
The photos and content are my own. The images that do not belong to me have their respective source
Images edited in PowerPoint Canva and PicMonkey
For the translation, I used the translator: DeepL
---