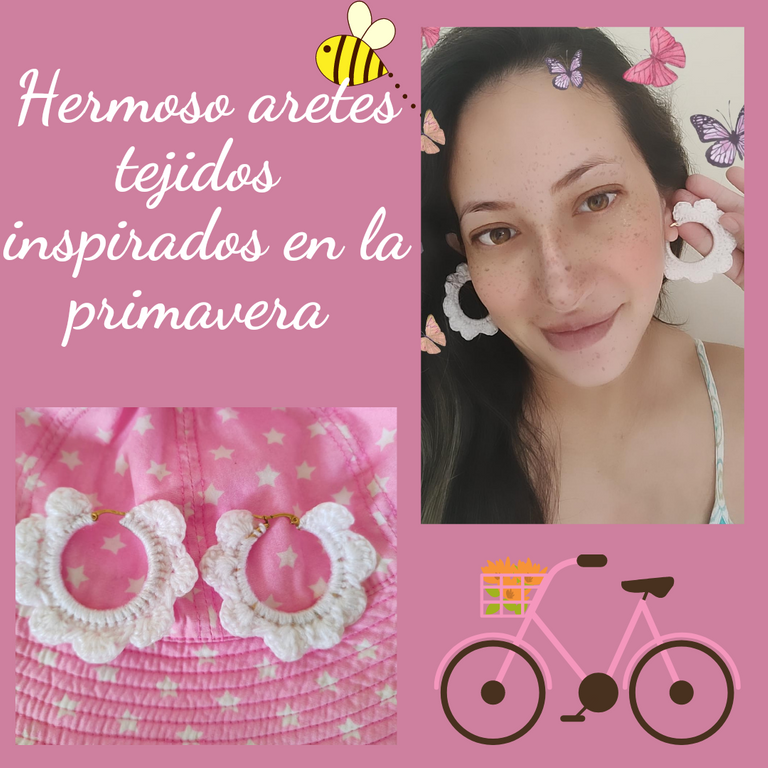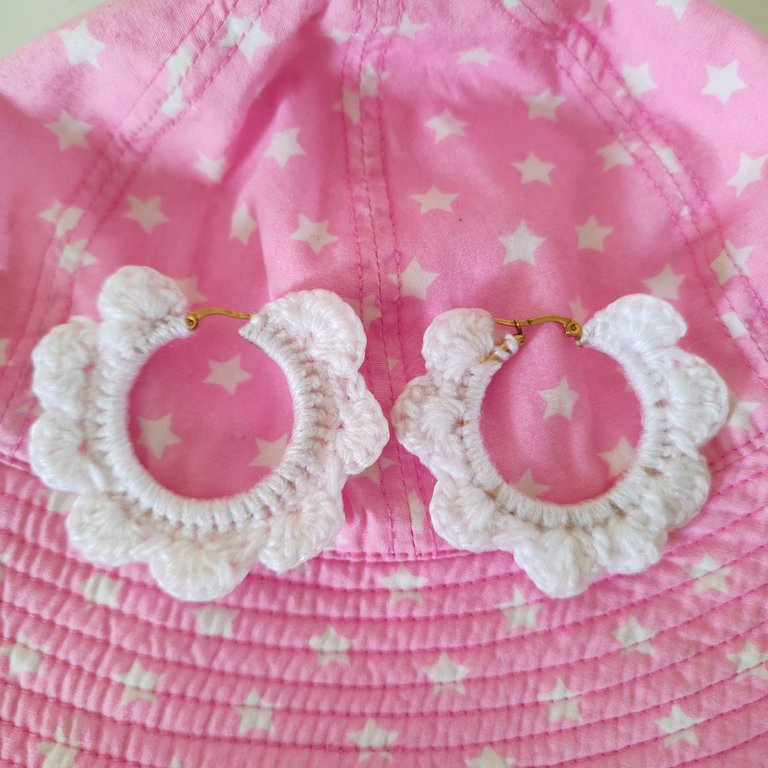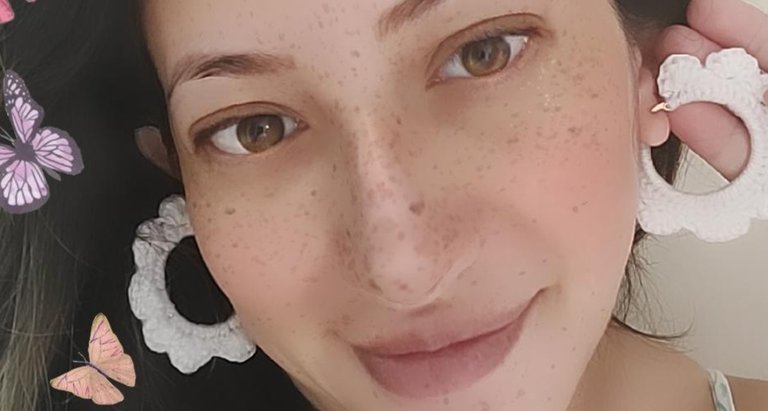 Welcome || Bienvenidos

Feliz viernes a todos queridos amigos pese a ser una semana un poco ocupada y agotadora me complace culminar la semana compartiendo con ustedes mi último proyecto realizado para este gran espacio creativo lleno de gente talentosa a la cual día tras día al revisar el feed logran captar mi atención así como mi admiración por su trabajo, la primavera es la estación del año más hermosa y aunque en muchos países solo hay 2 estaciones las flores siempre florecen por ello el día de hoy ellas son la inspiración de mi trabajo, la cual que radica en personalizar unas argollas mediante la técnica de crochet en forma de flor, para ello utilizare una lana fina en color blanco ya que me gusta por ser un tono versatil y fácil de combinar sin más preámbulos amigos acompañenme al paso a paso para hacer de estas argollas un trabajo artesanal muy bonito y auténtico.
Happy Friday to all dear friends despite being a little busy and exhausting week I am pleased to end the week sharing with you my last project made for this great creative space full of talented people who day after day to review the feed manage to capture my attention and my admiration for their work, spring is the most beautiful season of the year and although in many countries there are only 2 seasons flowers always bloom so today they are the inspiration for my work, which lies in customizing some rings by crochet technique in the form of flower, for this I will use a fine wool in white as I like to be a versatile and easy to combine tone without further ado friends accompany me to the step by step to make these rings a very nice and authentic handmade work.

Materials || Materiales

✨ Aguja de tejer.
✨ Lana blanca y fina de tejer.
✨ Argollas pequeñas.
✨ Tijera.
✨ Knitting needle.
✨ Fine white knitting wool.
✨ Small hoops.
✨ Scissors.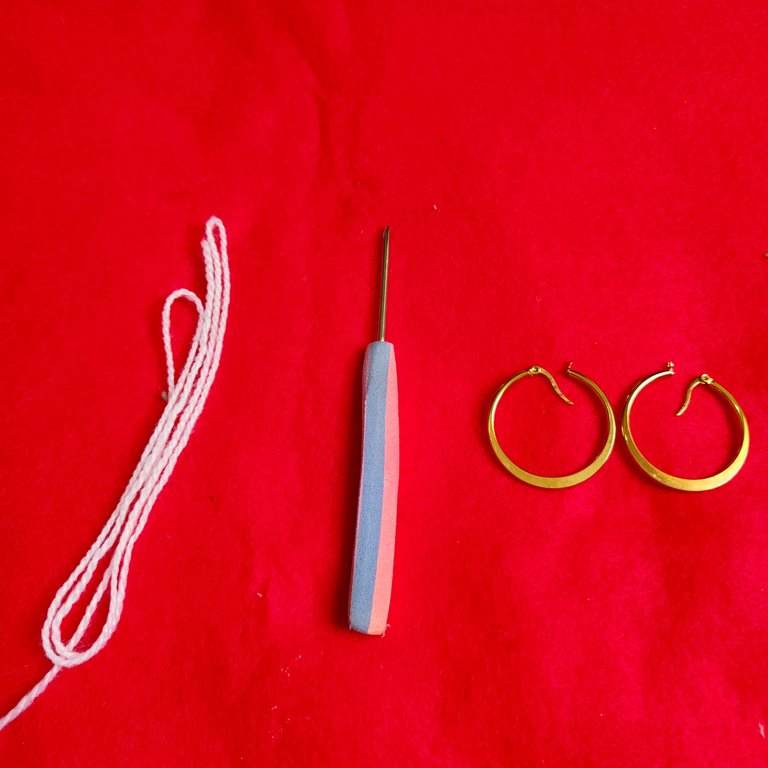 Steps || pasos

✨ Paso 1.| Iniciaremos tomando nuestras Argollas en mi caso las argollas para trabajar elegí unas pequeñas ya que unas grandes por el estilo de tejido se podrían tornar bastante pesadas a consideración personal me gustan que sean ligeras, ahora bien tomaremos nuestra lana de tejer la cual debe ser fina para obtener un delicado acabado y con la aguja de tejer vamos a comenzar a realizar puntos bajos.
✨ Step 1.| We will begin by taking our rings in my case the rings to work I chose small ones since a large ones for the style of knitting could become quite heavy for personal consideration I like them to be light, now we will take our knitting wool which must be fine to obtain a delicate finish and with the knitting needle we will begin to make low stitches.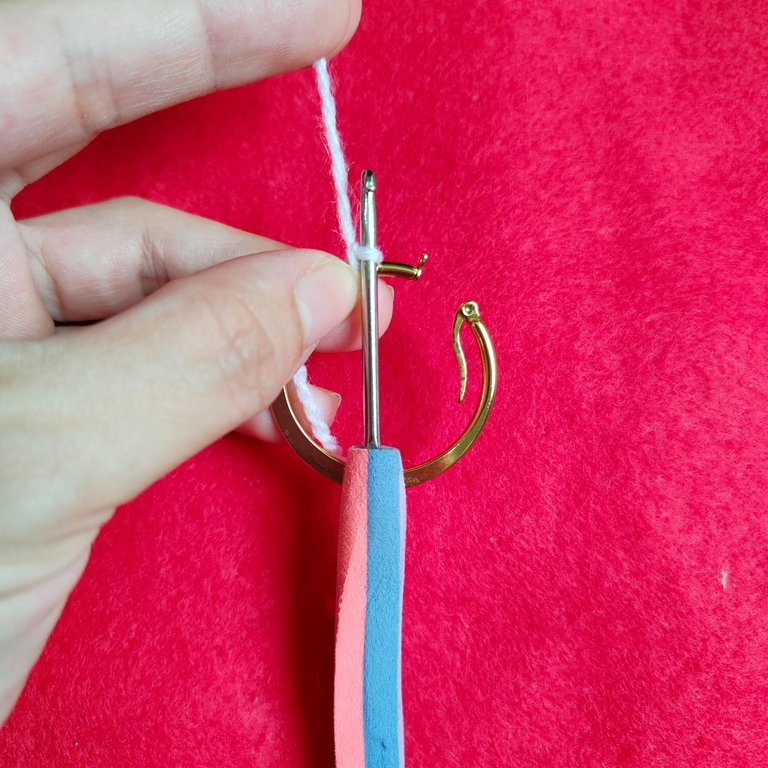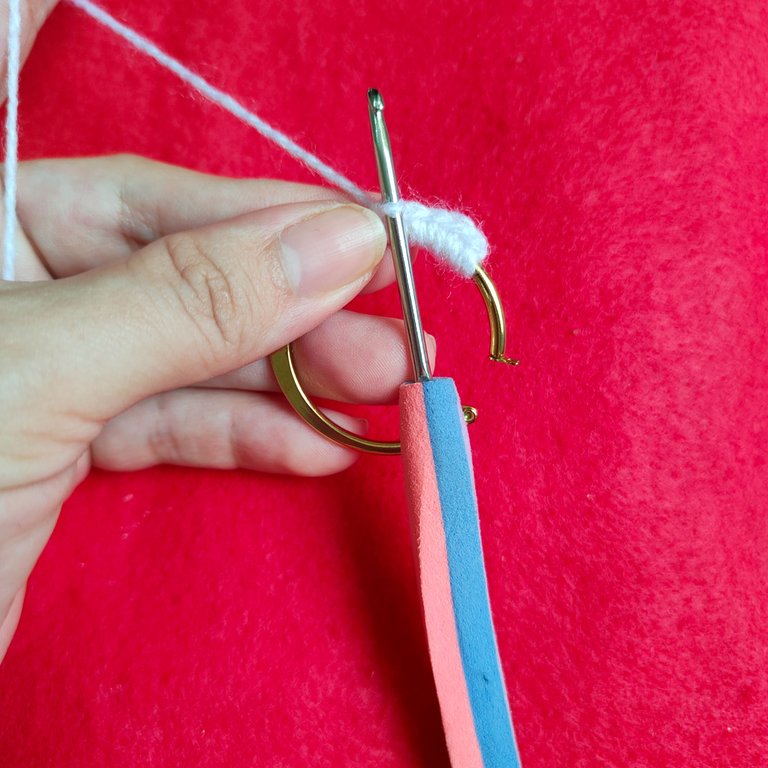 ✨ Paso 2.| En este caso como las argollas son pequeñas realice 40 puntos bajos al llegar al extremo contrario donde iniciamos damos vuelta a la argollas y realizamos una segunda hilera de puntos bajos con la misma cantidad de puntos de la primera hilera es decir 4.
✨ Step 2.| In this case, as the rings are small, make 40 single crochet stitches at the opposite end where we started, turn the rings and make a second row of single crochet stitches with the same amount of stitches of the first row, that is to say, 4.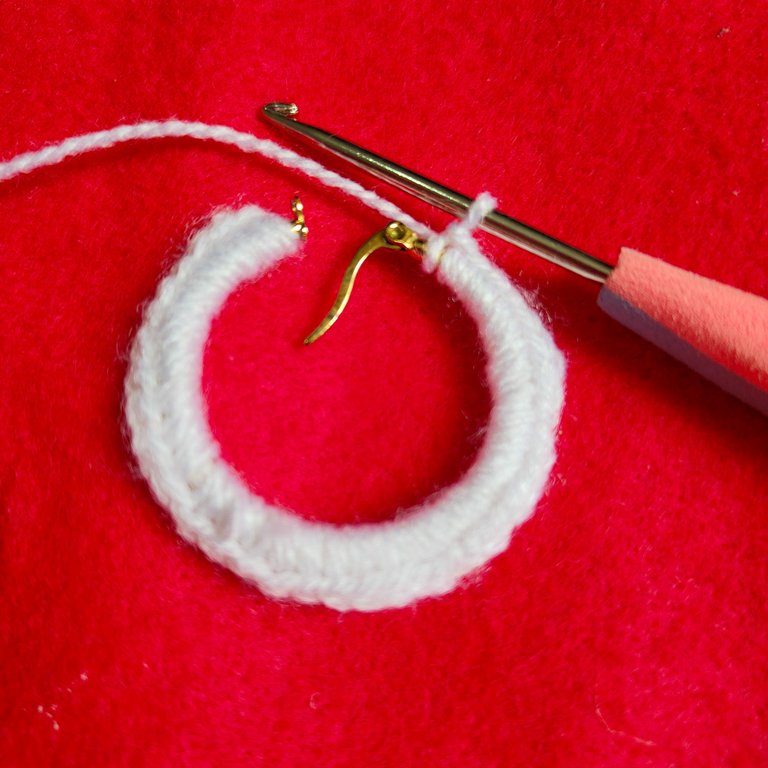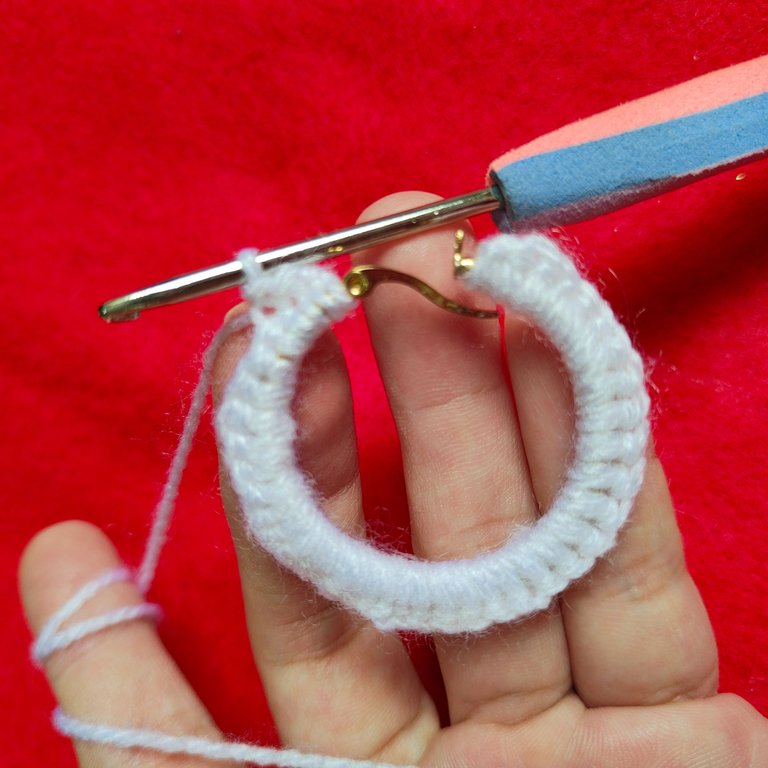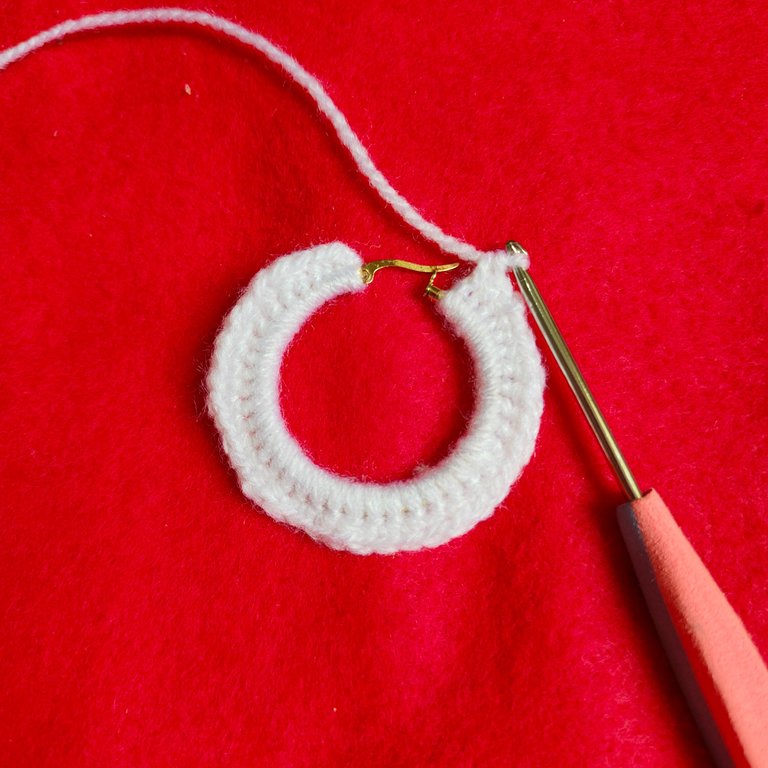 ✨ Paso 3.| Ahora contaremos 4 puntos (esto serán los puntos de distancia entre cada pétalo que vamos a formar) y en ese mismo cuarto punto realizaremos 7 puntos altos seguido de un punto bajo, contaremos nuevamente 4 puntos y volvemos a repetir el paso hasta que culminemos llenar de pétalos lo largo de la argolla.
✨ Step 3.| Now we will count 4 stitches (this will be the distance stitches between each petal that we are going to form) and in that same fourth stitch we will make 7 high stitches followed by a low stitch, we will count again 4 stitches and repeat the step again until we finish filling with petals the length of the ring.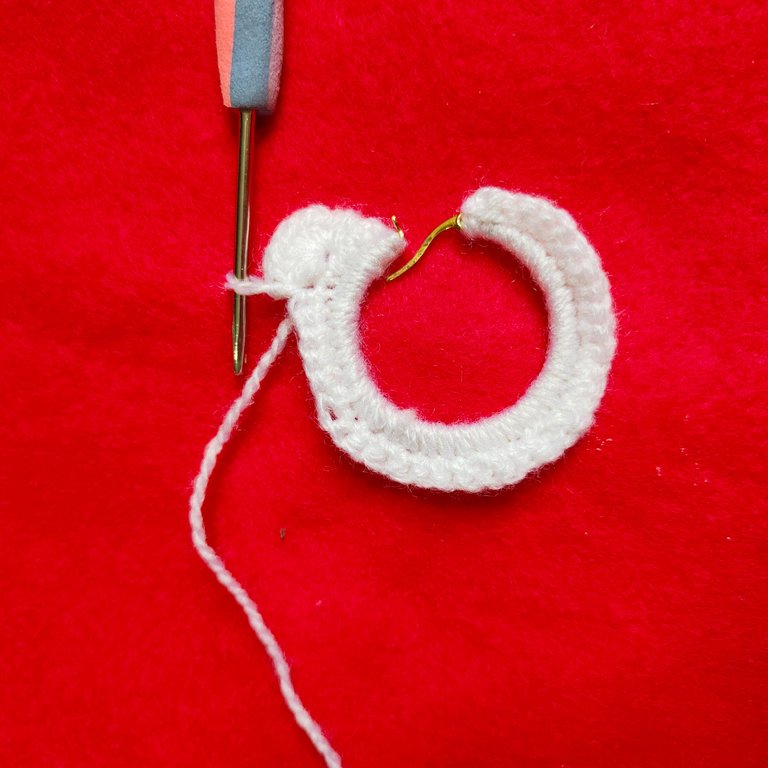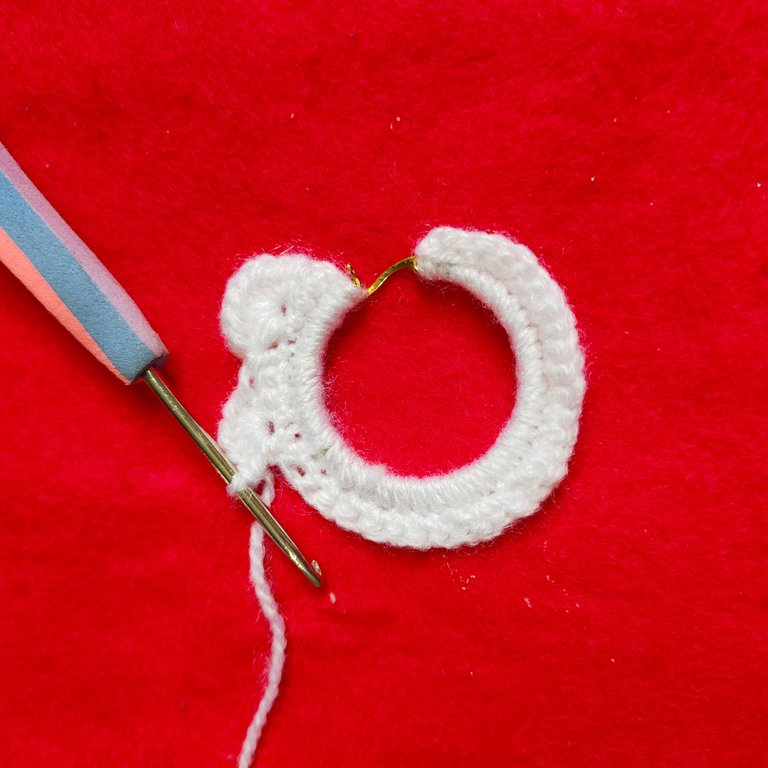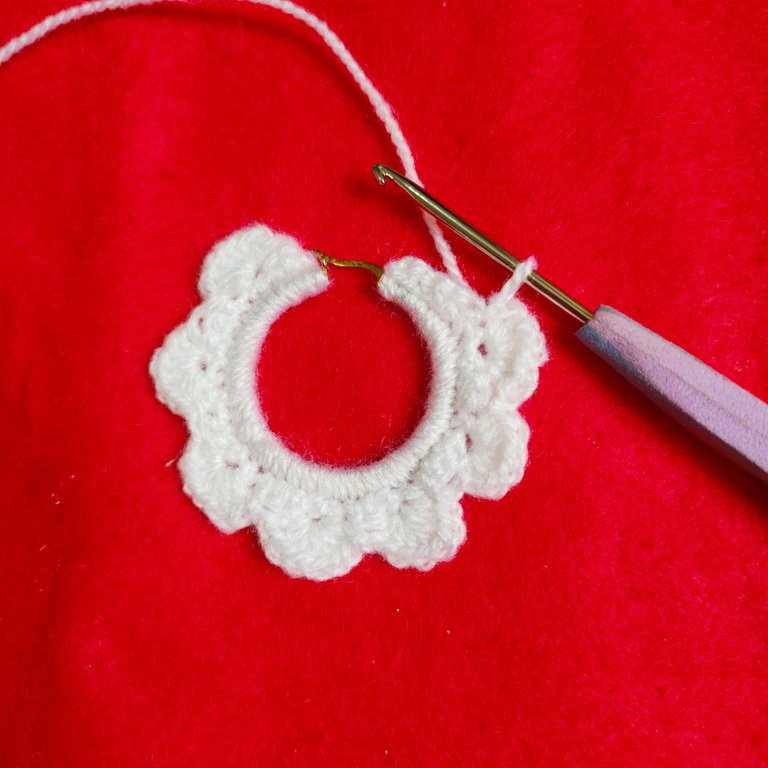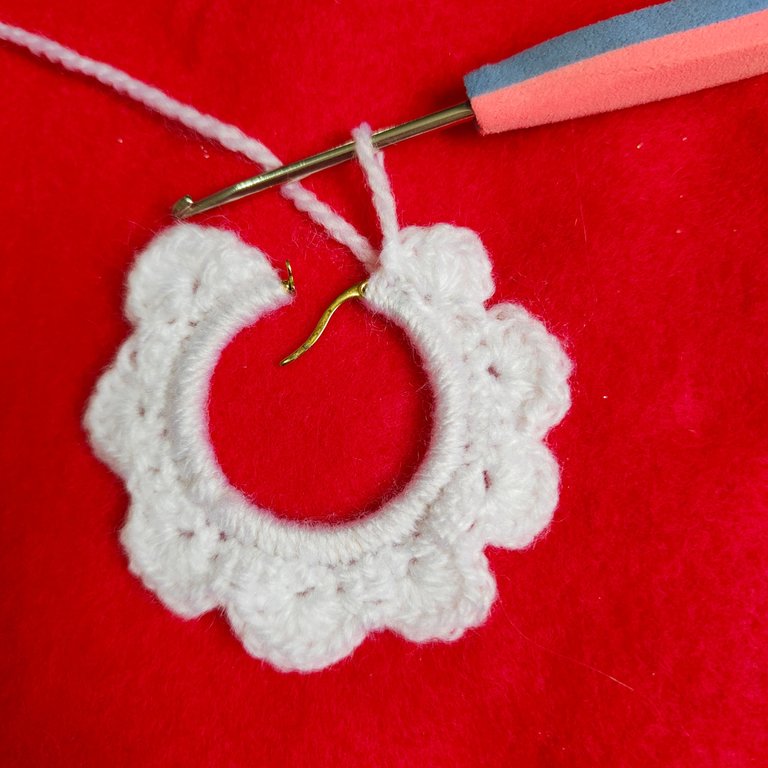 ✨ Paso 4.| Es importante contar a medida del proceso de elaboración las puntadas, así como estar pendiente que tipo de puntadas se realizan para garantizar que la segunda argolla o pieza quede igual a la primera, ya que eso es lo que nos dará un resultado lindo y prolijo en este caso el resultado son dos hileras de puntos bajos y un total de 8 pétalos por Argollas.
✨ Step 4.|It is important to count the stitches during the process of elaboration, as well as to be aware of the type of stitches that are made to ensure that the second ring or piece is equal to the first, as this is what will give us a nice and neat result in this case the result is two rows of low stitches and a total of 8 petals per ring.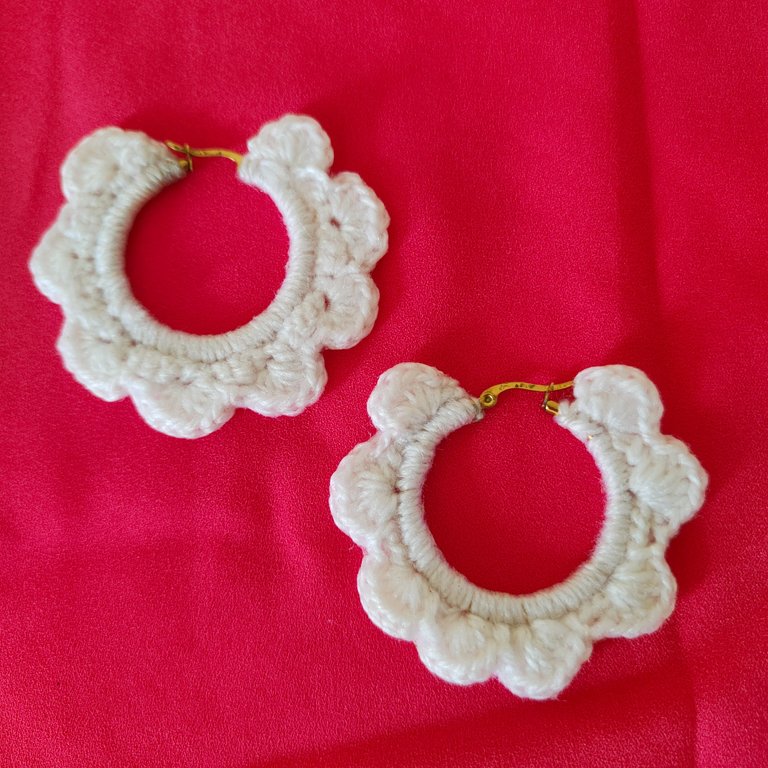 El resultado son unas argollas personalizadas en color blanco que fácilmente se pueden combinar con varios estilos, lo mejor de todo es que son ligeras por lo que no molestan o maltratan las orejas.
The result is custom white earrings that can easily be combined with various styles, and best of all, they are lightweight so they don't bother or mistreat the ears.

Result || Resultado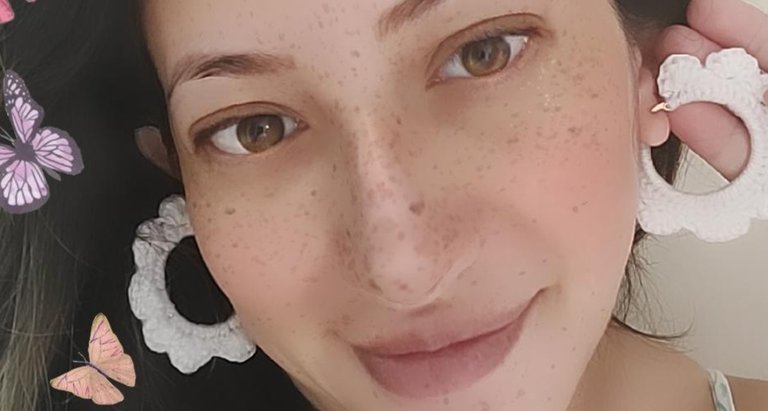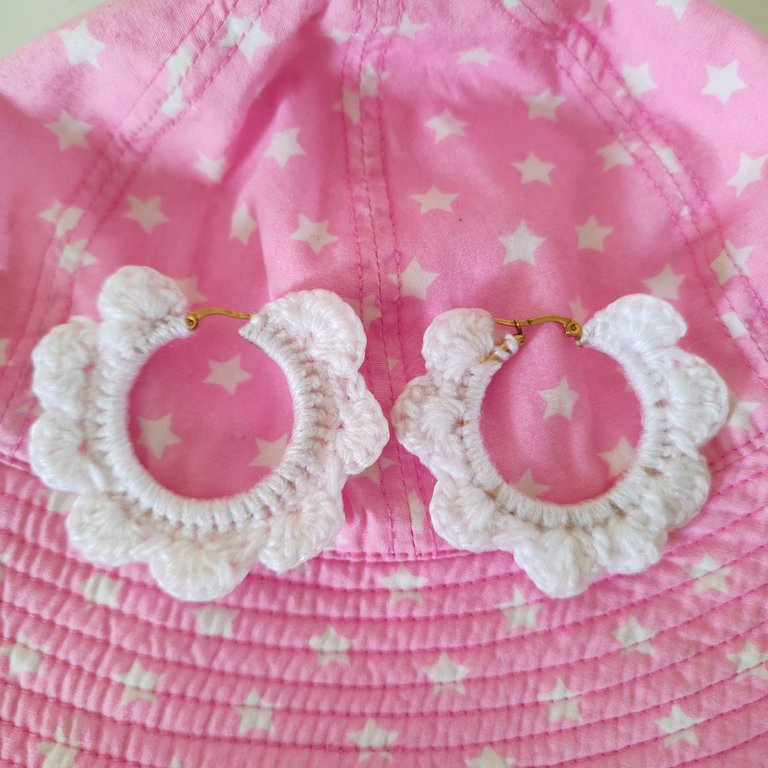 De esta manera las argollas del día de hoy fueron culminadas y agregada a mi colección de argollas personalizadas mediante el croché espero que el diseño haya sido de su agrado estimados amigos, como siempre agradecida con con tiempo, atención, apoyo y comentarios espero que disfruten de su fin de semana junto a sus familia mis queridos colegas creativo de #Hive y #Jelwery desde la distancia un fuerte abrazo.
In this way the rings of today were completed and added to my collection of custom rings by crochet I hope the design has been to your liking dear friends, as always grateful with time, attention, support and comments I hope you enjoy your weekend with your family my dear creative colleagues of #Hive and #Jelwery from the distance a big hug.

📸Autoría del texto , fotografías.| Text authorship, photographs @mili2801
🎥Imágenes y vídeo creados con: |Images and video created with: Youcut video| Bitmoji| Canva
🇪🇸 Traducido con DeepL