¿Cómo están amigos? Espero que hayan tenido un excelente fin de año, y que tengan un nuevo año lleno de alegría y bendiciones. Hoy les quiero compartir esta pequeña edición fotográfica que le realice a mi querido amigo @angelsbravo.
¿How are friends? I hope you had an excellent New Year's Eve, and that you have a new year full of joy and blessings. Today I want to share with you this small photo edition that I made for my dear friend @angelsbravo.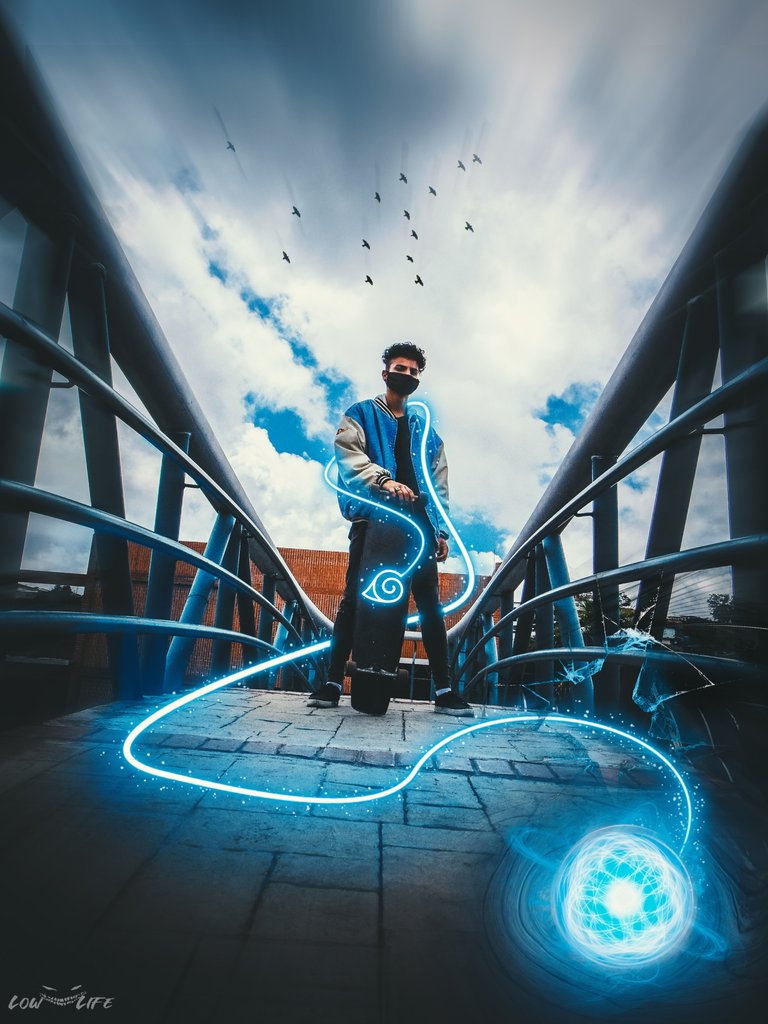 Original Photography

---
For this edition use the following resources:
Para esta edición utilice los siguientes recursos:
Clic en las imágenes para ir a sus fuentes.
Click on the images to go to their sources.

---
Editing process ~ Proceso de edición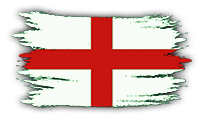 The first thing I did was to open a new project with the photograph in Adobe Photoshop 2020, and with the tool Trace I created the trail that would start from the symbol of the village and go through all the space of the image until it came out of the screen with a resengan.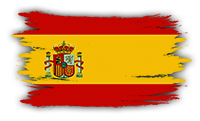 Lo primero que hice fue abrir un nuevo proyecto con la fotografía en Adobe Photoshop 2020, y con la herramienta Trazo cree la estela que comenzaría desde el símbolo de la aldea y recorrería todo el espacio de la imagen hasta salir de la pantalla con un resengan.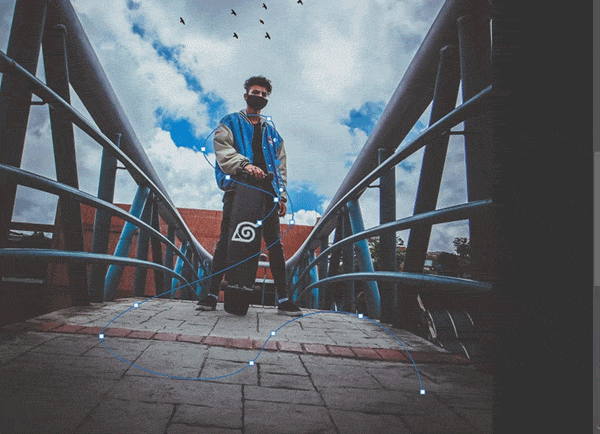 Then create a new empty layer on top of the background one, with the white Pinch tool, with a defined pressure size create the wake around it. To do this right click on the trace and in contour trace, then a small box will appear where we will have to choose the brush and click on the tab to simulate the pressure of this same one. (If you have a touch keyboard this will not be necessary)
Luego cree una nueva capa vacía encima de la del fondo, con la herramienta de Pincel blanco, con tamaño de presión definido cree la estela al rededor de el. Para esto hay que hacer clic derecho sobre el trazado y en contornear trazado, luego aparecerá un cuadro pequeño donde tendremos que escoger el pincel y darle clic en la pestaña para simular la presión de este mismo. (Si tienes un teclado táctil esto no será necesario)
---
Then on the background layer and with the Patch tool I removed the village symbol from the longboard and added the PNG image with the new symbol.
Después en la capa del fondo y con el la herramienta de Parche elimine la el símbolo de la aldea de la longboard y añadí la imagen PNG con el nuevo símbolo.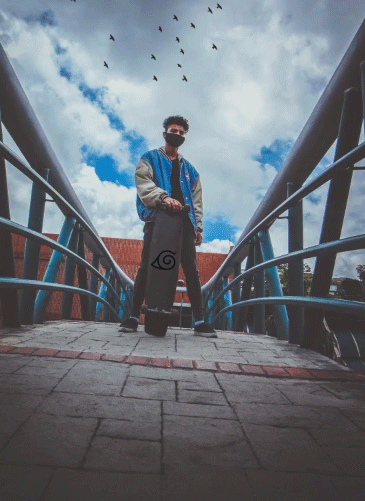 Then with a layer mask and with the black brush in front I removed some parts of the wake to give it the effect that passes behind it. I added some particles around the trace and for this I created a new layer, I went to the brush settings, chose a brush without blurring and set the following settings to create the particles.
Luego con una mascara de capa y con el pincel negro de frente elimine ciertas partes de la estela para darle el efecto que pasa por detrás de el. Añadí unas partículas al rededor del trazado y para esto cree una nueva capa, me fui al ajustes de configuración del pincel, escogí un pincel sin difuminación y puse los siguientes parámetros de configuración para crear las partículas.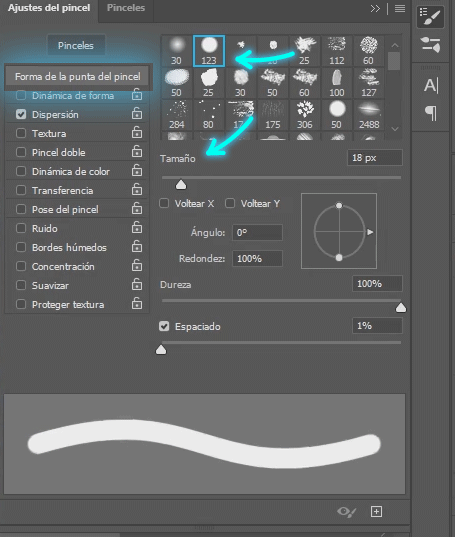 In the same way, to create the wake above the right-click path, add the particles.
De la misma manera para crear la estela encima del trazado con clic derecho le agregue las partículas.
---
Then I gave the stele the brightness, the particles and change the color of the village symbol, for this in the two layers I went to the diffusion options and added some small celestial glows.
Pase luego a darle el brillo a la estela, las partículas y cambiar el color del símbolo de la aldea, para esto en las dos capas de las mismas fui a las opciones de difusión y añadí unos pequeños resplandores celestes.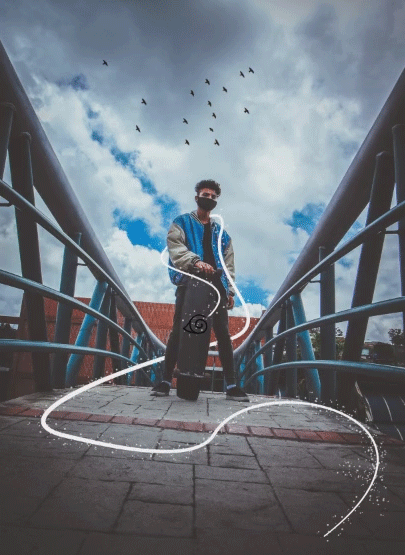 Then I proceeded to add the last PNG images, the broken glass of the screen and the resengan that would go through this same one, I added a new layer with a fuzzy and light blue brush to give it illumination and finally I added a new layer with a distortion effect behind the resengan.
Luego con procedí a agregar las ultimas imágenes PNG, el vidrio roto de la pantalla y el resengan que atravesaría este mismo, agregue una nueva capa con un pincel difuminado y celeste para darle iluminación y por ultimo agregue una capa nuevo con un efecto de distorsión atrás del resengan.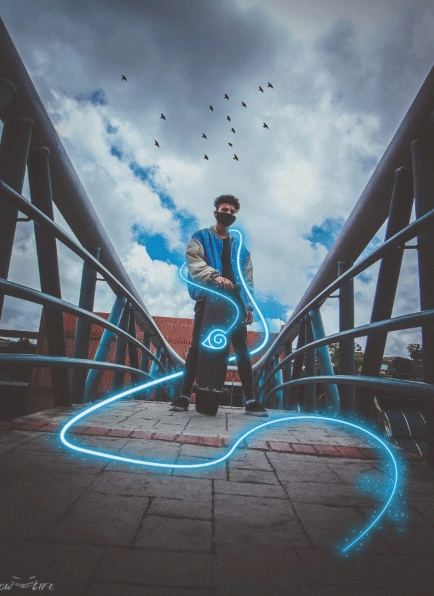 ---
To finish I added several illuminations with different layers and with a brush of the light blue color blurred and enough transparency around the whole stele, I duplicated the background of the image and turned it into a smart object to give it a motion blur filter around, I overlayed it over the main background and then with a layer of curves I lowered a little the shadows and raised a little the blue tones, I adjusted the details with a layer mask over the new layers and the result was this.
Para finalizar añadí varias iluminaciones con capas distintas y con un pincel del color celeste difuminado y bastante transparencia al rededor de toda la estela, duplique el fondo de la imagen y la convertí en objeto inteligente para darle un filtro de desenfoque de movimiento al rededor, la sobrepuse sobe el fondo principal y después con una capa de curvas baje un poco las sombras y subí un poco los tonos azules, los detalles los ajuste con una mascara de capa sobre las capas nuevas y el resultado fue este.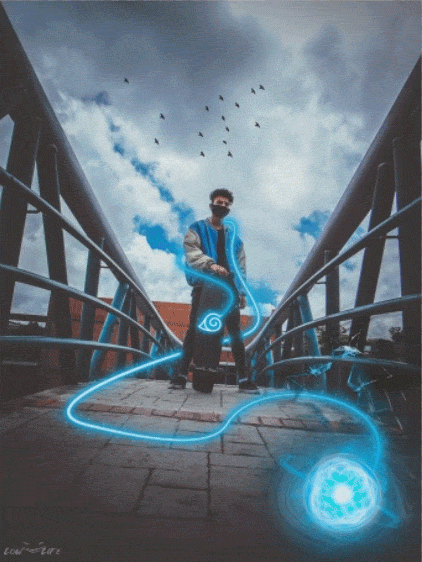 ---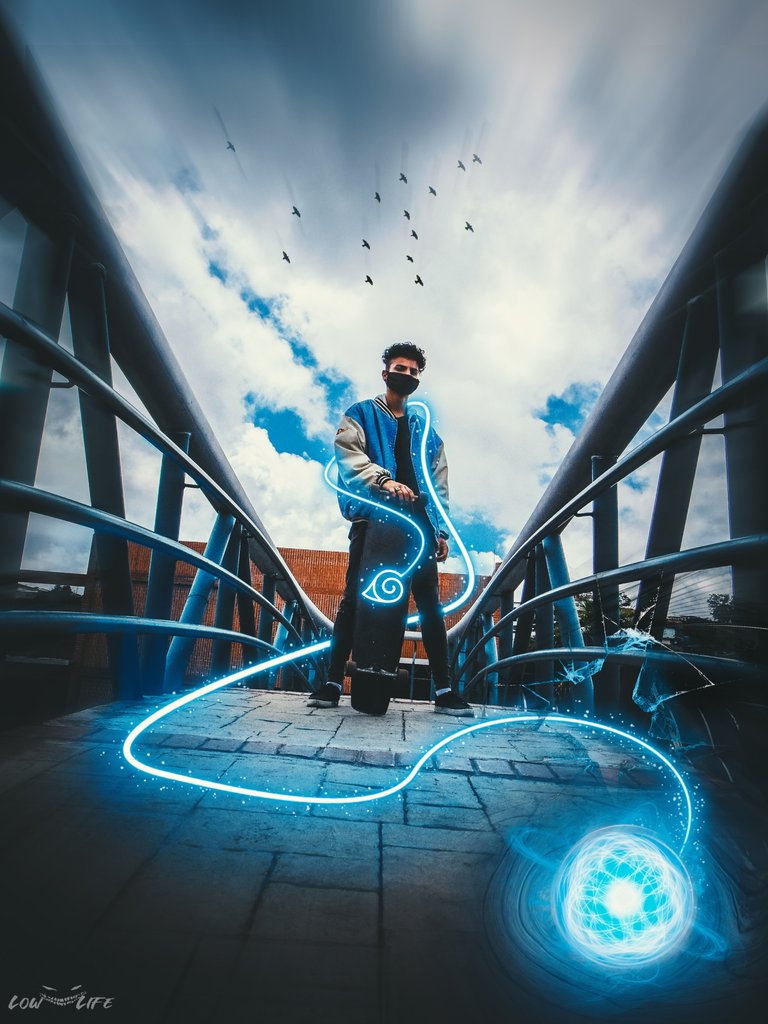 Y bueno queridos amigos este a sido todo el proceso tras la edición, espero que les haya gustado cualquier critica constructiva o consejo es bien recibido y agradecido de corazón, sin mas que comentarles amigos que tengan un excelente año y hasta la próxima!
And well dear friends this has been the whole process after the edition, I hope you have liked any constructive criticism or advice is well received and grateful from the heart, without more than comment friends who have an excellent year and until next!

Discord: lowlifevzla08#1400