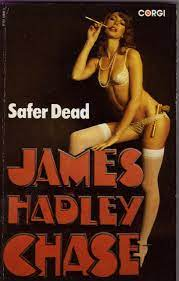 Image is sourced from Google
TITLE: Safer dead
AUTHOR: James Hadley Chase
ISBN 13: 978-055-209-819-9
Book summary
---
This book is a crime novel and that was written in a first-person narrative. The story centered on a girl "Fay Benson" who was said to have disappeared during August of the preceding year. Fay was a song and dance artist worker at the Florian nightclub in Welden which was 60 miles southeast of San Francisco. However, the disappearance of Fay Benson remained a mystery as there wasn't much indication about the cause of her disappearance.
On August 17, she had come to the club as usual and went to her dressing room to prepare for her act but it wasn't long before the call-boy came to tell her that her act had been scheduled to start in five minutes. There she was, wearing her stage wares consisting of a bra, pair of spangled shorts, top hats, and some feathers. She appeared ready, so the call boy left her. He was however the last person that saw her. At least, that is what was written in the crime report.
When it was time for her stage play, she didn't show up, the call boy was sent to fetch her but she had vanished. There was a search for her starting from the delivery exit. The stage door exit and then, the main exit. Those in charge of those exits were questioned but none had seen her. The manager believed that there is no way she could have vanished in her appearance unnoticed so he presumes that Fay was still in the building. And after the whole building was searched and they still didn't find her, the manager raised an alarm and the police were called in. it was however during police investigation and interrogation that they got to know that Fay had gotten the job at the club through an agency and the agency also denied knowing anything about her, except that, she had told them, she had worked at the swallow club in San Francisco.
On investigating the swallow club, the swallow club had never heard of her, neither did she appear to have any friends. Even shad hotel she had once stayed in and a moderate joint which was near the club had said she never had visitors nor any mail. Due to insufficient information and ghost leads, the police dropped the case after working at it for a couple of weeks. She was seen as one of the thirty or more people that walked out of their homes every day and then disappear, but somehow her case felt different. She wasn't just anyone, but who is she?
After looking through the Fay Benson crime file, Sladen and Bernie decided to take on the case and do some digging just maybe they can cover some new grounds and source for more information since they believe that a lot of people don't like talking to the police and therefore withhold vital information to their selves and then play dumb. Before they finally agreed, Fayette had to agree to cover all their expenses. Sladen and Bernie also had to agree on keeping account of every dime they part with.
A single glance at Fay Benson's seductive picture moved Sladen then he passed it to Bernie saying "if she's as good as she looks, then she's worth finding." They traveled in a Buick roadmaster hired in San Francisco to Welden which seems to be attractive to eyesight. On getting to Welden, they met with a patrolman who described where Shad Hotel is. After about five minutes of driving, they parked the car opposite the hotel garage. They carried their bags across the street and entered the Hotel. They got two rooms on the first floor and they ordered their bags to be taken into those rooms. Then they requested for the bar and the clerk gave them a description, when they got there, there was no one in the bar except the barman who was reading the evening paper. After ordering two "highballs", Sladen started the interrogation. When the name "Fay Benson" came up, the glass cup in the hand of the barman slipped out of his hands and got smashed on the floor. He immediately bent to pick the broken pieces under the counter. But when he straightened up, there was a change in his facial expression. After some series of questioning, he provided answers to some while others were answered in the negative and then said unto them "you will have to be pretty smart to crack this Fay Benson's case."
On getting to the Florian club the following day, the captain of the waiters led them to a corner table. They decided on interrogating the manager and the call boy to know if all he had said to the police was complete or there is more. Their interrogation was a shared responsibility, Sladen went to meet with the manager while Bernie was to source information from the club hostesses. On interrogating Weiman, Sladen was made to understand that Farmer "the guy guarding the stage door exit on the night of the Fay Benson disappearance was found dead two days after the incident. He was said to have been killed by a hit-and-run driver and they never found the driver. When Sladen asked Weiman about Fay's personality, "she was a fine kind and her act was a success, she wasn't the kind of girl that could get into trouble", was Weiman's response.
Sladen then requested to see the callboy "Spenser". Spenser was tall and lanky and most probably in his early twenties. On interrogating Spenser, an additional piece of information omitted in the police report came up, that she was expecting a call that night. He did some digging in Mike's bar about Farmer Joe and Jake Hesson who was formerly the barman who used to serve Joe. Jake Hesson already left Mike's bar to a supposed Shad hotel. After meeting with barman Larson", it was noted that Fay Benson booked in at Shad on the 9th and then disappeared on the 17th of august.
Joan Nichols was the name of the lady that came to Shad hotel to ask if Fay Benson had been found. Bernie came to Sladen with information about the possibility of a ghost boyfriend of Fay Benson. The hostess at Florian club had opened up to Bernie that on the third night of Fay's arrival at the club, she had seen her talking to the driver of a car parked at the far end of the alley at the back of the club. Though she couldn't see much of the driver, she did see that he had his hat pulled down low and he wore dark glasses which she thought to be odd as it was already dark. The car he was in was a green and cream Cadillac convertible. And that two nights later, she was able to have a closer look at the guy when he came to ask of Fay Benson. She had seen him talking with Farmer. She described the guy to be over six feet tall, lean and suntanned with an eyebrow and mustache.
Sladen and Bernie attempted to go over to Joan Nichols address at 76, Lincoln Avenue. Welden. W. 75600, but they couldn't interrogate her as there was news of her fall off the stairs in her home and breaking her neck in the process. That happened after she had come to Florian club to ask of Fay Benson. There was suspicion now because those people that seemed to have come in contact with Fay Benson or had some information about her were now dead. To think Farmer Joe's and Nichol's death was a coincidence? They didn't think so. Sladen and Bernie believed there was more to the Fey Benson story as even Farmer's death by a hit-and-run didn't seem a coincidence. They, therefore, presumed Farmer and John Nichols were gotten rid of probably because they knew too much. It suddenly kicked in, then an aura of fear came over Bernie. He asked Sladen "what if someone tries to knock us off?" He immediately expressed his concerns about furthering the ongoing investigation they were conducting. His fear was allayed by the charming bravery and words from Chet Sladen.
They went in search of Jake Hesson according to the address given to them, when after climbing the stairs leading to his room, Sladen pushed the door open only to behold the lifeless body of Jake Hesson and the knife driven through his heart. From the look of it, he had been dead for some hours, Sladen again speculated that perhaps Jake also knew too much, which explains why he left Florian club after the Fay Benson incident.
After a while, they had a gunman on their tail. The gunman was a short thickset man, he had in his right hand a .38 automatic which he pointed at Sladen. He threatened fire and brimstone saying " I will do to you what I did to Hesson if you stay one more day in this city". He went on saying he wouldn't hesitate to kill them if, after the ultimatum, they are still found in the city. Bernie got more scared but Sladen with the help of Welden police set trap for the gunman. It wasn't long after that the Welden police took care of the gunman. Bernie returned to give Fayette a full report and begin the first installment of their findings.
After more and more investigation, it was discovered that the green and cream Cadillac convertible belonged to Hamilton Royce with an alias "Henry Rutland" who runs a small nightclub "Golden Apple" in Tampa city. They also found out that Hamilton Royce was one of Tampa's untouchables. The Golden Apple was a very powerful club attended by the powerful city men and women of Tampa. Their members include; The Tampa Commissioner of Police "Commissioner Doonan" and even the millionaire's wife "Cornelia Van Blake". At last, further investigation revealed Fay Benson's real name to be "Frances Bennette", and that she was a showgirl at Golden Apple club. Her real age was 26.
Investigation on Cement and Barrel sold and their distributors almost at the time of her disappearance gave the possibility of Fay Benson's remain in an overcoat. After several thoughts, an idea came up about checking possible locations on the map to see if there was any local water around. The only river body with the highest possibility to have concealed Fay Benson's remains was lake Baldock. Well, it was their speculation, one they held unto, at least until they can ascertain the fact. A thorough search for several hours brought the one barrel at the lake Baldock's bottom to the sight of the expectant crowd that had already gathered. Creed, "one of the police officers that led the water search" recognized the barrel as one of the many thatSperry had earlier sold off to Fleming.
Ten minutes of steady hammering cracked the cement and the barrel. The forensic guy present ascertained the remains to be that of Fay Benson and that she had been killed by a blow to the back of her head, damage possibly done by the butt of a revolver. He concluded that she was dead even before she was wrapped up in the cement.
Reasons Why Fay's Disappearance Was A Mystery
---
The manager of the Florian nightclub had told her he would extend her contract as she was much of a success to the club. Why would she just disappear while such a thing is coming her way?

She was in a pair of strangled shorts, wearing a bra, top hat with some feathers. She couldn't have disappeared unnoticed.

The clothing she wore to the club was still in the dressing room and her purse which contained twenty dollars remained on the dressing table intact.

The stage doorman at the customer exit denied seeing her leave when questioned by the manager and the man in charge of the club basement hadn't seen her either. So how did she disappear?
To enjoy every bit of the action and know more about the Fay Benson mystery, get the book "safer dead" by James Hadley Chase at bookstores; offline or online.
Major Characters
---
Edwin Fayette: He is the Editor of Crime facts "a popular monthly magazine of crime and detection stories".
Chet Sladen: He works at crime facts and he is brainy behind most of the successes recorded by the Magazine company. He had his way with words and he is reputable. He also has a smart personality.
Bernie Low: Bernie is not much of a thinker but an excellent writer. He was an ex-Hollywood scriptwriter, "short, plumb, and has impressive looks. He most times feels insecure about losing his job anytime he was summoned to Fayette's office.
Al Weiman: He is the Florian club manager, short and dark.
In Conclusion
---
The story was perfectly weaved, even the crime scene was well described. It looked almost real like I was watching a movie, plus it did better than most crime movies out there. The crime scene almost shares the same genius with "Kid Lawyer Boon" by John Grisham because the crime scene portrayed in both novels was well staged and it makes me wonder how at the end, the evidence found will turn the events of things and somehow convict the guilty. I mean, we are talking of a clean abduction, a clean murder, erase of almost every trace to the doorstep of the perpetrators. Both authors have my respect as they displayed commendable talents, a great mastery of events narration, not to mention the unraveling was intriguing all step of the way. Both books get readers on their toes because nothing is certain unless ascertained. They mostly have this unpredictable twist.
I don't seem to find any fault in the novel. It exceeded my expectations and there was this great flow in thought as the writer narrates in each chapter and part; painting the true picture of Fay Benson, her horrific death, and the perfect ending.
Commendation
---
I love the way the characters and personalities were portrayed
I love the suspense. And it also thought me something, that "we have to search deeper sometimes to get to the truth about some things". Exercising a little more effort and patience will always pay off.
The whole narration has a bit of comedy added to it, like some of the funny exclamations by the characters portrayed. The writer eventually succeeded in making the story lively for all to read.
It opens my eyes further to a typical example of things happening around us; the extent that people pursue wealth, intoxication, corruption, and misuse of authority by men of power.
Would I recommend this book to someone?
---
I just did!!!
Ratings?
---
4.7 out of 5 stars