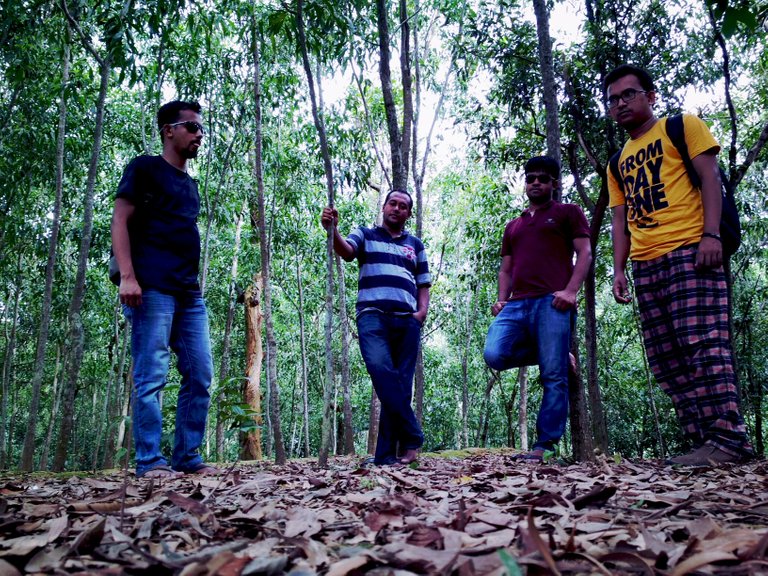 we were at BARD, Comilla
---
Plan and Fun
I have a friend circle who do planning all time. But our vision and mission never meet together. Our imagination use to go a long way. Then when it comes time to go, no one can be found that day. This is a big problem in my circle of friends.
On Eid-ul-Fitr 2017, we committed- no matter how many problems would come up that time, we might not back down. We must go. Since everyone's office is closed due to Eid occasion, we planned to visit Comilla to take advantage of that vacation.
Comilla is my home district. So the responsibility of implementing that plan automatically came to me. On the afternoon of Eid, I called everyone and confirmed about our tour next day.
As always, everyone I called by phone was very interested, very positive and confirmed they would definitely go. But excuses one after another started coming from evening. At the end, I got annoyed and decided that if no one would goes, I might go alone.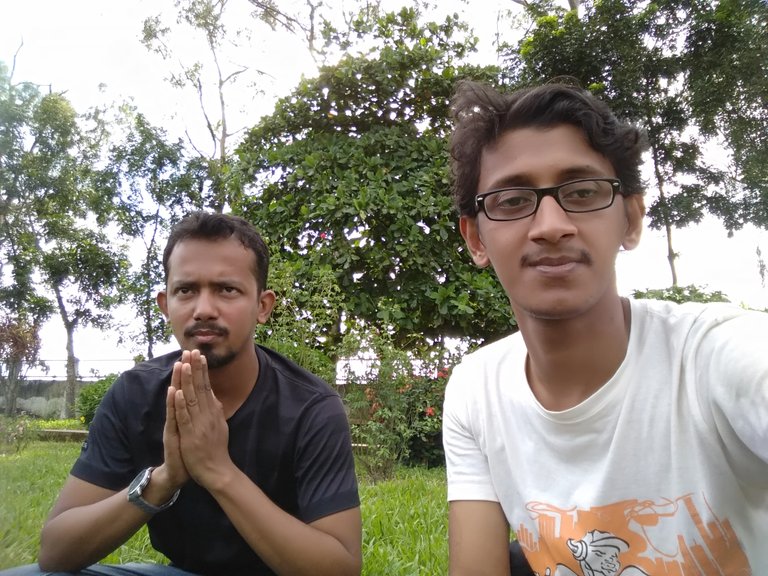 I was on planning mood with Hassan
---
Childish Excuses
Finally the number was not bad- six of us agreed. The most important thing was Assad decided to go. Always Assad is our Jatayu (জটায়ু). As long as you are with him, he will talk and keep everyone laughing. He never become tired.
At around midnight, I suddenly heard a bip sound on my mobile and saw that it was a message. Russell sent, he wrote: My mother forbade me to go.
What a devotion! I was fascinated and became speechless thinking about his lame childish excuse.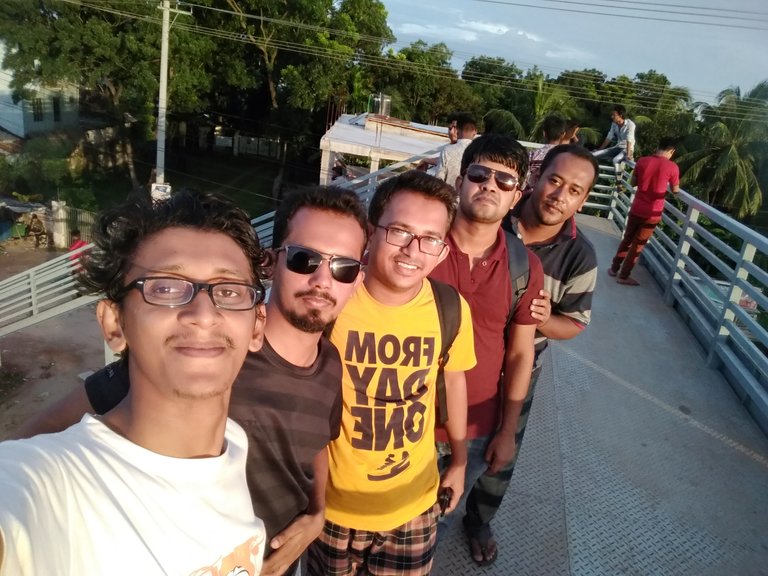 at the moment we started
---
Started the tours
Finally we left Chittagong at the next morning. I wandered around all day. There are few places to visit in Comilla. However the number of places, these are all famous. We went to BARD, Shalban Bihar, Comilla University and Dharmasagar Paar.
We planned to stay in Comilla that night. In the morning we would buy some Khadi clothes and Rashmalai of comilka and then hoped to return.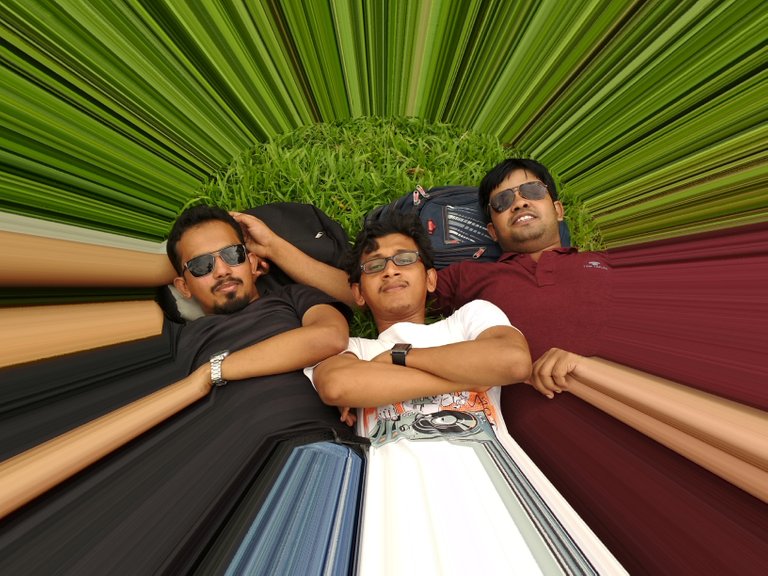 Me, Hassan and Joynal, at Shalbon Bihar
---
We'll look at you (আমরা তোমাকে দেখবো)
When we went to eat at the restaurant, Joynal called the hotel boy and confirmed him:
Take care of us. We'll look at you.
আমাদের দিকে খেয়াল রেখো, আমরা তোমাকে দেখবো
Restaurant boys usually pay a little more attention when they become assured of having some grants from the customers end. So after the confirmation by Joynal, the hotel boy started providing us services as soon as possible, he was bringing what we demanded and the required amount was more.
Assad noticed it. He was astonished-
-What a great technique! I'll apply it from now on.
Then wherever we went, Assad would simply say: We'll look at you. (আমরা তোমাকে দেখবো)
Even at the taxi, he repeated that line for the driver. After reaching the destination, the driver claimed higher rent as per Assad's confirmation. We scowled at him.
Assad confidently ignored to pay extra. He told: I told that We would look at you. We are looking with open eyes. That's all.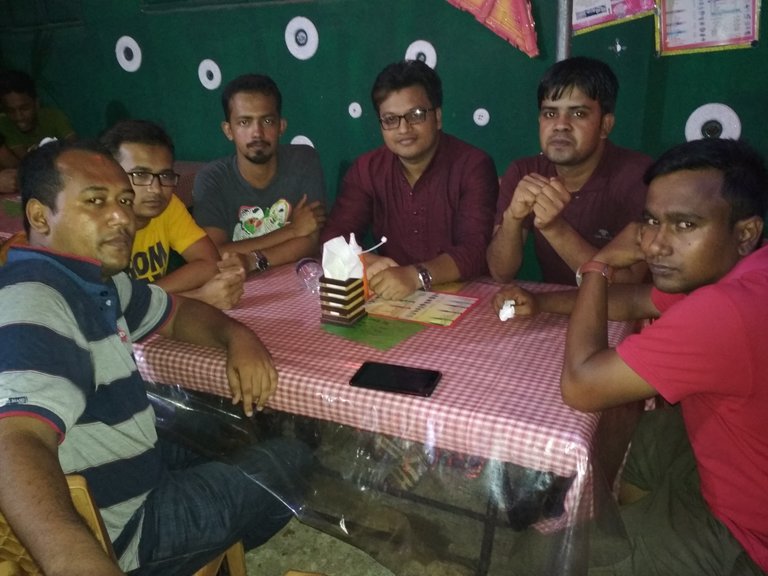 at a restaurant where Assad learnt to convince hotel boys
---
White bedsheet turned to red printed one
I arranged to stay at night on a Bachelor house in comilla city. It was owned by some juniors who studied at Comilla University. They went to their villages at eid vacation, that's why the house was empty.
There were 2 of us in each room. I was too tired to fall asleep as soon as I lied in the bed. But after a while I woke up. It was bedbugs scratching my back and I saw by the light of the mobile phone on they were uncountable.
They were so aggressive that if to take me away. The bed turned red with blood due to the beating of bugs. The white sheet looked like it was printed by red design.
I was just wondering that how they sleep here! I tried a lot but it was not possible to finish by killing the bugs. Then I tried to sleep on the floor, but there were also bed bugs and I was very tired from wandering around all day. I was begging for mercy.
I went to the dining room to sleep on the floor, but my luck was playing with me. the fan in the dining room was not working and the weather was hot enough.
---
Photo scandal
I was trying to sleep on the dining room floor with the scorching heat. A few later I found another person lying next to me.
_-Why are you here? Is it caused by bed bugs too?
-Not for the sake of bedbugs, it's for the sake of Grig bugs. (ছারপোকা না রে ভাই, ঝিঁঝি পোকা)
I couldn't catch Hassan's point. I called for explanation. He explained:
-It's Assad. The great Assad. He is snoring like the whistle of train. And he is discharging gas like the missile of afgan.
---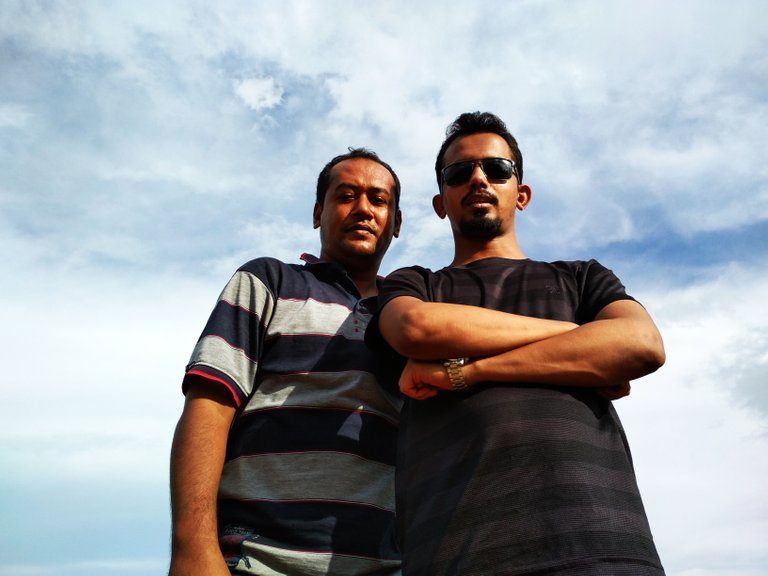 me, with our Jotayu (জটায়ু) Assad
---
Anyway, I passed the horrible night and woke up in the morning. Hassan was calling everyone to show something amazing.
That's were a few pictures captured last night. And the object was sleeping beauty of Assad at night. His clothes were not in the right places and his lungi, a skirt like man-wearings for the bottom part, was up on his face.
Hasan clicked from a beautiful angle the scene where the poor man covered his face with that lungi. Don't please imagine about the rest.
Assad grabbed Hasan's hands and started requesting to delete the pictures. Although Hassan said that he had deleted it, Assad did not know that he had already copied it and put in another place.
Later, the picture came to all of our mobile phones and now it is a powerful weapon for us to blackmail Assad.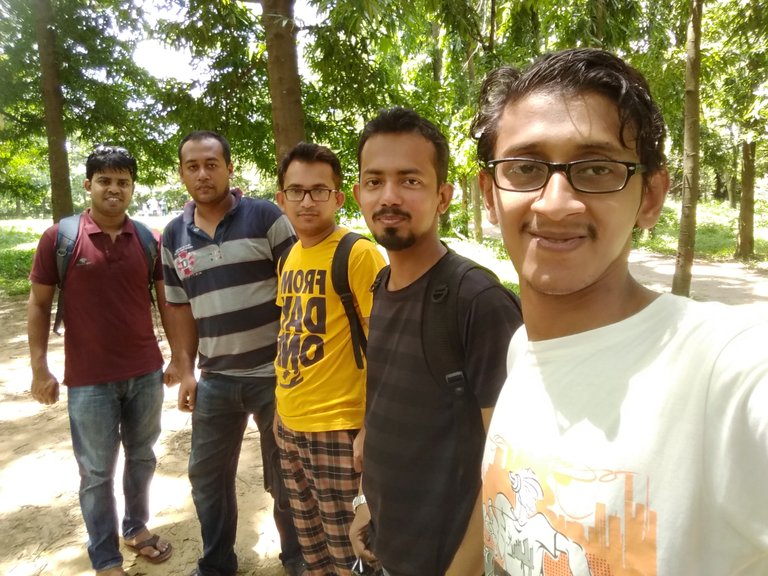 ending chapter of our tour
---
End of the trip
The successful completion of that beautiful trip was that we planned to arrange tour every year Eid vacation like that year.
Of course we couldn't arrange again after that tour. Everyone became busy with their own job, but the memory of that trip still gives us joy.
In fact, friendship means always a little more joy.

---
About Me:

My Footsteps on Virtual World:
---
"I am an engineer by graduation
a teacher by occupation
& a writer by passion"

---
        I believe, Life is beautiful!