So here's the idea....
Over a year ago our team at the Worldbuilding community made a token on Hive-engine with the goal of it being an extra currency tip to Creative Writers and Authors on the Hive Blockchain. We named it the Writers Token (WIT). We have noticed the moderately low payouts on extremely good authors and want to supplement it in some way. We love writing and we want to give back a little bit of extra value to our fellow writers of Hive. Soon after purchasing the WIT token some financial troubles prevented us from further expanding to what we consider a fully functioning Token. We still have all of our tokens after doing a buy-back in the summer. Well, all but ONE token. And the financial troubles have ended! Meaning it's finally time!
We're launching the Writer Token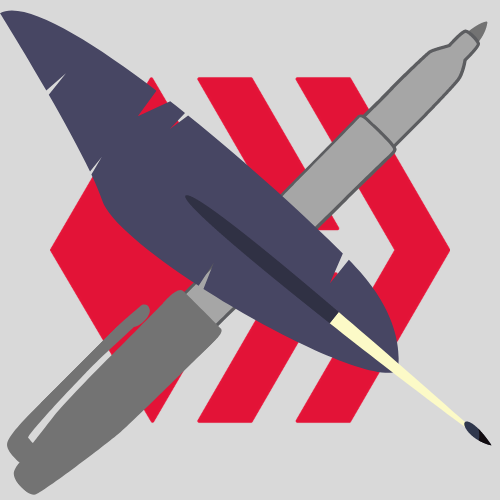 Summary
The Writer Token (WIT) is a token launched on the Hive-Engine.com smart contract platform. It is a consumable in app token designed as a way to tip excellent fiction and non-fiction writing on the Hive Blockchain. It's distributed by Scotbot (services offered by hive-engine.com). The token serves as a way to promote creative writing and author engagement in a community of like-minded individuals.
This token offering features:
An airdrop for CCCF delegators
Token sales on hive-engine.com or tribaldex.com
Ongoing proof-of-brain distribution powered by Scotbot (a python based voting bot that distributes rewards based on WIT stake)
Distribution through delegated proof of stake mining (TBD)
Token Launch Pricing
1,000,000 Writer Tokens will be available for sale in waves at a valuation in line with the current price of CCC Token
Miners will be added several weeks after launch in limited supplies with exact numbers and costs TBD
Our Airdrop is coming
Writer Tokens will be distributed to delegators of the @CCCF project with a 1 for 1 ratio. Anyone delegating their staked CCC tokens to the CCCF project as of December 31, 2021 will be eligible for the airdrop and will receive their tokens in their Hive-Engine wallets shortly.
We may look into doing further airdrops at a later date in time according to the needs of our project.
Airdrop
The Writer Token team will provide an airdrop to approximately 65 accounts. We got these users from a list of delegators to another creative cause. The Creative Coin Fund, @CCCF aims to provide delegators of CCC coin a return on their investments in the form of weekly payments from a fund. Our team has been in full support of this endeavor early on and have been thinking of ways that we could provide a similar thing for our own token. Around that time the leader of the Creative Coin Fund contacted us inquiring of a partnership and proposal; Give delegators of the Fund a payout of WIT as well! And that's exactly what we are going to do.
If you are a delegator to @CCCF expect a wad of WIT showing up in your Hive-Engine wallet soon! And if you stake that WIT expect the wad to keep growing! By which we mean delegators to @CCCF that stake their WIT will get paid out an equal amount to their weekly CCC rewards in WIT!
Initial Distribution of Writer Token
There will be 2,000,000 tokens minted as part of the initial distribution.
10% @worldbuilder
20% moderators/team members
20% will be made available for the airdrop with remaining tokens held in reserve for future airdrops or contests
The remaining 50% will be sold on the market for HIVE and used to power-up the @worldbuilder account. This will help pay for operating expenses and will help to distribute the token to fellow users.
Team Members
@oblivioncubed
@lacking
@cliffagreen
@kaelci
@jesuspsoto
Writer Token team members will start with 10,000 staked WIT for the purposes of curating content with the #worldbuilding and #creative-writing tags.
Team members will not be upvoting themselves with their stake, nor will they be powering down their stake.
Team members are allowed to vote other team member content, as we view this as promotion rather than self voting.
The Writing Token team member goal is to help members of the creative writing community.
There will be another post introducing team members at a later date.
Team Rewards
There are 400,000 Writer Tokens that will go to team members. 100,000 of these tokens will be held in reserve for future team membership. We believe that someone's team membership should be merit based and not based on their wallet or holdings. Our hope is to expand into languages that our core members do not speak to spread the love of good writing to everyone in the world. The remaining 300,000 will be distributed on an ongoing basis to the current team members. The first drop for team members will be 25,000 WIT with 5,000 additional WIT being dropped to members for curation purposes until the initial supply to distribute runs out.
Primary Account
1,000,000 Writer Tokens will go to the @worldbuilder account and can be used as the team sees fit to maintain the quality of the project. At the current time, 200,000 will be powered up and the remaining tokens will be put on the market for sale.
Ongoing Distribution (Faucets)
A faucet is how the currency enters the system. A sink is how it is removed from the system. Creative Coin will have 2 primary faucets that stem from token inflation: Proof of Brain and Mining.
(Mining is yet TBD and will be coming at a later date)
Yet Another Discord!
We created the HIVE WIT Discord to help keep this as organized as possible.
If you have any questions just hop in and ask away!
Writer Token Settings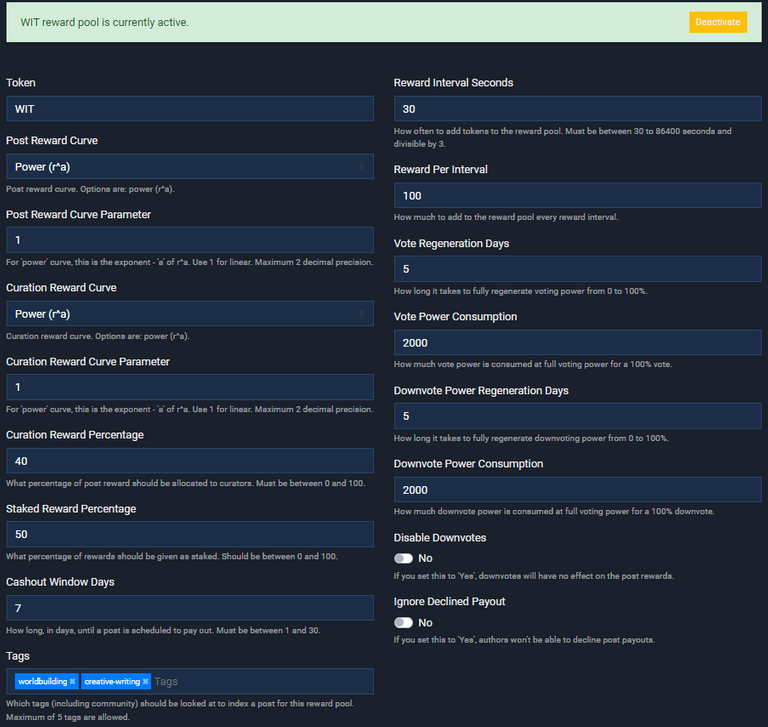 To get a vote which receives WIT the post has to include #worldbuilding or #creative-writing as a tag
Disclaimers
There is no expressed guarantee of anything with this token. It may fail miserably. Please use your best judgement. Do not invest more than you can afford to lose.
The numbers above are guidelines and may change based on team wishes and public response. Any changes will be posted on the @worldbuilder account and on the WIT discord.