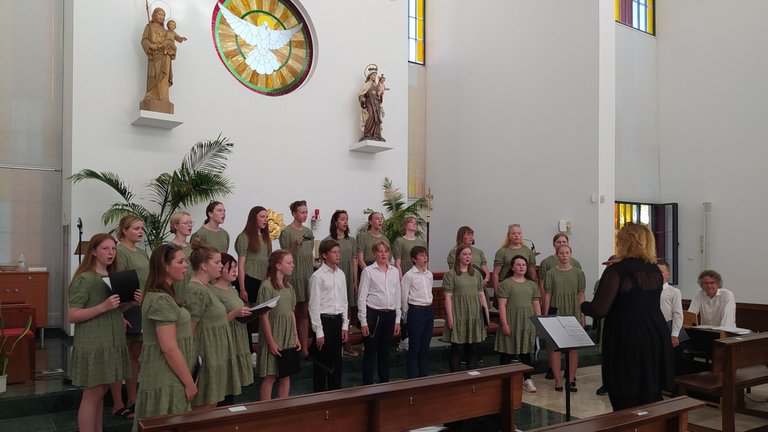 The youth choir from Norway, Vivace, arrived in Spain last week. They are still here, as they stay in our little town but they are moving around in the region and have concerts. I happened to meet them on Saturday, at the concert where I also played, but with my choir. We played just a few songs, to start this beautiful concert that was held in the church. The acoustic for the singers is the best in churches, that's why it is chosen as the perfect venue for this event.
I knew that they were good, but hearing them in person exceeded all my expectations. About a month ago, the director of my choir said that some young people will come from Norway to sing here so we could make a concert together. I accepted to accompany my people, as I always do. However, I was not aware of HOW good this youth choir is! Angels singing, this was the association of all of us who listened to them.
Before we started the concert, one lady said a few words about them, both in Norwegian and Spanish language. So, the youngest member is eleven and the oldest is nineteen years old. Their voices are still bright, innocent, shining all around. They won the first prize in the Norwegian choir championship last year! For the past several years, they are performing with professional musicians and in 2016 they recorded a CD with Christmas music. I bet it sounds great.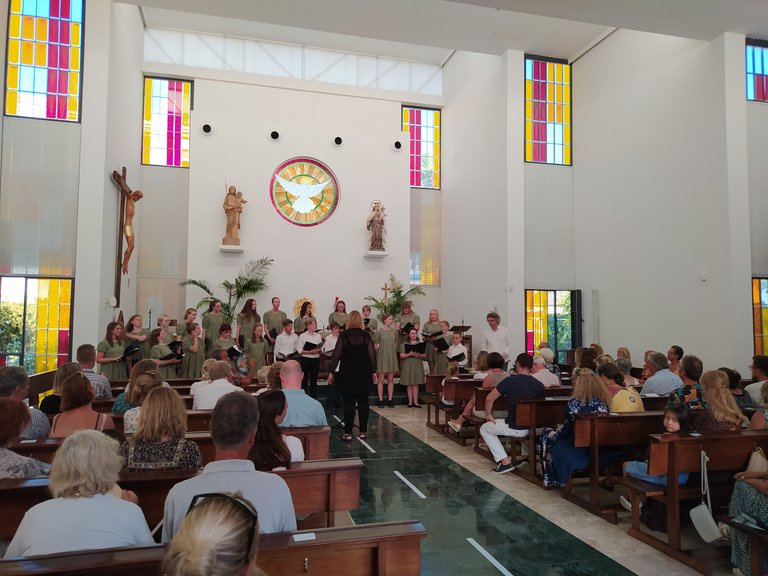 But how they sounded this Saturday, in the church of the Holy Spirit is something you can check out in this post. I made several recordings, as they sang a lot of songs. Many beautiful songs, performed in perfection. I had to cut down and omit some recorded songs, as the video would be too long, so just two songs are coming to hive. Did I say that I was amazed by them? :D Well, you can also check out and have your opinion, maybe it was just my subjective feeling, but believe me, I listened to our performance too, and... well... let's just say these young people rock!
Also, the people who lead them are great, as it is not just having good voices to be successful. A good teacher and director are needed to guide the children and shape the music. So this youth choir, Vivace is conducted by Siv Anette Lorentzen, and the pianist who plays with them is Bjørn Alexander Bratsberg. So nice people, and doing their work very well.
Also to mention, this event was a charity concert as all the raised money from the tickets was donated to Ukrainian families who arrived in this town fleeing the war. Nice gesture and beautiful angel voices!! But, maybe you have a different opinion after listening to this short excerpt from the concert. I say short, as there were twenty songs they performed in total. An honour for me to be there and enjoy that sound. Hope at least a bit of that feeling you can receive here :)
---

---
▶️ 3Speak