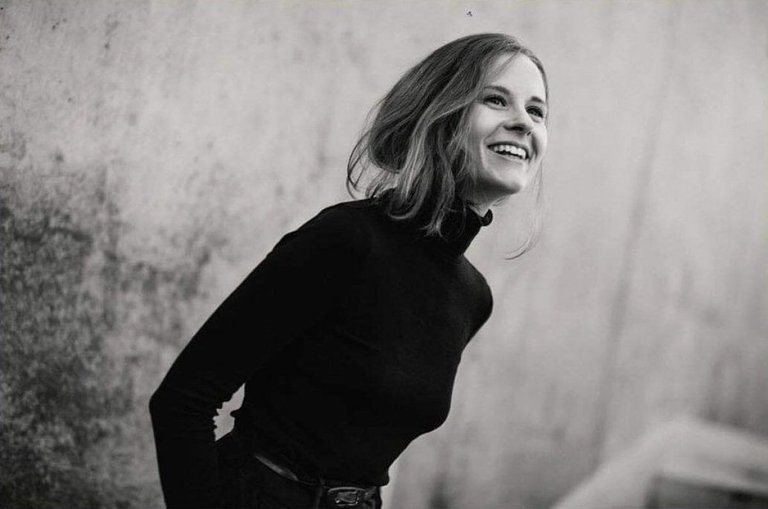 Hania Rani is a new discovery for me!! A Polish pianist, Hanna Maria Raniszewska, knocked me off my feet in just a few moments. It didn't take me long to listen to her video, she won my attention and my eyes were wide open. Better said, ears, because although watching her is a beautiful sight, she is adorned with a special beauty, what shook everything in me is the sound of her piano I heard. Can it be possible? What was so different I experienced in this case of Hania?
Photo source ccmagazine
The piano is an essential part of my life, it is not just a hobby for me; It is not just my profession; The piano plays a vital role in my life. I deal with music and all piano stuff every day, vacation or not, I mean every single day. Someone could ask how I am not bored, or why I have a ton of music scores, both in digital form and printed form. Even it sometimes leads to discussions like: Do you really need all of those piano books and scores that take up so much space in the apartment? You don't have to think too much to know my answer to that question, but the other question is still here, why this Hania and her piano playing caught my attention?
The sound produced a chain reaction of unconscious memories. The sound of that wooden piano, which she plays, with its clicking sound of the mechanics of the piano. In her video, it was recorded with two additional microphones, if I see well, to emphasize that feature. In fact, that sound when you play, you don't hear that much. But you can hear if your piano is old, and that mechanism and the joints of the hammers are already worn out and wobbly. Also, if the hammers have been used for so many years, and the felt on them that hits the wire is thin. I had several of those upright pianos during my childhood, but the very first piano I had was actually my mom's grand piano. She and her sister played as young but were not persistent and didn't study the subject when were older. So the big, grand piano came with my mother when she got married almost as a decoration. A decoration that takes half of a room. The piano was there, nobody played on it for years until I in mini version started to experiment a bit. It was on an old, Viennese-built piano, meaning it was made entirely of wood. The pianos of the English branch had a metal frame and were more durable. Viennese pianos were soft, and could not withstand the burden of years. Although that piano of mine was over a hundred years old because my mom got it like an already old piano, I loved it. It couldn't be tuned anymore, and there was no help for it, but I never let it sell. Even though I left that house, and finished my studies, the piano was still in my parents' house. But I had to realize that the space it was taking away was needed, and so it happened that my parents gave it away. (My fault, as I just didn't let them sell it). I didn't attend that event, when it was taken, maybe that's better. It's gone now, and only the memories are there, which Hania has awakened.
source YouTube
But that's not the end of the story of why Hania left such an impression on me. Listening to and watching her video was a ticket to the time machine to bring me to my middle and later student years. I went to a bigger city to live alone when I was less than fifteen. Of course, when I was free some weekends and when we could afford it, I would travel home. But that was the biggest change that came until that point in my life. I was alone. I remember that many times I was wandering in the city in the evenings. Now, I can ask myself what I was thinking, wandering alone in a new, big city, without a goal, just like that. It was a mixture of loneliness and happiness, I assume. Of new discoveries probably. Like Hania in her video, wandering without a purpose, unaccompanied, but I can see some smiles on her face.
But that is more than enough of me, what about this pianist? Although you can find the information on wikipedia who she is, just shortly to mention, she is classically trained, in Warshaw, at Fryderyk Chopin University of Music. No wonder she plays the piano so well, with grace and details all classical pianists should develop. Her style is mixed. She creates experimental music, a mixture of classical, Polish music and Icelandic music, but the fact that even more excited me is that the composers that influenced her were: Yann Tiersen, Nils Frahm and Ólafur Arnalds. That Nils, that was brought here recently in THIS POST and in the response to it here.
Well, Yann Tiersen is so famous, maybe we even don't have to mention him, but Ólafur Arnalds was a new name for me until yesterday. He crossed my discoveries while listening to Hania, and I was again so positively touched. So, don't be surprised if one of the next posts will be dedicated to him.
Don't hesitate to check out more from Hania Rani :
Have you had situations like me these days, to discover a new person, music, or anything else that can motivate you, change your flow of thoughts? Bring you back through memories of the past, or somewhere else?
If so, and you want to share your thoughts, the comment section of this post will be gladly read by me and supported. Sending just the best vibes to all of you who made it until here. Hope you enjoyed the beauty of this music, composition Glass, from her solo album Esja, Gondwana Records.