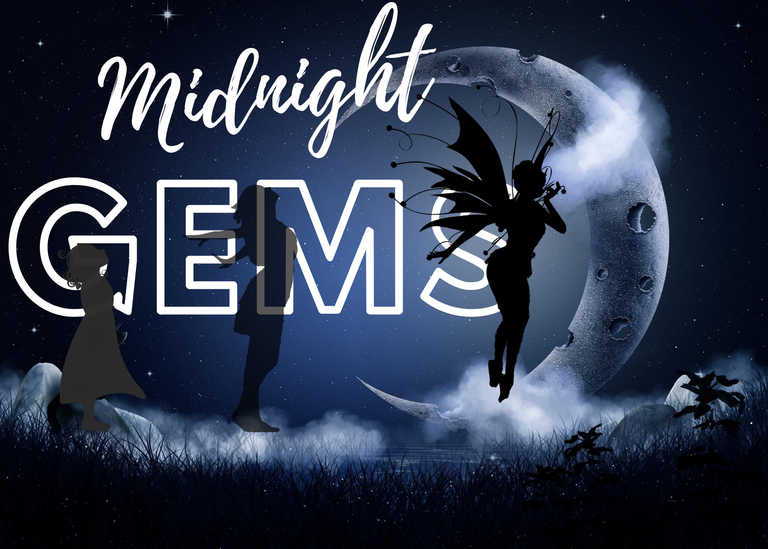 For those of you that are new to my MidNight Gems series. Welcome to this nightly trip on which we will uncover & recover some amazing songs & covers.
This is my show.
This is where you need to go.
For Tonight I am your DJ
If you are looking for a hint to solve this week's riddle you are too late, but if you are here to enjoy some tunes that are best served at midnight: Enjoy!
---
Now I know I said strings in the title, but do keep in mind that a piano has strings as well. It´s a bit selfish I know, but I just had to kick off with a little song that has it all me.
Valencia Grace - There I Said It (Live)
Because as soon as this sweet gem dies out I will take myself a little out of my comfort zone, stringing you along in this little Spanish Chanson sounds like a contradiction but I am sure you figure it out.
French Latino - Historia de un Amor
Now let´s switch and use a Spanish guitar in Paris, no I was not kidding about those strings and I am kinda sure this will become a great playlist for wine and a spring breeze.
Jacob Gurevitsch - Lovers in Paris
This is what you do when Brexit hits, become a one-man band. Now I am doing my best to not be so lyric-minded and just let it go, hope that is okay for tonight's show.
Somebody That I Used To Know - Mike Dawes
To compensate for the lack of lyrics, I have to add the songs with the most awesome lyrics. So how about having a screaming tree cover one of the biggest pearls ever written?
This is so well done that even Nick Cave the master himself called this the best Nick cave Cover ever.
Mark Lanegan - Brompton Oratory
There she went as I smelled her still on my fingers when I brought the cup up to my lips. Nick Cave is just freaking awesome and if you don´t know Nick you don´t know diddly. So let me give you a little class of Cave tonight. We just had the best cover and now one of the best live performances.
Nick Cave & The Bad Seeds - Jubilee Street
Now let that sinking, and to do so I will let you be alone with the Sound Of Silence.
SOUND OF SILENCE (cover by Tommy Johansson)

That song was well done by Disturbed, but Tommy comes creepy close. You feel the metal wanting to break out, but he keeps it in and something makes me think of a very young Meatloaf.
Let´s keep a little of that rock vibe going because this smells like my teenage crush Tori.
Tori Amos - Smells Like Teen Spirit
Now the end is near my friend, and I can use something simple, something that makes me happy. Something of which I only understand every tenth word, but feel exactly what she means. A nice little winter lullaby before bed.
Ezra Giusto - Vinterskrud (Piano Version)
Encore
And as I promised you a masterclass Nick Cave the encore tonight will be this little crazy Gem. RHCP´s Flea is doing a cameo, but the guy with the beard is the magic of Nicks's band the bad seeds Warren Ellis. Ellis plays the violin, piano, accordion, bouzouki, guitar, flute, mandolin, mandocello, and viola not all in this song but the guy is amazing.
Nick Cave & Warren Ellis with Flea "We No Who U R" 3/9/22 @ Shrine Auditorium Los Angeles
Youtube Playlist
All these gems were added to the YouTube playlist.
All Midnight Gems Playlist can be found here
Spotify Playlist:
The Spotify playlist might not capture the whole show but is meant to represent it as well as Spotify makes it possible

Riddle Me This
What the fluff are midnight gems?
Somewhere lost in time, trying to escape out of the rabbit hole back into the rat race there is a vacuum..... that´s the place where midnight gems are found.
My Midnight Gems will try to uncover & recover those beautiful songs that nobody ever noticed or might have been forgotten.
Who the fluff am I?
Being a former DJ playing about everything and having an uncompleted study of radio journalism. I have been wanting to do this for years...Thought about it many nights and guess now it´s time to finally take it to the streets.
Hope you enjoyed this well-known wave of fantastic music and that you still feel like joining me on the next Midnight Gems Session coming soon.
Tag List
Source Pic
Source Pic
Source Pic
Source Pic