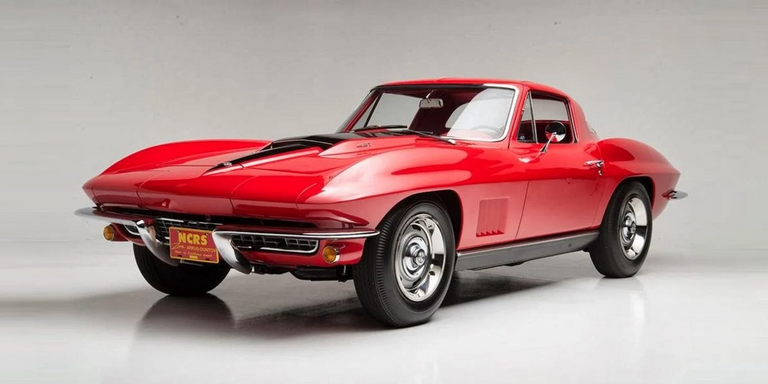 When José went to the auto shop in search of his beloved 1958 Corvette, he realized that something had happened and a chill ran down his back to his legs, he was petrified for a moment: he was not on the premises.
Although he was sure that the beautiful and collectible red vehicle was not in the facilities, he went again with his eyes and very slowly each and every corner of the building to finish convincing himself. His vehicle was definitely not there, instead of an ugly and poorly maintained Chevy coupe in a color very similar to his "Corvy," as he liked to call the Corvette.
He immediately looked for the person in charge of the store, but when he did not see him, he groped in his pockets in search of the copy of the document that he received from the mechanic who received it with the details of the work to be carried out and as a receipt for the vehicle delivered into custody. With eyes lost in horror he saw something that he had not taken into account at the time of receiving it, the number of the patent was not that of Corvette but another that he did not know. He was lucky at the time not to notice that the number on the vehicle's license plate was that of the semi-wrecked Chevy.
Upon arrival, the manager of the workshop received him with all kinds of irreproducible epithets and although the man gave no signs of understanding what was happening, he continued until other people stopped him and tried to calm him down.
His beloved "Corvy" never appeared and although he collected the insurance for a theft he could not repurchase another one like it again, now poor José is seen walking through the streets rambling and hallucinating, he still believes that when he turns a corner he will find his beloved collector's vehicle.
Meanwhile, on his doorstep, the Chevy coupe, similar in color to the stolen Corvette, rots from the sun and the elements.
Note: this story, with slight nuances, is taken from a real event that happened to a friend of a friend.

Cuando José acudió al taller mecánico en busca de su querido Corvette de 1958 comprendió que algo había ocurrido y un escalofrío recorrió toda su espalda hasta llegar a las piernas, quedó petrificado por un momento: no estaba en el recinto.
Aunque estaba seguro que el bello y coleccionable vehículo de color rojo no se encontraba en las instalaciones, volvió a recorre con la vista y muy lentamente todos y cada uno de los rincones del edificio para terminar de convencerse. Definitivamente su vehículo no se encontraba allí, en su lugar una fea y mal mantenida coupé Chevy de un color muy similar a su "Corvy", como gustaba en llamar al Corvette.
Inmediatamente buscó al encargado del comercio, pero al no verlo tanteó en sus bolsillos en busca de la copia del documento que recibió de manos del mecánico que lo recibió con el detalle de los trabajos a realizar y como un recibo del vehículo entregado en custodia. Con los ojos extraviados por el horror vio algo que no había tenido en cuenta en el momento de recibirlo, el número de la patente no era la de Corvette sino otra que no conocía. Tuvo suerte en ese momento de no observar que el número de la chapa identificatoria de la matrícula del vehículo era la del Chevy semi arruinado.
Al llegar el encargado del taller lo recibió con todo tipo de epítetos irreproducibles y aunque el hombre no dio señales de entender que era lo que estaba ocurriendo continuó hasta que otras personas lo detuvieron e intentaron calmarlo.
Su querido "Corvy" jamás apareció y aunque cobró el seguro por robo no pudo volver a comprar otro igual, ahora se lo ve al pobre José caminando por las calles divagando y alucinando, aun cree que al doblar una esquina encontrará su querido vehículo de colección.
Mientras tanto, en la puerta de su casa, el coupé Chevy de un color similar al del Corvette sustraído, se pudre por efectos del sol y la intemperie.
Nota: esta historia, con ligeros matices es extraída de un hecho real ocurrido a un amigo de un amigo.
Las fotografías son de mi propiedad excepto las que menciono la fuente.
The photographs are my property except those mentioned by the source.
Héctor Gugliermo
@hosgug