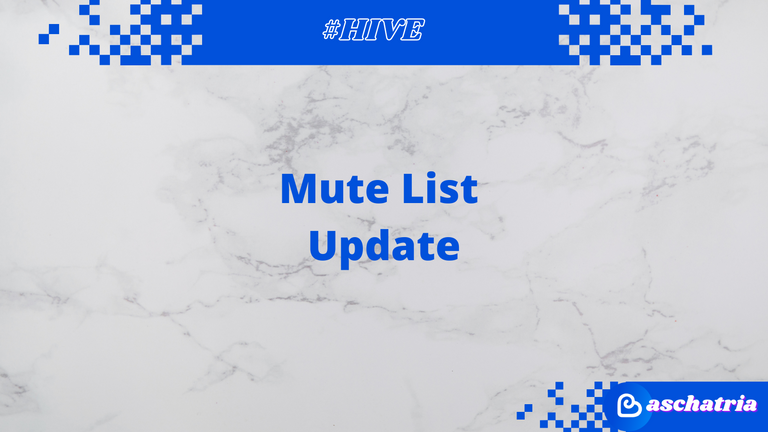 Installing cc 130k+ accounts in their blacklist manually into my mute list is a huge task. It doesn't just use a lot of time, it uses a lot of Resource Credits.
So far I didn't find any tool that can do it faster than mute page on Hive.Blog. I paste 500 accounts at once in a form and mute them.
After pasting 30k accounts I got tired and my RC plummeted significantly.
That's why I am not posting any long content right now. It will be two sentences and pictures, or dBuzz.
I will use this time to complain instead. And post sour memes, do some black magic, post video links about how I lost in Splinterlands, and post some music that makes people deaf.
But, I thought I was doing all that for nothing because probably all those accounts are gone and inactive until I started receiving mutes myself.
Maybe puppet accounts are dead, but their puppet masters are definitely in here, very much alive and I guess farming.
I think that unsupervised frontends or tags could be the biggest places abused, and then in the second place microblogging frontends such as dBuzz and newly made Leofinance Threads.
Unlike farmers, I am pretty fucking horrified by the joke earnings I just made public, I have no idea how to explain that catastrophe to my family or anyone.
I wasted time, but that is not even half of the problem. People vote a content that is there, and farmers simply take the biggest cut. The reward pool is limited, nobody can inflate it without significantly damaging a market price.
Lately, I stepped into a shit, the kind of shit that everybody rewards without even realizing it, because a user had a hilariously high rep and it was a dolphin.
I am too old to ignore bullshit, too tired to go around checking each user, community managers should do that and provide a safe environment. They didn't do it so I will pick better communities with smarter individuals.
And possibly start reporting again, so instead of being a victim and wasting this little voting power I have, on various cases of abuse and communities each pretending to be a pillar of effort, I will just mute all of them blacklisted bastards.
It will take me ten days but it si not like I will lose a fortune. Maybe I feel better after discarding all that darkness.