---
Today I want to share with you a different content than I usually publish. It is a drawing I made the other day in the library, during the dead hours (sometimes there are no users), inspired by a photo from the book Alas del Parque Fernando Peñalver, by Luis Cornejo Uzcátegui, a Venezuelan biologist who has dedicated his life to wildlife photography.
Hoy quiero compartir con ustedes un contenido diferente al que acostumbro publicar. Se trata de un dibujo que realice el otro día en la biblioteca, durante las horas muertas (a veces no van usuarios), inspirado en una foto del libro Alas del Parque Fernando Peñalver, de Luis Cornejo Uzcátegui, biólogo venezolano que ha dedicado su vida a la fotografía silvestre.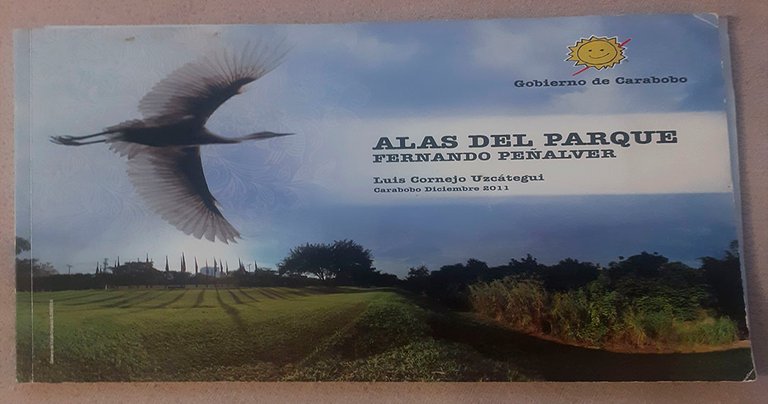 This book was published in 2011 by FUNDALEGRÍA, with the support of magazines such as RioArte. As its title indicates, it is about birds of Fernando Peñalver Park, a space that has its own ecosystem, in which these animals are the main protagonists. Among its pages we can find a variety of photos of birds that inhabit the park, although many of them can also be seen in various areas of the state of Carabobo.
Este libro fue publicado en el año 2011, por FUNDALEGRÍA, con el apoyo de revistas como RioArte. Como su título indica, trata sobre aves del Parque Fernando Peñalver, un espacio que cuenta con su propio ecosistema, en el que estos animales son principales protagonistas. Entre sus páginas podemos encontrar una diversidad de fotos de aves que habitan dentro del parque, aunque muchas de ellas también pueden verse en varias zonas del estado Carabobo.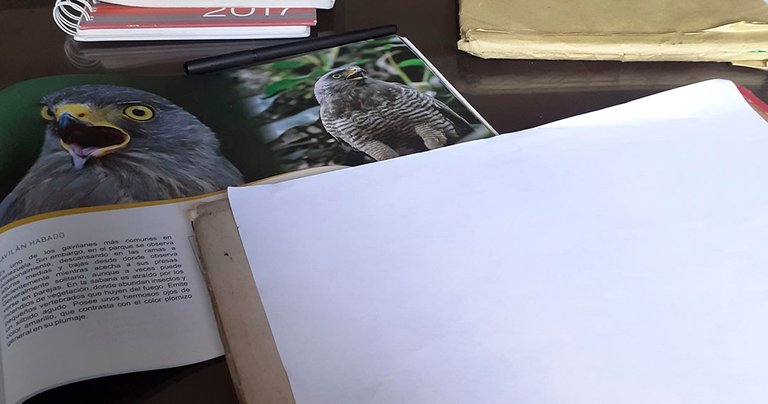 The bird I drew is known in Venezuela as Habado Sparrowhawk. Buteo magnirostris, is the scientific name that appears in the book; however, when searching the internet, I read that the real name is Rupornis magnirostris, because there is confusion about the genus in which it is classified; but I will leave this debate to professionals in the field.
El ave que dibujé es conocida en Venezuela como Gavilán Habado. Buteo magnirostris, es el nombre científico que aparece en el libro; sin embargo, al buscar en internet, leí que el verdadero nombre es Rupornis magnirostris, ya que hay confusión respecto al género en el que se clasifica; pero dejaré este debate a profesionales de la materia.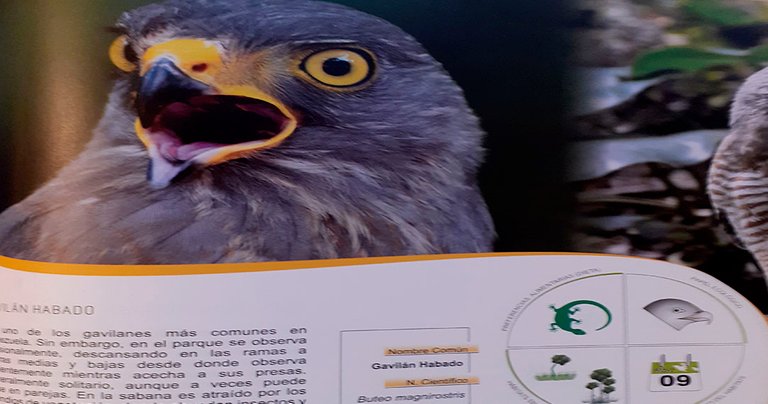 The Habado Sparrowhawk is a common sparrowhawk, a lover of insects and small vertebrates. Its eyes are yellow and its plumage is lead-colored. Its beak is between yellow and orange, as intense as its eyes. It is a solitary animal that stalks its prey from the branches. It has a high-pitched whistle, which can be heard from far away. It measures approximately 35cm and weighs around 295g. One of the many beauties that nature has to offer.
El Gavilán Habado es un gavilán común, amante de los insectos y pequeños vertebrados. Sus ojos son amarillos y su plumaje es de color plomizo. Su pico es entre amarillo y naranja, tan intenso como sus ojos. Es un animal solitario que acecha a sus presas desde las ramas. Tiene un silbido agudo que puede escucharse desde muy lejos. Mide aproximadamente 35cm y pesa alrededor de 295g. Una de las tantas bellezas que puede ofrecernos la naturaleza.
---

---
Materials:
White sheet
Eraser
2H pencil
Black pen
Photoshop CS6
Materiales:
Hoja blanca
Borrador
Lápiz 2H
Bolígrafo negro
Photoshop CS6
---
The first thing I did was to define the size of the drawing on the sheet, then I began to make clear strokes with the pencil and so I drew the beak and the left eye. Then the drawing took shape. At the end, I outlined the drawing with the pen and realized late that the top of the head was too pronounced and rounded. I drew a line underneath to fix it and not lose everything I had done.
Lo primero que hice fue definir el tamaño del dibujo en la hoja, luego comencé a hacer trazos claros con el lápiz y así dibujé el pico y el ojo izquierdo. Luego el dibujo fue tomando forma. Al final, remarqué el dibujo con el bolígrafo y me di cuenta tarde que la parte superior de la cabeza la hice muy pronunciada y redonda. Trace una línea debajo para arreglarlo y no perder todo lo que había hecho.
---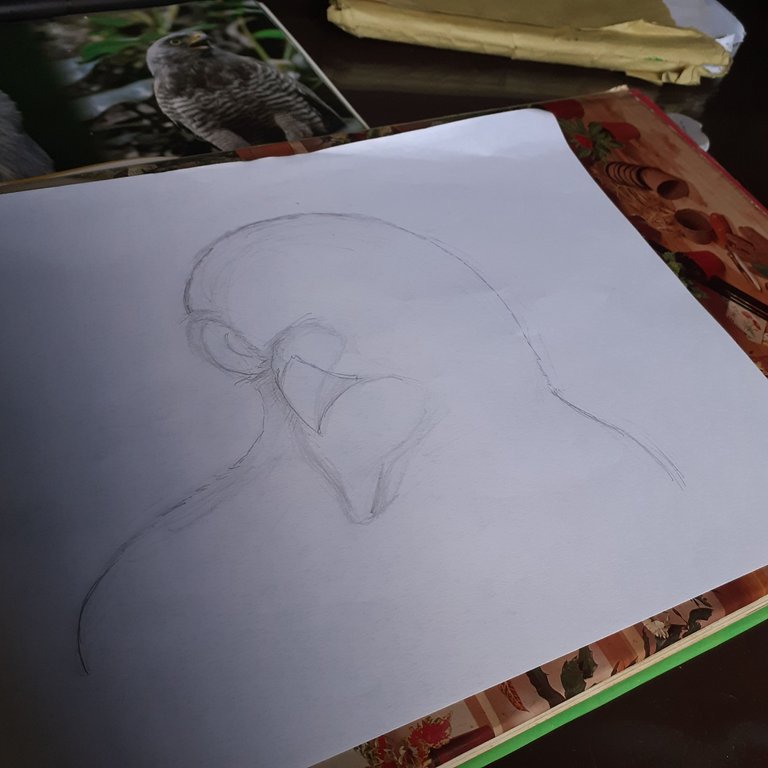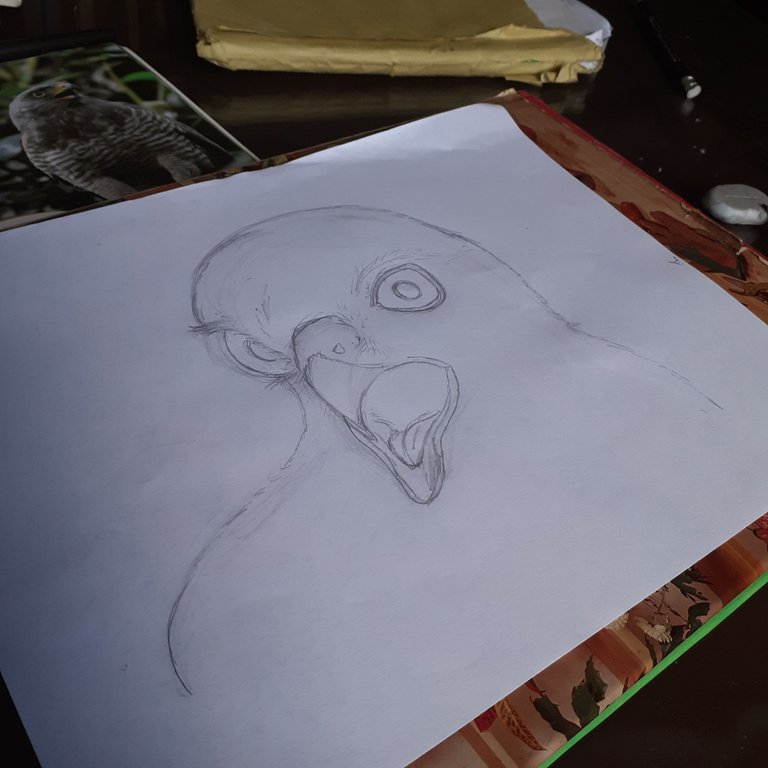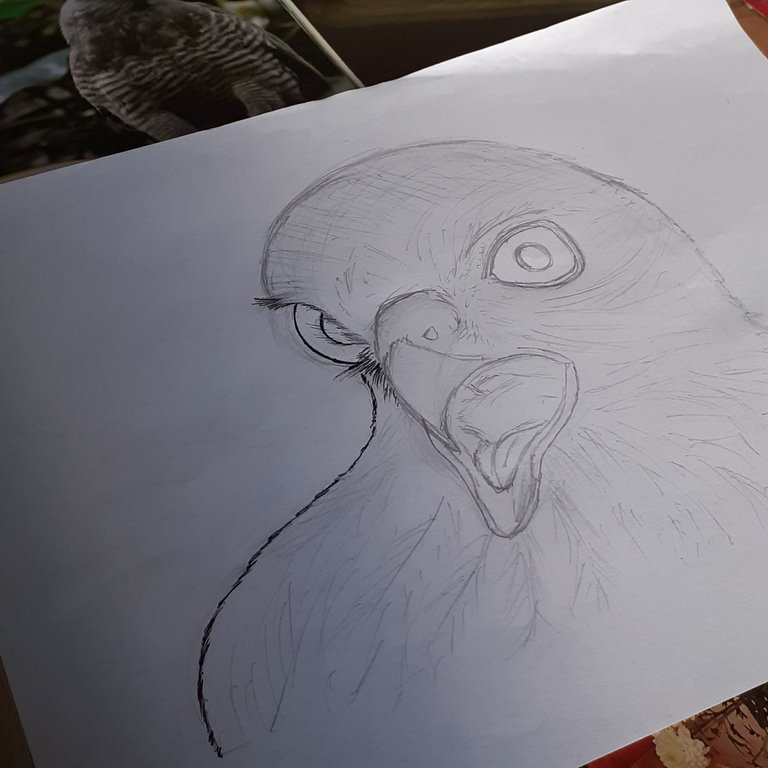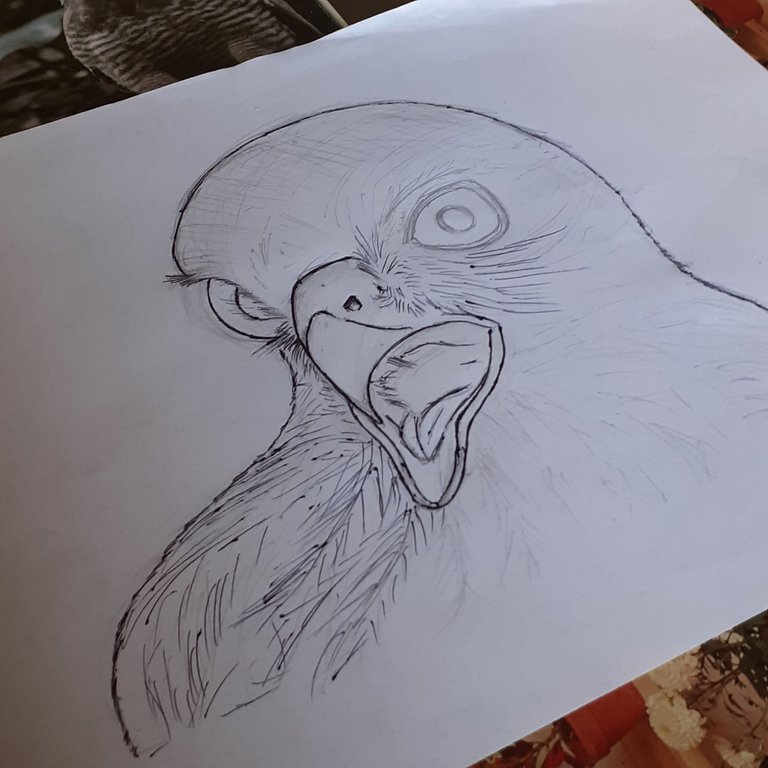 I erased this detail in Photoshop. Then I made no further adjustments. I spent about three hours coloring. At first, I didn't know how to make the plumage look as close to the original as possible, so I started by trying various shades of gray. I used several layers, coloring here and there, slightly changing the shade of each layer until I was satisfied. On the upper part of the bird, I found that the photo has a tone close to purple and I used a similar color without straying too far from gray. Then I applied a few shadows and added the light detail in the eyes and beak. I placed a green background, similar to the one in the photo and was impressed.
Este detalle se lo borré en Photoshop. Luego no hice más ajustes. Pasé alrededor de tres horas coloreando. Al principio, no sabía cómo hacer el plumaje para que se viera lo más parecido al original, por lo que empecé probando varias tonalidades de gris. Utilicé varias capas, coloree aquí y allá, cambiando levemente la tonalidad de cada capa hasta quedar satisfecho. En la parte superior del ave, me pareció que la foto tiene un tono cercano al púrpura y utilicé un color similar sin alejarme mucho del gris. Luego apliqué unas cuantas sombras y agregué el detalle de la luz en los ojos y el pico. Coloqué un fondo verde, parecido al de la foto y quedé impresionado.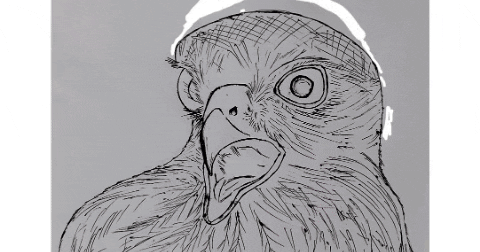 Editing process. Gif created on Giphy.com / Proceso de edición. Gif creado en Giphy.com
---
It's a drawing with many details that I could fix in Photoshop, but I wanted to leave it like this: just as it came into the world (except for the line that I erased). With time, I hope to improve in this area. Drawing is one of the things I did most as a kid and every time I go back to it I feel good.
Es un dibujo con muchos detalles que podía arreglar en Photoshop, pero quise dejarlo así: tal cual vino al mundo (excepto por la línea que le borré). Con el tiempo, espero mejorar en esta área. Dibujar es una de las cosas que más hacía de niño y cada vez que vuelvo a hacerlo me siento bien.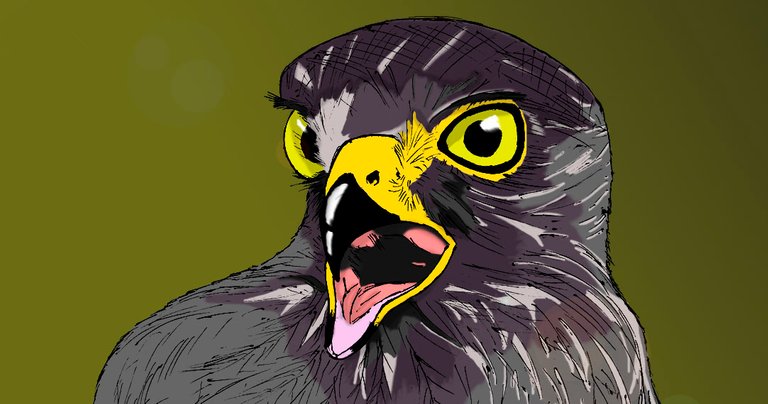 ---

---
The photos are of my authorship.
Taken with a Samsung Galaxy A10.
Edited in Photoshop CS6.
Las fotos son de mi autoría.
Tomadas con un Samsung Galaxy A10.
Editadas en Photoshop CS6.
---
Referencias | References:
Cornejo, Luis (2011). Alas del Parque Fernando Peñalver. Venezuela: FUNDALEGRIA - Gobierno de Carabobo.
---