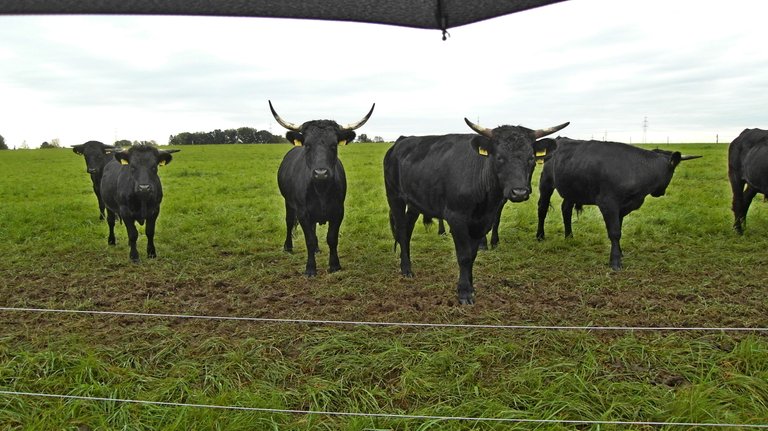 My Actifit Blog #766 | 16 October 2020 |
Normally, cattle eat grass on the meadow continuously, unless they are lying lazy on the field, enjoy the sun and repeat their chewing movements almost endlessly, which is their nature.
It is different when it rains. They just stand close together on the meadow, staring at each other and hardly moving. The rain drenches their fur, which they obviously don't really like.
It seems to be very interesting for them when a pedestrian like me with an umbrella passes by and takes a picture of the troop.

Normalerweise fressen Rinder auf der Weide ununterbrochen Gras, es sei denn sie liegen mal faul auf der Weide, genießen die Sonne und wiederholen fast endlos ihre Kaubewegungen, was nun mal ihre Natur ist.
Anders ist es, wenn es regnet. Sie stehen einfach eng zusammen auf der Weide, starren vor sich hin und bewegen sich kaum. Der Regen durchnässt ihr Fell, was ihnen offenbar nicht wirklich gefällt.
Da ist es schon mal sehr interessant, wenn ein Fußgänger wie ich mit Regenschirm vorbeikommt und ein Foto von der Truppe macht.

Stats for Today
Walking: 3 km
Current Total 2020:

2 066 km
Activity Count: 6 673 steps

(counted by my Fitbit device synced with actifit fitness tracker)
Activity Type:
Walking, Daily Activities
Current Actifit User Rank: 65 (+17.00)*
*Holding 170.00 AFITX tokens
Rewarded Activity Reports: Level 9/10
Checkout all original rewarded Reports on actifit.io UI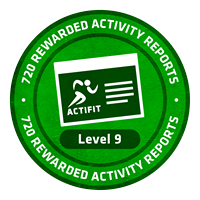 Next and last Badge: Level 10 needs to have 1080 Rewarded Activity Reports!

How to start your actifit/HIVE account:
• Signup for a HIVE-account here or here
• Download the app for Android or IOS
• Join Actifit's community on Discord for discussions and help
• Follow @actifit for daily News and Statistics
• Read the Official White Paper for further information on the project!
• Please vote for @actifit as witness!! The team is doing an excellent job!
• Make at least 5K steps daily and get upvotes from @actifit!
• Now you are ready to go to the Moon!
• Distance to the Moon is avg. 385K km! Enjoy your lifelong travel! 😄

This is my actifit posting account! I'm trying to enhance my health and fitness mainly by running, walking and cycling.
Please support and follow my progress! Thanks so much!
In addition your steps can earn Sweat-Coins!
Please use the following link to download the App (IOS or Android):
Sweat-Coins
Life is Motion! Live an active Lifestyle to stay healthy and fit!




Photos © by actifit-peter
Who-Am-I ?