My Actifit Blog #767 | 17 October 2020 |
With an average speed of 7 min./km I ran a total of 15 km today. No break and a relatively constant heart rate of 152 beats/minute. I ran a relatively slow pace, so the run was not exhausting.
Besides that I listened - while running - to some podcasts about the current corona situation here in Germany and worldwide which are unfortunately not very good.
I think, to strengthen your immune system against all kinds of viruses, you can't do anything better than to be outside and to move around a lot to get your bloodcirculation going and to strengthen your body's natural defences.

Mit einem durchschnittlichem Tempo von 7 Min./km lief ich heute insgesamt 15 km. Keine Pause und eine relativ konstante Herzfrequenzrate von 152 Schläge/Minute. Relativ langsames Tempo, deshalb war der Lauf auch nicht ermüdend.
Nebenbei hörte ich einige Podcasts über die aktuelle Corona Situation hier in Deutschland und weltweit, die leider nicht sehr gut ist.
Ich denke, um sein Immunsystem gegen Viren aller Art zu stärken, kann man nichts besseres machen, als draußen zu sein und sich viel, sehr viel zu bewegen, damit der Kreislauf in Schwung kommt und die körpereigenen Abwehrkräfte gestärkt werden.

Stats for Today
Running: 15 km
Current Total 2020:

2 081 km
Activity Count: 23 517 steps

(counted by my Fitbit device synced with actifit fitness tracker)
Activity Type:
Running, Daily Activities
Current Actifit User Rank: 65 (+17.00)*
*Holding 170.00 AFITX tokens
Rewarded Activity Reports: Level 9/10
Checkout all original rewarded Reports on actifit.io UI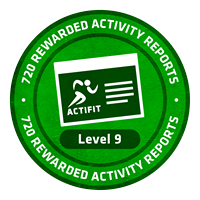 Next and last Badge: Level 10 needs to have 1080 Rewarded Activity Reports!

How to start your actifit/HIVE account:
• Signup for a HIVE-account here or here
• Download the app for Android or IOS
• Join Actifit's community on Discord for discussions and help
• Follow @actifit for daily News and Statistics
• Read the Official White Paper for further information on the project!
• Please vote for @actifit as witness!! The team is doing an excellent job!
• Make at least 5K steps daily and get upvotes from @actifit!
• Now you are ready to go to the Moon!
• Distance to the Moon is avg. 385K km! Enjoy your lifelong travel! 😄

This is my actifit posting account! I'm trying to enhance my health and fitness mainly by running, walking and cycling.
Please support and follow my progress! Thanks so much!
In addition your steps can earn Sweat-Coins!
Please use the following link to download the App (IOS or Android):
Sweat-Coins
Life is Motion! Live an active Lifestyle to stay healthy and fit!




Photos © by actifit-peter
Who-Am-I ?