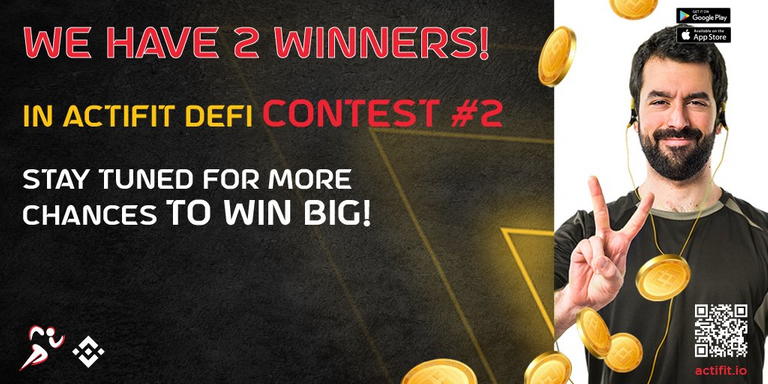 Congrats to our 200$ in BNB 2 Winners🏆🏆 .. MUCH MORE to Come!
We are excited to have our recent Actifit DeFi twitter contest #2 conclude with 2 winners!
Big congrats to @nikoleondas and @TrisyaWong for winning each 100 $ in BNB, both were randomly selected winners for completing the simple requirements to take part in our twitter contest.
Rewards have already been sent to both
reward transaction 1 link
reward transaction 2 link
Check out the announcement tweet

We are preparing for a LOT MORE & BIGGER REWARDS SOON. So stay tuned!
Actifit Gadget Prize #67 Results - Round #68 Kicks Off!
We are excited to announce the results of the "Actifit Gadget Prize Draw" #round 67, which took place on May 10 midnight UTC.

Over 4 days, the prize pool was 9.658 HIVE, and the winner of the draw was @awesomegames007. Rewards have been sent over. Congratulations !!
As round #67 of this contest concludes, round #68 already kicked off, and you have less than 4 days to take part and WIN!.
As announced before, the rules of the contest are simple:
As you buy gadgets using HIVE, you earn free tickets (1 per gadget) to enter the draw.
The more tickets you have, the more likely you are to win.
Keep in mind you need to have at least 1,000 AFIT to earn tickets to the draw.
Round #68 Started. Head over to Actifit Market NOW to WIN!
AFIT Market Buy Back
Also as announced in the contest rules, we committed to buy back AFIT on the market with 25% of the total amount used to buy gadgets. This amounted to 4.829 HIVE, which we used to place buy orders for AFIT on hive-engine.com.

Did you stock up on your gadgets yet? Head over to Actifit Market NOW to WIN!
@actifit team