Wreszcie po tygodniu pauzowania wyszedłem na spacer. W czasie przerwy na lunch wyjechałem około 500 metrów poza bazę, ze smartfonem w ręku ruszyłem dobrze znaną mi ścieżką przez niewielki zagajnik na fotograficzne grzybobranie.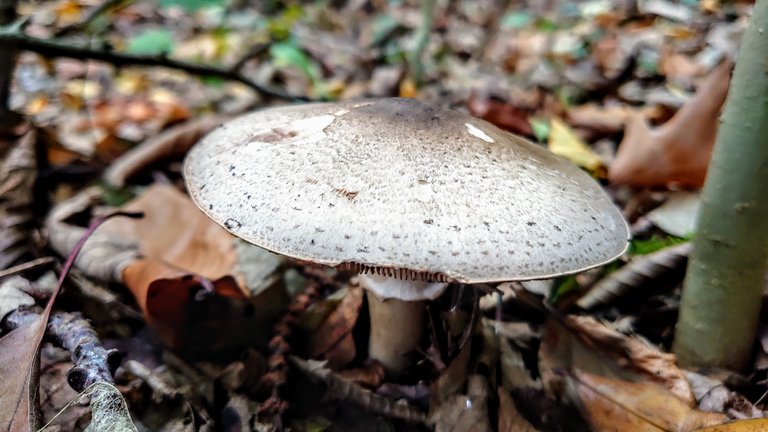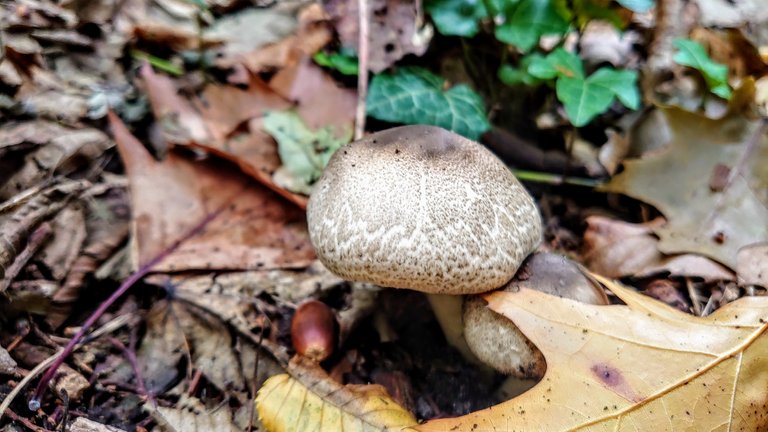 Wielokrotnie wspominałem, że nie znam się na grzybach, więc nawet gdyby wolno było w belgijskich lasach zbierać grzyby to bym tego nie robił. Dawno, dawno temu pod nadzorem oczywiście zbierałem grzyby w mazurskich lasach, ale wtedy każdy grzyb był później "zatwierdzany" przez ojca.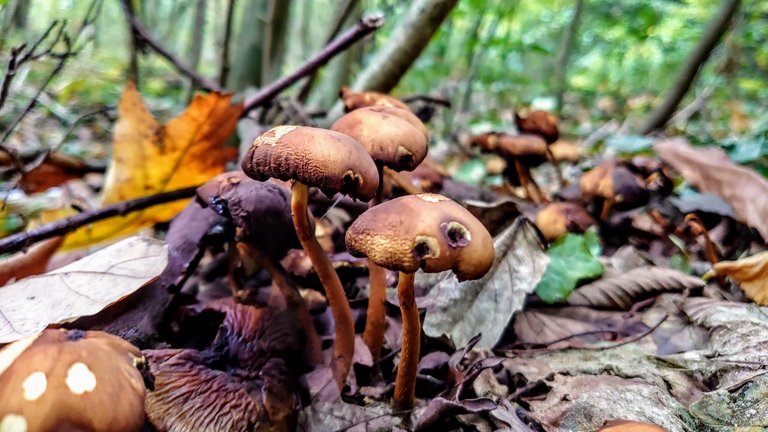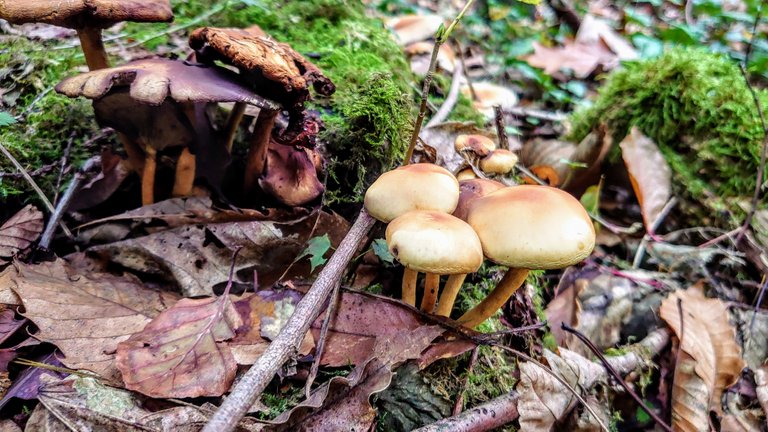 Kilka dni temu widziałem w telewizji jakiś reportaż o przypadku, kiedy to dwie kobiety zmarły po zjedzeniu grzybów z niepewnego źródła. Na początku ten gość co im sprzedał te grzyby przyznał się i wyraził skruchę, ale później, prawdopodobnie po konsultacji z prawnikiem, nabrał wody w usta. Stwierdził tylko, że nie ma pewności, że to grzyby od niego "zabiły". Prawniczy bełkot, ale może okazać się skuteczny.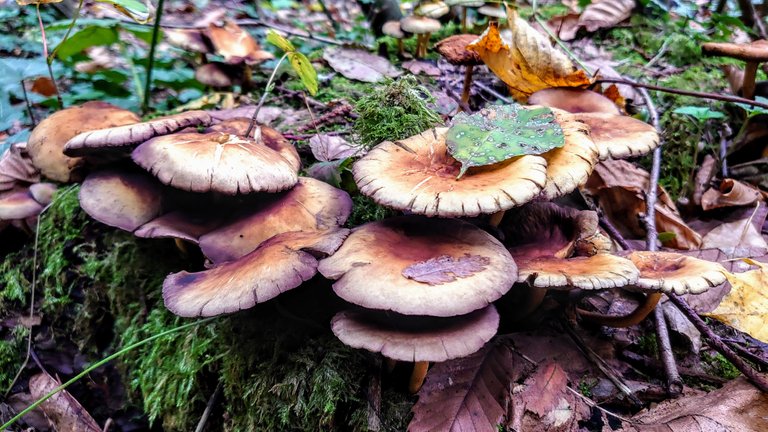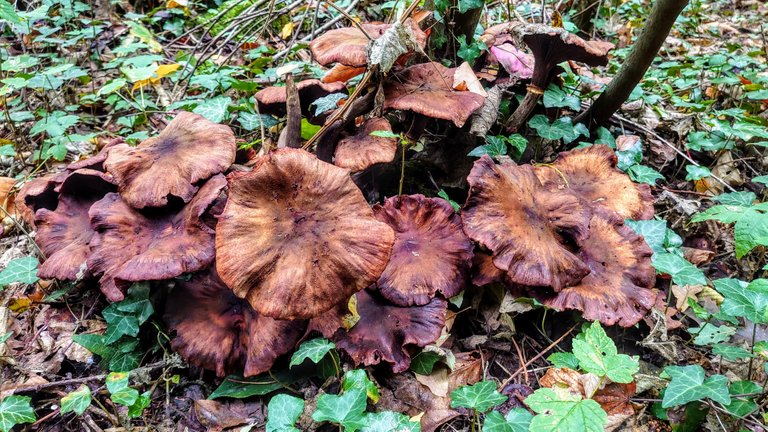 W tym samym reportaży "dziennikarz" zrobił, głupi moim zdaniem eksperyment. Chodził po targowisku z wydrukowanymi zdjęciami podobnych grzybów i wypytywał przechodniów, które z tych grzybów wzięli by do domu, a które nie. W konsekwencji widz otrzymał kilka błędnych odpowiedzi, tylko jedna prawidłowa, co miało udowodnić, że łatwo pomylić jadalne gatunki z niejadalnymi i przestrzec przed zbieraniem nieznanych grzybów. O dziwo nie było odpowiedzi, którą ja bym udzielił: nie znam tych grzybów i żadnego nie zabiorę do domu, czy to tak trudno przyznać się do niewiedzy?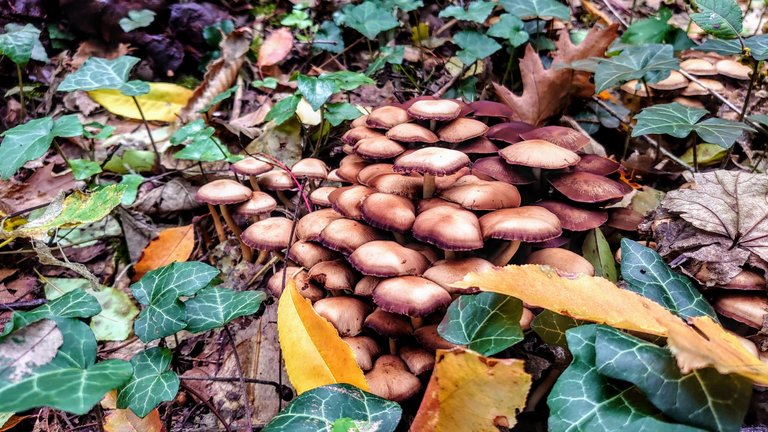 Ten grzybek poniżej zaciekawił mnie przez brak czubka kapelusza, ale dopiero w domu na komputerze zobaczyłme że tam jeszcze dodatkowo rozciągnięta była sieć pająka, lub nitki babiego lata.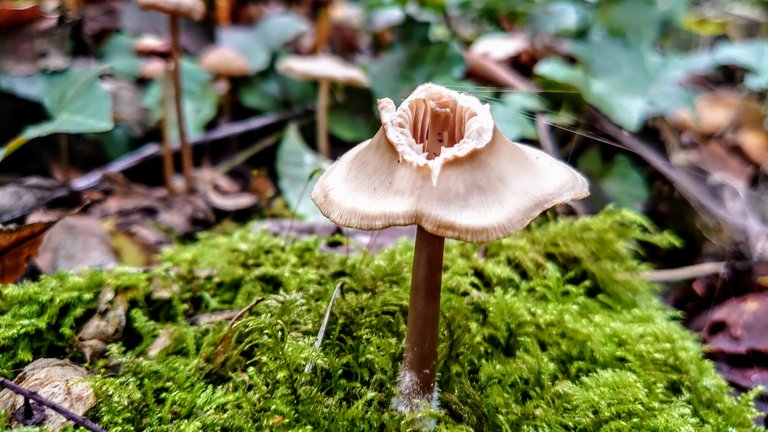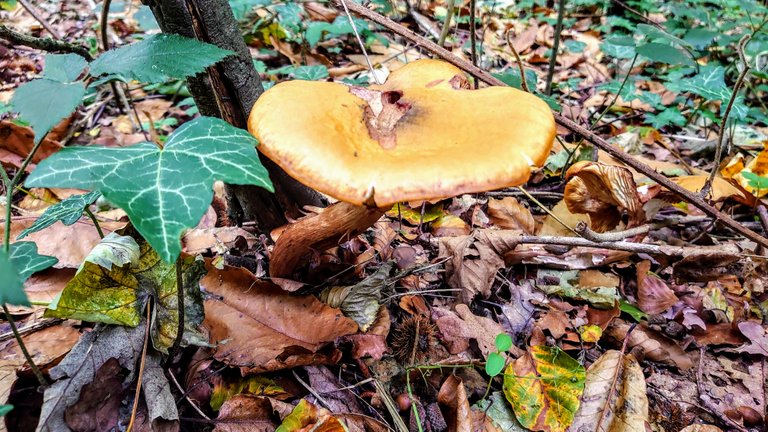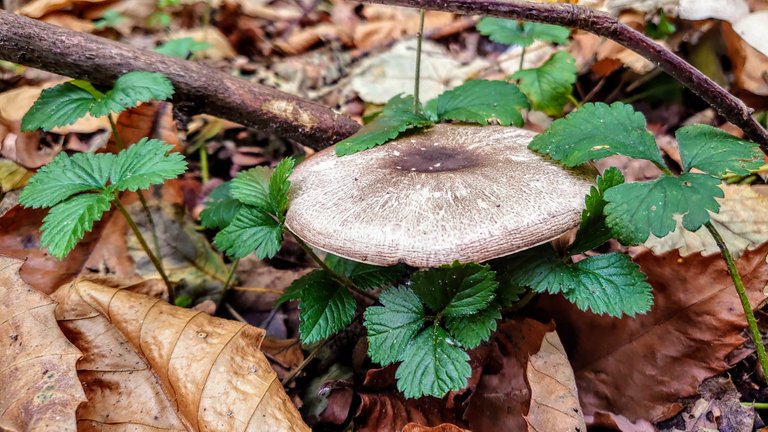 Niektórych z grzybów ukryte były pośród ciernistych gałęzi jarzyn co czyniło je jeszcze bardziej niedostępne, ale zdecydowana większość była tuż przy ścieżce lub dwa-trzy kroki obok.
Jutro spróbuję przebiec swoją piątkę, zobaczymy jak to wyjdzie.

My 2020 goals:
| Sport | Goal | Done | % |
| --- | --- | --- | --- |
| Walking | 2000 km | 1199,51 km (+8,35 km) | 59,98 % |
| Cycling | 2500 km | 1684,88 km | 67,40 % |
| Running | 1500 km | 472,85 km | 31,52 % |


To był mój Actifit Report Nr 761

This report was published via Actifit app (Android | iOS). Check out the original version here on actifit.io




13631

Daily Activity, Hiking, Walking